(Last Updated On: July 3, 2019)
I know that the holidays can be stressful, but they don't have to be! Here are 5 Tips For Easy Holiday Entertaining. While this post is sponsored, all opinions are my own.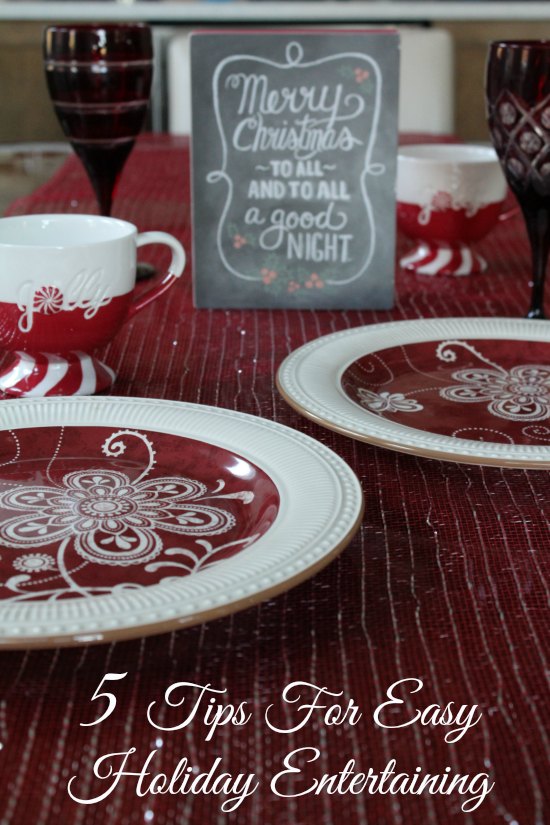 5 Tips For Easy Holiday Entertaining
Joy To The World! The holidays are HERE! Are you ready? I just spent the day yesterday making my list and checking it twice. Of course I discovered plenty of things that I still needed to do. In the midst of school projects and Christmas shopping, we are also planning our holiday gatherings. We live in Florida and our family is all in Michigan, so over the holidays we plan as much as we can with our friends….our extended family 🙂 Discussions have started, times are trying to be set and meals are starting to be planned. So, if you are planning your gatherings as well, I thought I would share 5 easy entertaining tips to hopefully help you this holiday season stay calm and have a Merry, Little Christmas.
5 Tips For Easy Holiday Entertaining
1. Make a Plan – Decide who is bringing what, pick a time when the meal will be served (not just when people can arrive, because you can always count on someone being early and someone being late) and decide when you want the party to end.
2. Buy Extra…Everything – Have extra food…just in case, have extra drinks, plates, napkins, Scotties® Facial Tissues by Royale®, and toilet paper. You don't want to run out of anything when you have a house full of guests.
3. Prep Beforehand – Don't wait to the morning of to have the kids clean up their rooms or head out to the grocery store to buy the things you need for your meals. Prep appetizers, sides, desserts, etc the day/night before if you can!
4. Keep It Simple – While you may want to experiment in the kitchen with something new, that does add a certain level of stress. So, stick with the items that you are comfortable making and you know everyone loves already.
5. Have a little variety – I recommend having both red and white wine, as well any plenty of non-alcoholic drinks. Have a few food items without meat, etc. I know you can't please everyone, but it is nice to have something available for everyone to munch on 🙂
I love holiday decorations and I believe that having some festive decorations up and around the house make it more…well, festive 😉 So, be sure to have up some of your favorite holiday decor.
What is your favorite tip for holiday entertaining made easy?
Even if you aren't doing a lot of holiday entertaining, I still recommend stocking up on Scotties® Facial Tissues by Royale®, it is cold and flu season after all. Scotties® Facial Tissues by Royale® not only have their holiday box designs out – which make them perfect for a bit of decorating as well, they are perfect combination of softness and strength that can provide comfort to you and your whole family. Scotties is soft enough for everyday use, and strong enough to tackle your worst cold.
The holiday box designs feature serene snowflakes, picturesque snow-covered villages, and nature scenes with polar bears, birds, trees, and much more!
Where to buy Scotties:
Your favorite retailers
Amazon
Be sure to follow Scotties on Facebook and Twitter to stay up to date with everything that is kitten soft!
Be sure to check out Food Wine Sunshine on Facebook, Twitter, Pinterest, Google + and Instagram for more Helpful tips, healthy recipes, and more.