(Last Updated On: June 25, 2019)
When traveling, you need to pack the essentials and pack light. This is a great list of what to pack for a Caribbean getaway.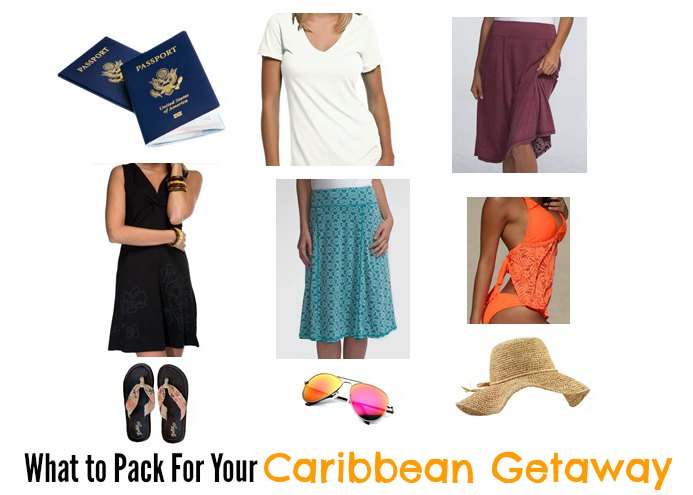 What to Pack For a Caribbean Getaway
I am getting ready for a girls weekend away to Punta Cana and I have never been anywhere Caribbean or the Dominican Republic. In fact, most of my traveling is done in a RV so I can pack A LOT. Well, on a weekend away to a resort, that just isn't possible. I am actually hoping to bring just a carry-on size suitcase and be done! But then, there is the issue of how many shoes I pack 😉
So, as my friend and I are making our packing list and checking it twice, I thought I would share What to Pack For a Caribbean Getaway.
Travel Documents
License and Passport. Be sure to pack these in your purse or somewhere easily accessible and NOT in luggage that you check. I will also bring my health insurance card.
Carry On Essentials
What happens if your luggage gets lost or delayed? Have any items that you would need within 24 of landing. Think prescriptions, basic toiletries, a bathing suit. Pain reliever such as ibuprofen or aspirin.
Clothing
The average temperature in the Caribbean is 81˚F, so you probably don't need any long sleeves or long pants. I am packing 2 bamboo skirts, 3 bamboo shirts, a bamboo dress, 2 pairs of shorts and a sundress for an evening dinner. I recommend bamboo because it is very lightweight and it will actually keep you a few degrees cooler. Cariloha has a variety of casual, yet classy resort wear that is actually making packing a lot easier than I expected! And those skirts – they are REVERSIBLE! That means it's a whole new skirt without me having to pack anything extra. I am bringing skirts because they keep me cooler than shorts and are a bit "dressier." My dress can also double as a cover-up. Some restaurants have a mandatory dress code; so I am covered no matter what. Don't forget PJs 😉 *I have worn my skirts several times already, you can check them out on Instagram.*
Comfortable Shoes
Flip-flops will be my go-to shoes. I do plan on packing 2 pairs.
Bathing SuitS
I definitely plan on getting some relaxing time in poolside, so a swimsuit is a must. Two is a good idea in case one isn't dry and we want to head back to the pool. Plus, I like having variety 🙂 Be sure to bring a swimsuit that makes you feel confident and comfortable. I introduced you all to Ujena last year, and I am bringing both of those suits with me on my trip.
Sunglasses and Hats
You have to protect your face and eyes, a wide rimmed hat will protect your face and Sunglasses will also protect your eyes.
Sunscreen
From everything I've read, sunscreen is pretty costly there, so I plan on bringing a few bottles with me at SPF50 and a face stick with SPF 50. Don't forget about your lips! Lips need sunscreen too.
After sun care
I would like to think that I won't get burned, but it's bound to happen. I will bring some aloe vera and shea butter to help me relieve the pain.
Waterproof Bags
Ziploc bags are great for keeping things dry and preventing spills on your important things and the sand out.
Extra Bag
This will act as my beach bag to carry during the day, and it gives me an extra bag in case I end up with more souvenirs that I expected.
Have you been to the Caribbean? What were your travel must-haves?
I received several products listed above for review. No other compensation was received, all opinions and tips are my own.
Where to buy:
You can use Coupon code
FUNSAVING20

to save 20% off on the entire Cariloha online store, they carry everything from bath and bedding to clothing for everyone in the family.

Make sure to check out Cariloha on Facebook and Twitter to stay social and up to date with deals and specials!

Be sure to follow Food Wine Sunshine on Facebook, Twitter, Pinterest, Google + and Instagram for more tips, fabulous recipes and more!