(Last Updated On: September 3, 2020)
I love it when the weather warms up, but if you are like me and don't always look forward to putting on a swimsuit, here are 7 great tips to help boost your swimsuit confidence.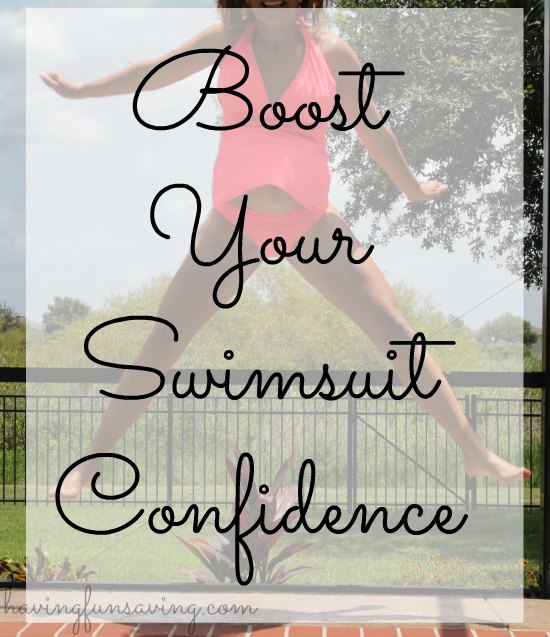 7 Tips To Boost Your Swimsuit Confidence
Do you let your body define who you are? With all the size 0 and 2 models out there, it's hard to not feel less than perfect sometimes. I will be the 1st to admit that I am hard on myself, I was a size 6 before kids, and then my body changed….
It doesn't matter how often I work out or how good I eat, I have "tiger stripes" in areas I would rather not. I have a tummy that refuses to get abs again thanks to two c-sections, and what I call "wrinkles" on my belly that don't go away.
But, my body is beautiful. It is the vehicle that allows me to run, pick up my kids, cuddle on the couch, drive to and from the store, hang out with my friends, travel, swim, and soooo much more. My body allows me to do the things that make life exciting, that make life fun.
Your body does not define who you are as a person. YOU DO.
Be sure to take care of yourself, eat right, get rest, but do NOT let your body define who you are as a person. When YOU feel good about yourself, it shows. No matter what shape or size, your body is miraculous.
Do you feel that way everyday? Do you feel that way during swimsuit season?
Do you dread swimsuit season? Do you love it?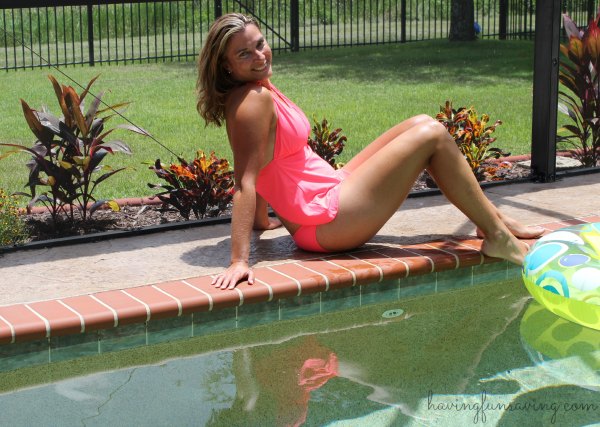 I love the warm weather, the constant playing in the pool, the hope of sneaking away for a weekend with my hubby to enjoy the beach. But do I love finding the swimsuit that helps my inner goddess come out? Finding the swimsuit that tells my inner critic to "SHUT UP!". The swimsuit that actually lets me enjoy swimsuit season.
Well, I have a few tips that I wanted to share today that will hopefully help you (and ME!) gain swimsuit confidence:
Stop the negative self-talk
You are your biggest critic. Take it easy on yourself. Body image is not based on facts, but on your emotions. Body image is a learned behavior, shaped by families, friends, the media, and your self-esteem. So start working on being nice to yourself. When you feel good with yourself, you will feel better in everything you do and wear!
Stop worrying about what other people think
Are you sitting at the beach and at the pool wondering what everyone is thinking about your stretch marks on your thighs or that your belly isn't as flat as a washboard? Guess what…they aren't paying attention to them at ALL. They are thinking about themselves and their day…not you.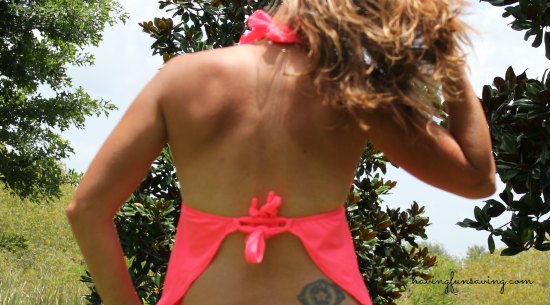 Shop for the bathing suit that fits your body well
There are swimsuits out there for everyone. Find the one that shows off you!
Buy a swimsuit you

love
Don't buy the all black swimsuit with the skirt that comes down to your knees because you think black makes you look thinner. Buy the swimsuit that makes you FEEL good. Maybe it matches your eyes, goes good with your skin tone. Makes you feel HAPPY. I got my swimwear this year for review from UjENA Swimwear. I spent quite sometime looking through the different styles and fashions available. I knew I wanted a tankini, you know, to help hide my beloved "wrinkles" on my belly. I decided right away that I wanted the open back, it's adds in a splash of sexy and a dash of fun, and it would help get rid of my running tank tan lines 😉 I LOVE the Electric Coral tankini, as you can see, the color works great with my skin tone. It just makes me feel happy!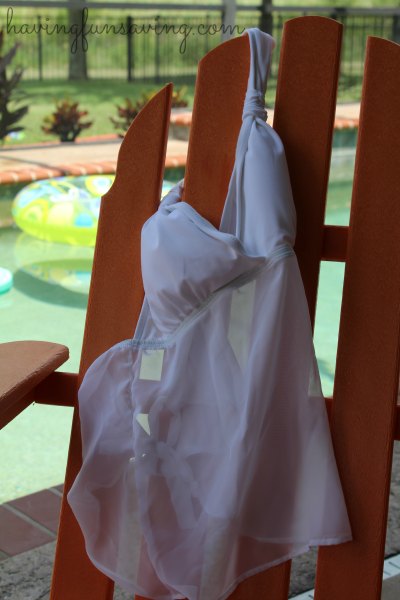 But the sheer swimwear. It was really calling my name. It was so far out of my comfort zone, I would NEVER think to get anything sheer. I even showed it to my husband online and he said "I really like it, but do you think you will feel comfortable in it?" Ah, he knows my inner critic too well. Where is that damn inner goddess?! So, I dug deep, called for her, and I got it. I got the Sheer White Open Back Tankini and dare I say… I LOVE IT.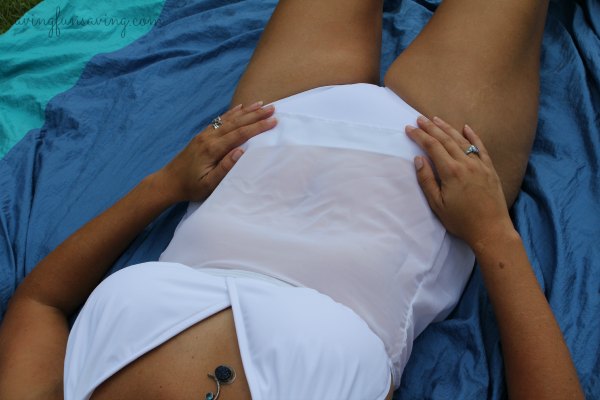 I will openly admit that I was nervous when I opened the package. But, it's GORGEOUS. The sheer adds that sexy and still camouflages my wrinkles that totally gives my inner goddess a HUGE boost of confidence.
As you are shopping for your swimsuit, try on LOTS of different styles, grab the one that you think to yourself "No way would I like that", grab the one with bold colors, grab the one that your inner critic says "Um, not sure about that one." And wear it, wear it PROUD. I strongly recommend checking out the selection at UjENA Swimwear, the swimwear is made here in the USA by MOMS. So, they KNOW all about the internal conflict of the inner critic and the inner goddess and they make swimwear that helps you boost your swimsuit confidence.
Choose a cover-up that fits
Hiding yourself in a huge t-shirt doesn't do anything for you, and will probably make you feel more self-conscience. Find a pretty dress or a skirt that fits and makes you feel fabulous.
Accessorize
Wear fun sunglasses, a cute hat, inexpensive colorful jewelry or a watch.
Primp
A new summer haircut, get your toes done, shave those legs, toss on some waterproof make-up! This will make you feel a bit more "put together" and therefore more confident.
Don't let worries of how you look in a swimsuit spoil your summer fun! Smile at yourself more this swimsuit season 🙂
Be sure to follow UjENA Swimwear on Facebook and Twitter ,Pinterest, and Instagram stay up to date with the latest and great swimwear fashion for women.
While you are at it, check out Food Wine Sunshine on Facebook, Twitter, Pinterest, Google + and Instagram for more tips, healthy recipes, family fun and more.
Disclosure: I did receive the products listed above for review. All opinions and tips are my own