(Last Updated On: August 28, 2019)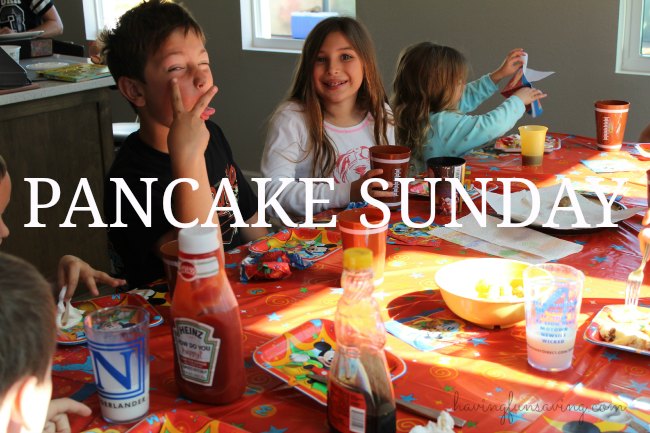 What Is Pancake Sunday? #DisneySide
Every Sunday we have anywhere from 5 – 15 people over for breakfast. It's mostly the neighborhood kids and we love it. My husband and I were trying to remember how it started…this "Pancake Sunday" and it was actually my daughter who came up with the phrase.
I cook most days, especially during the week. So, when my husband actually has a day off, I gladly let him take over the kitchen. Every Sunday he would ask the kids what the want for breakfast and without fail, they answer "Pancakes."
It didn't take long for their friends to learn that every Sunday we have pancakes, and the kids were more than happy to invite them over for breakfast. So, before we knew it…Our kitchen table is a Sunday tradition! It makes my husband and I grin from ear to ear to hear the other neighborhood kids talk about "Pancake Sunday." We ALL look forward to it. Pancakes aren't hard to make, and these memories will last FOREVER.
As the weeks go on, my husband has gotten more and more creative with his creations.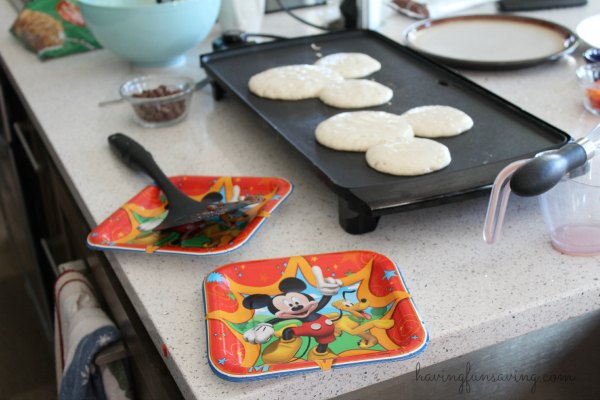 Kids can choose between:
Chocolate chip pancakes
Mini M&M pancakes
Plain pancakes
Mickey Mouse pancakes
Pancakes with fruit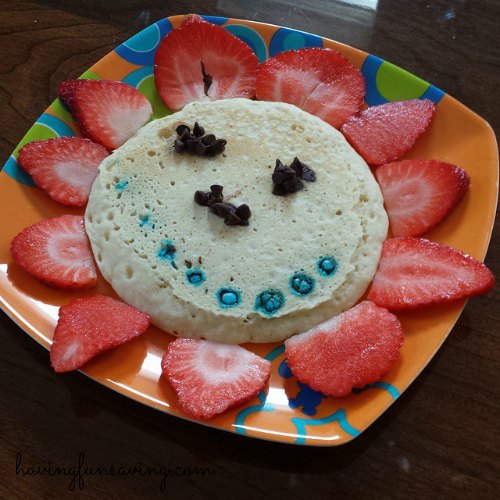 They LOVE it! And as you can see, coming in PJs is strongly encouraged 🙂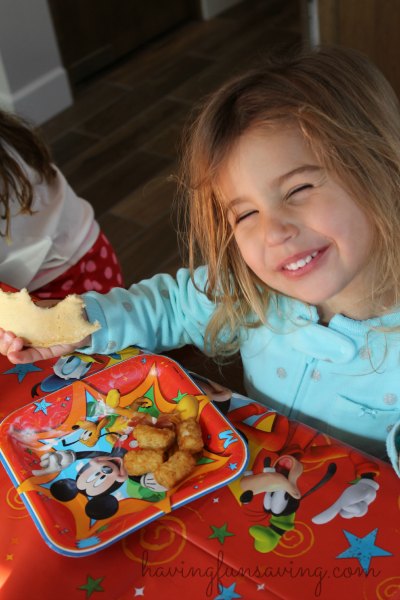 I recently received a fabulous package from Disney with all sorts of goodies for the kids to share with their friends…games and meal ideas and fun things for the kids galore! Then I sat there and tried to think of a fun "party" to have, what would we celebrate? I asked the kids for their ideas and they said, "Mom, we celebrate every weekend…on Pancake Sunday."
And they were right. Every Sunday we celebrate family, friends, and all our blessings. With pancakes 😉 What better way to show our Disney Side that on Pancake Sunday?! Just like these Pancake Sunday Memories, Disney Memories last FOREVER, so I love showing our Disney Side at Pancake Sunday! So do the kids!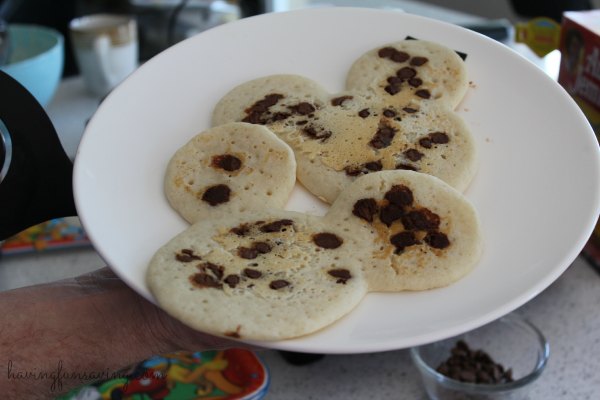 Do you have a special tradition that you do with your family? Maybe you can consider starting a Pancake Sunday too!
Be sure to check out Food Wine Sunshine on Facebook, Twitter, Pinterest, Google + and Instagram for more tips, recipes, family fun and more.
Disclosure: I received a fabulously fun package to celebrate my Disney Side. All opinions and beautiful memories-in-the-making are our own.