(Last Updated On: September 5, 2019)
You can brew your perfect cup of coffee, any way you want it, at home thanks to the Ninja Coffee Bar. Cold, hot, a specialty drink! Be Your Own Barista!
Even though I received the below product for review, all opinions and my sheer excitement for the Ninja Coffee Bar are 100% my own.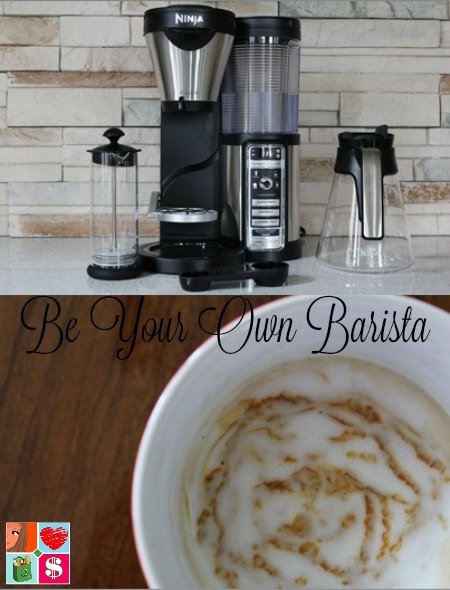 The Ninja Coffee Bar – Be Your Own Barista
I have a product to tell you guys about today that you are going to have a hard time believing exists. To be honest, I didn't believe it could exist even when the box was sitting in my house. So, I actually let it sit in the box for a week or two because I wasn't a believer.
I didn't believe that my desire need obsession for a barista-made latte could be replaced by ME. I am no barista. I can make a cup of coffee, sure, I can hit a button and pour water. But make a latte? A specialty brew? A Pumpkin Spice Latte? Caramel Macchiato? A Flat White? A perfected iced-coffee? Let's not get carried away….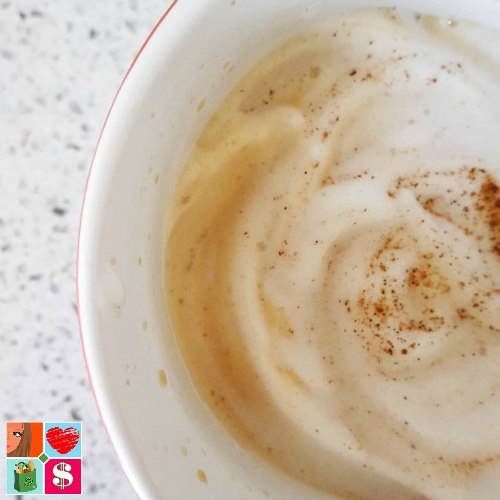 But I CAN…see that picture up there, I MADE that cup of perfection. And all I had to do is pour water, add coffee to the coffee filter, turn a dial, and hit a button. And if I want a fancy-shamsy latte (which I always do, of course), I add in an extra few steps and make my own froth.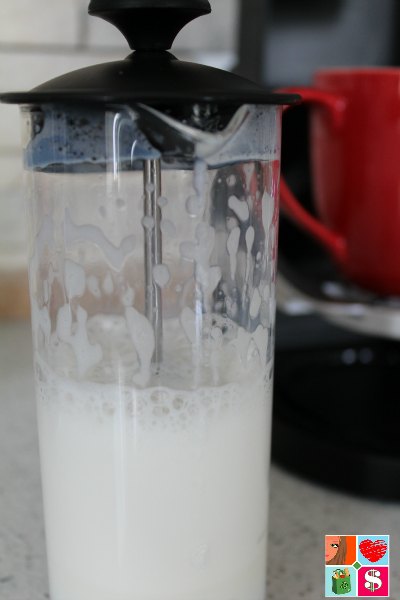 Yes, you read that right, I can actually make froth now. And I can have this absolutely barista-worthy cup of heaven in about 2 minutes, and for at least $3 less than what I pay at the coffee shop.
Still a non-believer that you can be a barista too?
Well, let me tell you a little bit more about the machine that has changed my coffee-drinking life.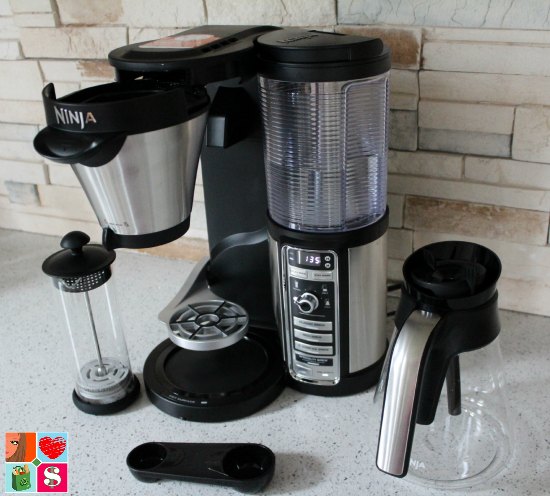 The Ninja Coffee Bar.
The Ninja Coffee Bar™ features revolutionary Thermal Flavor Extraction™ technology, which delivers a variety of sizes and coffee styles, from hot to iced to specialty, while achieving the perfect brew richness level every time.
What does that mean for you?
That means after you put your coffee in the filter, turn of a dial and press a button, you are going to get the amount of coffee you want, the WAY you want it. The Ninja Coffee Bar handles the rest.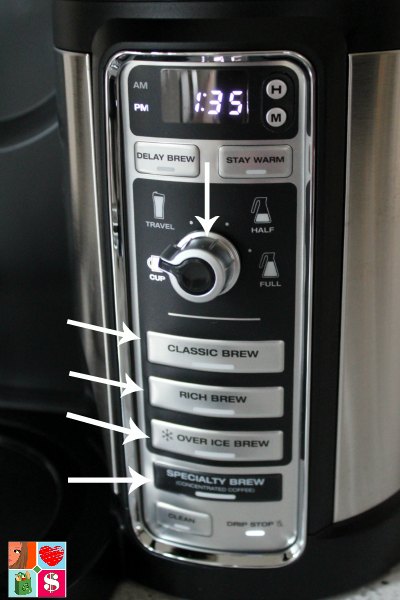 Emmy-nominated actress, Sofia Vergara (Love her!), and leading houseware innovator, SharkNinja, teamed up for the release of a product that broke into new territory for SharkNinja – the Ninja Coffee Bar. It was created with passionate coffee-lovers like Sofia (and ME and YOU) in mind, it actually completely reinvents the traditional drip coffee maker by unlocking coffee grounds' full flavor potential and providing smooth, rich and well-balanced coffee.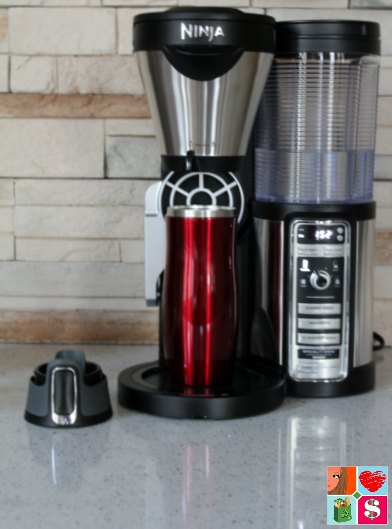 I have a drip coffee maker and a single brewer at my house. I use the single brewer during the week and the drip coffee maker on the weekends when I want more than one cup or if we have guests over. And guess what? Now, I ONLY NEED THE NINJA COFFEE BAR, and well, coffee. It (I mean me….I am the barista now!) can make a single cup, one for the hubby to go in his travel mug, a full carafe, a half carafe, my fancy-shamsy specialty brew, or an amazing iced coffee.
Oh, I know what you are thinking….Great yet another type of coffee or filter I am going to have to buy now.
NOPE.
You use #4 filters, which you probably have at home, if not, you can get them at any grocery store or mass-market store for just a few bucks. And ground coffee. ANY ground coffee you want! Nothing fancy or special required. Just you, your imagination if you want to create some fun coffee-drinks too, and of course the Ninja Coffee Bar.
How does the coffee magic happen?
The Auto-iQ™ One-Touch Intelligence by Ninja® allows you to choose a size and choose a brew. Auto-iQ™ draws just the right amount of water needed from the reservoir, based on the brew size (from cup to travel mug to carafe) and brew type you select. It DOES IT ALL FOR YOU! All you have to do is tell it what you want.
Their patent-pending technology blends Precision Water Delivery with automated controls for Calibrated Temperature, Pre-infusion, Coffee Saturation, and Flavor Richness. Thermal Flavor Extraction technology by Ninja® can truly unlock the full flavor potential of your coffee.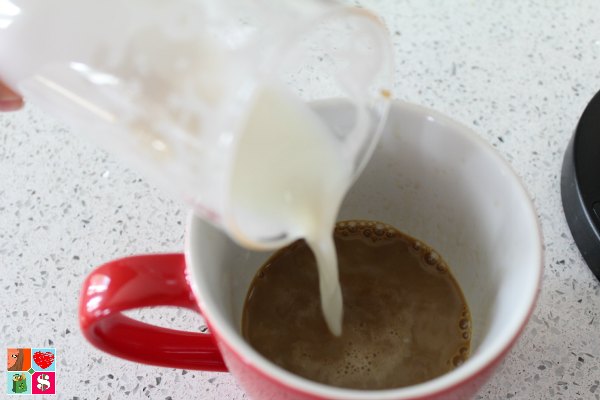 I know all of that sounds pretty technical, but the only part you have to remember is that if I can make my own barista-quality Pumpkin Spice Latte and a Caramel Macchiato at my house in less than 2 minutes, you can too! In fact, the Ninja Coffee Bar comes with a whole book of recipes that I plan on trying.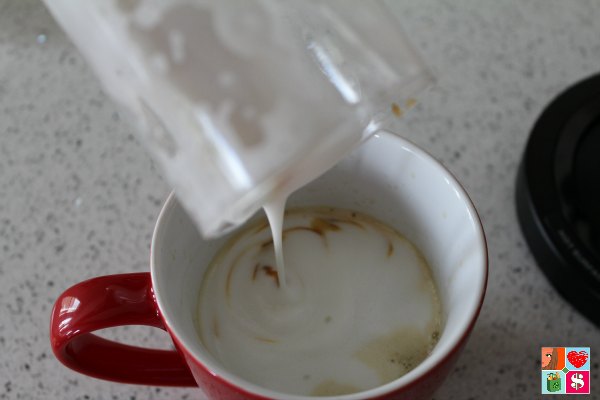 Oh, and I fully plan on using all the brewing options too – the Classic Brew, Rich Brew, Over Ice Brew and Specialty Brew.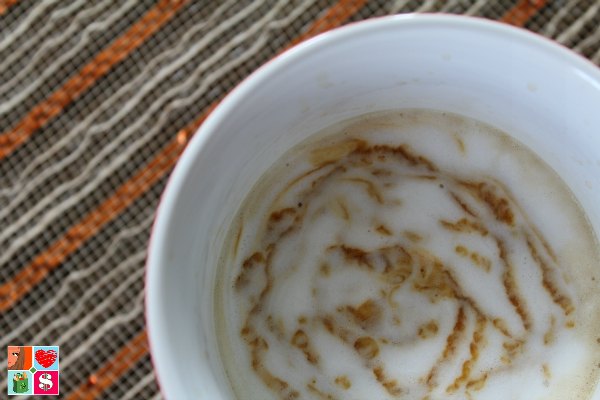 See the Ninja Coffee Bar in action
Where can you get the Ninja Coffee Bar? It is available at major retailers nationwide in now, with a starting at $139.99 MSR. You can also find it on Amazon. Talk about a GREAT GIFT IDEA for the coffee-lover in your life. Trust me, they will definitely thank you for it.
In fact, now that the holidays are coming, I think I am going to plan a Holiday Coffee Bar Party! I will get lots of fun topping and ingredients and my friends and I can make a bunch of different fancy-fun coffees!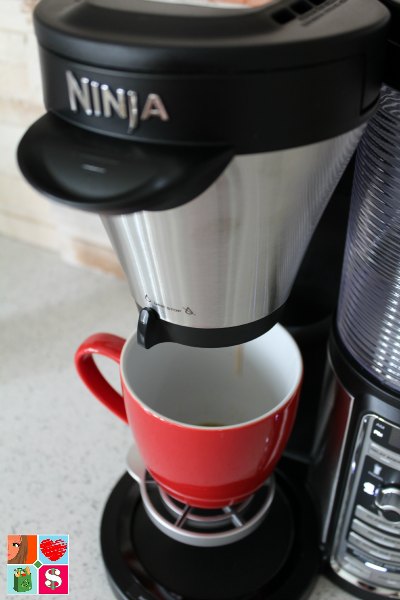 What type of coffee will you make first in your Ninja Coffee Bar?
Be sure to follow Ninja Coffee Bar on Twitter, Facebook, Pinterest and Instagram and check them out online to learn more about the Ninja Coffee Bar and to stay up to date with everything coffee-licious.
While you are at it, be sure to check out all the delicious recipes on Food Wine Sunshine and follow me on Facebook, Twitter, Pinterest, Google + and Instagram.