(Last Updated On: January 11, 2021)
Calling all Star War's Fans! Enter Star Wars Galaxy's Edge at Disney's Hollywood Studios and be transported to a whole new planet, the planet Batuu.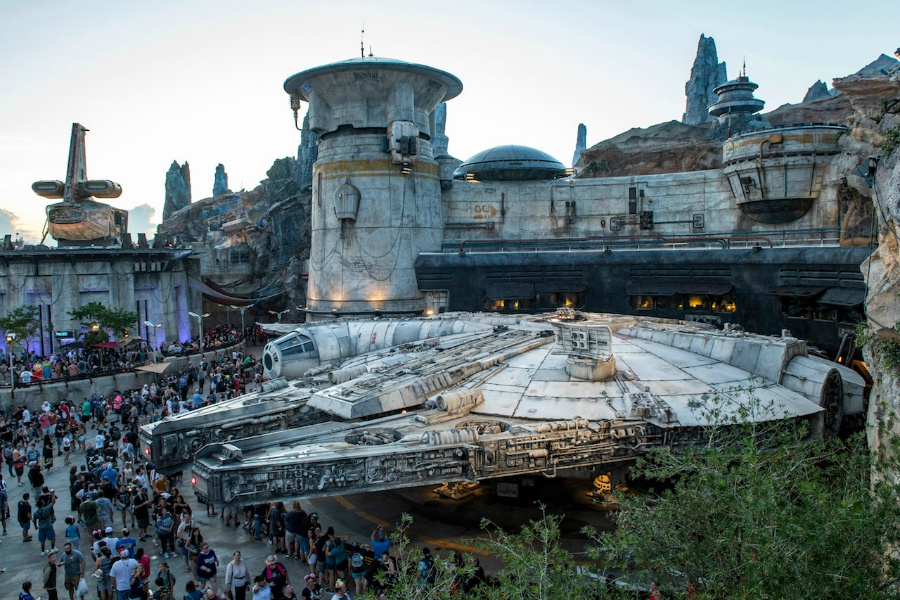 Star Wars Galaxy's Edge at Hollywood Studios
It's here, it's here, it's finally here! The long-awaited Star Wars Galaxy's Edge at Disney's Hollywood Studios is now officially opened and it is absolutely magical! From rides, food, exhibits, and workshops from galaxies far, far, away there is something here for everyone, and complete in Disney-style there is more yet to come!
Star Wars Galaxy's Edge at Hollywood Studios officially opened on August 29th and while the Star Wars Rise of the Resistance ride is not scheduled to open until December 5th, 2019 there is still plenty to explore right now. In fact, I got a behind-the-scenes tour back in July when I was there for the Disney Social Media Celebration Conference and I honestly felt that I walked into a new world. The details were like no other, but would you expect anything less from Disney? No, I think not. From the moment you walk into Star Wars Galaxy's Edge at Hollywood Studios you are transported to planet Batuu. It is actually like you are THERE, you really have to witness it for yourself, it's just amazing! When I went, I was unable to take pictures, so the pictures here are actually from the Disney Parks Blog.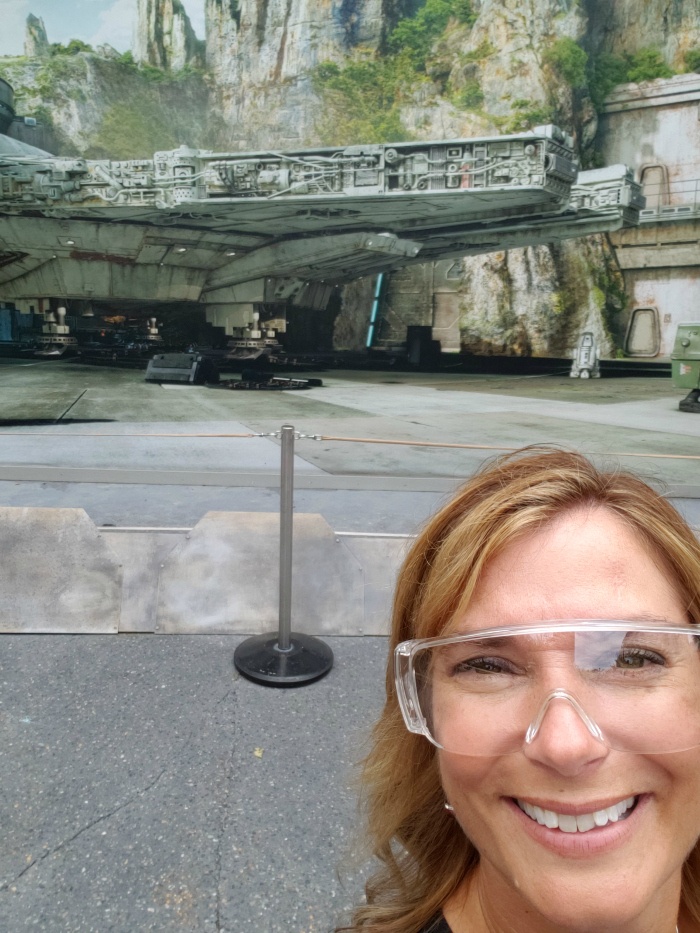 Here is a quick rundown of what you can expect on planet Batuu:
Savi's Workshop
At Savi's workshop, you can build your very own custom lightsaber under the guidance of one of the master's. This promises to be an unforgettable experience but it is pricey. Each custom lightsaber comes with a $199 price tag and reservations are HIGHLY recommended. You can make reservations up to 180 days in advance and cancel up until the day before with no penalty, but no show reservations are charged. Each reservation holder can bring one guest to observe the building process, and the whole experience takes about 20 minutes.
Droid Depot
At the Droid Depot, you can build either a BB series or R series astromech droid to interact with around the galaxy and at home. This is another activity where it would be best for you to have reservations before you plan your visit. Each droid costs $99 to build and you can customize your droid even more for additional fees. Just like Savi's workshop reservations can be made up to 180 days in advance, and each reservation holder can bring along one guest to observe the building process.
Oga's Cantina
Ever wondered what the people of planet Batuu like to drink? Then head on over to Oga's Cantina and sample some of the local favorites. The cantina features both alcoholic drinks and non-alcoholic drinks. Seating is limited at the cantina so reservations are recommended. You can make your reservations up to 180 days in advance of your visit and a $10 credit card charge is made for each guest in your party. You can cancel your reservations up until the day before with no charge or penalty but no show guests are charged. There is a two-drink maximum at the cantina and visits are limited to 45 minutes.
Docking Bay 7 Food and Cargo
Built in a working hangar bay, here you will find a wide variety of menu items from across the galaxy sure to tempt even the pickiest of taste buds. Some of the menu items you will find include pot roast, cold shrimp noodles, fried chicken, pork ribs, or marinated chicken. This restaurant is open for breakfast, lunch, and dinner.
If a sit-down meal is not what you are looking for you can check out:
Ronto Roasters where they serve a grilled sausage and roasted pork wrap.
Kat Saka's Kettle where they dish up sweet, savory, and spicy popcorn for a delicious treat!
At the Milk Stand, is where you can taste one of the blue or green milk drinks that Luke Skywalker treated himself to in the Star Wars movies. This frozen treat is a sweet way to quench your thirst while you travel the galaxy.
Millennium Falcon: Smugglers Run
Smugglers Run is a personalized intergalactic ride for you and five team members. The real-time video technology puts you in control of how the mission is completed. The ride consists of a six-person crew, two each in the position of pilot, gunners, and flight engineers. Each mission is guaranteed to be different so every time you will see and experience something different.
Shopping
Galaxy's Edge also hosts a variety of interesting shops from toy makers to resistance suppliers. There are street market stalls, creature stalls, even a First Order cargo store. No matter what kind of trinkets or memorabilia you are looking for you are sure to find it as you wander the galaxy.
To enter Star Wars Galaxy's Edge you will have to join a boarding group, you can do this by using the My Disney Experience app on your phone or through one of the available guest kiosks in the park. If you have a reservation for Oga's Cantina, Savi's workshop, or Droid depot you may enter without a boarding group one hour before your scheduled reservation time. Galaxy's Edge is not currently available for FastPass customers, however, it is eligible for Extra Extra Magic Hours if you are staying in certain Disney Resorts.
Just remember that this is a new attraction for Disney's Hollywood studios so there are a LOT of people waiting to explore it. I mean, A LOT. You can definitely expect long wait times through the end of this year, especially since the Rise of the Resistance ride opens on December 5th. Is it worth it? Absolutely, even if you aren't a die-hard Star Wars fan, just to see how Walt Disney World created this whole new planet is really mind-blowing.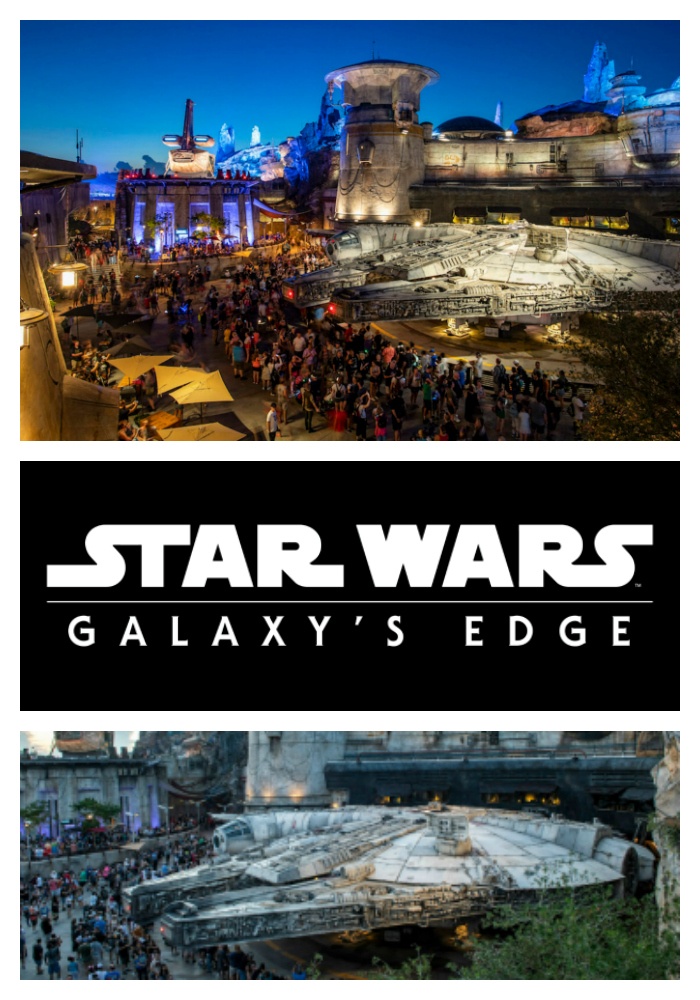 Be sure to follow Walt Disney World on Facebook and Twitter to stay up to date with all the magical happenings.
Check out Food Wine Sunshine on Facebook, Twitter, Pinterest, and Instagram for more fun things to do in Florida, recipes, and more.