(Last Updated On: April 19, 2021)
There are some basic essentials that all sports parents need. As a soccer mom, these are 13 Soccer Mom Must Haves that are essential for me to bring to the field.

13

Soccer Mom Must Haves
It's official. I am a soccer mom. When the kids were younger, we had them try all sorts of different sports, ice hockey, basketball, baseball, karate, soccer, etc. And the sport that has stuck with them both is soccer. Of course, it's the one sport that neither my husband nor I have ever played.
But we bought Soccer for Dummies (for my husband and I), started watching soccer on TV, and are now more involved than ever 🙂 And as we go to and from the soccer field on a regular basis, I thought I would share some of our must-haves.
Here are my
Soccer Mom

Must Haves:
Water Bottle
Not only for your child playing, but for you and yours that are sitting on the sidelines. It's November and it was 95 degrees at our last game. My husband, daughter, and I went through plenty of water that day too!
Soccer Ball
Yes, there is always a game ball, but we always bring our own for practice before the game.
Phone Numbers of the Coaches
Store 'em in your phone, you know, just in case you forget what field you are playing on. Not like I have ever done that before….. 😉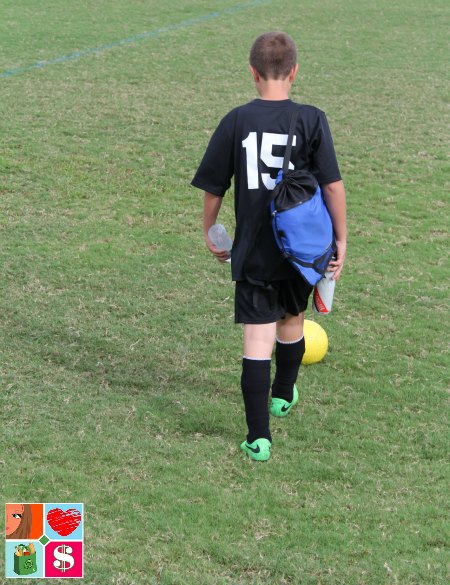 Athletic Bag
My kids both have one. Steven carries his goalie gloves, his goalie shirt, and his ball in his. If you carry the ball, you can easily fit in water, sunscreen, bug spray and our all-star players other essentials right in the bag. I love that they have their own bag, it gives a sense of responsibility for what they need to make sure they bring.
Healthy Snacks
Our team rotates snacks weekly, but remember to bring something for your other kiddos sitting on the sidelines watching. It never fails that my daughter tells me she's hungry within 5 minutes of my son's game starting.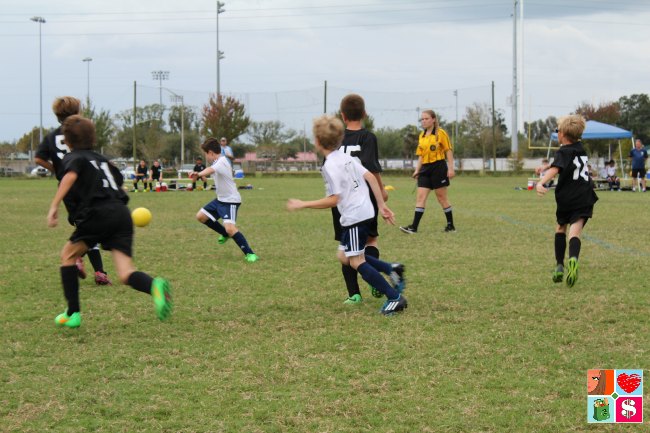 Sunscreen
For your all-star player and YOU
Bug Spray
The bugs are HORRIBLE here in Florida, I swear mosquitoes could totally lift up my daughter and carry her away. Our coach has actually started asking for parent volunteers to bring some in for the players to our nightly practices.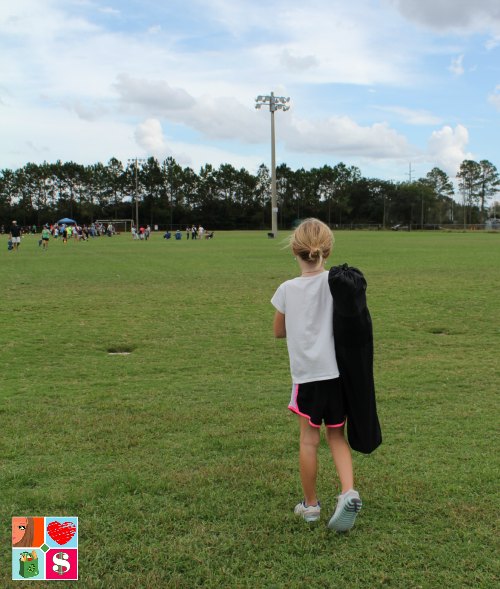 Portable Folding Travel Chair with Carry Bag
As you are making sure you have everything else out of the truck for the game, you don't need a chair that doesn't have it's own carrying bag. That is a must. You need easy to carry (if you are lucky, your other child may even carry it for you!)! Our favorite chair is the Insect Shield Folding Travel Chair. It is the perfect outdoor chair! This unique folding chair has been treated with long-lasting Insect Shield®, an invisible, odorless technology that repels mosquitoes, ticks, and flies. The insect repellent is actually bonded to the fabric fibers and lasts the life of the chair. It is made of rugged, quick-drying ballistic nylon mesh, which keeps you cooler by promoting good air flow.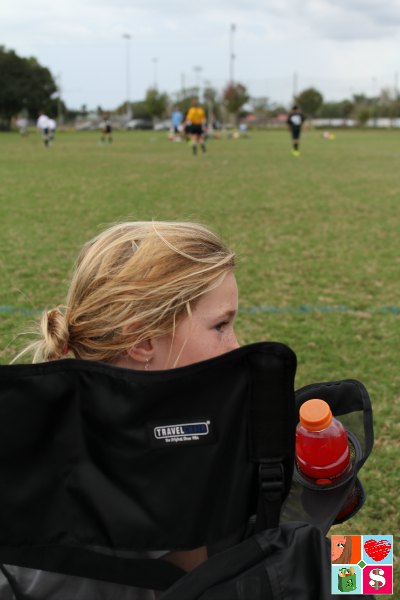 Camera
If you don't want to bring a camera, make sure your phone has a charge. You never know when that picture-perfect moment will come.
Umbrella
To help protect you rain or shine.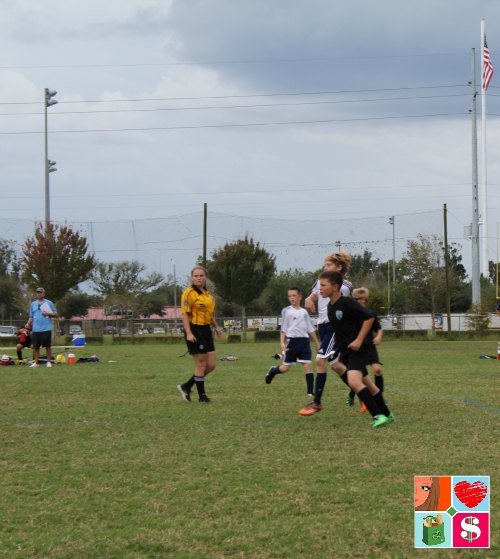 Blanket
If it's chilly, it's nice to have one to wrap up in, or if happen to have a weekend like ours last weekend and there was NO BENCH for our players and all the parents gave up our folding chairs to the players, a blanket will also also serve as a place to sit if needed.
Band-aids
Change of Clothes and Shoes
Just in case your player gets super dirty!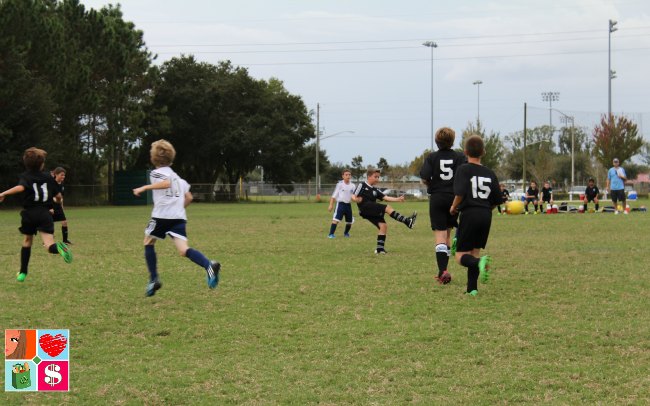 What are your

Soccer Mom

Must Haves?
Do you also have a child that plays baseball? Check out these baseball mom essentials.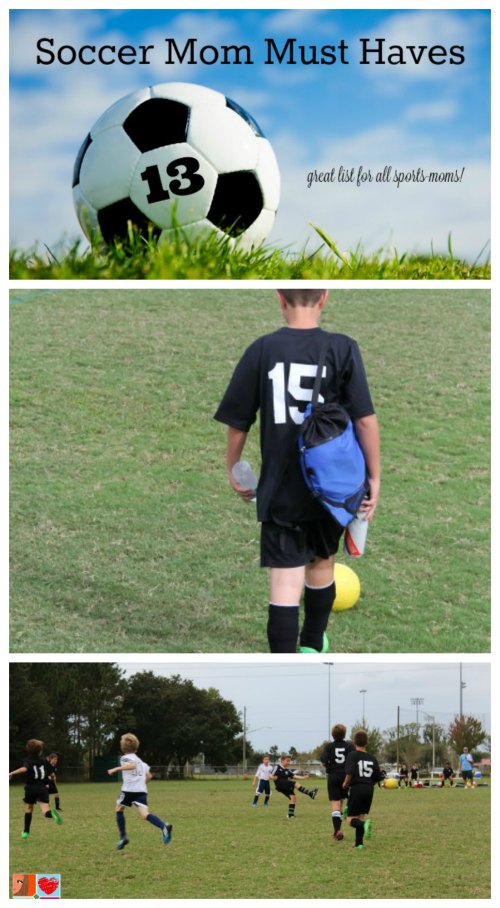 Where to buy:
And be sure to follow me, Food Wine Sunshine on Facebook, Twitter, Pinterest, and Instagram for more family fun!