(Last Updated On: September 3, 2020)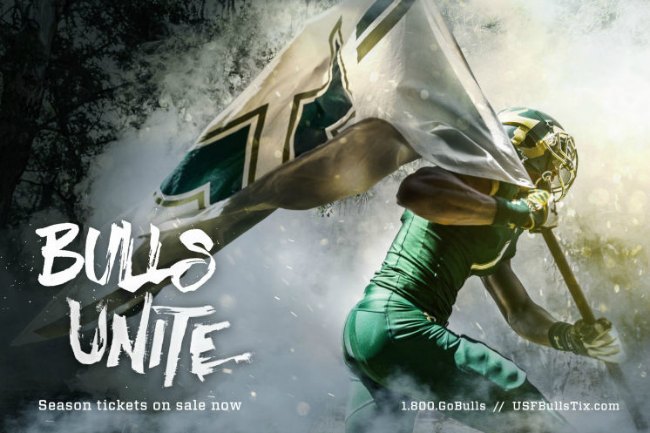 Our 1st USF Football Game #BullsUnite
My kids have been telling us for awhile now that they have never been to a football game. And come to think about it, it's been about 10 years since I have been to one. My husband and I discussed that we would work on getting them to a USF game – since it is close and he is actually an Alumni.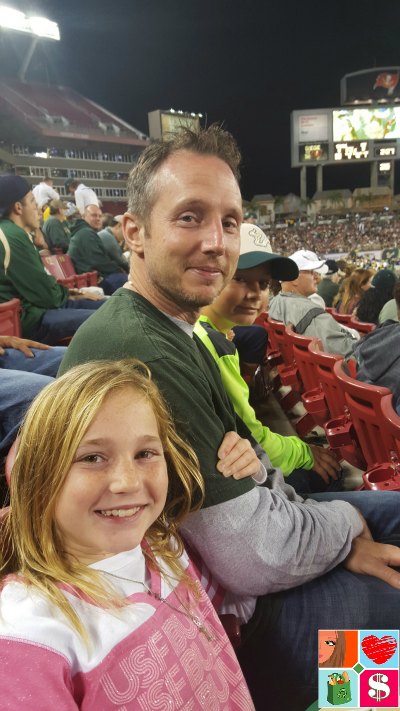 Then I got an invitation to go to the game USF vs Temple at Raymond James Stadium last weekend from my awesome relationship with the Tampa Bay Bloggers! Talk about perfect timing 🙂
I haven't been to a college football game since I was in college…so just a few years ago ;)…so I wasn't sure what to expect. My husband was a bit concerned that the crowds were gonna be crazy and that parking was going to be a mess.
So, how was it?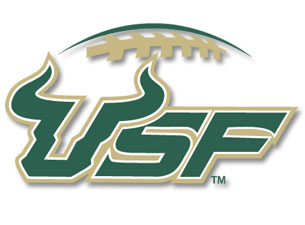 It was AWESOME! USF Bulls fans are a blast! EVERYONE and I mean EVERYONE had on some form of USF gear, from shirts to hats to face paintings to jewelry. There was so much participation from the fans during the game that you couldn't help but get involved. The singing, the cheering, the "1st Down" calls. We had a BLAST! It was absolutely the perfect 1st Game experience for our kids (ages 10 and 8) and we are totally looking forward to going back again. It was more fast-paced and enjoyable than a professional football game (my husband has been to a few). And the Team Spirit was just so FUN! Oh, and the parking was a breeze and the crowds was fab! AND….WE WON! GO BULLS!!!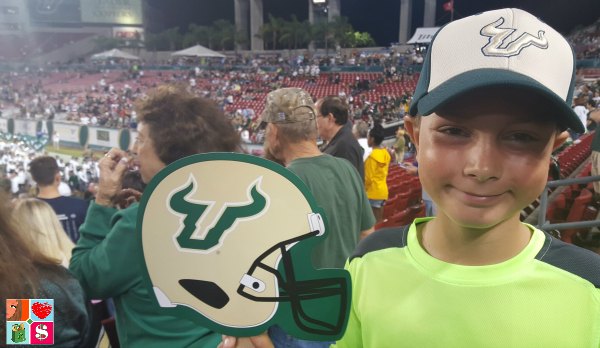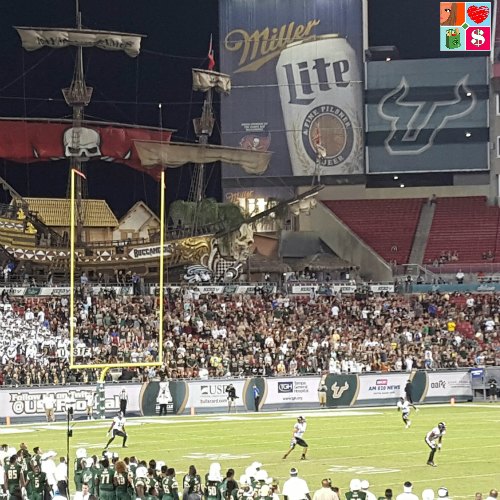 Oh, and be sure to visit the Bull Zone tailgate, there are vendor tents and a live DJ. Our game was at 7:00 and the Bull Zone area was open from 4-6:30 p.m., and the USF Football players and coaches walk in a procession from their buses into the stadium during what is called the "Bulls Stampede." The USF Herd of Thunder (HOT) marching band comes to Bull Zone after Bulls Stampede.
Go #USF! #BULLSUNITE!
Have you been to a USF Football Game? Have you been to a college football game? Do you prefer a college game or a professional?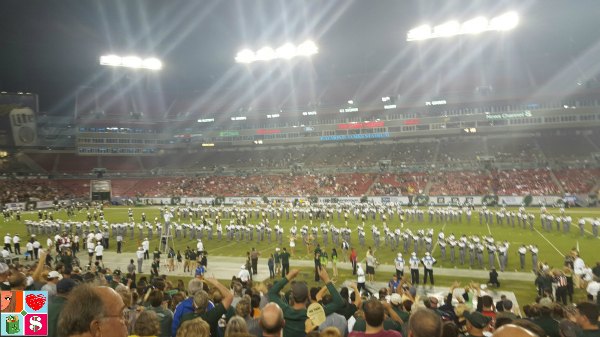 Disclosure: While my family and I were able to attend this game for free, all opinions are 100% our own.
Be sure to follow USF Football and USF on Twitter to stay up to date with everything BULLS.
Where can you get USF Football Tickets?
USFBullsTix.com or call 1-800-GO-BULLS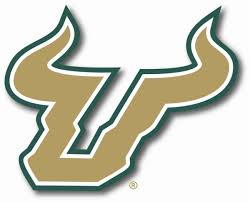 While you are at it, be sure to visit Food Wine Sunshine for more Florida Family Fun and stay up to date with me Facebook, Twitter, Pinterest, Google + and Instagram.