(Last Updated On: September 5, 2019)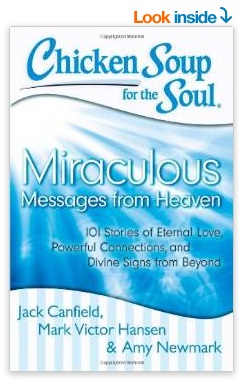 Miraculous Messages From Heaven Review + My Personal Story
I am very excited to let you guys know that I am a Chicken Soup for the Soul Soup-er Blogger. What does that mean? Well, I get to amazing opportunity to read inspiring books and tell you guys about them 🙂 Most recently I read Chicken Soup for the Soul – Miraculous Messages from Heaven.
If you have ever lost a loved one, I'm sure that you wished at some point you could still talk to them. I know I have.
Here's one of my personal experiences….
I lost my Grandma when I was in college…I was coming home for Christmas Break and my dad called me to tell me to not stop at any outlet malls or make any unnecessary stops on my way home. My dad wouldn't tell me that anything was wrong, just that I should come home. My boyfriend at the time was taking me home and I was a nervous wreck the whole drive. It was a 3 hour drive. Something in me told me to go to my grandparents house. My grandma had been sick with lung cancer for about 8 months, and I was scared something happened. We pulled into my grandparents driveway and I ran around to the back of the house and looked through the living room window and my grandpa was sitting in his favorite chair in his suit watching TV. My grandma's hospice bed was gone. I couldn't go in. I ran back to the car and went home. My dad came down the stairs when I walked thru the door and he was wearing a suit.
I broke down. I cried and no words needed to be said. I knew I lost my grandma that day. I knew that she waited for me to be able to come home so I could finish my finals as school…she was just that way.
So many emotions are experienced when you lose someone. But as time goes on, you get the chance to reflect on the happy times and things that remind you of that person.
I remember sitting at a restaurant one night with my cousin and she told me that my grandma came to her in a dream to tell her that she was ok. I was jealous! Weird emotion right? I wanted my grandma to come to me in a dream too, I wanted to have that extra connection. But, I have it…it's just different.
My grandma LOVED jewelry. She bought me my first piece and bought me something for every single holiday and occasion. One day I lost one of my rings…an expensive one. I looked EVERYWHERE for it and I had no idea how I would find it. I asked my grandma to help me find it…and I did. To this day, every time I misplace something I ask her for help. I have found earrings under my dresser, my mom found a ring in her laundry basket, the locations are always weird…but she TELLS me where to look. I believe that in my heart and it makes me smile every time.
The book Miraculous Messages from Heaven reminds me of my connection with my grandma. The book if filled with beautiful stories that will warm your heart.
When our loved ones leave this world, our connection with them does not end and we often receive signs from the other side. These true and touching stories – religious and secular – will amaze and support you.
The 101 true and miraculous stories in this book of signs and messages from beyond show that death may take away the physical presence of our loved ones, but not their spirits. This book is for everyone, religious or secular, as people from all walks of life share their amazing experiences with the other side.
Have you read Miraculous Messages from Heaven yet?
You can check it out Chicken Soup for the Soul – Miraculous Messages from Heaven on Amazon. It is actually on sale for just $12.75. The regular price is $14.99.
Do you have your own Miraculous Messages from Heaven to share?
Disclosure: I received no compensation for this publication. I did receive the book for review. My opinions, thoughts, and beliefs are 100% my own.