(Last Updated On: September 5, 2019)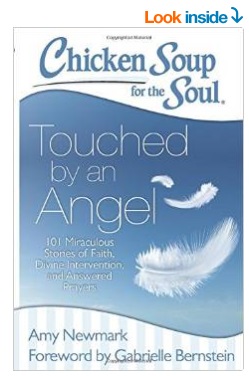 Chicken Soup for the Soul – Touched by An Angel Book Review
Do you believe in Angels? I do. My husband on the other hand has a hard time grasping the idea. He has always struggled with the concept of after-life and what happens after death. I just believe. I believe that we are on Earth of a short time, but that there is something so much more after life. My husband will ask me for proof, books, etc. But he still has a hard time believing in his heart of hearts that there is more.
So, when I had the opportunity to select some Chicken Soup For The Soul Books as part of being a Chicken Soup-er blogger, I picked Chicken Soup for the Soul – Touched by An Angel for him more so than me. I thought that if he read touching heartfelt stories it may open his heart and mind to the idea more.
The book has 101 Miraculous Stories of Faith, Divine Intervention, and Answered Prayers, which will amaze and inspire. Seen or unseen, angels are all around us.
I asked my husband last night about the book that he has had on his night stand now for a few months and he talked about it excitedly! He preferred the shorter stories that were more personal, and he actually remembered his favorite one…It was about Pennies from Heaven. I was absolutely delighted that he was able to connect with the story and afterwards we were able to have a meaningful talk about Heaven and our thoughts about after. Now, he's not a changed man (yet!) but I believe that reading stories like these are a great way for him to let more into his heart 🙂
You only have to look to find the angels in your life. These divine guides, guardian angels, and heavenly messengers help and guide us when we need it most. You will be awed and inspired by these true personal stories from religious and non-religious, about hope, healing, and help from angels.
You can check it out Chicken Soup for the Soul – Touched by An Angel on Amazon. It is actually on sale for just $11.36. The regular price is $14.99.
Have you ever been Touched by an Angel?
Disclosure: I received no compensation for this publication. I did receive the book for review. My opinions, thoughts, and beliefs are 100% my own.
You can