(Last Updated On: July 3, 2019)
While this post is sponsored by Offers.com, all opinions and my desire to save money are my own.

How To Save On Last Minute Back To School Shopping
It's Back To School time and that means it's time for school supply lists, backpacks, lunch boxes, clothes, shoes, and more. Whether you are already back in school, or it's coming around the corner, I bet you still aren't done with back to school shopping.
My kids went back this week, and each day I am getting notices from various teachers mentioning extra items that the kids need. And, of course, there are the ongoing requests for a new pair of shoes for PE or the super cool shirt that someone had on this week. As a parent, not only is all this shopping COMPLETELY overwhelming, but it is EXPENSIVE. And, if you are like me and have yet to find that money tree in the backyard (now, I totally understand why my parents said that all the time when I was a kid!) you are looking for the best deals to give your wallet a break.
That's where Offers.com comes in.
Offers.com has the latest deals from all of your favorite stores….all in one place! That means no more searching the internet for the best deals and coupon codes. That means Offers.com is saving you TIME and MONEY. Both things I know I could always use more of 😉
What type of Back to School deals and coupon codes are on Offers.com?
There are A LOT, but here are my favorites:
Kids shoes – all the brand names you and your family love
Back packs – Personalized or non-personalized
School Supplies
Up to 70% off School Uniforms
Up to 60% off Lap Tops
Deals on Apple even!
You can view ALL the latest Back to School ads for stores in YOUR area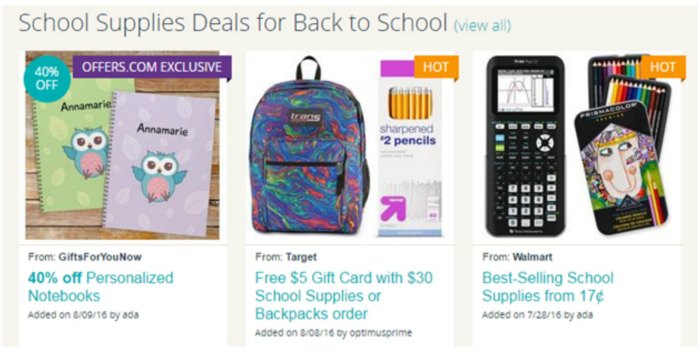 What stores will you find deals on when checking out Offers.com?
There are A LOT, but here are my favorites:
Kohls
Walmart
JCP
Amazon
Our Campus Market
Dell
HP
Offers.com has everything organized for you too, so it's really easy to browse each section, see the latest offers, and get saving.
How much do you spend on Back to School Shopping? Did you know that "The percentage of parents who plan to spend over $400 per child has gone up 13.9% since the 2015 back-to-school season." I will admit that sounds bit high, but when you factor in supplies, clothes and shoes…it is definitely close! And if your child needs a computer or tablet, that number can get even higher!

Check out this survey that Offers.com did with parents: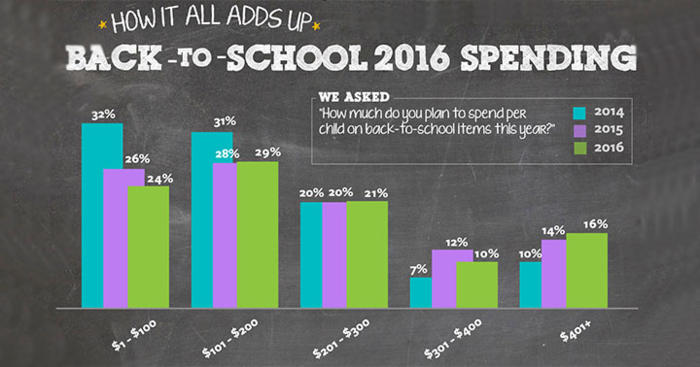 And this survey just made me smile: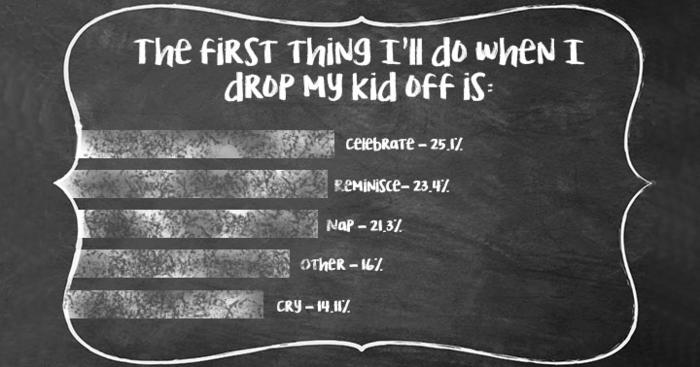 Looking for the biggest savings?
Howard Schaffer, General Manager at Offers.com, reminds shoppers, "It's important to remember to stack coupon codes when available and always look for retailers offering free shipping if you are shopping online." He maintains that the key to back-to-school saving is to create a list, stick to it and narrow down which stores offer the best deals on specific products. I couldn't agree more 🙂
Are you done with your Back To School Shopping? How will you find the best deals this season?
Be sure to follow Offers.com on Facebook, Twitter, and Pinterest to stay up to date with the latest offers, savings, and tips for Back to School shopping and beyond.
While you are at it, be sure to follow me too! Follow Food Wine Sunshine and Cooking on Facebook, Twitter, Pinterest, Google + and Instagram for more helpful tips, fabulous recipes and more!