(Last Updated On: July 3, 2019)
Have you ever wondered about the importance of a skincare routine? Skin care is just as important as an exercise routine or eating right! Protect your skin.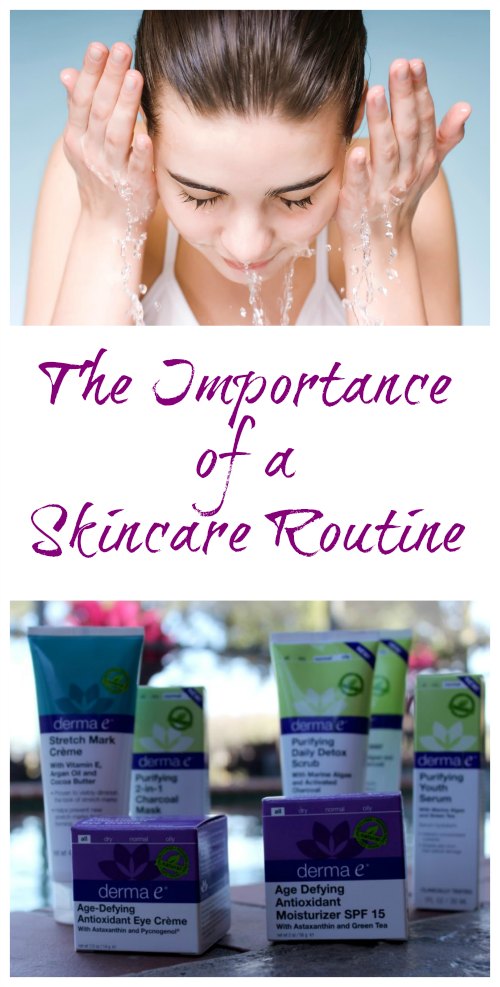 Importance of a Skincare Routine
+
derma e Affordable Natural Skincare
I have asked friends before if they follow a skincare routine, and the answer is either "Yes, I have for YEARS!" or "No, I don't have the time and money for all that." So, I wanted to share the importance of proper skin care and to introduce you to a line of skincare that is not only affordable, but it works.
Your skin is the largest barrier against infection that you have. Your skin protects you from EVERYTHING. Your skin works non-stop, all day, every day to protect us from weather, the sun, injuries, and more, so setting aside a few minutes each day to take care of your skin seems a small price to pay. So, your job is to keep your skin healthy and moist, which helps keep this barrier strong. And keeping your skin strong and healthy is critical.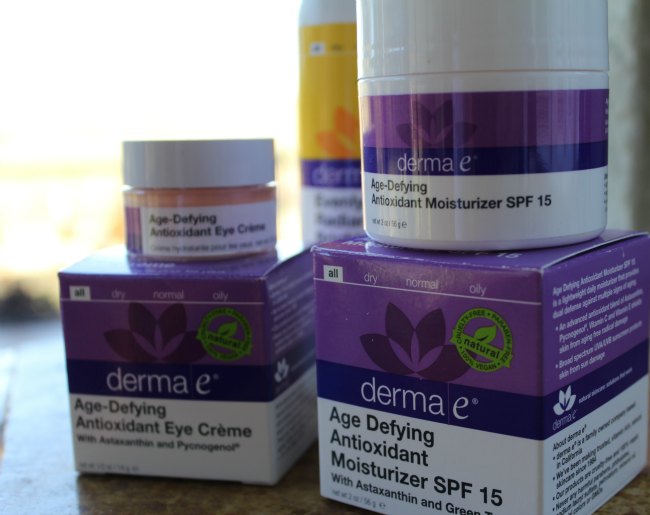 How do you keep your skin strong and healthy?
Using a proper skincare routine daily can help preserve your important protective layer, your skin.
What is a "Proper Skincare Routine?"
The first thing you have to do is to identify what kind of skin you have. Dry, oily, light, dark, wrinkled, smooth, or a little bit of everything? There are three basic skin types:
Dry
Oily
Normal/combination
You will see on most skincare products some form of indication of what skin type the product is for. Some products are good for all skin types.
No matter what skin type you have, the basic steps of a good skin care routine are basically the same:
Cleanse
Moisturize
Repair
Prevent
Cleanse
It is recommended that you only wash your face in the morning and before bed. Skin loses its natural lubrication when it is over-washed, it's best to keep extra washing to a minimum.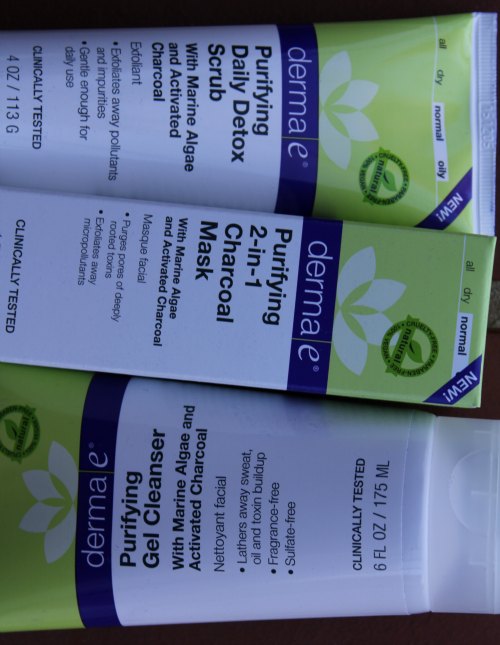 Bar soap can be hard on your skin, so use a cleanser specifically formulated for your face and look for products that are specifically designed for your skin type. Don't be afraid to experiment to find the cleanser that works best for you!
Moisturize
Moisturizer is a must. Again, look for a product that is for your skin type. Keep in mind that the skin around your eyes is different, it is more delicate and is thinner than the rest of the skin on the face. Be sure to use a cream designed for the eye area.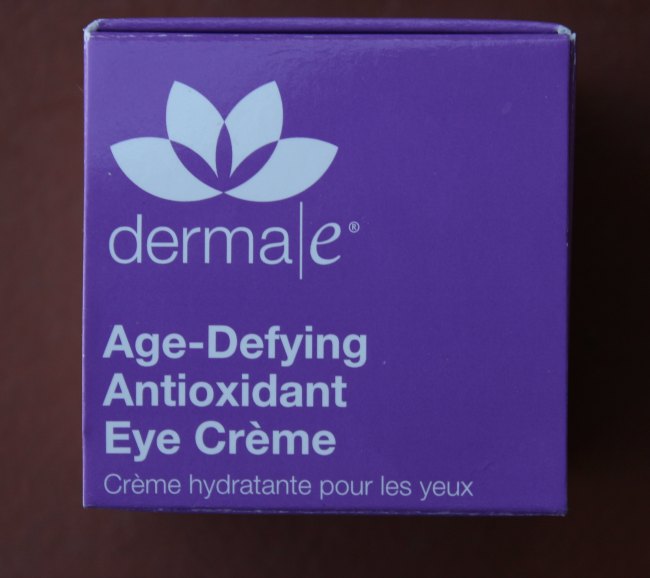 My grandpa always told me to use moisturizer when the skin is still damp because it helps the skin lock in extra moisture. Turns out he was right 😉 And be sure to only use as much moisturizer as you need, no need to clog your pores and waste product.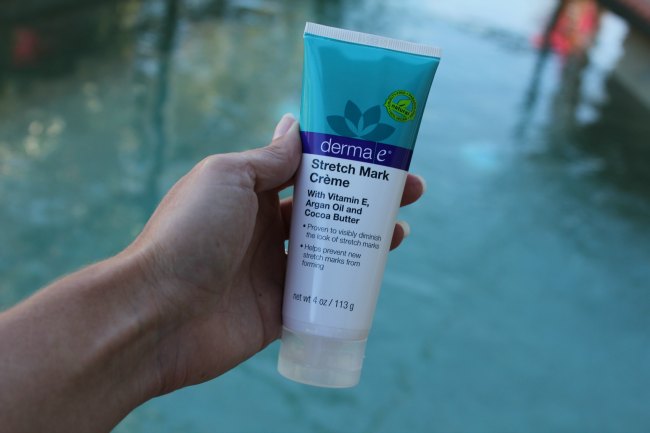 Repair
Anti-redness, brightening, anti-aging, sun care, skin irritations, scars, stretch marks, detox – yes, you need to give your skin a good purifying now and then too…. There are all sorts of things we can help our skin repair from, take some time to find which products are for you.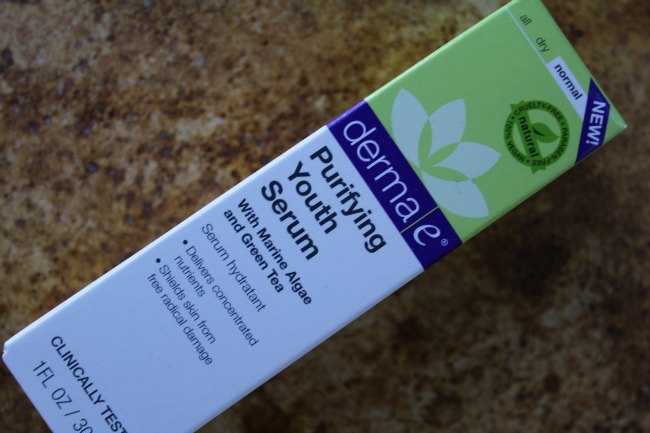 Prevent
A good skin care routine is about setting yourself up for beautiful and healthy skin for life. Eating right and exercising is just as important as the health of your skin.
Use Sunscreen. Did you know that skin cancer is the most preventable form of cancer, yet very few of us actually try to prevent it? Be sure to use sunscreen that has at least an SPF 15, in fact, look for moisturizers or products you would use anyway that also contain SPF 15 or higher.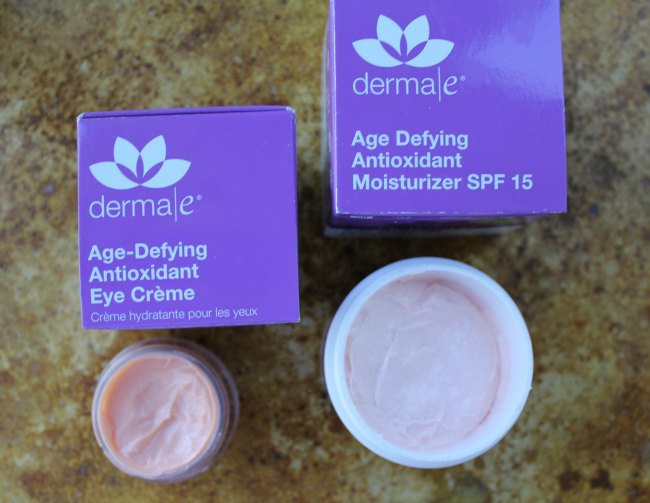 The great news is that many products address more concerns than you expect. For example, many moisturizers contain SPF, and many repairing products contain the same ingredients that will prevent future skin problems.
Though our largest organ, we often forget to give our skin any attention, following a proper skincare routine helps protect our skin from the elements, and don't forget to a dermatologist or a certified skin care professional regularly.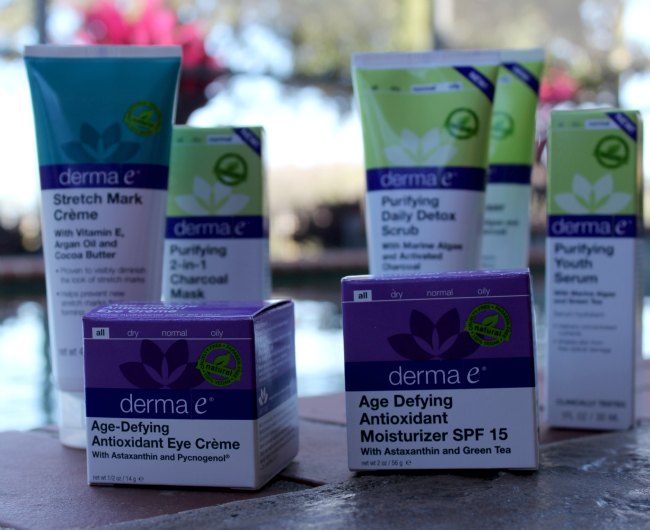 Why do I trust derma e® to keep my skin, my protective layer, healthy?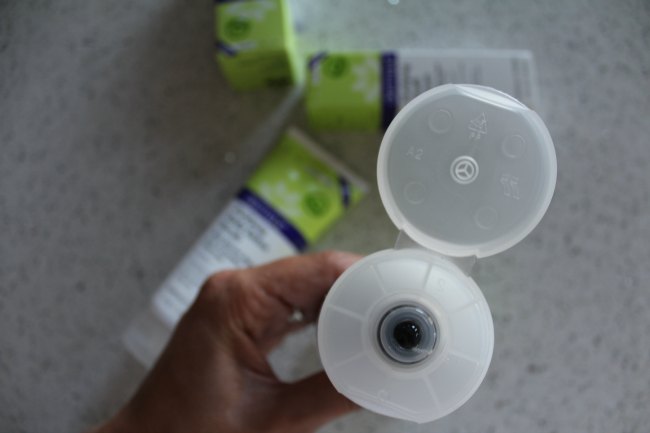 While Food Wine Sunshine did receive products for review, all opinions are 100% my own.
It's natural.
I love that it's made with natural ingredients, they are Gluten-Free, GMO-free, cruelty-free, they CARE.
It works.
derma e uses the best of nature's time-tested ingredients and the latest scientific research. derma e® formulates the most innovative and effective natural skin care products available. They use such as nourishing Vitamins A, C and E, anti-aging antioxidants Pycnogenol® and Astaxanthin, ultra-hydrating Hyaluronic Acid, widely renowned skin-firming DMAE, and so much more.
Variety.
The carry a large variety of products that are tailored with YOU in mind. Dry skin, oily skin, normal skin, combination skin, anti-aging, and sooooo much more.
It's affordable.
I will admit, I have been lured in to the $80/oz moisturizers and I will openly tell you, I have no idea what made them special. I am thankful that I can tell you what makes derma e special 🙂 You can find derma e online, at Ulta Beauty, Target, Whole Foods, and other retailers (over 16,500 retail outlets across the U.S.) that carry natural skincare.
More Reasons to love derma e®
Family owned and operated for 30 years, derma e® has pioneered the development of vitamin-rich, high-performance antioxidant skincare solutions. The award-winning line features over 80 doctor-developed and clinically-test products that are free of parabens, phthalates, mineral oil and petrolatum.
Though beauty is only skin deep, healthy and cared for skin is an indicator of one's overall well-being.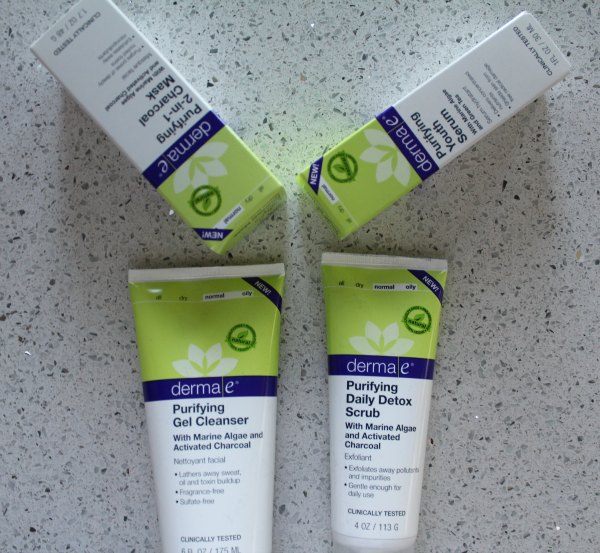 Be sure to stay up to date with derma e on Twitter, Instagram and on Facebook. While you are at it, check out all the helpful tips here on Food Wine Sunshine and follow me on Facebook, Twitter, Pinterest, Google + and Instagram.