(Last Updated On: December 5, 2023)
This Frosted Snowflake Cocktail is not only pretty, but it tastes amazing! Serve up this Frozen Snowflake Christmas Cocktail all season long…and beyond. While this post is sponsored by Florida Dairy Farmers, all opinions and my love of dairy and cocktails are my own.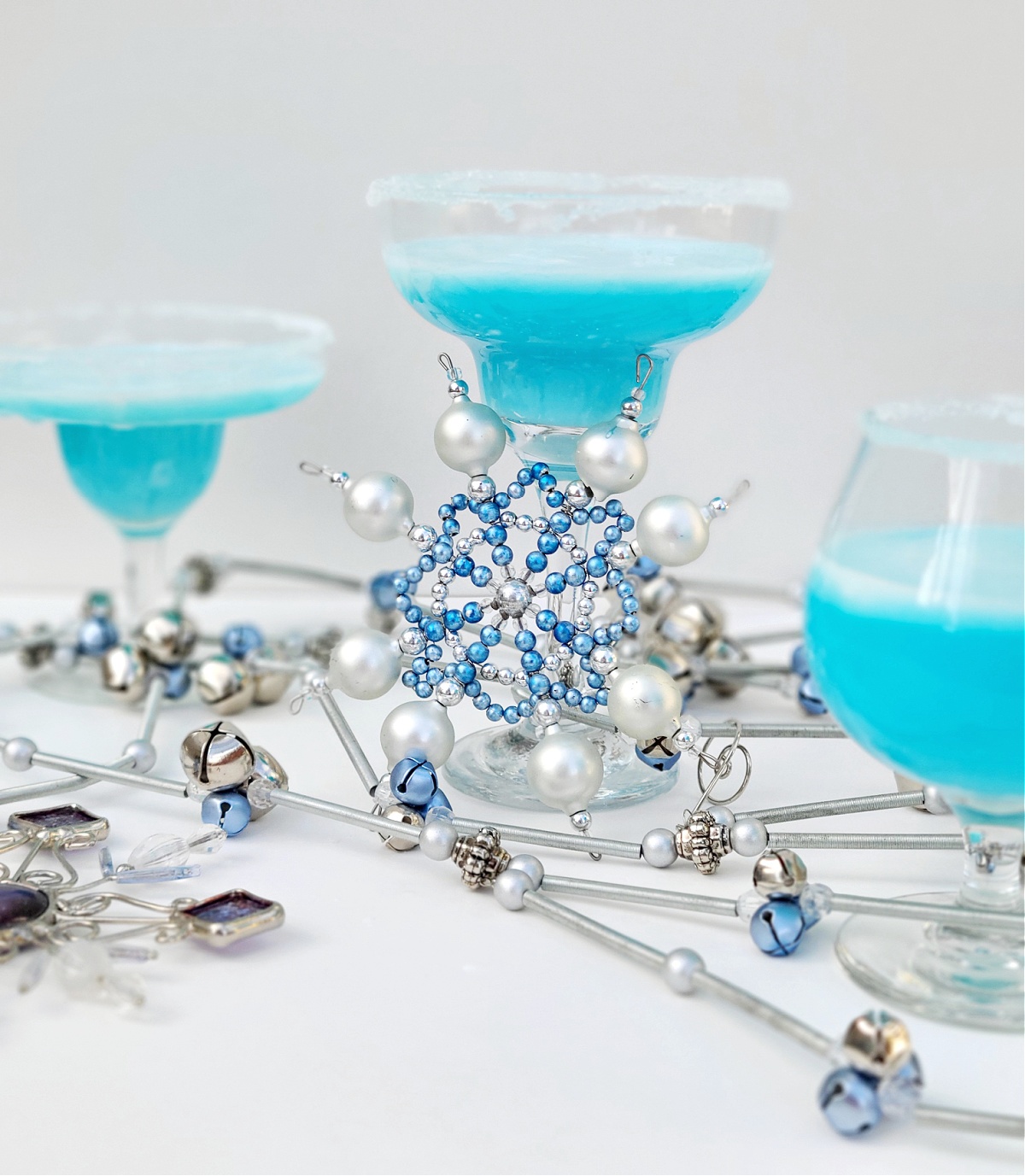 Frosted Snowflake Cocktail
In Florida, we don't get the chance to see many snowflakes, so I decided to create some. In my favorite form…a cocktail. When I think of winter, I think of snow and the need to warm up! And what better way to warm up than with a cocktail or two. Not just any cocktail, my Florida Frosted Snowflake.
One of my favorite things about this cocktail is the color, how beautiful is that blue?! The blue color with the white ice cubes makes for a colorful and festive cocktail. The blue is made possible due to Blue Curaçao. The white ice cubes are made possible due to milk. What? Yep. I used Florida milk in my Frosted Snowflake cocktail and using milk for the ice cubes just seemed natural! The white colored ice cubes is perfect for the vodka cocktail and when the ice cubes melt, they won't water down your drink. No one likes a watered down cocktail.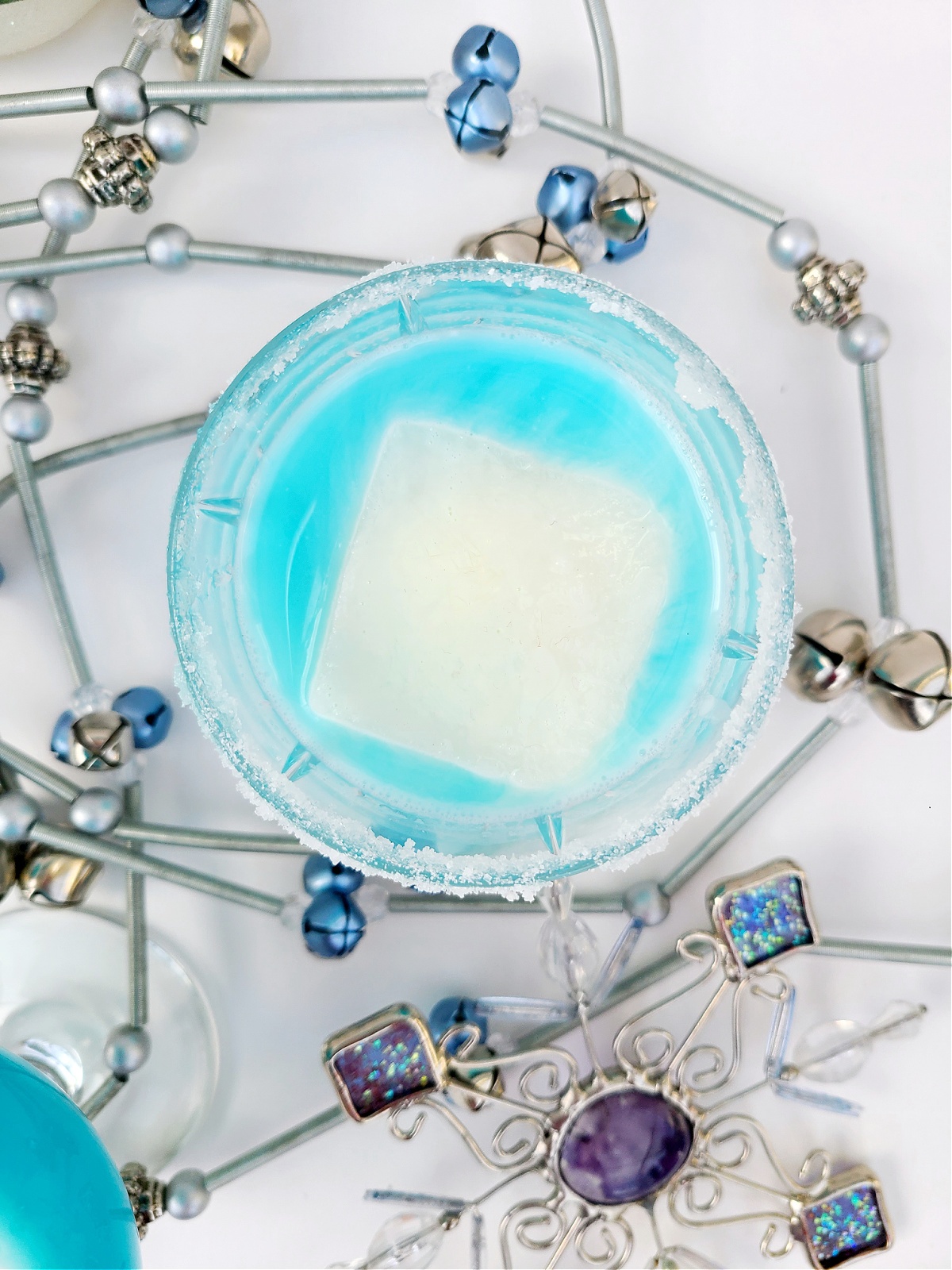 If you are looking to host a cocktail party this holiday season with friends and family, there are some basics of cocktail making and ingredients that are essential to know in order to create the perfect drinks, this Frosted Snowflake Cocktail included.
The vibrant blue color and the overall presentation make this cocktail fun and festive. It can be a great addition to celebrations, parties, or special occasions.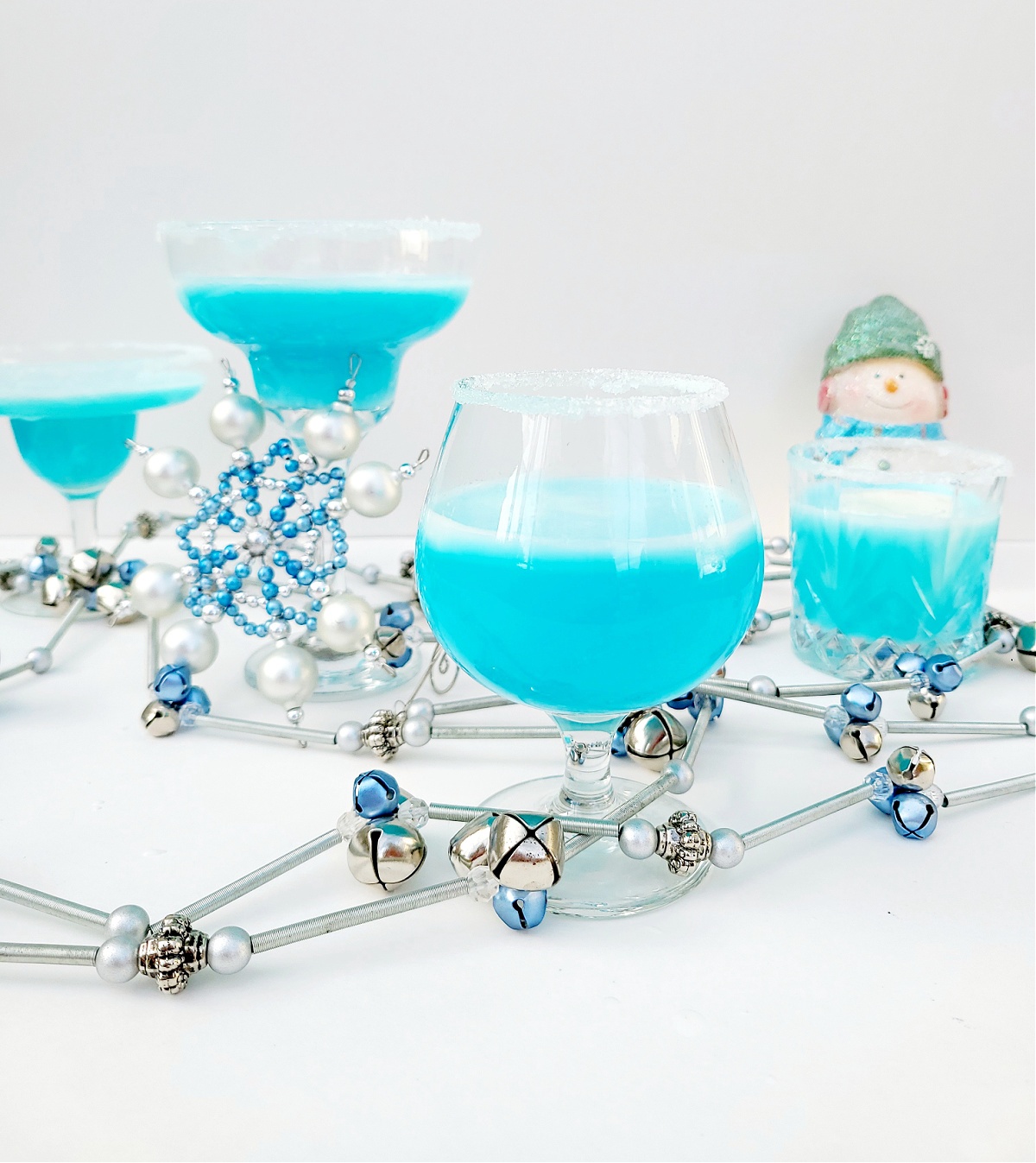 Obviously, the Frosted Snowflake Cocktail will be on the drink menu, but you will want to have a few other essentials on hand for making additional drinks and you may want to know a little history about cocktails themselves…everyone appreciates a knowledgeable host(ess).
Most etymologists believe that the word 'cocktail' derives from the word 'coquetel' which is a French wine based drink. Mixed drinks have been around since ancient times and cocktails in some form or another since the sixteenth century. They became fashionable again during the 1920s as bootleg alcohol tasted so foul that it had to be mixed with a variety of other ingredients to make it palatable. Cocktails enjoyed a second wind in the 1970s as a plethora of new ingredients and spirits from around the world became available.
Today cocktails enjoy a permanent place on the menu in almost every bar and hotel.
It would take a lot of money and time to have a pantry stocked with every ingredient you could possibly need for every cocktail but there are some added extras which are used in a lot of cocktails that are worth having.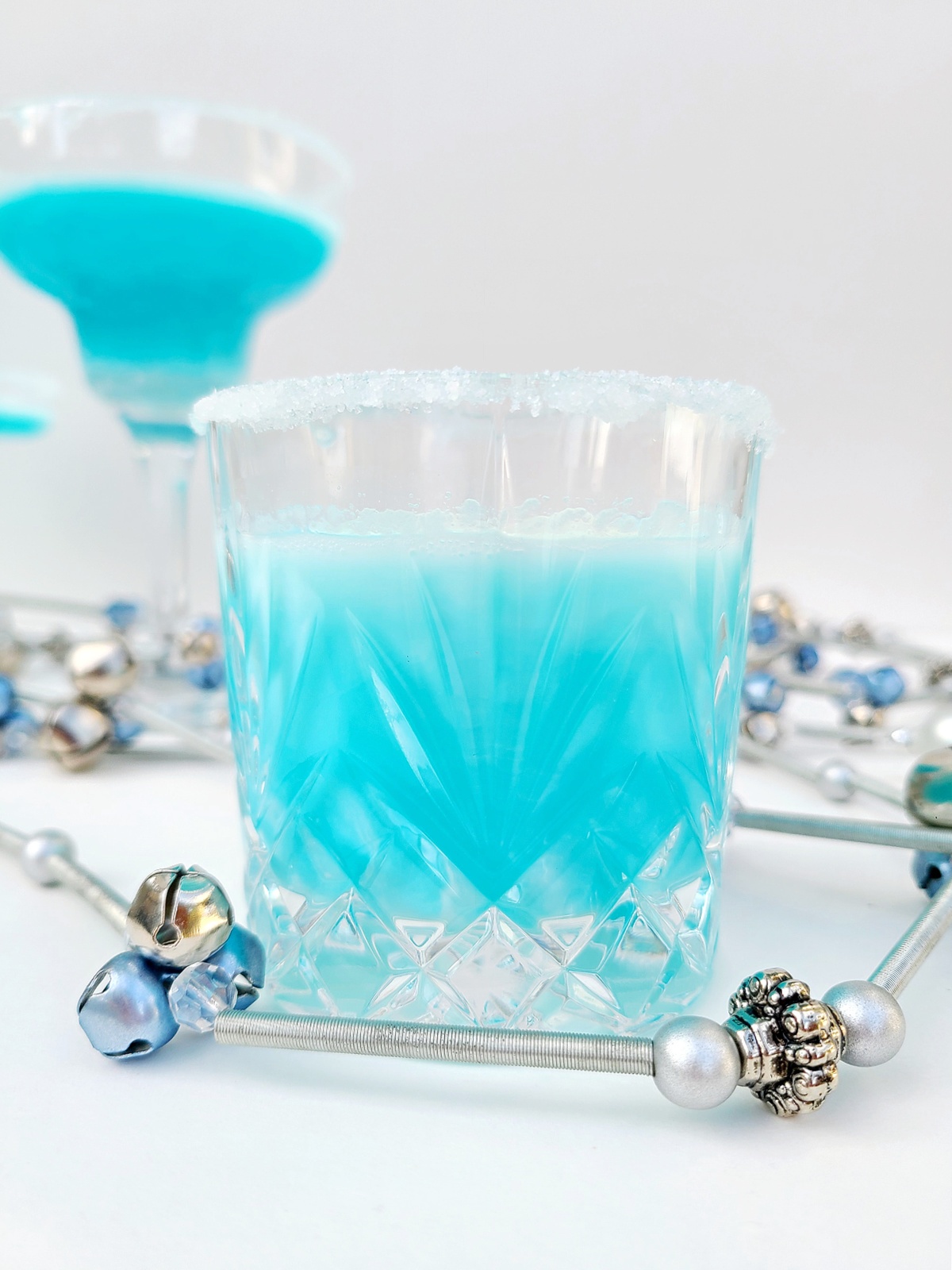 Basic Cocktail Ingredients
Salt, pepper and chili powder (yes really!)
Simple syrup. This can be made by dissolving 4 tablespoons of water and 4 tablespoons of sugar in a small pan then bring to the boil for two minutes. Cool fully before using it and keep in the refrigerator.
Bitters
Worcestershire sauce
Lemon, glace or maraschino cherries, orange, lime, olives and cocktail sticks for decoration
Commonly used mixers: soda water, ginger ale, tonic water, cola, lemonade, orange juice and cranberry juice
Commonly used alcohol: white wine, sparkling wine/ champagne, vodka, rum, brandy, scotch whisky, bourbon, triple sec, vermouth, tequila and gin
The most sensible option is to choose two or three cocktails you might like and stock for those. To stay economical try to choose cocktails with the same alcoholic base.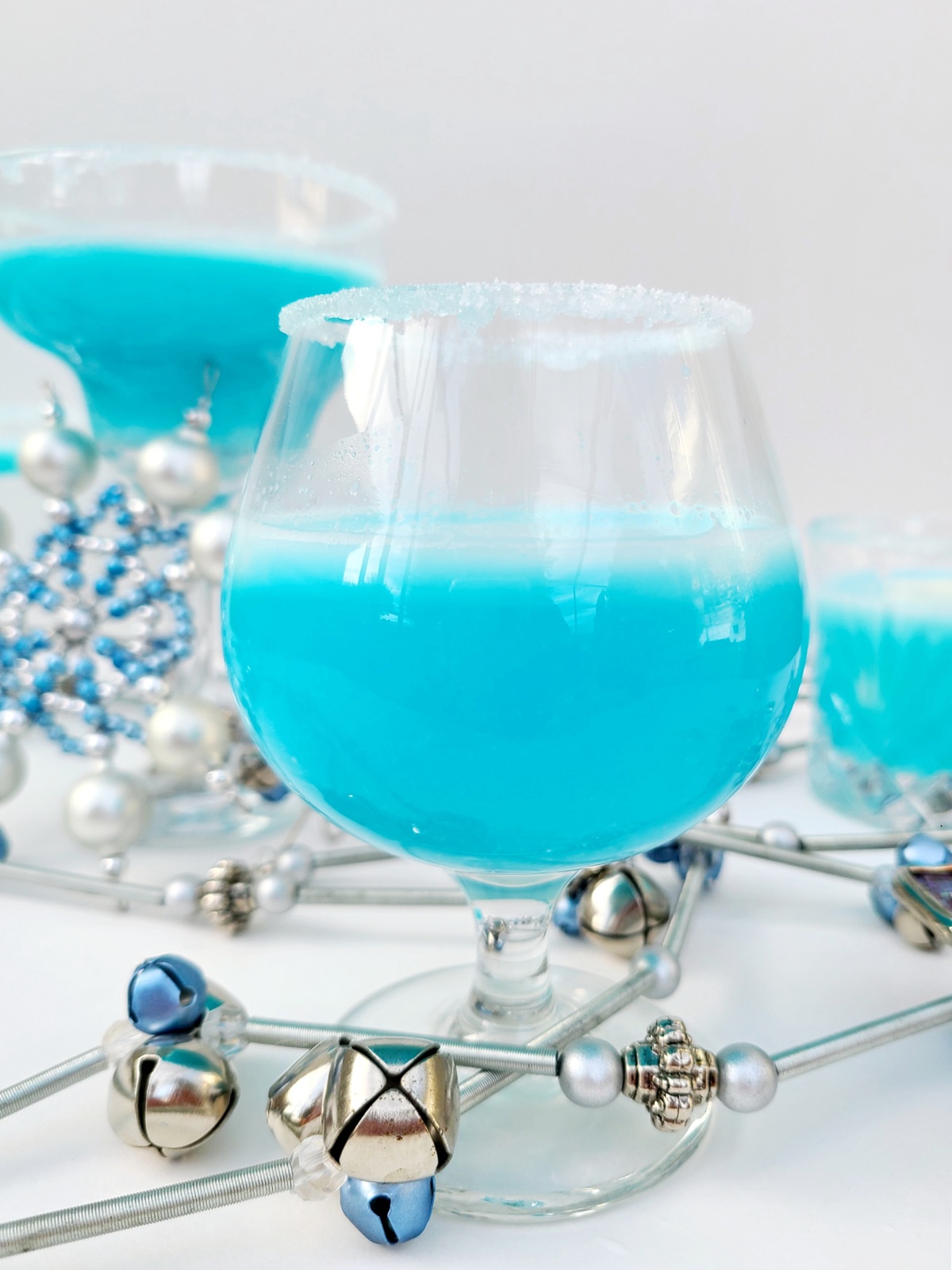 Basic Cocktail Making Equipment
As James Bond says "shaken not stirred". Two of the most important pieces of equipment are a shaker and a stirrer.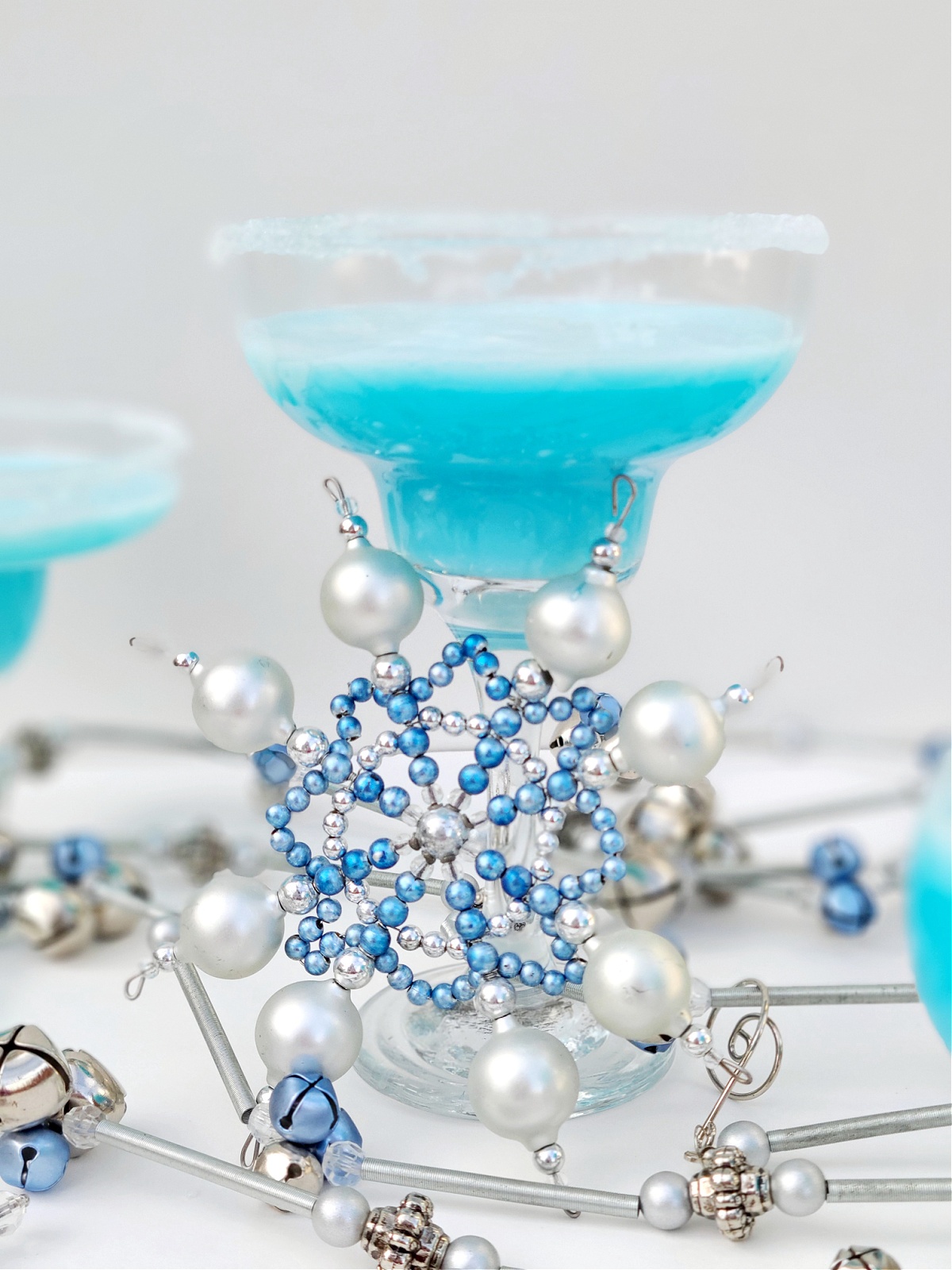 The cocktail ingredients you need for the Frosted Snowflake are:
Vodka
Blue Curaçao
Creme de Cacao
Sugar for the rims of the glasses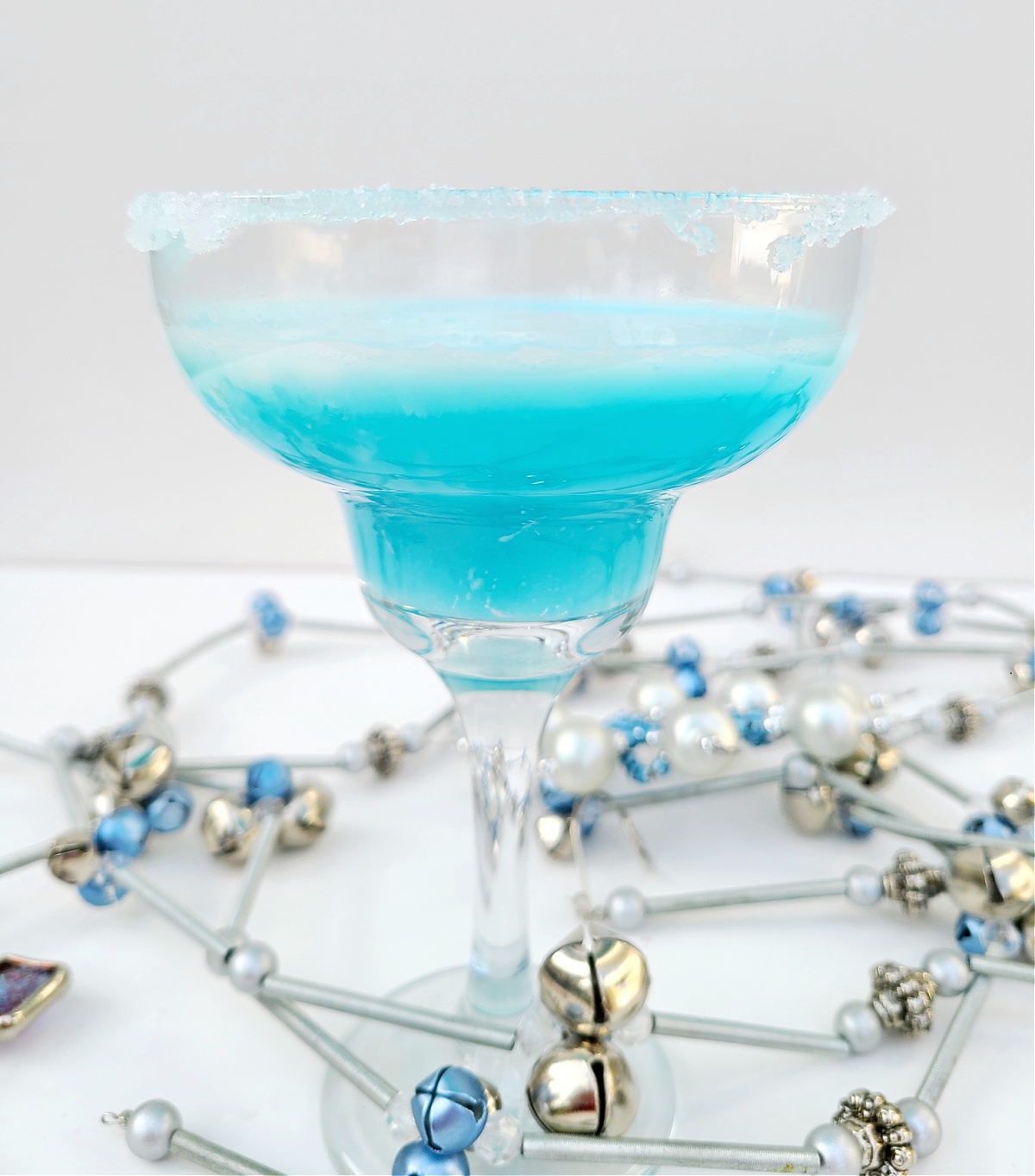 The equipment you need to make the Frosted Snowflakes are:
Ice cube trays
Cocktail Shaker
Glasses
Plates/Bowl so you can make the sugar rims
What is Blue Curaçao?
Blue Curaçao is a citrus flavored liquor. Simply put, blue curaçao is curaçao liqueur, colored blue with food coloring. It's that vibrant blue color that makes it popular in cocktails and festive drinks, like my Frosted Snowflake Cocktail. Blue Curaçao does have lower alcohol percentage than the original Curaçao. Blue Curaçao has an alcohol percentage between 20% and 25%. Blue Curaçao is a citrus flavored liquor.
What is Creme de Cacao?
Crème de Cacao is a sweeter chocolate bean flavored liqueur, usually flavored with a hint of vanilla. It is not the creamy chocolate liqueur that you may be thinking of, Crème de Cacao is lighter and not as sweet. Crème de Cacao does come in two varieties, dark and white (which is actually clear). I used the clear variety in this Frosted Snowflake Cocktail so that the blue color would be the dominant color.
What is Vodka?
While I am sure you have had a vodka cocktail, did you know that a liquor usually made from fermented grains and potatoes? Vodka has a standard alcohol percentage of 40% ABV in the US, but it is originally from Russia, Poland and Sweden. Because of vodka's subtle flavor, it easily takes on the character of a drink, which is also why you see so many different flavors of vodka. Vodka mixes well with almost anything! In this Snowflake Cocktail I used a "well vodka" (not the most expensive one of the shelf) because I am using several other flavors, so vodka didn't need to be the star of the show.
Why use cream or milk in a cocktail?
Using cream or milk in a cocktail makes it decadent. A milk or cream cocktail is a nice treat, and there are so many flavor possibilities, from the infamous White Russian to the Creamy Butterscotch Martini to chocolate cocktails to fruity martinis. Sometimes, a small amount of cream or milk with add that rich texture you are looking for when creating a creamy cocktail.
When creating a dairy cocktail make sure you are using fresh dairy. Make sure your cream or milk isn't expired, sour milk will sour your cocktail. Be sure to serve your creamy cocktail right after mixing them. I recommend using Florida Milk.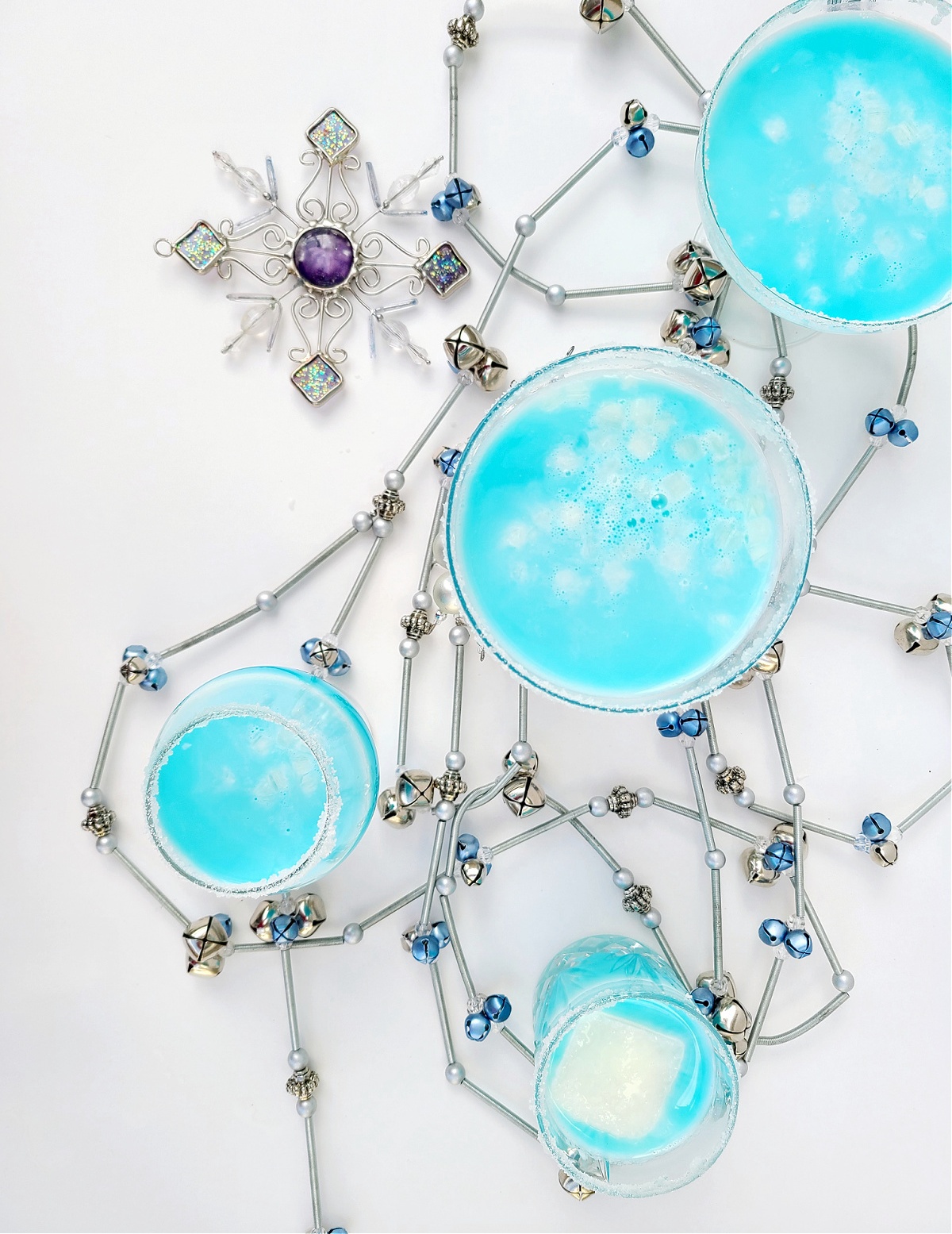 If you were wondering what Elsa from Disney's beloved movie Frozen would order at your next social gathering, look no further! The answer is clear (or should we say frozen?)– the perfect cocktail for our ice queen is our Frosted Snowflake Cocktail.
This cocktail serves as a base for creativity. You can customize the sweetness, adjust the ratios, or even experiment with garnishes to tailor it to your taste preferences.
Ok, so let's get a shaking! Here is how you make my beautifully blue Frosted Snowflake Cocktail. Be sure to Print It and Pin It so that you can make them again and again.
Remember to drink responsibly, and feel free to adjust the ingredient proportions based on your personal preferences to make this cocktail truly your own.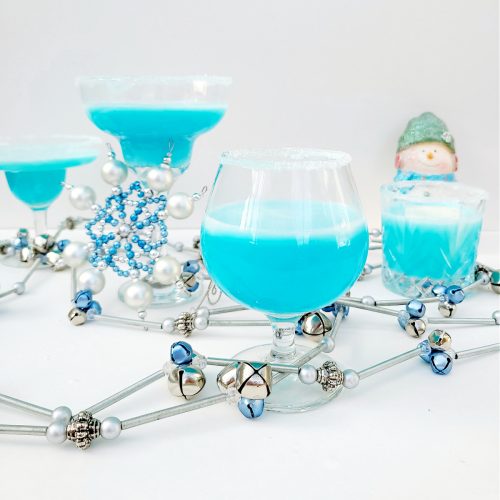 Frosted Snowflake Cocktail
This Frosyed Snowflake Vodka Cocktail will warm you up this winter! Prepped in just a few minutes, this beautiful blue cockatil will be loved by all.
Print
Pin
Rate
Equipment
Ice Cube Trays

Cocktail Shaker
Ingredients
1/2

cup

2% milk or half and half

1/2

cup

vodka

1/2

cup

blue curacao

1/2

cup

white (clear) creme de cacao
Milk Ice Cubes
2% milk or half and half for ice cubes
Instructions
Milk Ice Cubes
The night before creating your cocktails, fill desired ice cube tray(s) with milk or half and half. I used a whiskey cube tray for big milk cubes and a mini ice cube tray for the mini milk cubes.

When you are ready to make the cocktails, place ice in a cocktail shaker.

Sugar rim desired cocktail glasses (to do this simply wet the rim of a glass and twist it in sugar, I put water on one plate and sugar on another and simply twist the glass in one then in the other).

Place desired amount of preferred milk ice cubes into each glass.

Pour all the liquid ingredients into the cocktail shaker.

Give them a good shake!

Strain the frosty blue snowflake cocktail into prepared cocktail glasses.

Cheers!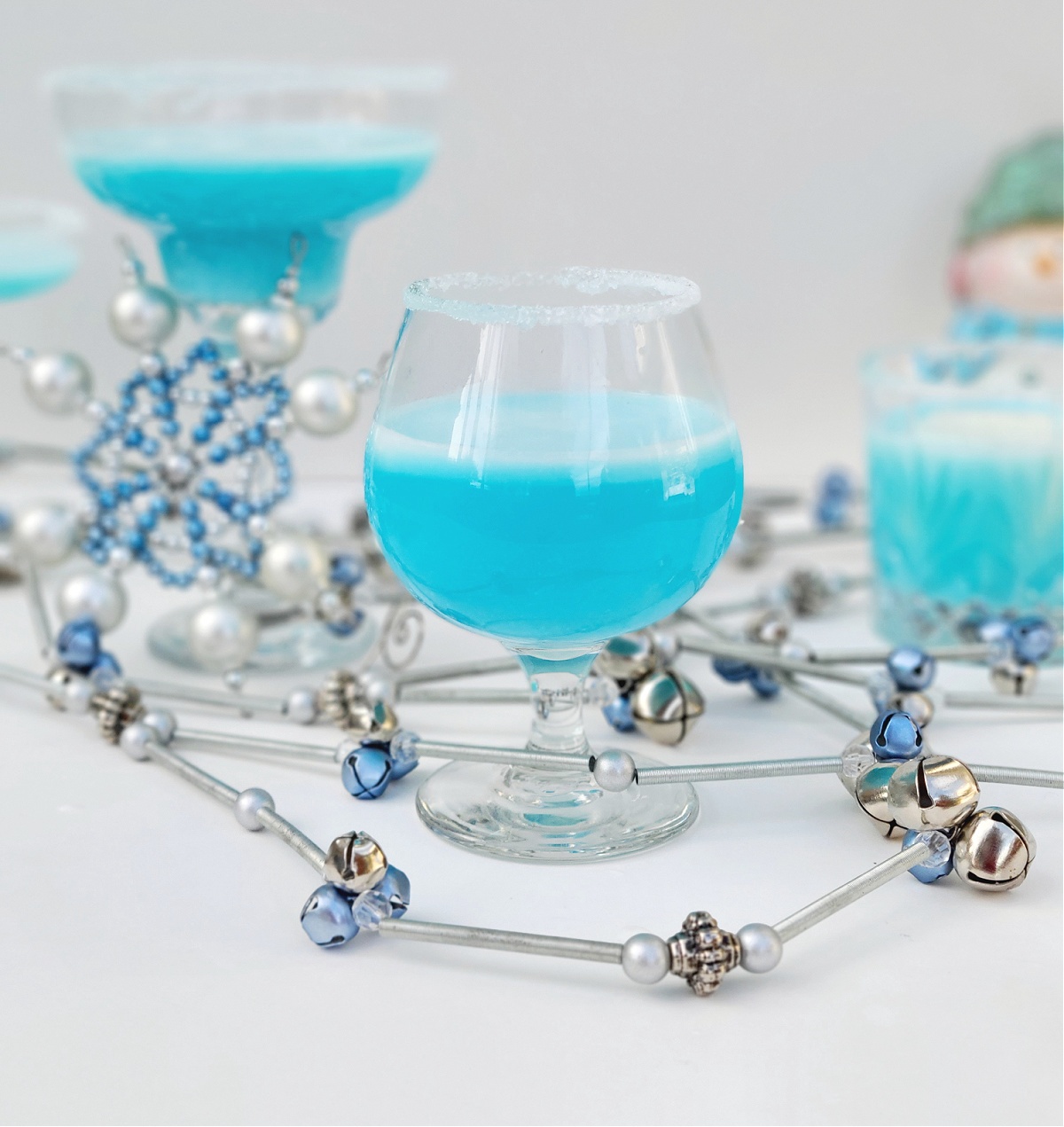 I hope you enjoy these Frosted Florida Snowflake Cocktails as much as we do!
So, does this vodka cocktail remind you of Elsa from Frozen? When I showed the pictures of two of my good friends, that's what they thought of immediately! I guess it's been a few years since I watched the movie, but now that I think about it, I can totally see that! So, when you make my Florida Frosted Snowflake at home, feel free to call it Elsa's Frosted Snowflake for all of the Frozen movie fans in your life.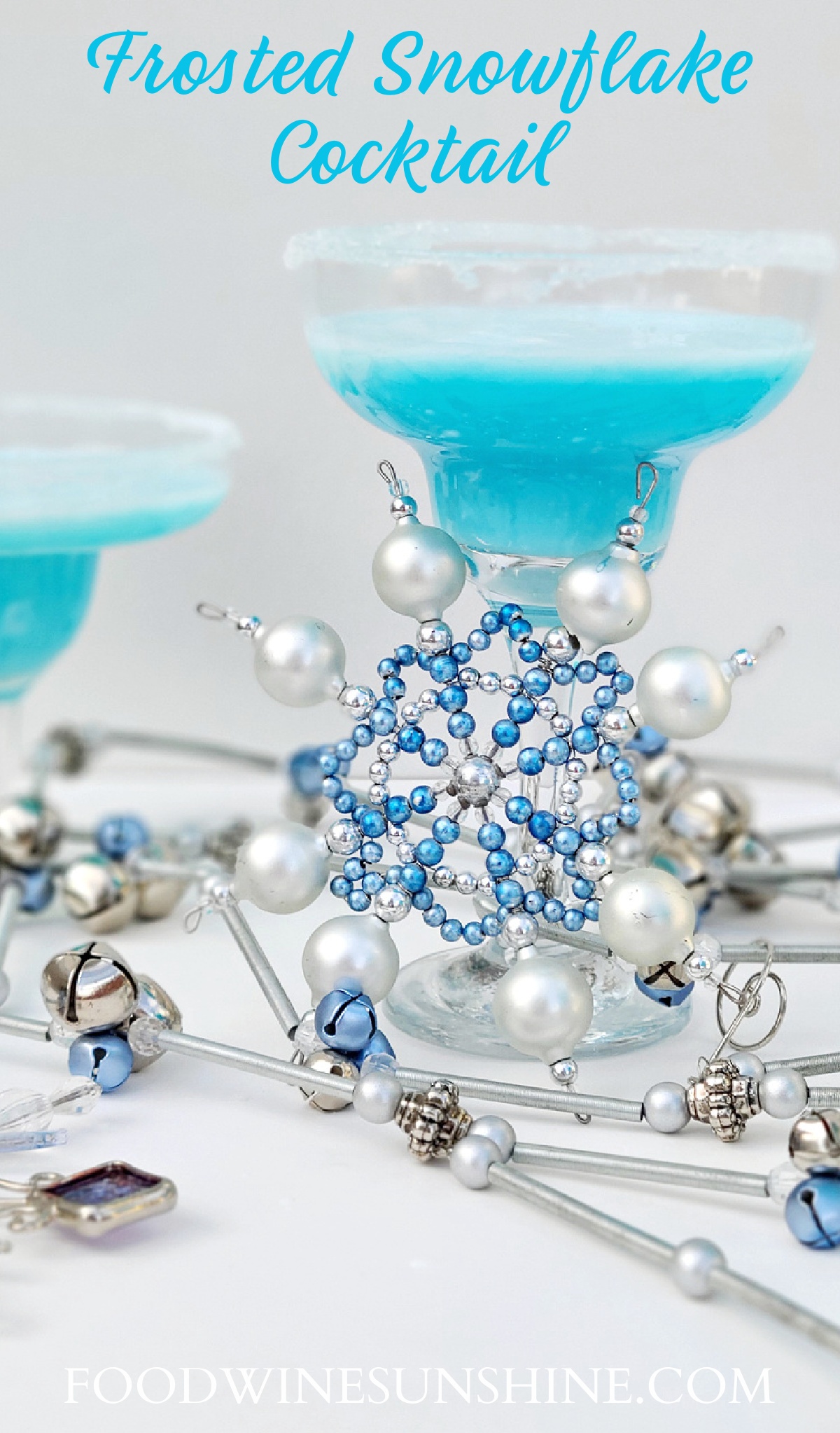 What is one of your favorite Christmas Cocktails? Have you used milk in cocktails before?
Be sure to check out Florida Milk for more dairy-licious recipes and follow on Instagram, Facebook and Pinterest.
And while you are at it, check out all the healthy recipes on Food Wine Sunshine and follow on me Facebook, Twitter, Pinterest and Instagram for more FOOD WINE AND SUNSHINE.