(Last Updated On: April 19, 2021)
This shop has been compensated by Collective Bias, Inc. and its advertiser. All opinions are mine alone. #CrispyCreations #CrispiestChicken #CollectiveBias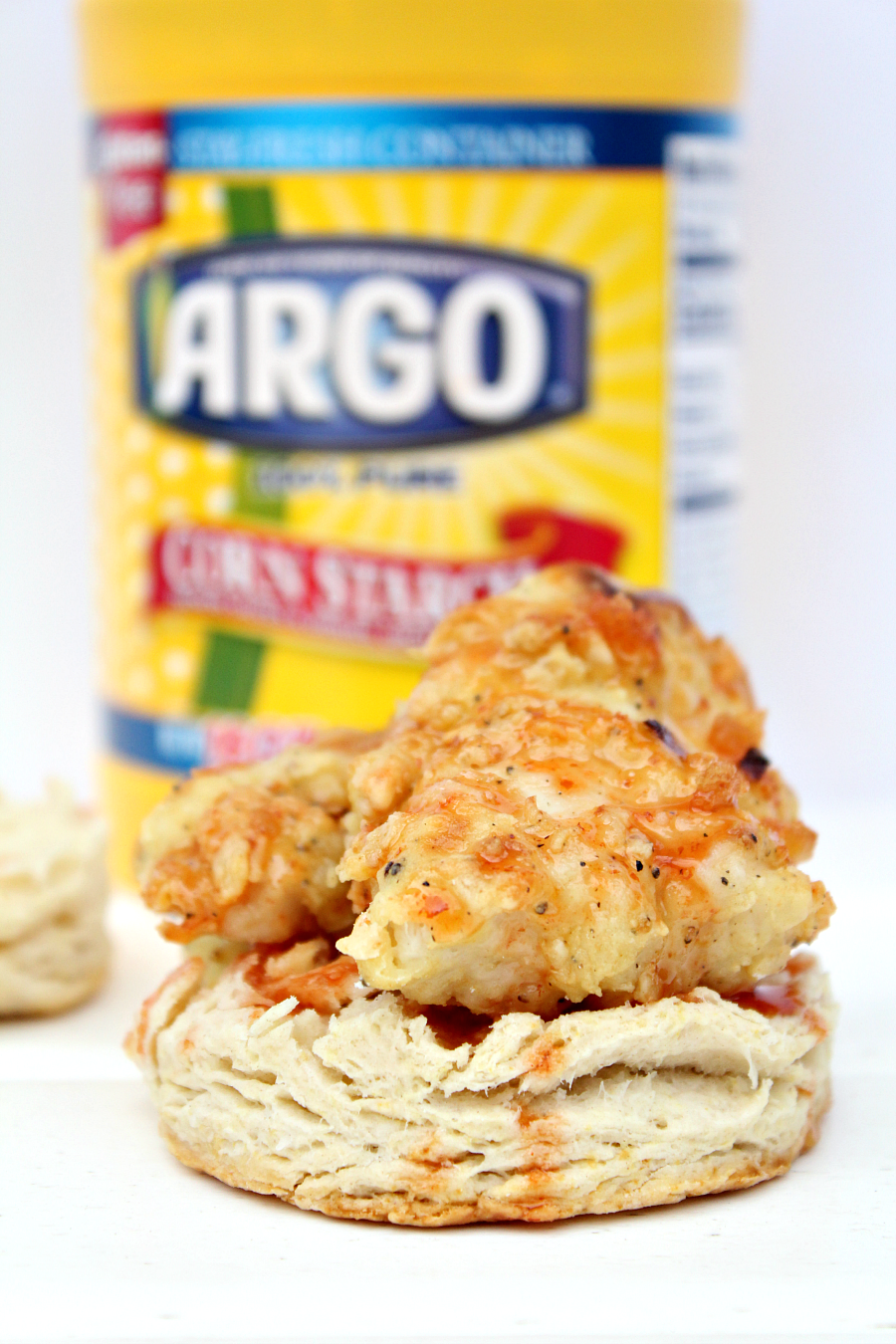 Crispiest Oven Fried Chicken Biscuit Sandwiches
The other day I was out running errands and realized I had completely missed lunch. As I drove around town I saw fast food restaurant after fast food restaurant, a crispy chicken sandwich was basically calling out to me. And while I do love a fast food stop every now and then, I do try my best to eat healthy. So, at that moment, I decided I would make my own version of a crispy chicken sandwich, but I would make it baked. I even got a little ambitious and decided I would make homemade biscuits to go along with my crispy oven fried chicken, the results were pretty darn amazing if I do say so myself. Plus, even though I made the biscuits from scratch and baked the chicken, dinner was still ready in under 45 minutes.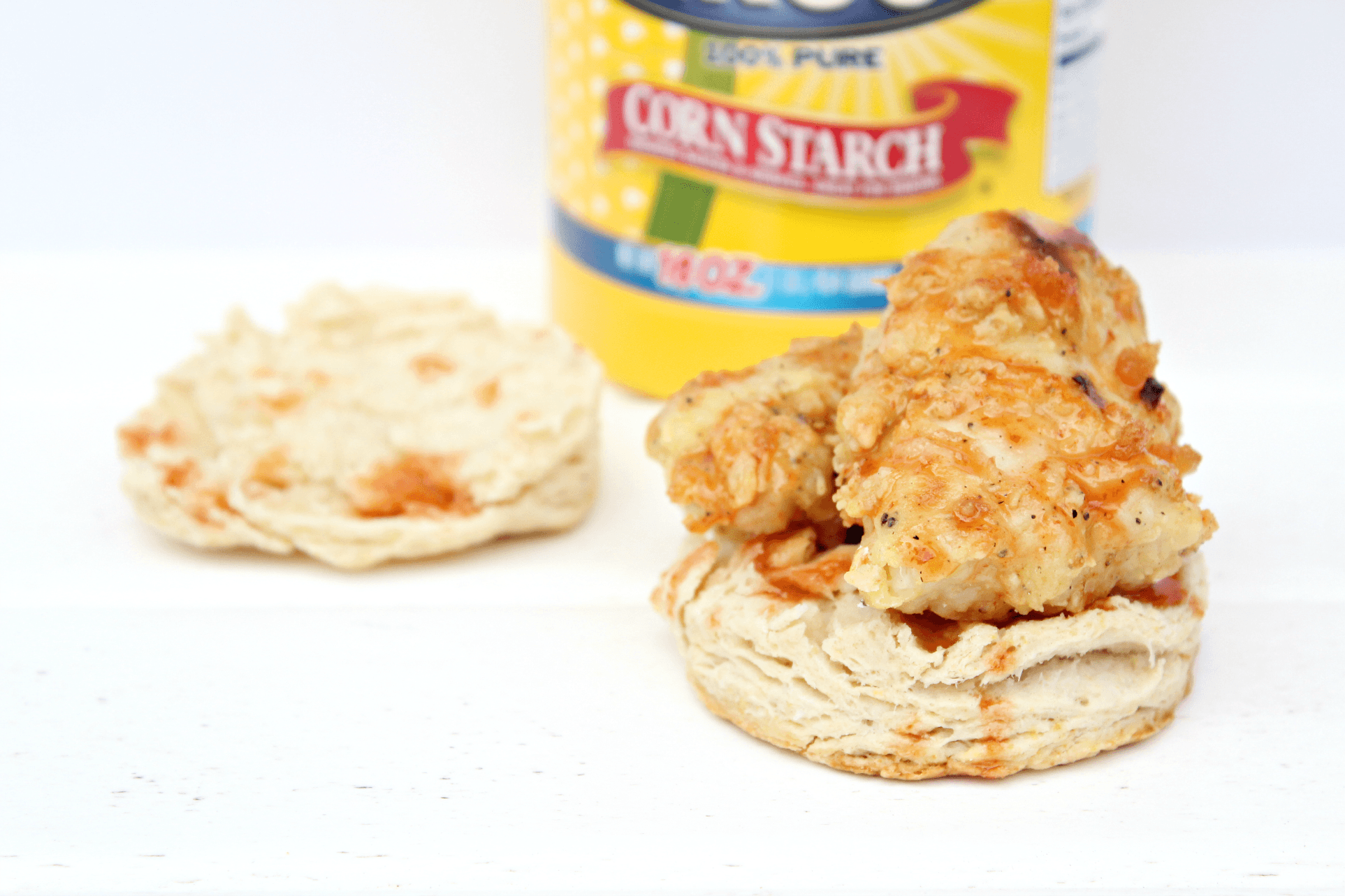 Now you may be doubting on whether or not you can actually get crispy fried chicken from your oven, and I am here to tell you that you can. The secret to getting the crispiest oven fried chicken is double-coating your chicken and using Argo® Corn Starch. Argo® Corn Starch​ isn't just for baking and thickening your favorite sauces and homemade gravies! I used it in my batter for the chicken because it leaves you with an audibly crunchy and beautifully browned exterior while sealing in the juices of the chicken. Argo® Corn Starch just makes your chicken better! Why Argo? Argo Corn Starch is the leading corn starch brand with over 100 years of quality and trust over multiple generations. If you haven't made homemade biscuits before, you will be surprised how easy it is, plus, you probably have all the ingredients at home. No need to run out and get some pre-made biscuits, trust me, you will like the homemade version much better. And if you haven't made the crispiest oven fried chicken at home yet, you will also be surprised how easy it is! You won't miss the deep-fried version…or that fast food drive-thru 😉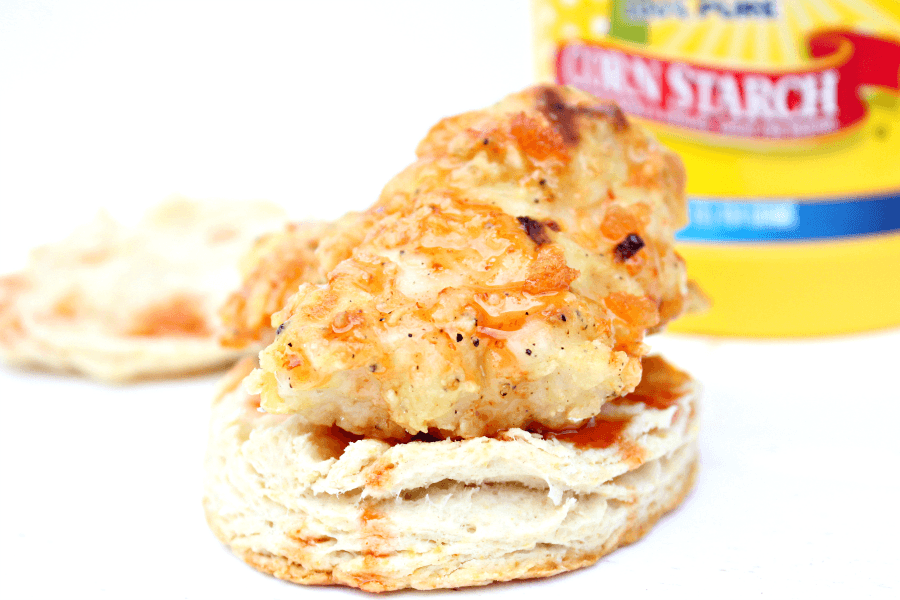 I drizzled my Oven Fried Chicken Biscuit Sandwiches with a simple honey and sriracha mixture, a little heat and a little sweet was delicious on the crispy chicken and buttery biscuits. Feel free to use whatever you would like though! Sriracha and mayo would be good too. Now, here is how to make the Crispiest Oven Fried Chicken Biscuit Sandwiches, be sure to Print and Pin the recipe so that you can make it again and again.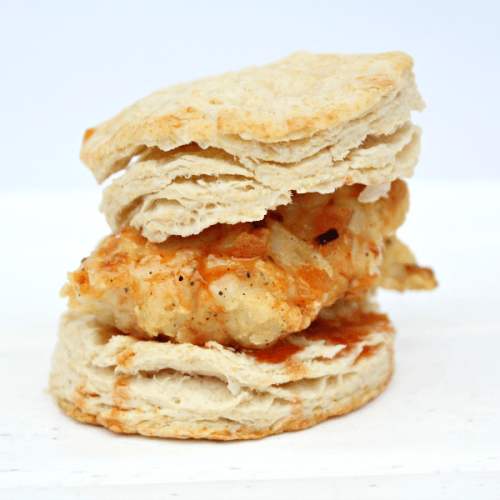 Crispiest Oven Fried Chicken Biscuit Sandwiches
Get the crispy texture you love, but without frying! Make homemade biscuits and top them with these oven fried chicken tenders for a delicious meal that is ready in about 45 minutes.
Print
Pin
Rate
Ingredients
Easy Homemade Biscuits
2

cups

all purpose flour

1

tbsp

baking powder

1

tbsp

sugar

1

tsp

salt

6

tbsp

very cold butter - salted or unsalted

¾

cup

milk - I used skim
Crispiest Oven Fried Chicken
1 ½

lbs

boneless skinless chicken tenders

2

eggs

4

tbsp

buttermilk - divided

¾

cup

Argo Corn Starch

1

cup

all purpose flour

¼

tsp

baking soda

2

tbsp

of your favorite seasoning - I used Dust by Voodoo Chef

1

tsp

red pepper flakes

2

tbsp

melted butter
Instructions
Easy Homemade Biscuits
Put the butter into the freezer

Preheat oven to 425 degrees

Line a cookie sheet with nonstick parchment paper or spray with non stick cooking spray and set aside


Mix flour, baking powder, sugar, and salt in a large bowl



Remove your butter from the freezer and either cut it into very small pieces or use
a grater (I used a cheese grater) to shred the butter into small pieces and then add to the flour mixture. You can put the grater right above the bowl and just butter fall into your bowl with the flour mixture.



Stir until mixture resembles coarse crumbs


Pour in the milk and use a wooden spoon or spatula to stir until combined. Be careful to not overwork the dough.


Place your biscuit dough to a floured surface and use your hands to gently work the dough together. Add flour if your dough feels too sticky.



Using your hands, fold the dough in half and gently flatten layers together. Rotate the dough 90 degrees and fold in half again, repeating this step 5-6 times. Be careful to not overwork the dough. These folding will give your biscuits flaky layers.



Still using your hands, flatten the dough to about ½ inch thick and lightly dust a 2 3/4 inch round biscuit cutter with flour. If you don't have a biscuit cutter, a cookie cutter will work just fine too, that's what I used!



Making close cuts, press the cutter straight down into the dough and drop the biscuit onto your prepared baking sheet


Repeat until you have gotten as many biscuits as possible and place less than 1/2 inch apart on baking sheet. I was able to get 7.

Bake for 12 minutes or until slightly golden brown on top
Crispiest Oven Fried Chicken
Leave the oven at 425 degrees

Line a baking sheet with foil, then place a wire rack over top. Spray rack with non-stick baking spray. Or spray baking sheet with non stick cooking spray. Set prepared baking sheet aside.



In a rectangular pan whisk the eggs and 2 tablespoons of buttermilk and set aside.

In a large ziplock bag add the flour, cornstarch, baking soda, and seasonings.


Add the remaining 2 tablespoons of buttermilk and shake well to create crumbs.

Dip each chicken strip into corn starch mixture, then into the egg wash then place back into the corn starch mixture. Make sure each piece is coated well.


Place chicken tenders on prepared baking sheet.

Place in the oven and bake for 16 minutes or until browned and the chicken reaches an internal temperature of 165 degrees. If you are not using the wire rack, flip after 8 minutes.


Brush melted butter over the chicken tenders and place back in oven for 2 minutes.

Serve on homemade biscuits with sauce of your choice. We used a honey sriracha blend, see notes below.
Notes
For the sauce I mixed 2 tablespoons of honey and 1 tablespoon of sriracha.  Easy peasy!
I hope you enjoy these Crispy Oven Fried Chicken Biscuit Sandwiches as much as we do!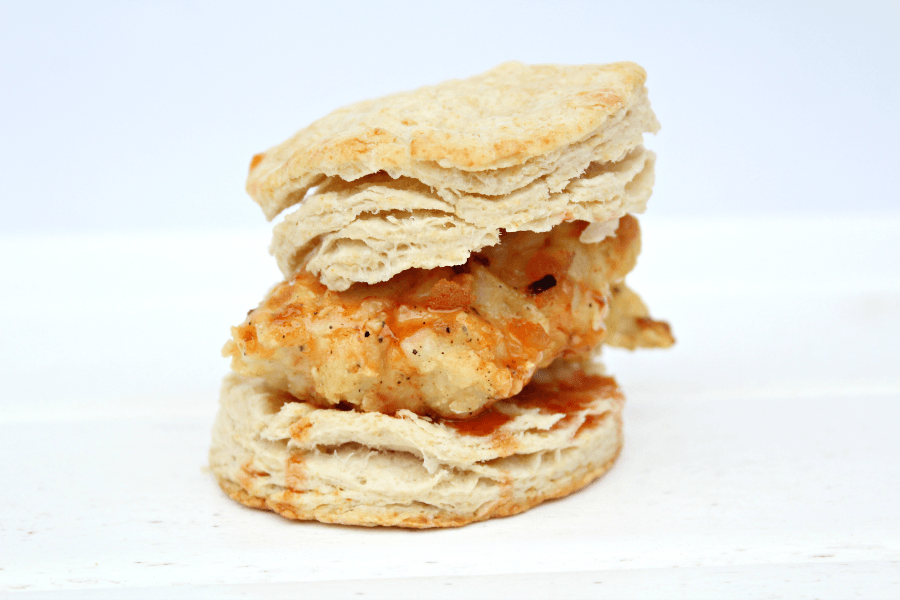 I know I won't be tempted to swing through those drive-thrus anymore…these sandwiches are better than anything you will get from a fast food chain. Plus they are better for you!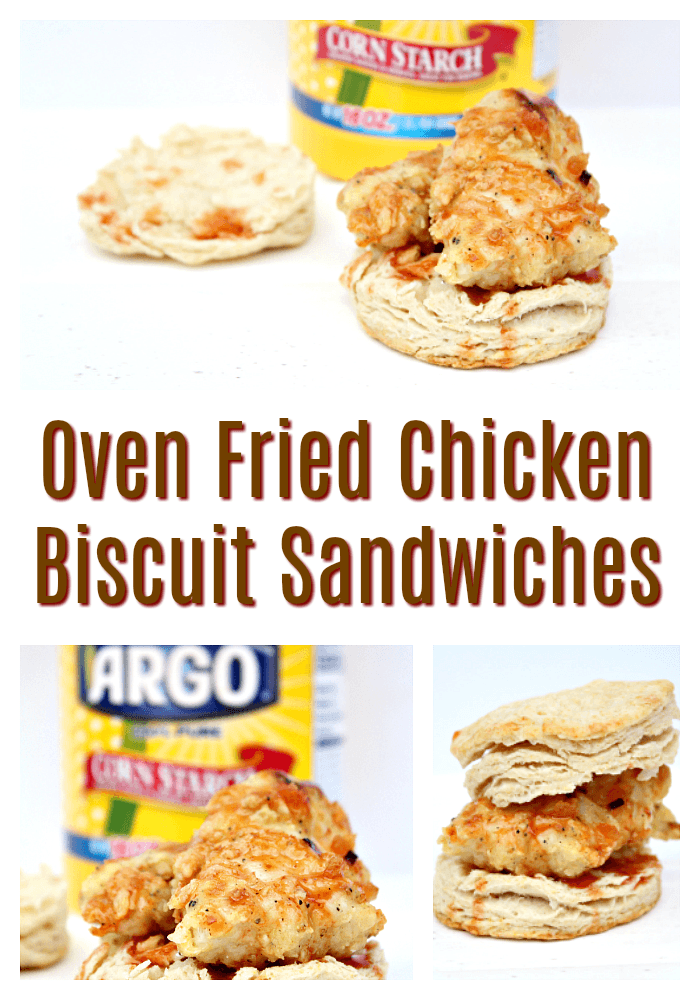 I told you all that my 'secret ingredient' that made my chicken extra crispy is Argo Corn Starch, and is arguably the most important part of my recipe. Argo not only will make your chicken extra crispy with an airy texture (baked or fried!) but it brings endless possibilities to the table and providing a worry-free solution to thicken, adjust texture and elevate your cooking and baking. From the crispiest chicken to thick gravy and sidewalk chalk to slime, Argo allows you to easily deliver delicious dishes and fun activities the whole family will love. Find more recipes that will wow your family thanks to Argo here.
Looking for another delicious baked chicken recipe?
In fact, be sure to check out all my recipes and follow along on Facebook, Twitter, Pinterest and Instagram.