(Last Updated On: December 3, 2019)
Baby it's cold inside! Well, it is in Florida when you Celebrate ICE! at Gaylord Palms in Orlando. Read on to learn more about this chilly magical celebration.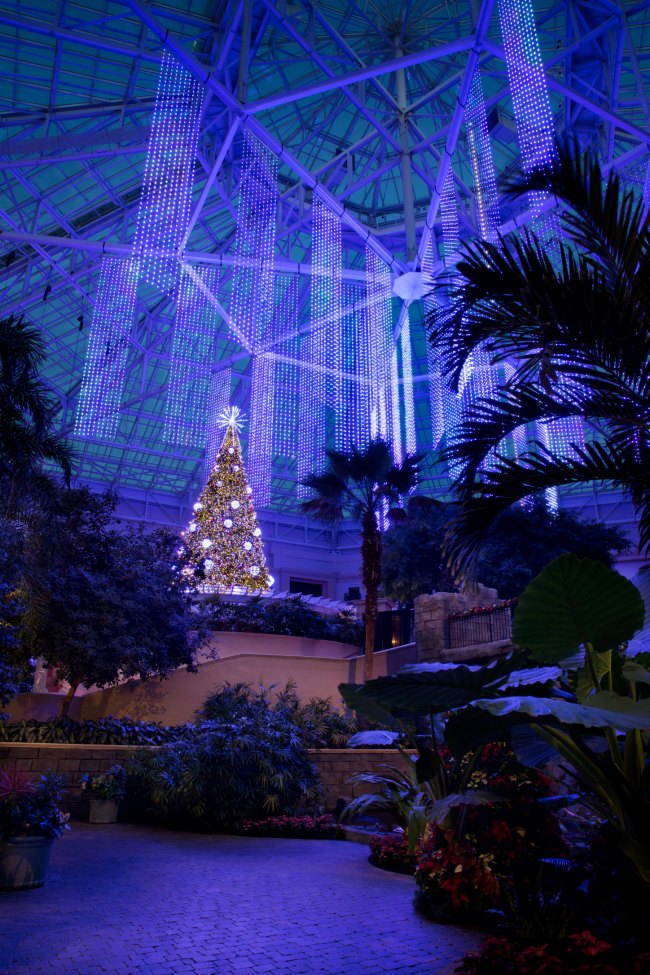 Celebrate Christmas at Gaylord Palms
ICE! Event Details & Ticketing Information
Gaylord Palms Resort is transforming into a Christmassy wonderland for the holiday season! We may live in Florida but that doesn't mean we can't experience a Winter Wonderland complete with snow tubing, ice sculptures, ICE and more ICE. This year at Gaylord Palms Christmas celebrations there are brand new experiences along with familiar guest favorites, providing "Everything Christmas in One Extraordinary Place" for the 52-day event. The resort's signature experience ICE! will feature, for the first time ever, beloved holiday film "The Polar Express" recreated as a frozen, immersive attraction.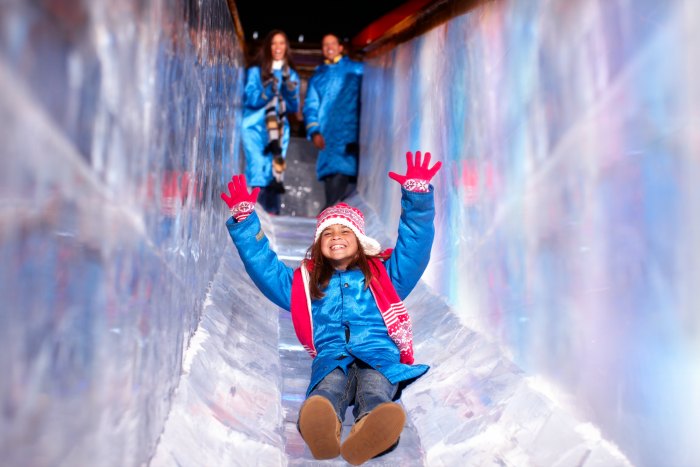 There is soooo much to see and do! The kids (and us parents!) are so excited!! ICE in FLORIDA!! WOOHOO!!!
Christmas at Gaylord Palms presented by Pepsi is open daily from now through January 5, 2020, including holidays.
"Polar Express" has been a favorite holiday movie of ours for years! Now guests can experience this holiday favorite in a whole new way inside ICE! As you enter the attraction, you will embark on a magical adventure to the North Pole, while learning about friendship, bravery and the true spirit of Christmas. A truly heart-warming tale, "The Polar Express" will come alive for guests in a world made from more than two million pounds of ice, hand-carved into sculptures and interactive features to recreate iconic scenes from the film.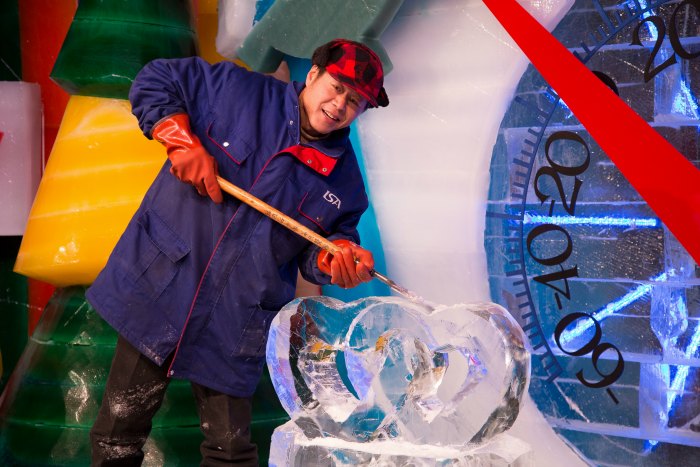 The ICE! attraction is crafted by artisans from Harbin, China, home of the world's largest ice and snow sculpture festival, who travel more than 6,000 miles to hand-carve more than two million pounds of colorful ice, creating larger-than-life sculptures. This year, as guests explore the nine-degree attraction, they will discover more than a dozen fan-favorite scenes from "The Polar Express," along with the event's two-story ice slides and the popular Frostbite Factory live ice carving showcase. The ICE! experience concludes with a separate area dedicated to a traditional Nativity created with crystal clear ice.
NEW INTERACTIVE EXPERIENCE
New for this year, families will have the chance to experience a day in the life of one of Santa's toy makers! The Elf Training Academy comes to life inside Alpine Village's newest building, the Alpine Workshop. Guests can become honorary gift maker elves as they create the perfect Christmas present for someone special, all under the guidance of the elf supervisor.
Christmas at Gaylord Palms EXPERIENCES
Gaylord Palms' St. Augustine atrium is home to a brand-new, dazzling light show when Dreams of Christmas makes its debut. This multisensory experience features a new musical score accompanied with millions of dancing, choreographed lights all around the resort's six-story Christmas tree during nightly shows.
Award-winning buffet restaurant Villa de Flora will welcome special Christmastime friends during The Elf on the Shelf® Character Breakfast, where guests can join Santa's Official Scout Elves for a fun and festive character breakfast. Kids and adults will enjoy a delicious buffet spread complete with classic breakfast favorites and live cooking stations, enjoying special visits from Santa's Official Scout Elves as they dine.
The all-new Secret Santa Scavenger Hunt will have families and friends enlisting in Santa's Secret Service to decode some fun. You will utilize your very own Santa's Secret Service Decoder Ring to decipher clues to become full-fledged members of Santa's Secret Service. Only the most elite yuletide sleuths will be able to locate the unique Christmassy clues hidden throughout the resort's atrium to break the code and earn a Santa's Secret Service badge.
A new feature in the resort's holiday village area, the Alpine Village Sweet Shop will be the home of new show Sugary Sweet Storytime! You will be transported to the world of The Nutcracker in this interactive show led by the Sugarplum Fairy herself. The experience is completed with a one-of-a-kind, super sweet, super sparkly and super tasty Sugarplum Hot Chocolate in a festive souvenir mug.
All ages will delight in the holiday hijinks inside the Naughty or Nice Escape Room, as mischievous Jack Frost has moved the names of "Nice" Gaylord guests onto the Naughty side of Santa's delivery list! Guests will need to work together to follow the clues and solves the puzzles to secure a spot on the better side and avoid a stocking full of coal!
Christmas at Gaylord Palms HOLIDAY FAVORITES RETURN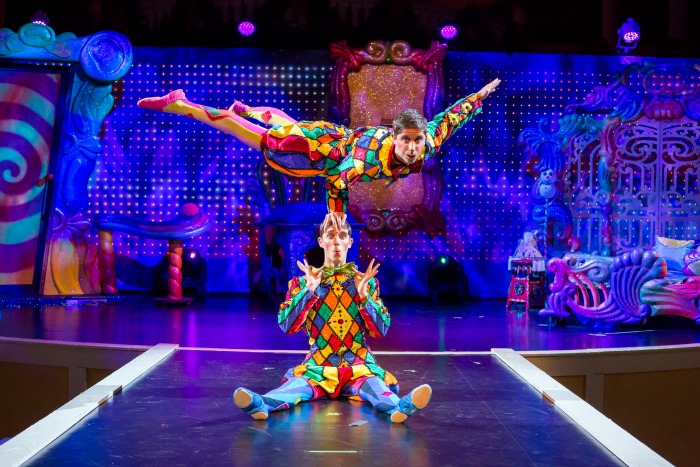 "Holiday thrills" take on a whole new meaning during Cirque Dreams Unwrapped, a 25-minute, action-packed experience, featuring soaring acrobatics, theatricality and imagination that will have guests on the edge of their seats. Cirque Dreams Unwrapped features new acts and performers each year to bring to life a magical and timeless Christmas wonderland, all imagined by Broadway director and renowned Cirque Dreams founder Neil Goldberg.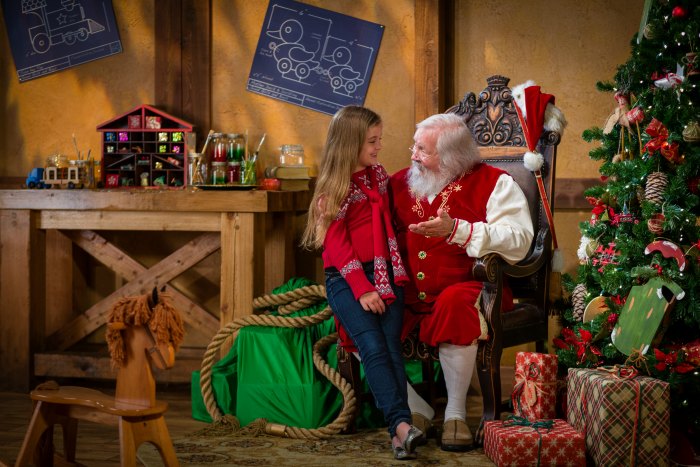 Guests exploring the meandering paths inside the resort's Everglades atrium will find the Christmas Tree Trail, a display of nine magnificent trees provided by Balsam Hill. Sparkle the Elf, Santa's chief Christmas Tree Decorator, has personally prepared these for display at Gaylord Palms. From snowmen and candy canes to reindeer and nutcrackers, each tree represents one of Sparkle's favorite things about Christmas, with one even honoring the Florida-themed resort!
The immersive, interactive Reindeer Express Post Office returns this year, where everyone is invited to jot down their top Christmas wishes on a postcard before entering this special facility to launch their wishes off on a journey to Santa.
Festive Alpine Village will again be the central hub for holiday happenings. In addition to ICE!, the village is home to various attractions and shows, Photos with Santa, seasonal food and beverage options plus holiday retail locations, including a Build-A-Bear Workshop®, where imaginations soar. Guests choose from all kinds of furry friends to make and bring home, including the Gaylord Hotels-exclusive light-up Snowburst polar bear.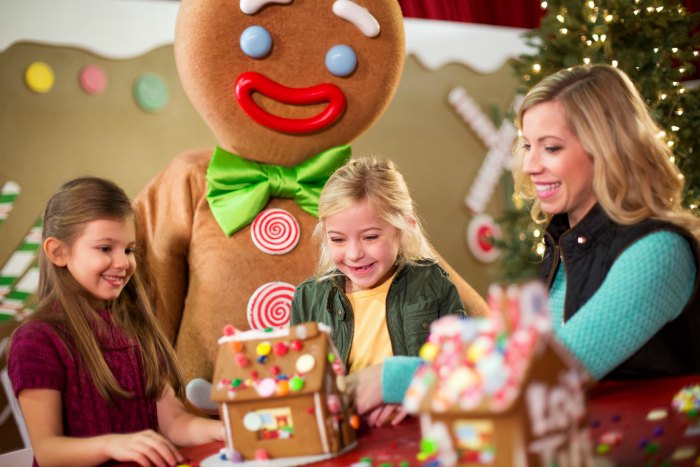 Gingerbread Decorating Corner returns, now located inside the new Alpine Village Sweet Shop! Guests may select a gingerbread house or a themed cookie kit to enjoy a sticky and fun interactive experience, creating sweet souvenirs to take home. The Alpine Village Sweet Shop will offer additional candies and treats for purchase to decorate sugary masterpieces or to delight someone's sweet tooth. The deliciously fun gingerbread pair, Cinnamon and Nutmeg, will also be available for toasty hugs and holiday photos.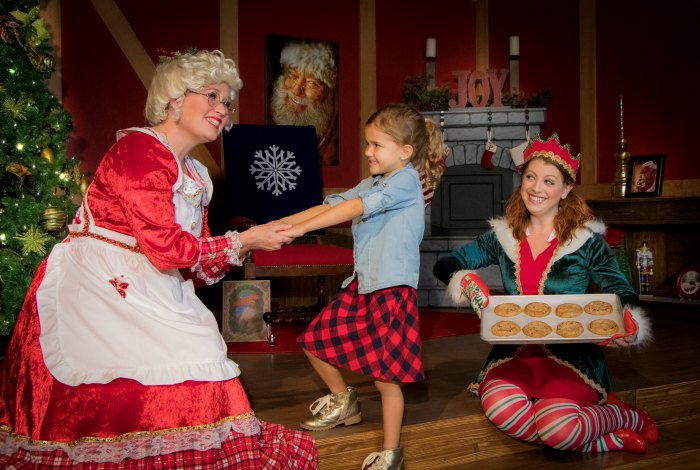 Mrs. Claus' Christmas Traditions brings the First Lady of the North Pole back to Gaylord Palms as she leads a half-hour interactive show. Guests enjoy classic holiday stories and a sing-a-long, plus a delicious finale as the holiday hostess presents everyone with warm cookies and a glass of cold milk.
Santa's Snow Throw puts real snow in the hands of guests as they show off their pitching prowess by tossing snowballs at a variety of interactive targets created by Santa's Elves. Bragging rights go to those with the best aim!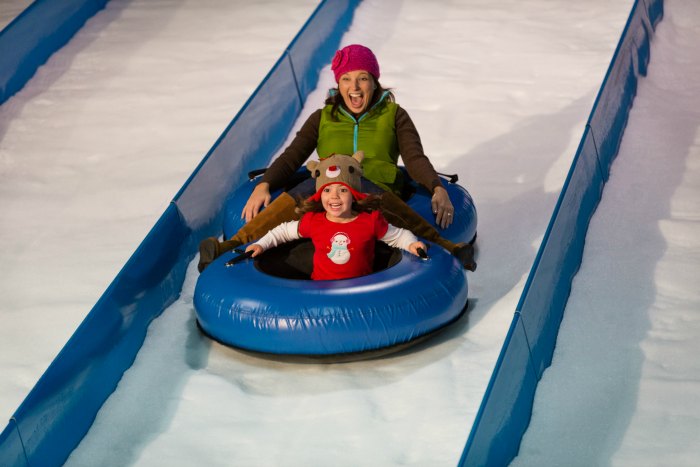 Snow Tubing sends guests zooming down an eight-lane tubing hill covered in real snow. This all-ages attraction offers both single and double tubes to accommodate children and parents.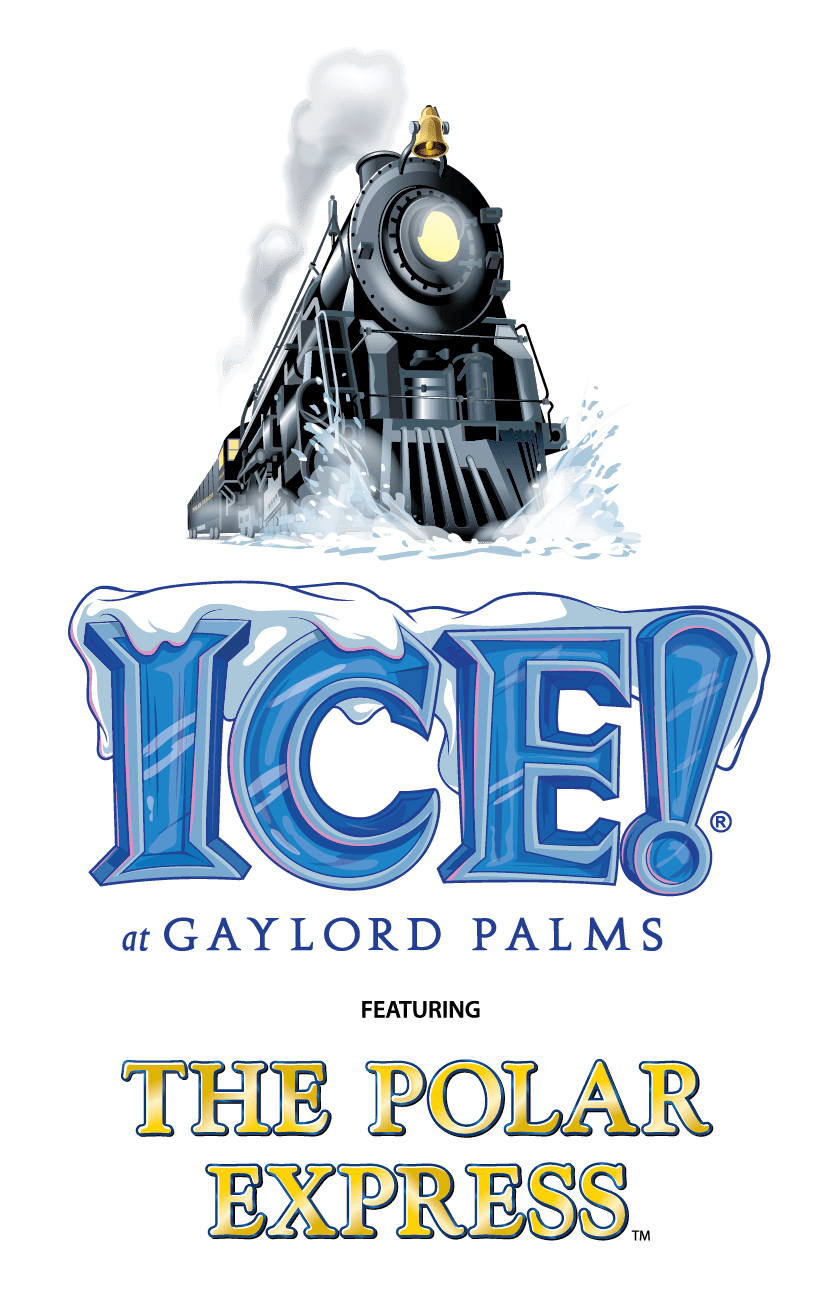 The best way to experience all of Christmas at Gaylord Palms is with an overnight stay. One-night packages start at $250 plus tax, resort fee and parking. Packages include ICE! tickets for two (with option to add additional adults or children) plus a souvenir family photo. Overnight guests may also schedule a visit to ICE! during the daily hotel guest-exclusive Extra Cool Hour from 9 a.m. to 10 a.m. Make the holidays merrier and extend the package to stay for multiple nights! For additional information and to book packages or tickets, visit ChristmasAtGaylordPalms.com.
Learn more about the resort at GaylordPalms.com and stay connected with all the resort happenings by following along on Facebook, Twitter and Instagram.
Follow Food Wine Sunshine on Facebook, Twitter, Pinterest, and Google + for more fun things to do in Florida.