(Last Updated On: September 5, 2019)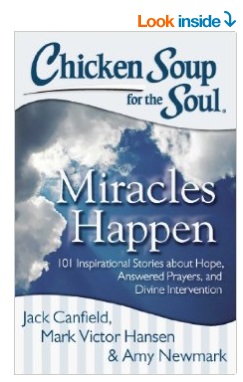 Chicken Soup for the Soul – Miracles Happen Book Review
Do you believe in Miracles? I am a mom, so therefore I do 🙂 My children are miracles…everything they do are little miracles! But, I, like most of you probably, need a little reminder now and then that there are amazing things that happen every day. Yes, miracles happen every day!
Chicken Soup for the Soul is known for their heart-felt stories and Miracles Happen is no different. It is filled with 101 true stories of healing, divine intervention, and answered prayers prove that miracles can happen to anyone at any time. Be prepared for goosebumps on each page 🙂 You will be uplifted by these personal stories of divine intervention, healing, and faith. I love that they are short stories too, so in just a matter of minutes you can feel your heart lift.
I love being a Chicken Soup-er blogger and being able to review these amazing books and tell you guys about them. Chicken Soup for the Soul is all about love and inspiration…and I know all of us could us a bit more of that from time to time 🙂
Where do you find the Chicken Soup for the Soul – Miracles Happen Book? Right on Amazon of course…it's priced at just $12.62 right now for the paperback, and $8.89 for the Kindle edition!
Make sure to check out Chicken Soup for the Soul Facebook page and Follow Chicken Soup for the Soul on Twitter 🙂
While you are at it – stay up to date with me too! Find Food Wine Sunshine on Facebook, Twitter, Pinterest, and Google +.
Disclosure – While I received the book for review, all opinions are 100% my own. No other compensation was received.