(Last Updated On: September 8, 2022)
Foods can contain many healthy and beauty benefits, try this Blackberry Beauty Smoothie and see how it can hep your skin to look beautiful and radiant! While this post is sponsored by Florida Dairy Farmers, all opinions and the recipe are my own.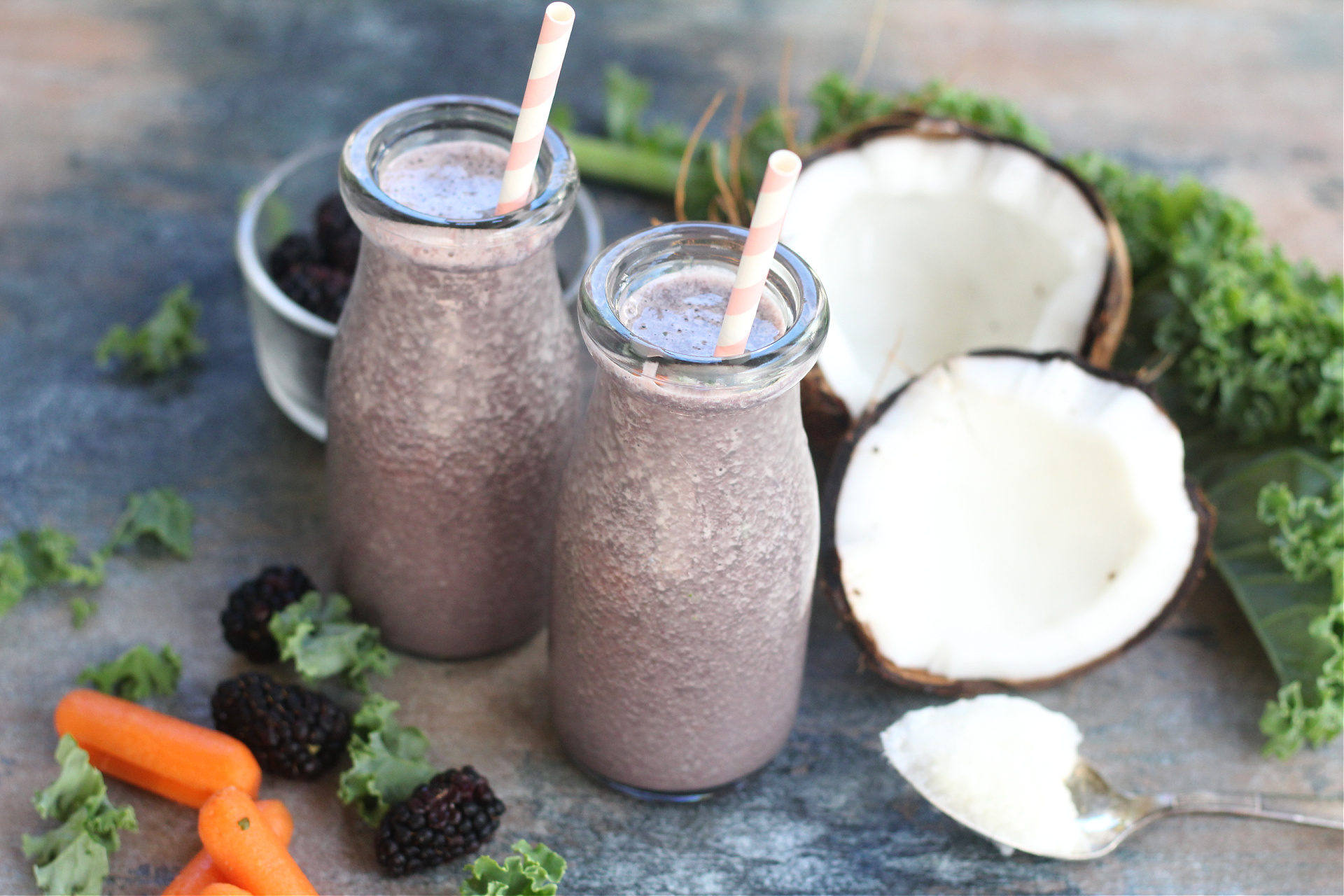 How To Make A Blackberry Beauty Smoothie For Beautiful Skin
Hello new smoothie recipe! I think I have about 52 smoothie recipes here on the site, so it's no secret that I love smoothies. Smoothies are incredibly easy to make and so versatile. But, my favorite thing about smoothies is that they are a great way to get a healthy dose of nutrition in one meal.
While it's no secret that I love smoothies, it's also no secret that I'm not getting any younger. I will openly admit that I spend money on fancy creams and lotions that will help me keep those pesky fine lines and wrinkles away. I workout regularly in hopes to keep in shape and help keep my skin firm. And I add ingredients to my smoothies that will help me with all of the above!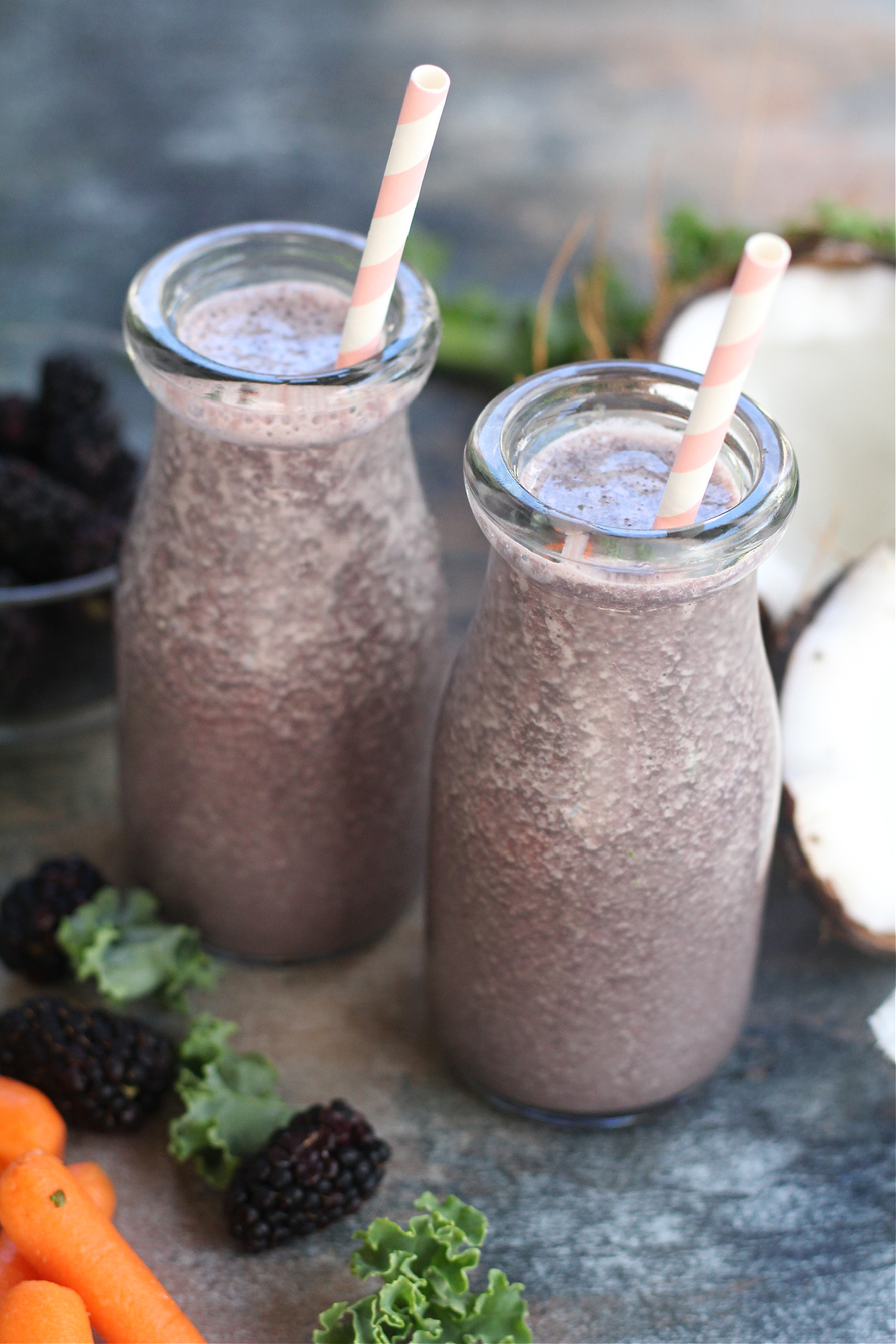 Did you now that the best way to get nutrients into your body is by the food and drinks you consume? It's not by fancy vitamins.
So, let's explore the ingredients in my new smoothie recipe, shall we? As a reminder, I found this information on the internet, I am not a doctor or a dermatologist, if you have specific questions about your skin or your health, always consult your physician. I can only share my findings and my experiences.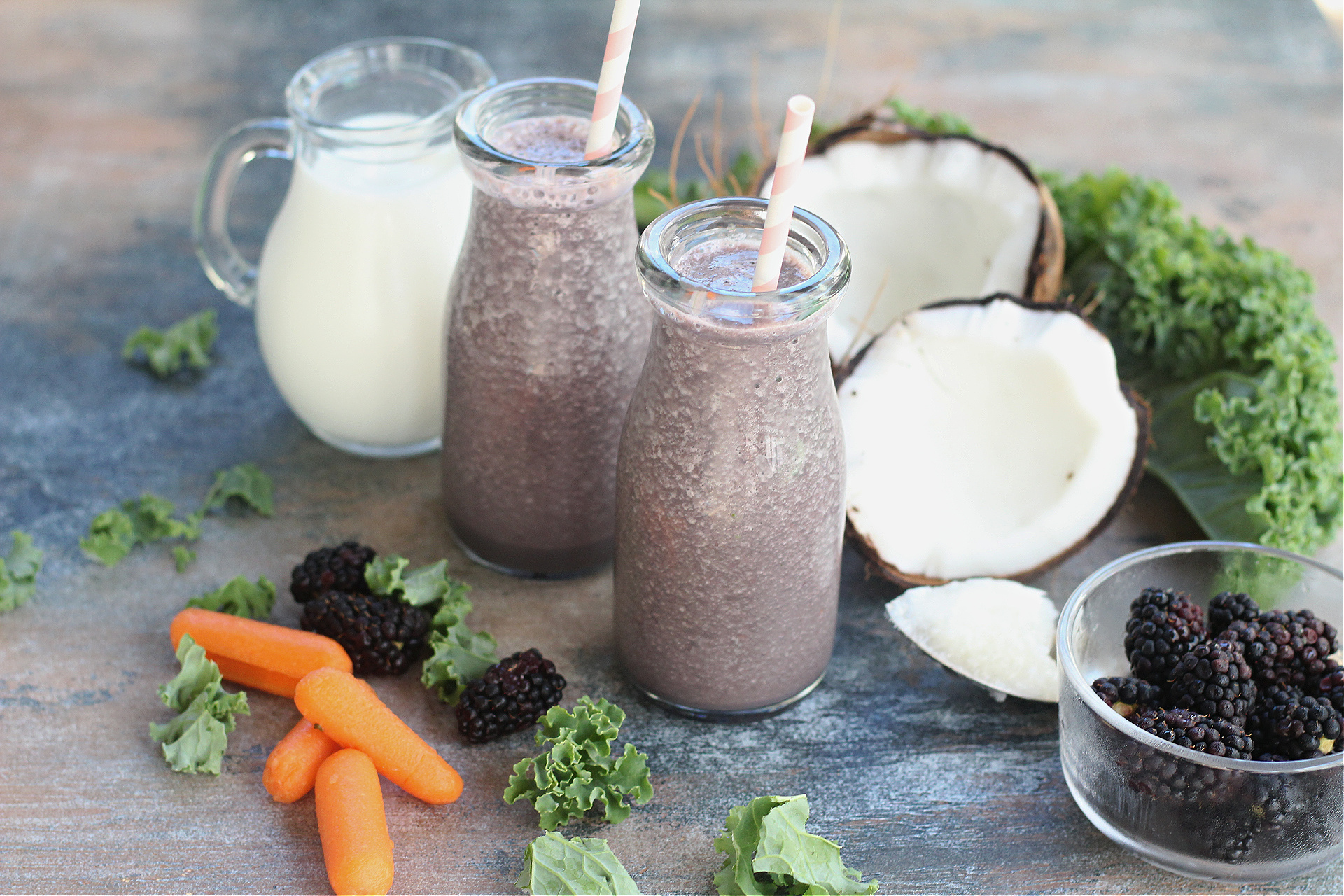 Health Benefits Of Blackberries
Blackberries not only make your smoothie that beautiful rich purple color, but they contain high levels of antioxidants and collagen. Both of those can help your skin! Those antioxidants can help affect the aging process, smooth your skin, and give you that natural glow we all love.
Blackberries are loaded with vitamin C, which also may help improve skin tone, texture, and your complexion.
Blackberries are also a great source of vitamin A, which has been said to help with those fine lines, wrinkles, age spots and all those other fun things that start showing up as we get a little older 😉 Consuming vitamin A is essential for healthy skin….so add those blackberries to your smoothie!
Vitamin K, yep…blackberries have that too! Vitamin K has been said to help reduce the appearance of scars, sun spots and even stretch marks! I wonder if I can just place blackberries on my pregnancy stretch marks….may be worth a try 😉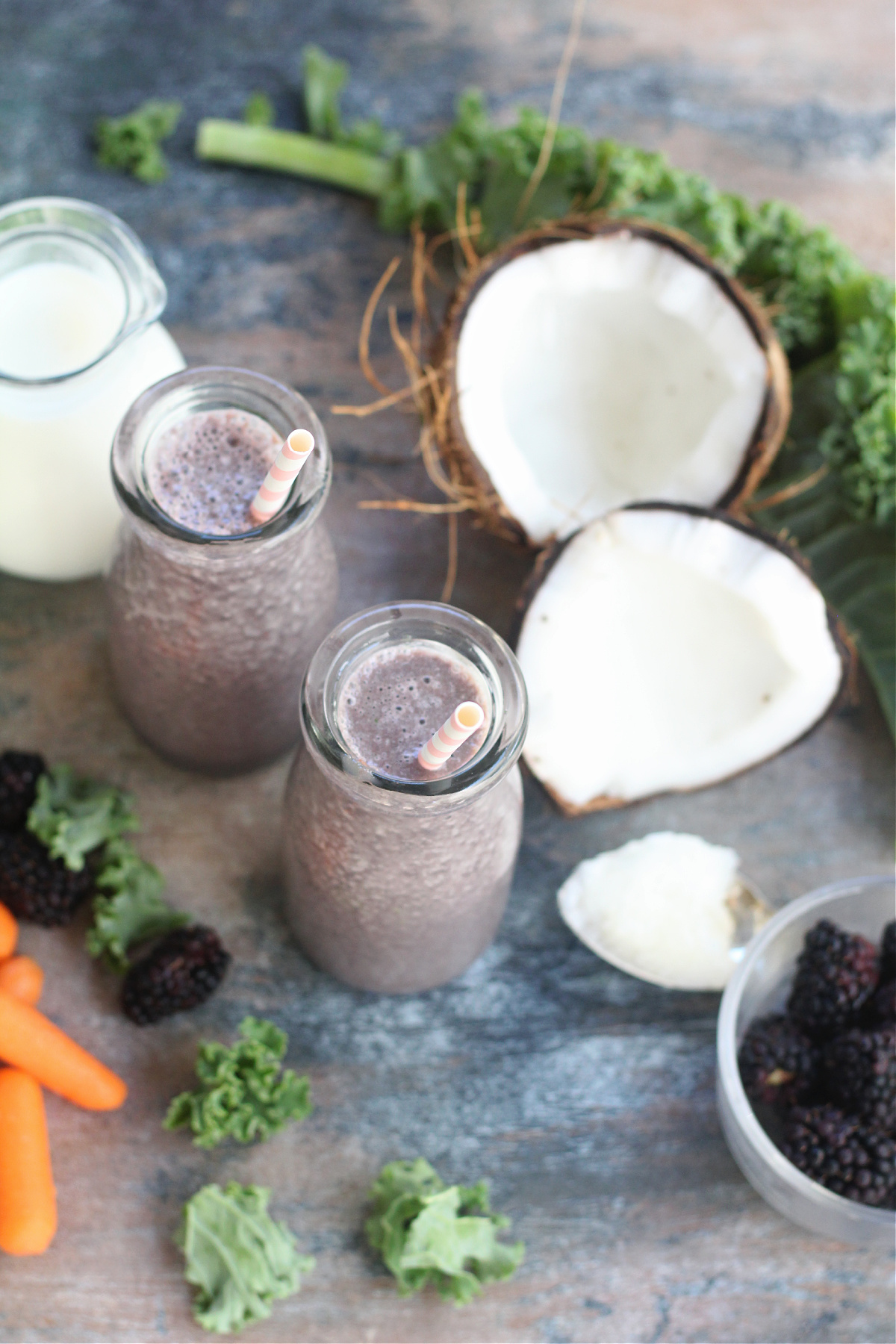 Health Benefits Of Milk
I mentioned these in my other skincare smoothie recipe, but as a refresher…Milk contains retinol. You know that expensive lotion I admitted to buying, retinol is in that too! Retinol is said help to promote skin health and have anti-aging properties. Milk also contains antioxidants, which can help keep our skin healthy and glowing. Milk promotes bone growth but vitamin D is also said to having anti-aging benefits, and milk is an excellent source of vitamin D…probably the best!
Milk has anti-inflammatory properties that is said to help our skin to fight the damages caused by UV rays, and since I live in Florida, this one is very important to me.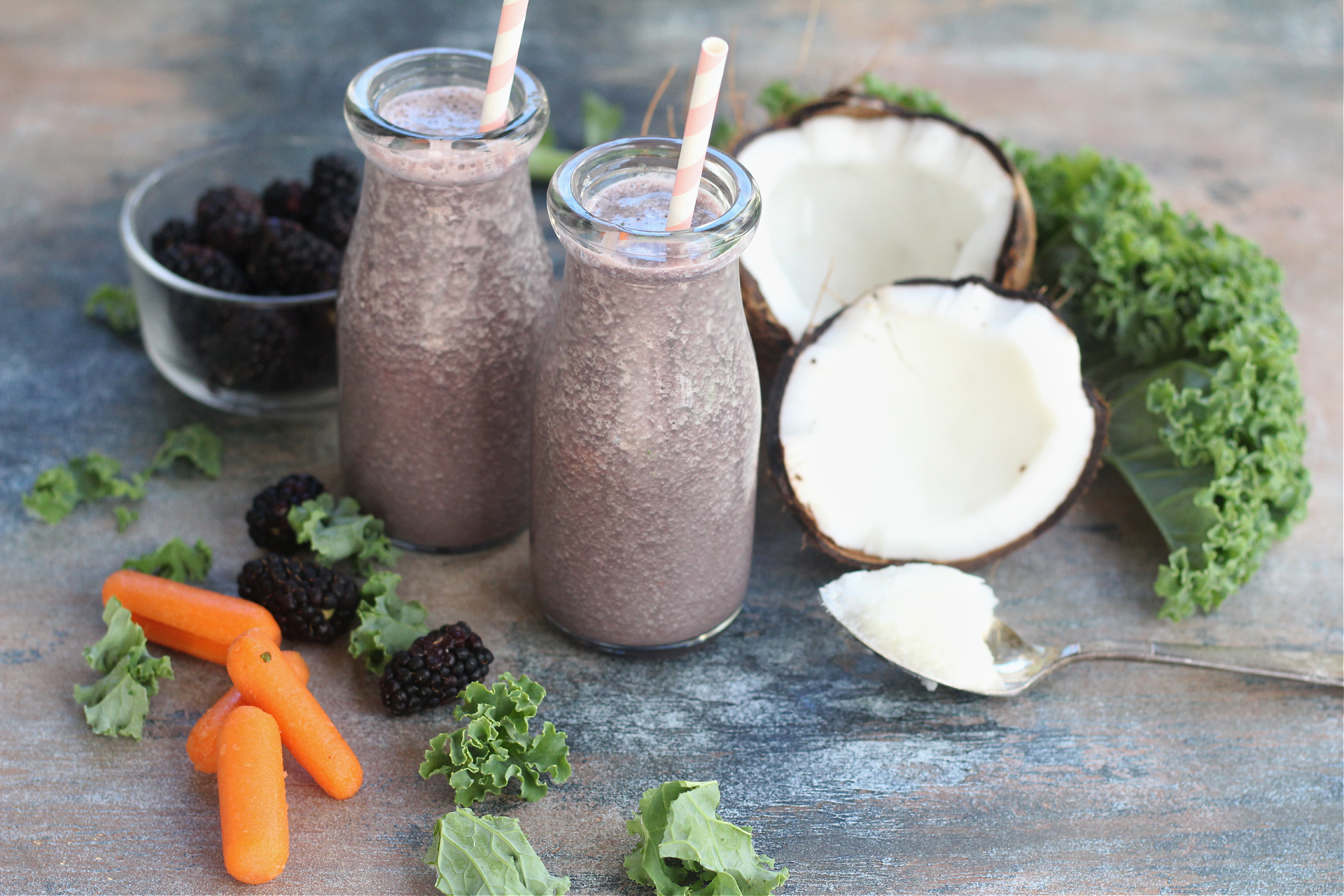 Health Benefits of Kale
Kale was in my other beauty smoothie as well, and that's because it's loaded with vitamins and nutrients that help to make our skin look healthier. Kale is rich in vitamins C, vitamin E and vitamin K. Kale also has anti-inflammatory benefits.
Health Benefits of Brazil Nuts
So, Brazil nuts are a new addition to my daily routine. My sister-in-law told me about them and all the benefits they have a few months ago and my husband and I have been including them in our day ever since. They are small, but they are packed full of lots of good stuff! Brazil nuts are very nutritious and one of the most concentrated dietary sources of selenium.
Brazil nuts are also a good source of healthy fats, vitamin E, and antioxidants.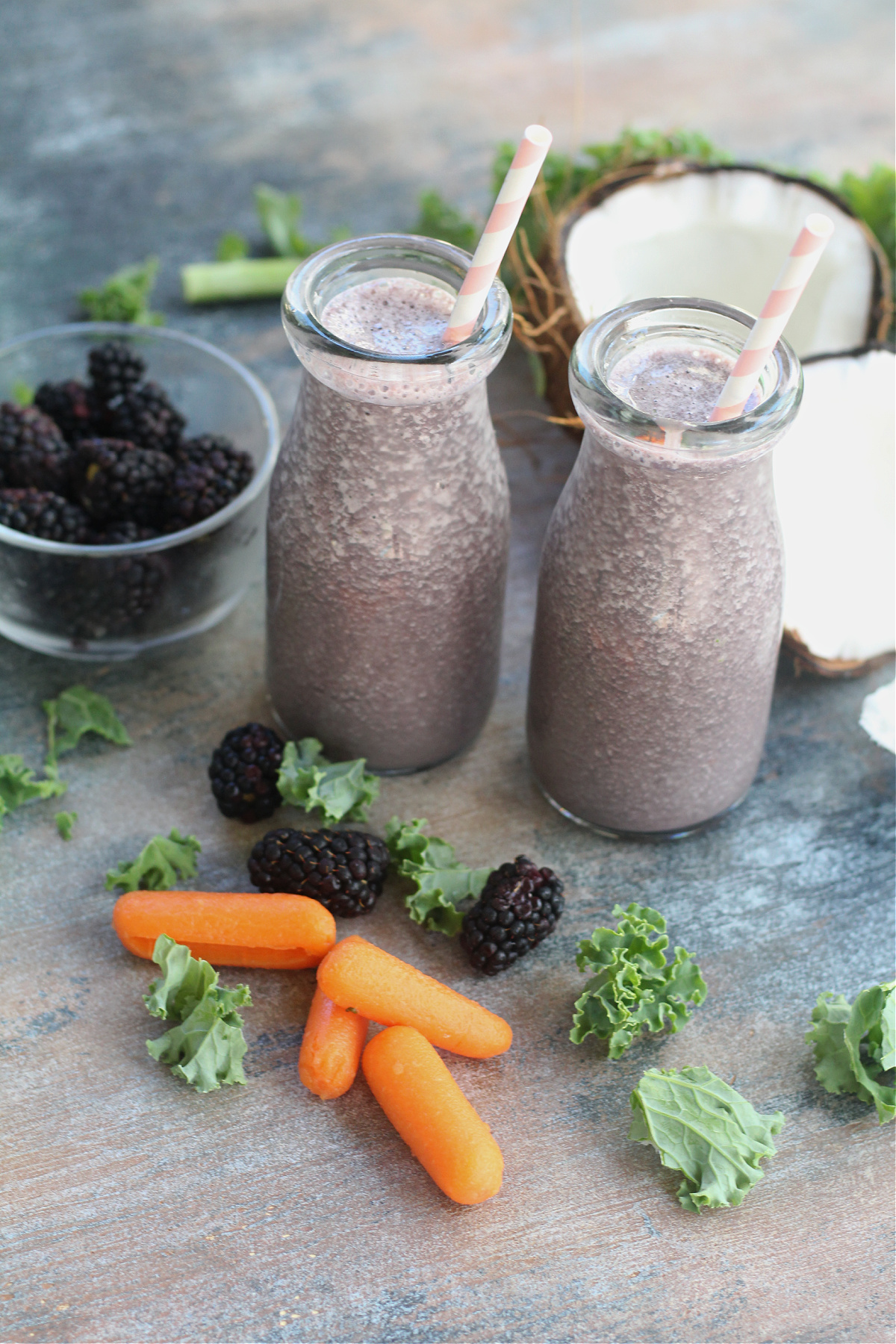 Health Benefits of Coconut Oil
Coconut oil is one of those things that can be used for so many things! From hair masks, beauty treatments, to oral care, to cooking! Coconut oil is a good source of antioxidants, which can help to protect your cells from damage. Adding coconut oil to your smoothie may also help you feel fuller longer…score! Check out some more health benefits of coconut oil.
Health Benefits of Carrots
Hello vitamin C! Yes, another fabulous ingredients in our beauty smoothie has vitamin C. And, of course, carrots are an excellent source of beta carotene, and beta carotene can brighten your skin and make it glow. The beta carotene in carrots is converted into vitamin A when you eat carrots, and that helps promotes healthy skin. So, adding carrots to your smoothie will help your skin from the inside out. Plus, they are kinda sweet, so adding them to your smoothie is not only a healthy option, but a delicious one.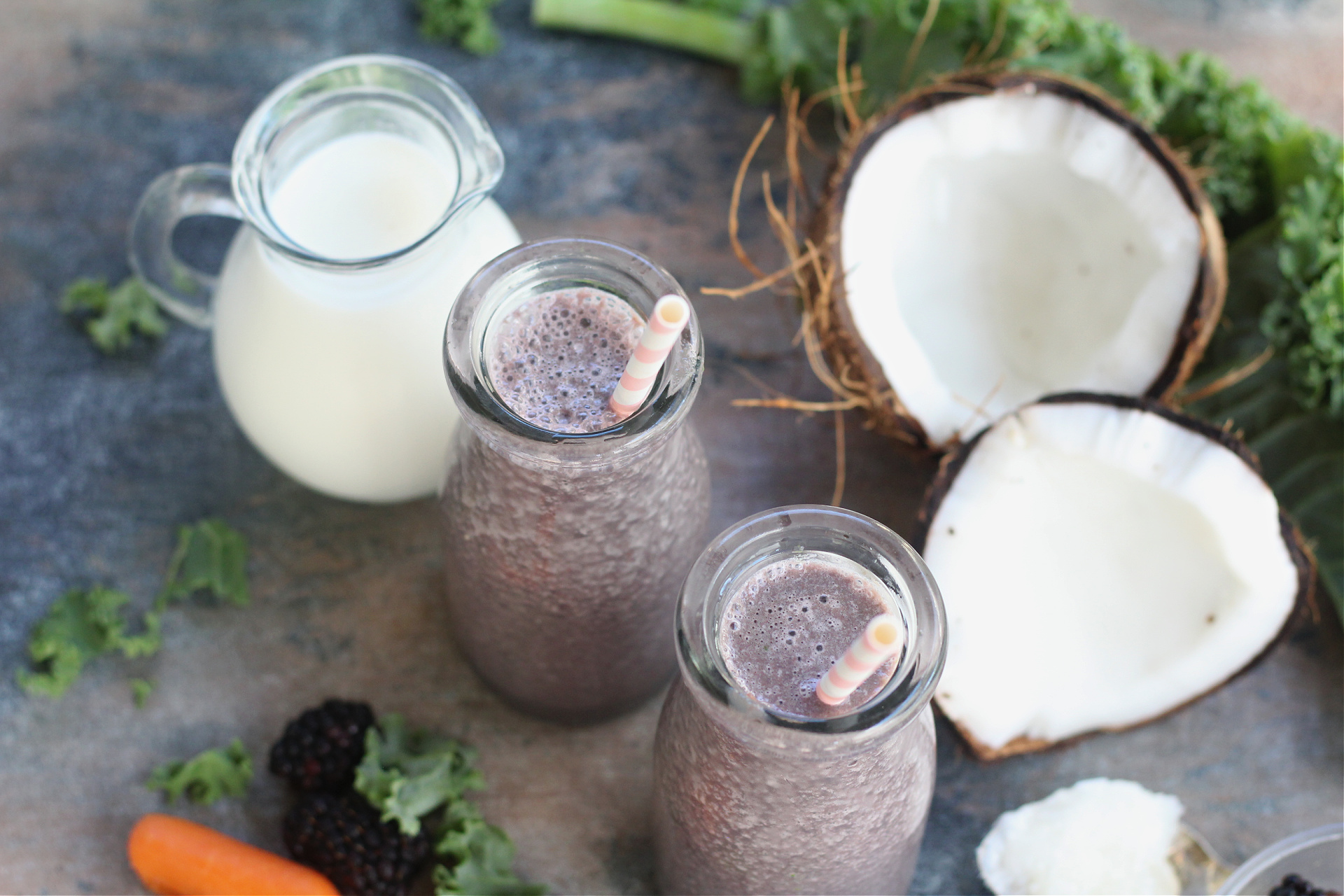 Ok, that covers it! That's all the ingredients in my Blackberry Beauty Smoothie! Sounds good doesn't it? So let's make it!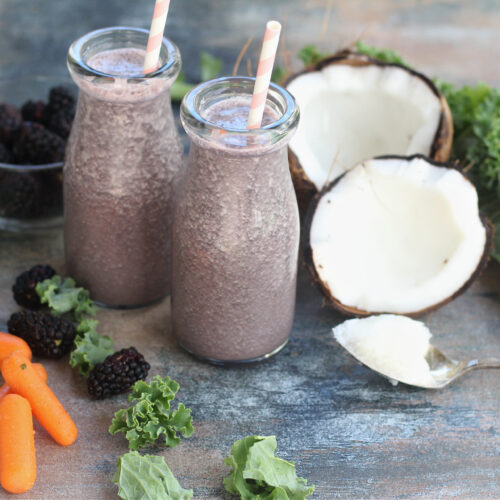 Blackberry Beauty Smoothie
Help get beautiful skin from the inside out by making this Blackberry Beauty Smoothie. Ready in 5 minutes and loaded with vitamins and nutrients!
Print
Pin
Rate
Ingredients
1

cup

Florida Milk

I used 2%

1

cup

Kale

1

cup

blackberries

2

Brazil Nuts

1/2

tbsp

coconut oil

1/2

cup

carrots

approx 8 baby carrots

1/2

tsp

cinnamon if desired

ice if desired
Instructions
Place all ingredients into your favorite blending device and blend until smooth.
Notes
*Note you may need to increase blending time due to the kale and nuts.
Nutrition
Calories:
185
kcal
|
Carbohydrates:
18
g
|
Protein:
7
g
|
Fat:
11
g
|
Saturated Fat:
6
g
|
Polyunsaturated Fat:
2
g
|
Monounsaturated Fat:
2
g
|
Cholesterol:
15
mg
|
Sodium:
87
mg
|
Potassium:
540
mg
|
Fiber:
6
g
|
Sugar:
11
g
|
Vitamin A:
9044
IU
|
Vitamin C:
48
mg
|
Calcium:
272
mg
|
Iron:
1
mg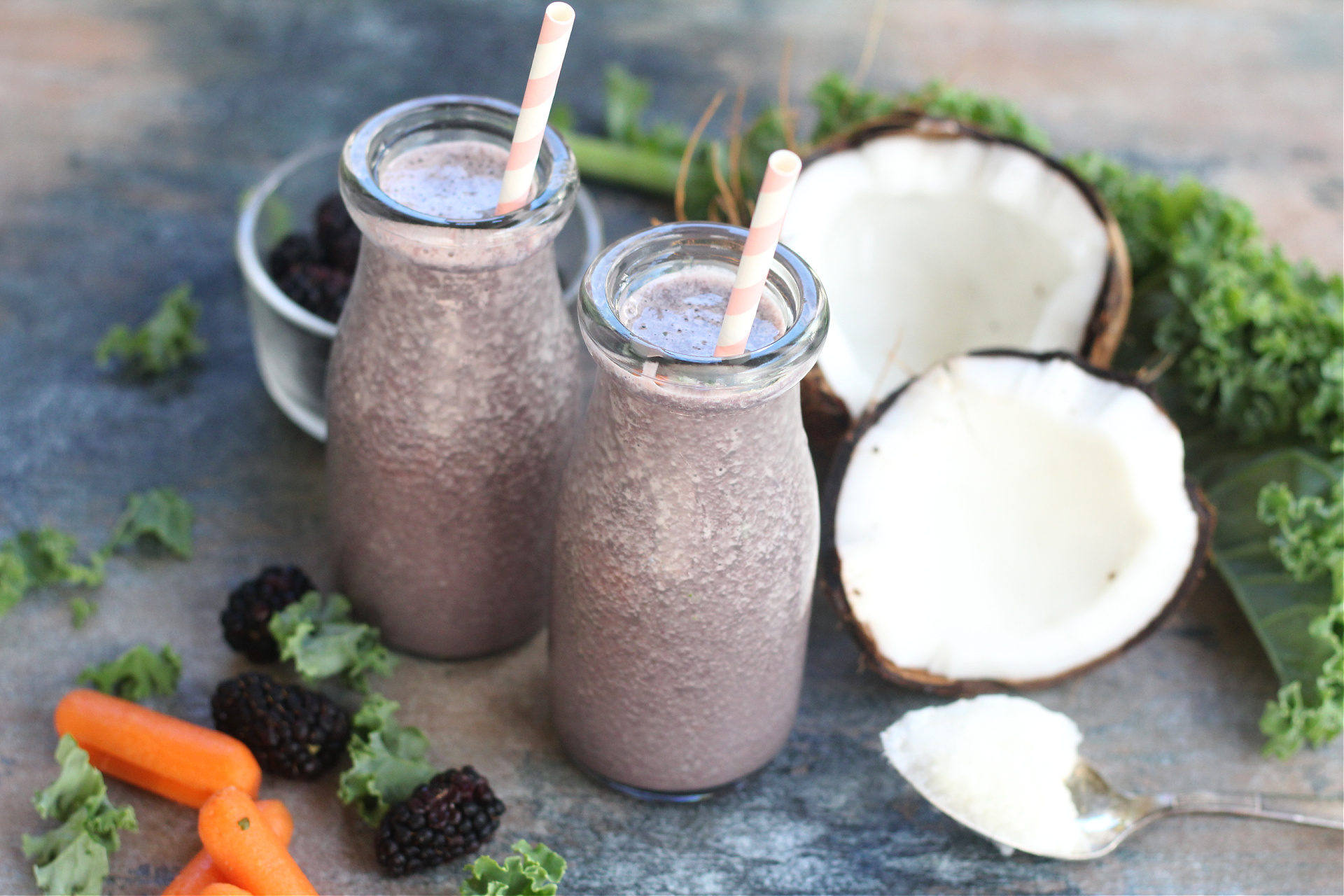 I hope you all enjoy this Blackberry Beauty Smoothie as much as I do!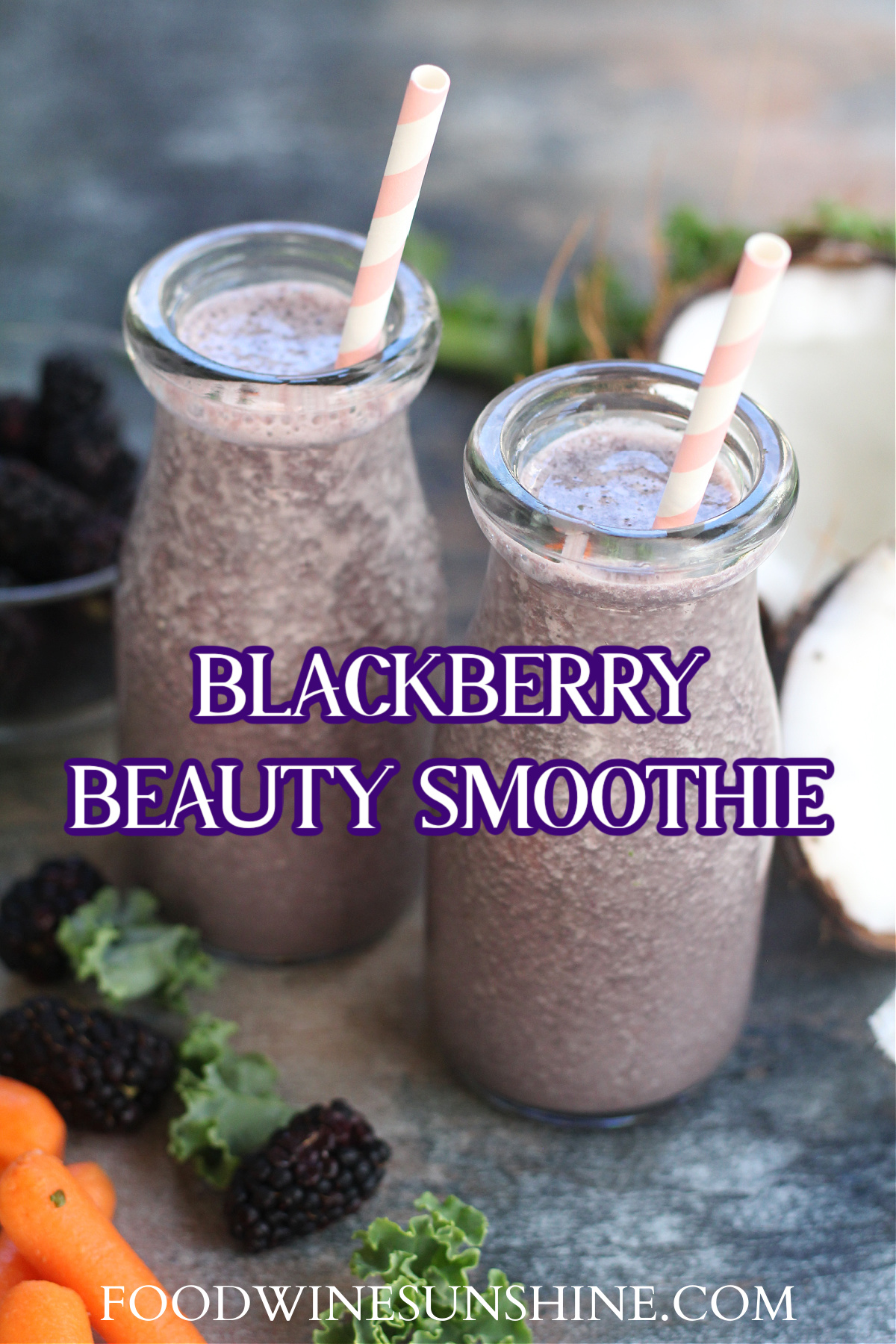 What is one of your favorite smoothie combinations?
Be sure to check out Florida Milk for more dairy-licious recipes and follow on Instagram, Facebook and Pinterest.
And while you are at it, check out all the recipes on Food Wine Sunshine and follow on me Facebook, Twitter, Pinterest and Instagram for more FOOD WINE AND SUNSHINE.