(Last Updated On: May 9, 2022)
Radiant skin starts from within. Make a delicious Tropical Skin Glowing Beauty smoothie today and enjoy the benefits of glowing skin. While this post is sponsored by Florida Dairy Farmers, all opinions and the recipe are my own.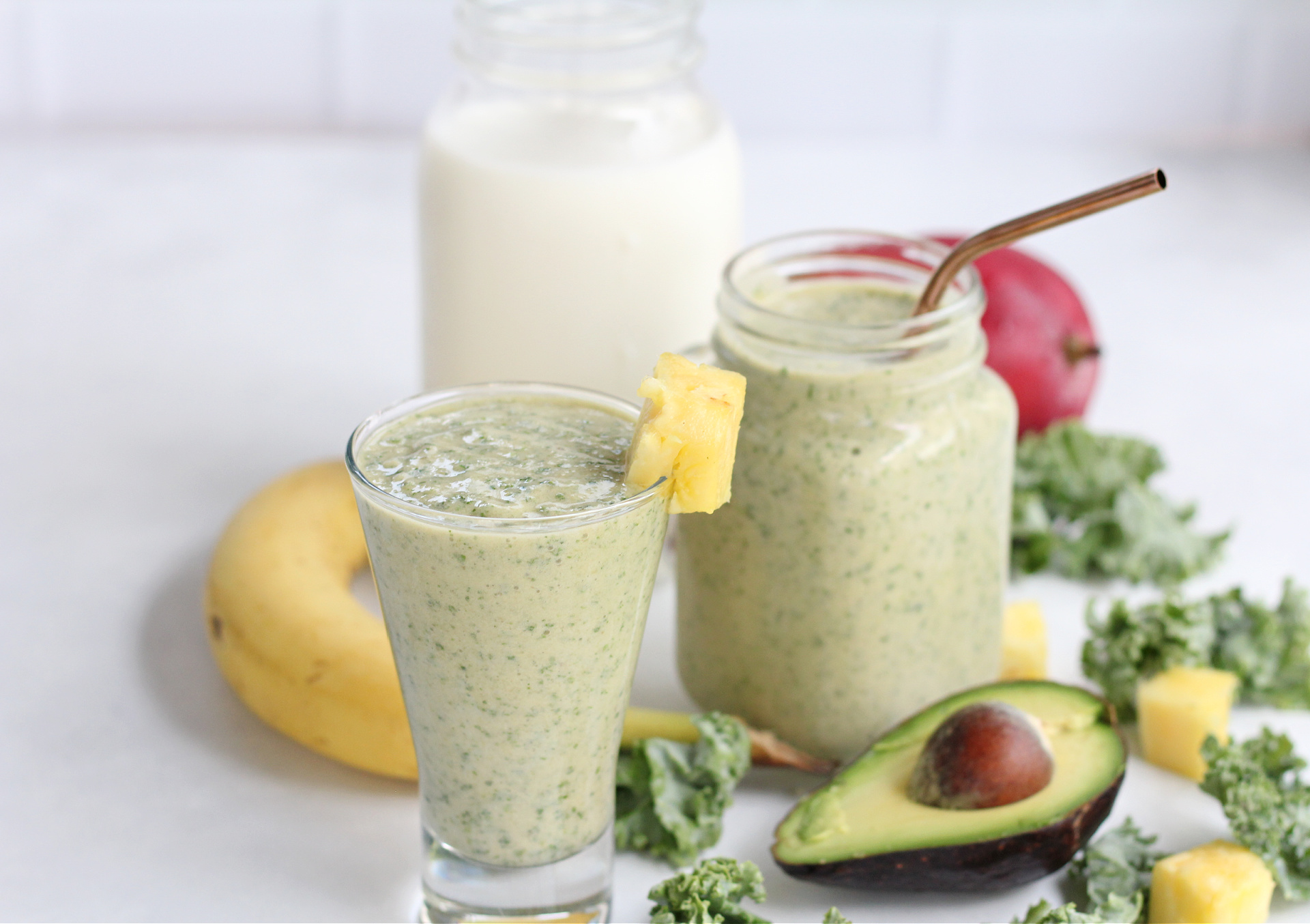 Tropical Skin Glowing Beauty Smoothie
Last week I scheduled myself a massage and facial in honor of Mother's Day. I firmly believe in self care, so I try to get a massage every other month or so, and when I went to make the appointment, I noticed the new service of a facial, so I decided to add that in too. I mean, I'm not getting any younger and I understand that we have to take of skin, especially here in Florida where we spend a lot of time outside in the sun.
I love massages, so that was great. But the facial…OH MY GOODNESS.
She spent a full hour actually massaging my face muscles, it's those muscles that hold our skin up, so they are important too! She also applied a mask that consisted of mango, avocado and other good-for-you ingredients. I asked her why mango and avocado, and she explained that mango is filled with vitamins (including vitamin C) and antioxidants that are great for our skin, it may even help with sun damage! Avocado is also loaded with vitamins and (including vitamin C) and antioxidants, but that they also help hydrate the skin. So, making mango and avocado the perfect ingredients for my facial mask.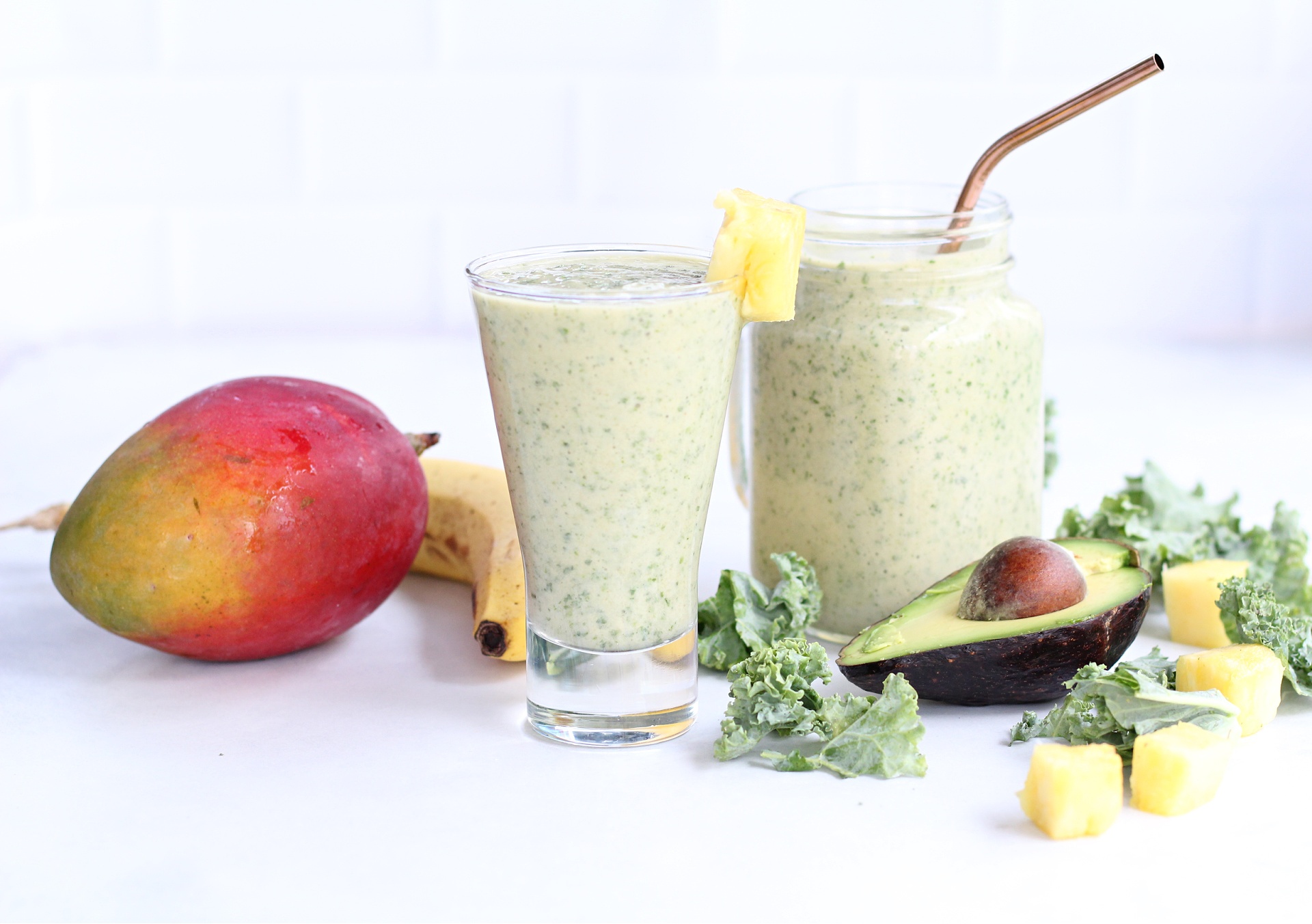 That amazing facial got me to thinking…..1. I need more facials in my life. 2. If mango and avocado are that good for my skin topically, can you imagine how good they would be for my skin if I ate them on a regular basis? Or even just more than I do now…Hello glowing radiate skin!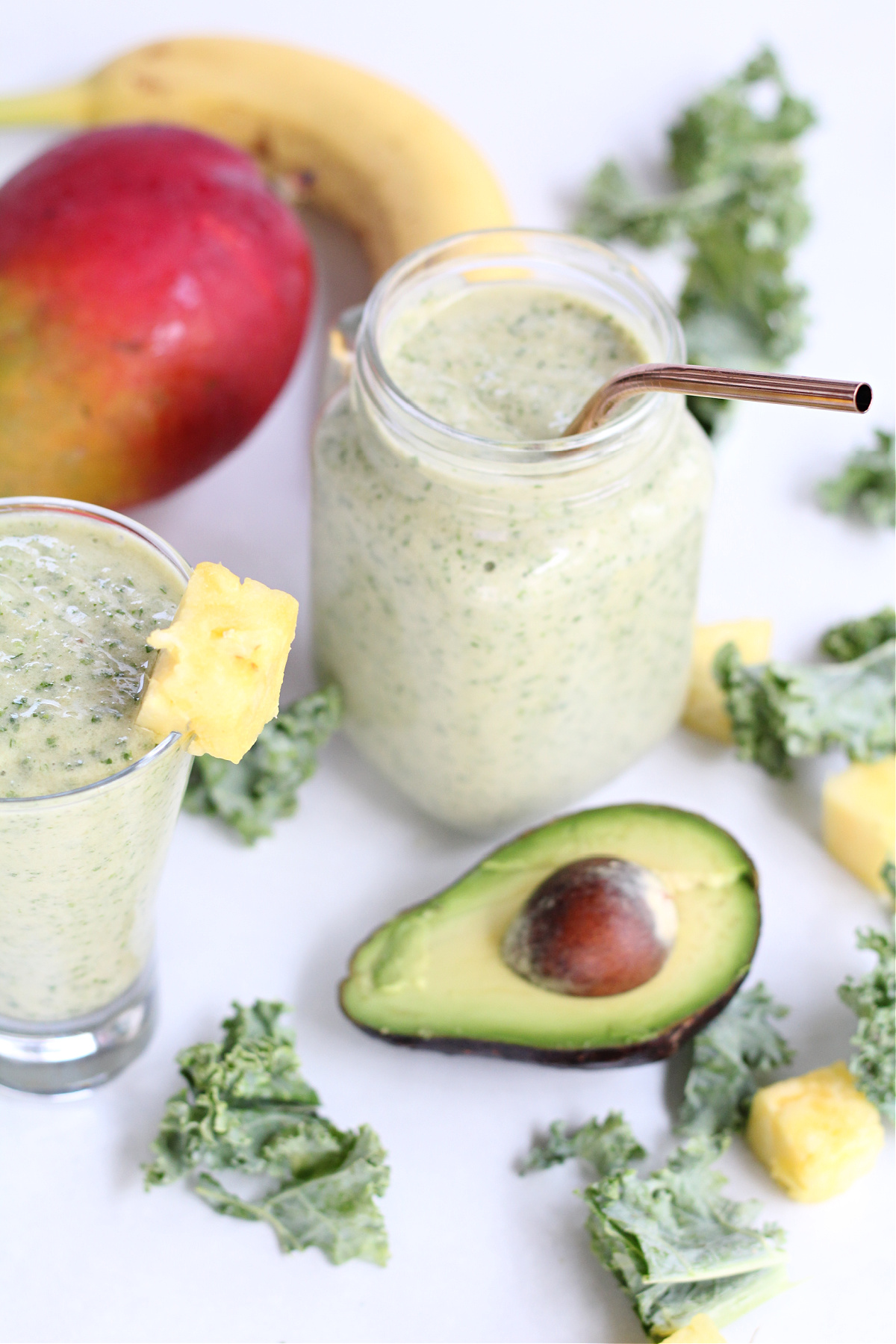 So, I came home, did some research on the best ingredients to add to a smoothie that would help my (well, and yours too!) skin look and feel better from the inside out.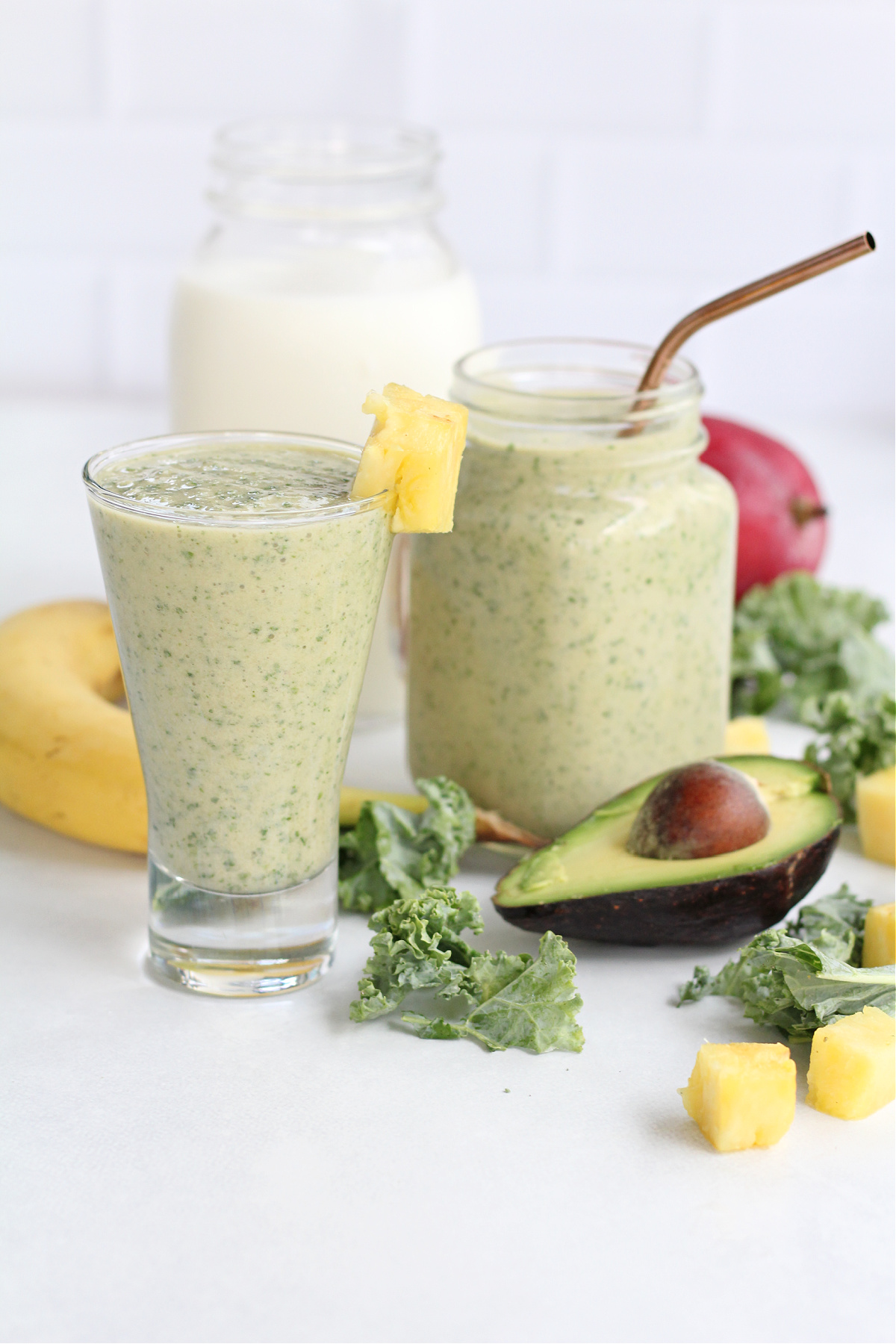 What I created was a smoothie with these ingredients to help with glowing skin:
Mango
Avocado
Pineapple
Banana
Kale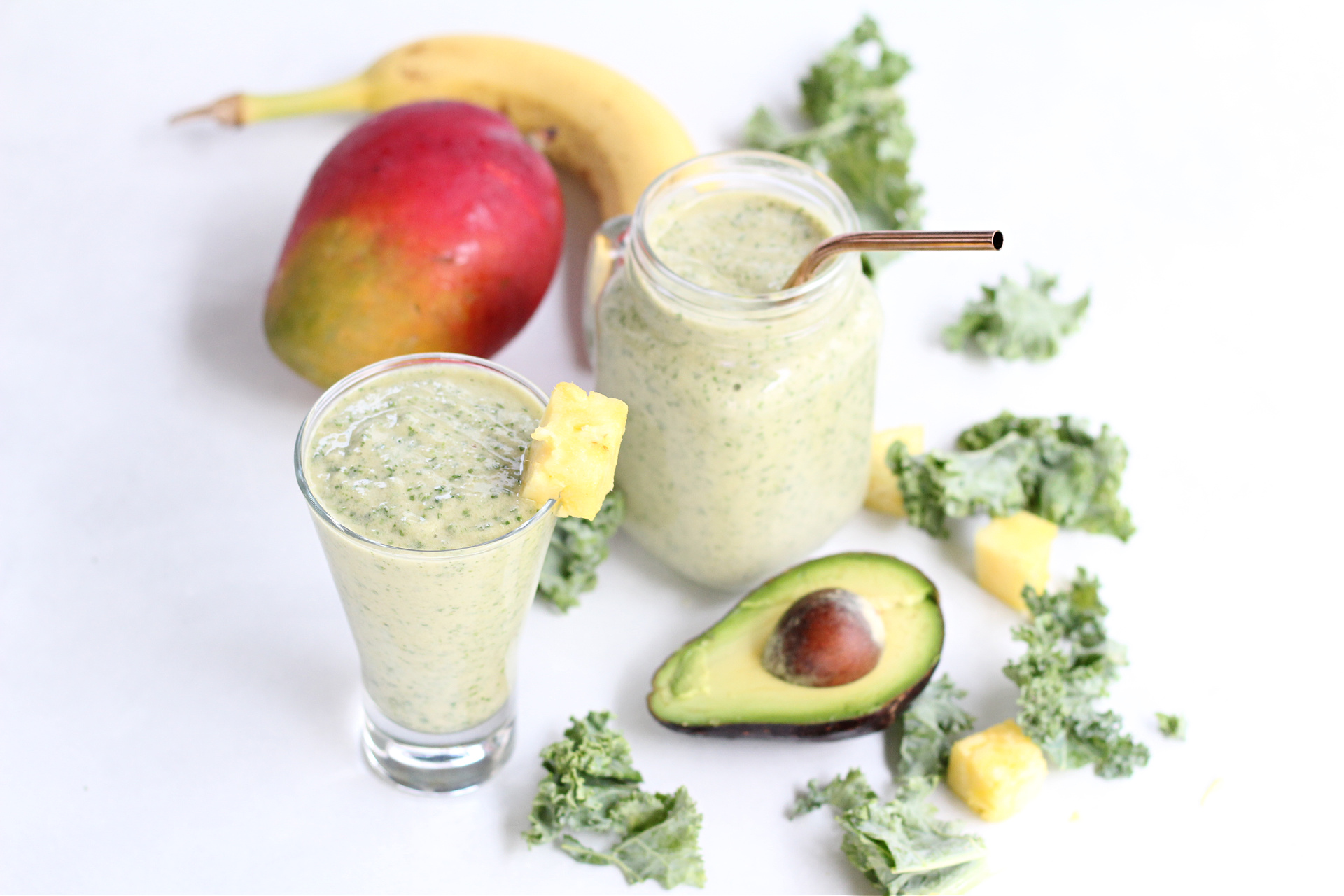 The result was a tropical, rich and creamy, delicious smoothie. And as an added bonus, all the ingredients actually help keep our skin healthy. It's a Beauty Smoothie.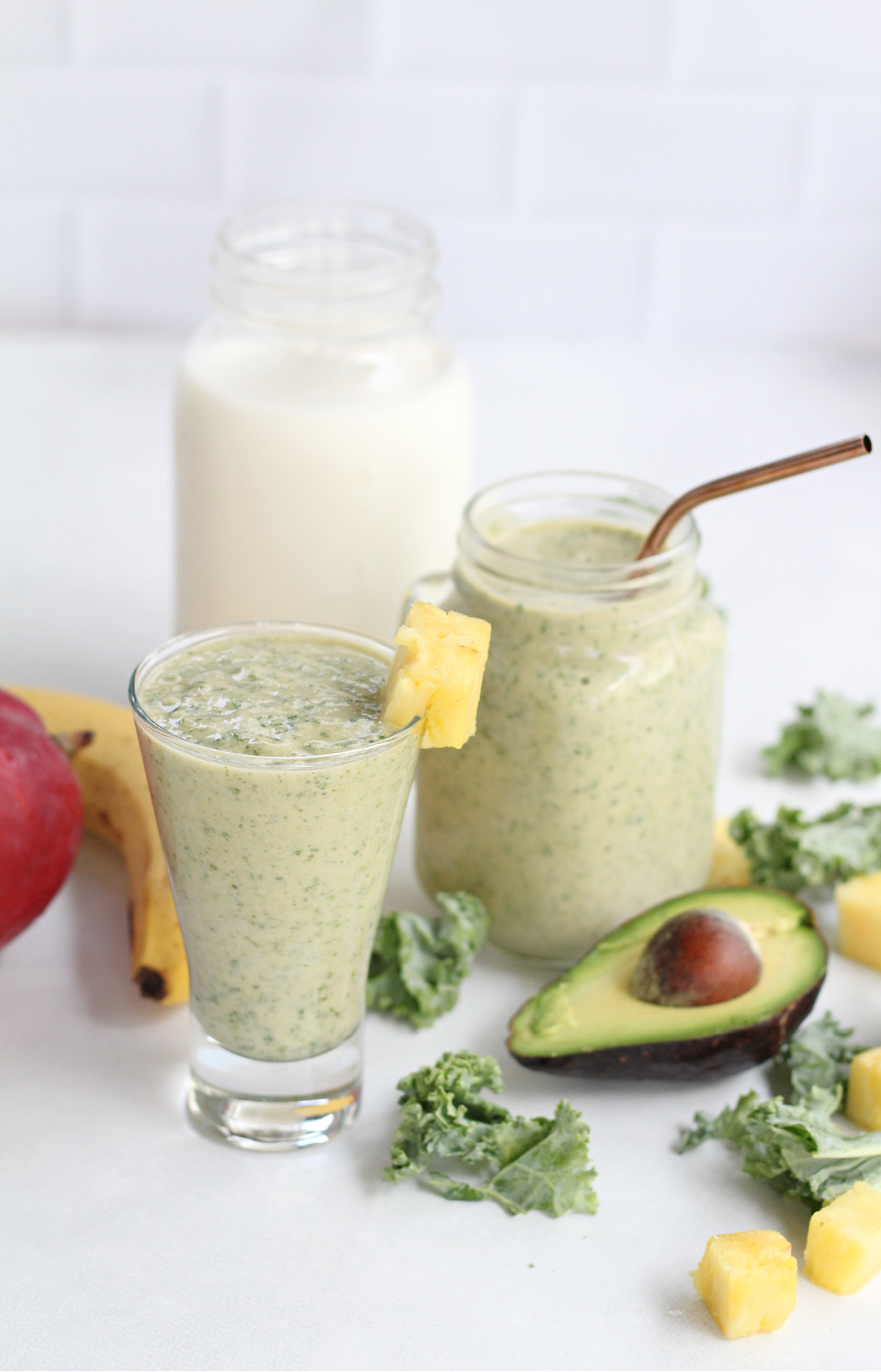 Now, let me share some of the research I found on why those particular ingredients help with our skincare routine. Disclosure: I am not a doctor or a dermatologist, if you have specific questions about your skin or your health, always consult your physician. I can only share my findings and my experiences.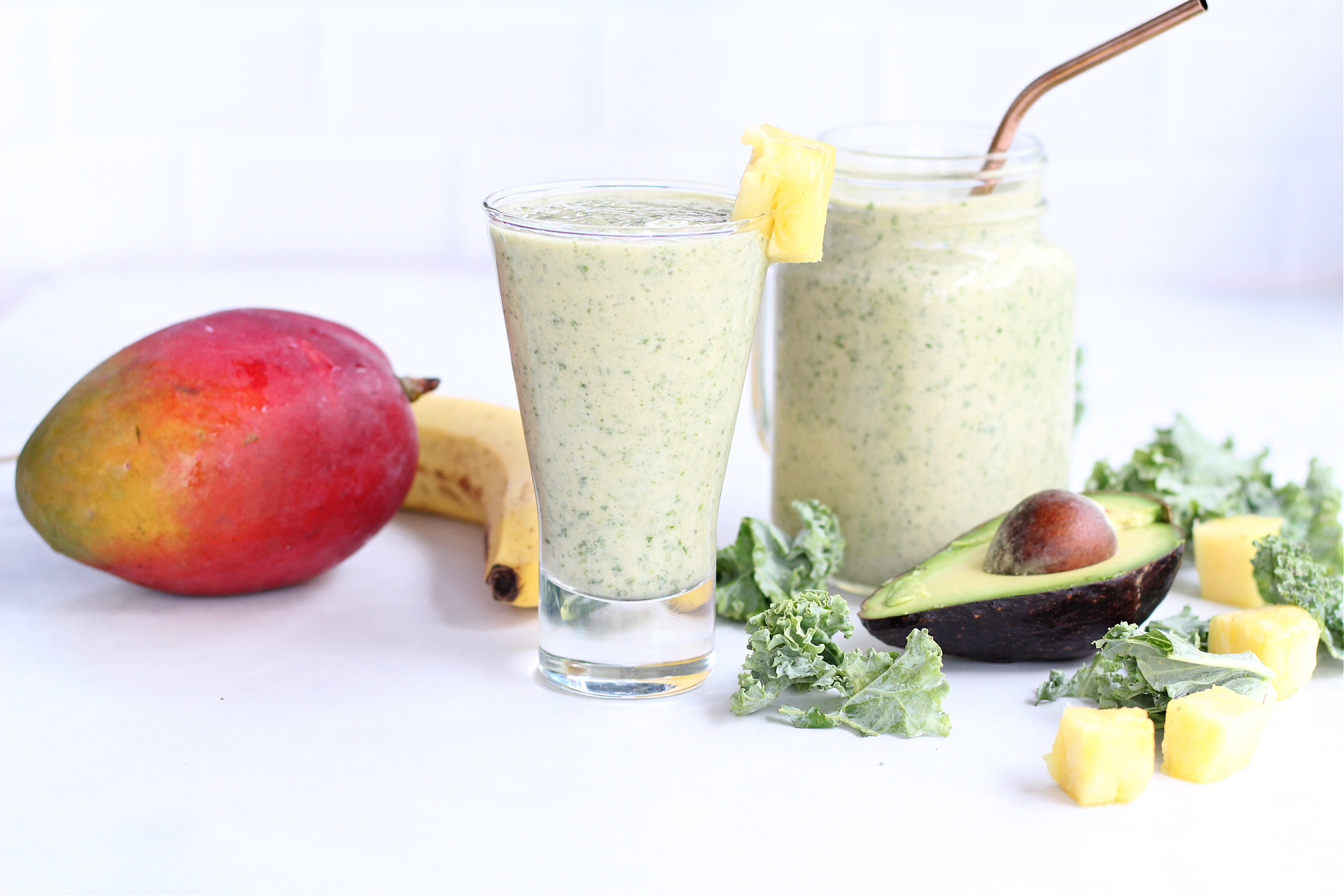 Skin Glowing Smoothie Ingredients Health Benefits
Mango
Mango contains antioxidants that can help with sun damage to the skin by reducing skin cell oxidation. There was even a study that said mango can help reduce wrinkles due to sun damage. Sign me up 😉 Mango is loaded with vitamin C and vitamin C reduces UV ray damage and helps keep free radicals away. Mango is also a good source of vitamin A, which supports collagen production which helps with those stubborn lines with get on our faces. Mangoes also have lots of other vitamins and minerals in them that help with hydration, reducing inflammation, and encouraging skin elasticity.
Your skin can actually store vitamin C and vitamin E, making it very beneficial to your beauty routine to make sure you have a diet that includes foods that have vitamin C and vitamin E.
Avocado
Avocado also contain antioxidants, vitamin C and vitamin E which are essential for healthy, glowing skin. Like with mango, avocado can help with elstacity, protection against free radicals, and can help prevent the breakdown of collagen. Avocados also contain Lutein which helps keep your skin hydrated. Hydration is very important to a healthy complexion. Like…really important. Avocados are also loaded with Monounsaturated fatty acids and Polyunsaturated fatty acids which help to moisturize the skin and help protect against harmful UV rays of the sun and help to reduce inflammation.
Milk contains retinol. So does the lotion I put on my face twice a day 😉 Therefore, it definitely makes sense to drink it! Retinol is said help to promote skin health and have anti-aging properties. Milk contains antioxidants, which as we discussed with mango and avocado, antioxidants can help keep our skin healthy and glowing. Loaded with vitamin D, milk promotes bone growth but vitamin D is also said to having anti-aging benefits.
Milk has anti-inflammatory properties that is said to help our skin to fight the damages caused by UV rays. Milk also acts as an excellent moisturizer…you all have heard of a milk bath, right?!
Pineapple
Pineapple is rich in antioxidants, vitamin C…noticing a theme here yet? Antioxidants and vitamin C are essential to your skin's health. Science says vitamin C helps promote collagen production, which makes skin smooth and potentially firmer. Pineapple is also rich in bromelain which can help keep free radicals away and give your skin that glow we all love. Pineapple also helps with inflammation.
Banana
Bananas do have some vitamin C, not as much as pineapple, avocados and mango, but they do still have some! Bananas are an excellent source of potassium, which helps maintain the flow of both oxygen and blood to the skin cells, therefore helping to keep your skin bright and beautiful.
Kale
Guess what? Kale is rich in vitamins C and vitamin E! Kale is also loaded with vitamin K. Together, these vitamins help your skin look healthier…and dare I say…younger?! Vitamin K helps to reduce dark spots. Kale also has anti-inflammatory benefits help prevent your skin from looking bloated and help your complexion.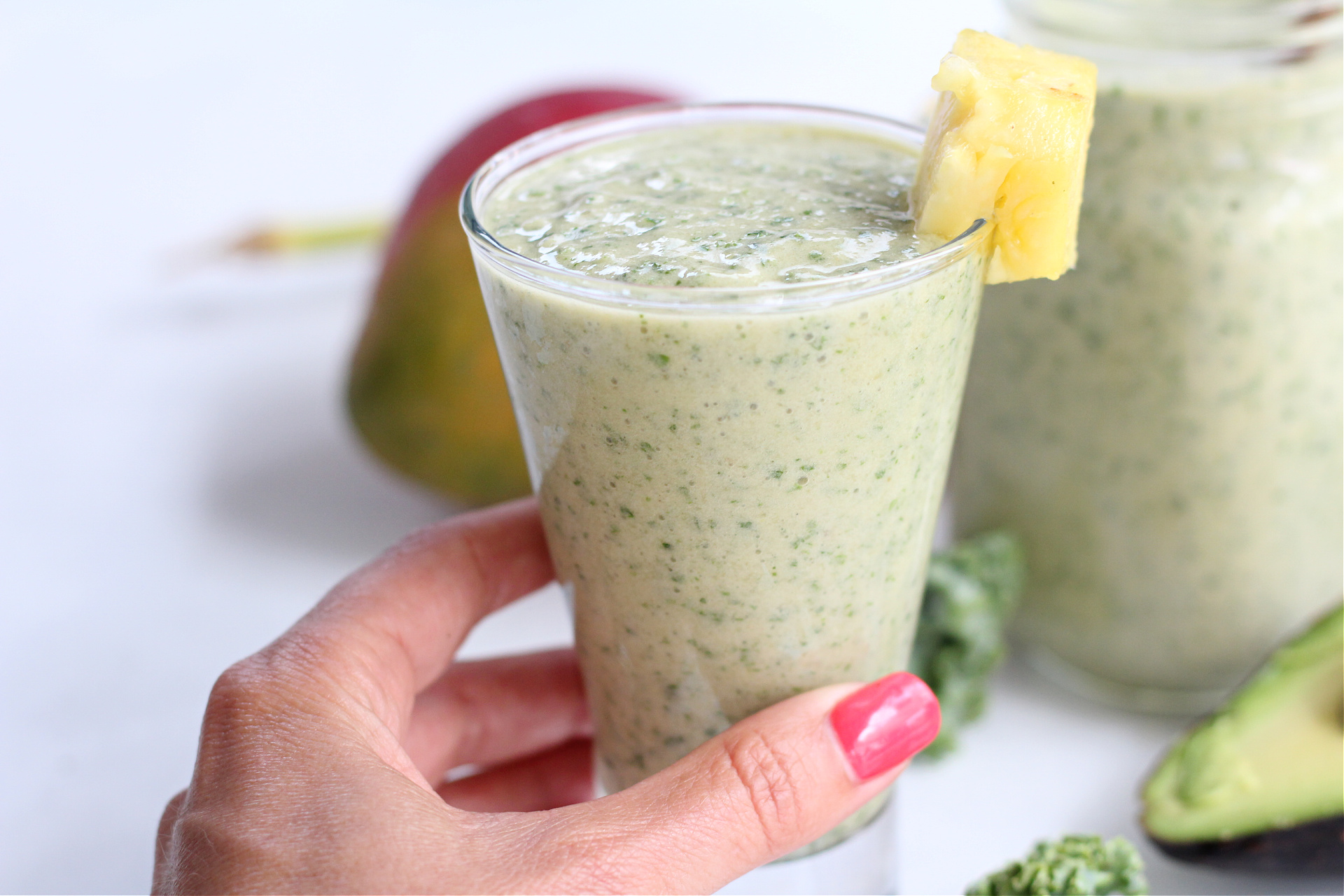 Did you know that your skin is your biggest organ? Your outermost most one too. It takes more than just fancy lotions to keep your skin healthy, you have to consume those good-for-you foods and drinks that are rich in vitamins, minerals and antioxidants.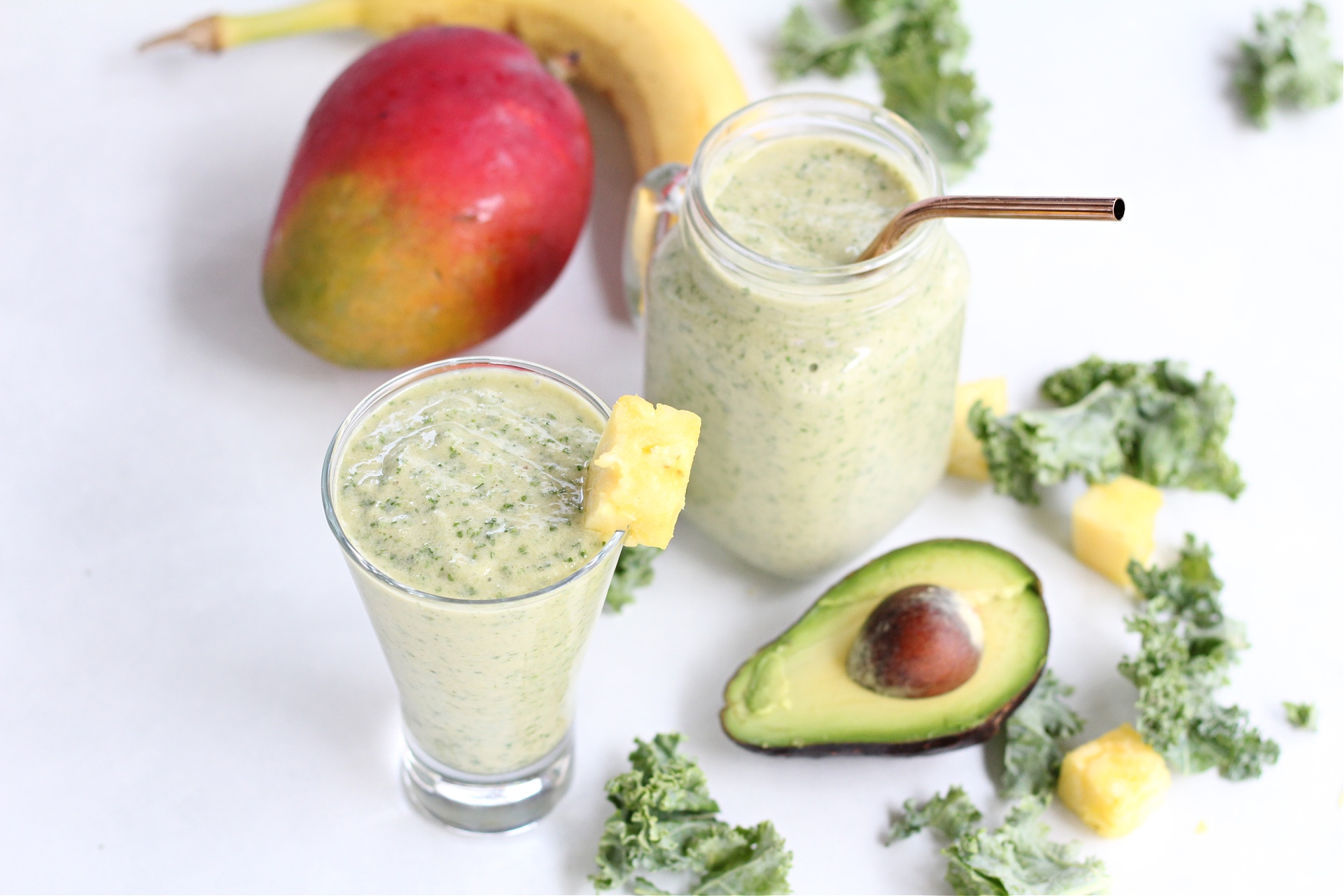 Like this Tropical Skin Glowing Beauty Smoothie.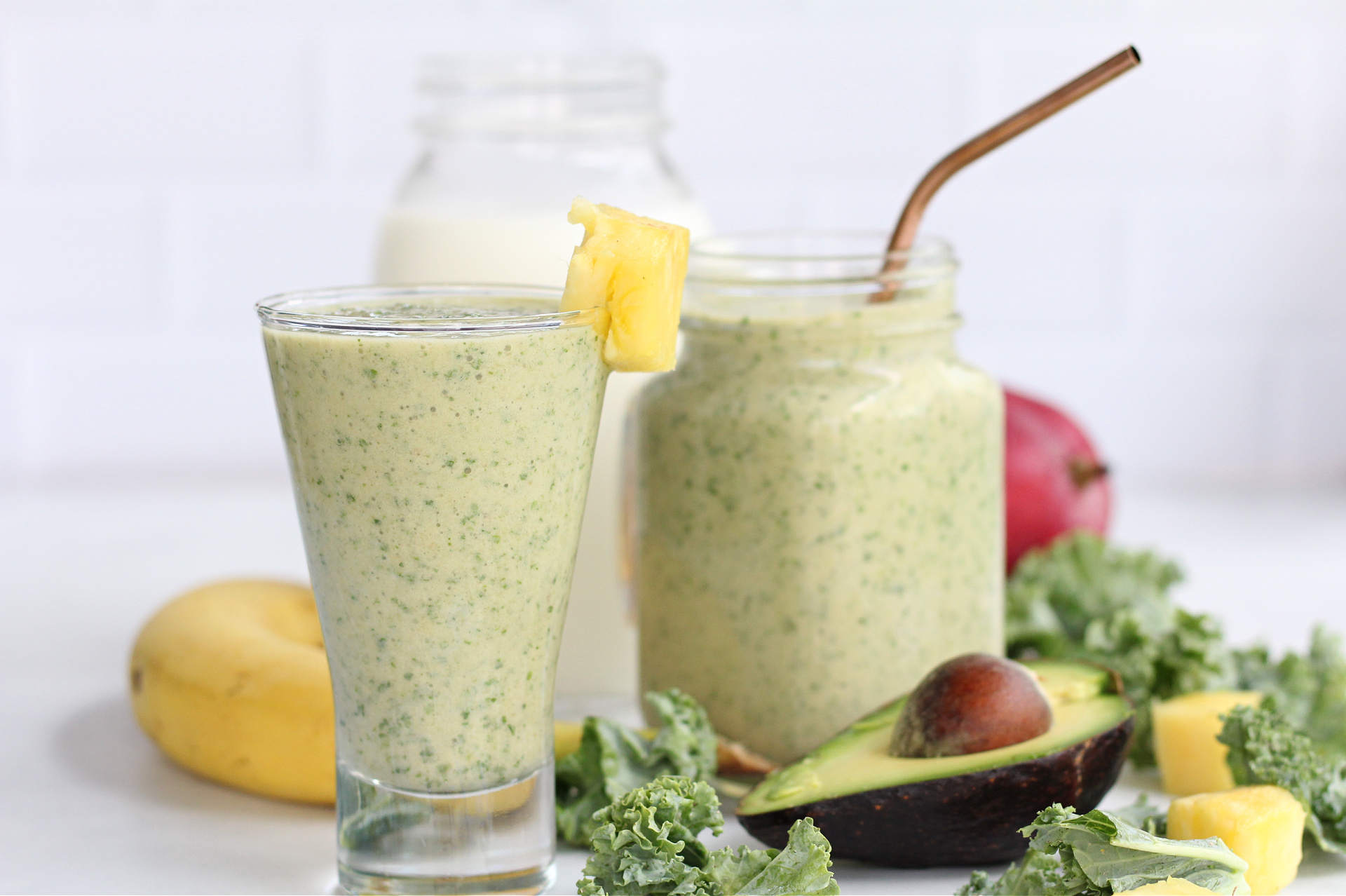 I used all fresh fruit in my skin glowing smoothie, and it was plenty think and creamy. If you use frozen fruit, you may have to add more milk (I recommend Florida Milk, of course), otherwise it may be too thick.
Ok, let's blend up some healthy ingredients into a green Tropical Skin Glowing Beauty Smoothie, shall we?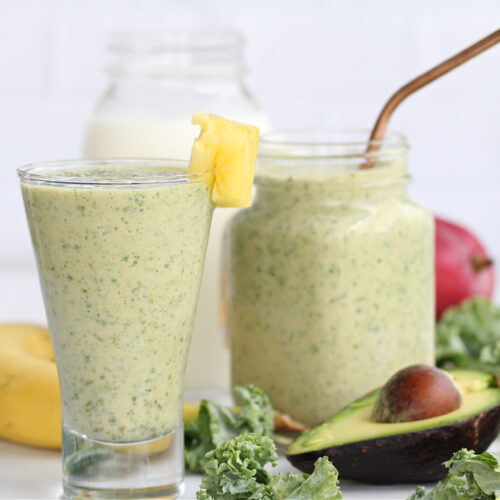 Tropical Skin Glowing Smoothie
Get a taste of the tropics with this green smoothie. Loaded with antioxidants, vitamin C, vitamin E and more to help your skin glow!
Print
Pin
Rate
Ingredients
1

cup

Florida Milk - I used 2%

1/2

cup

diced fresh mango

1/2

cup

diced fresh pineapple

1

cup

kale

1

banana

1/2

avocado
Instructions
Add all ingredients to your favorite blender.

Blend until smooth

Enjoy!
Notes
If you use frozen fruit or add ice to this smoothie, you will have to add in extra Florida Milk, otherwise it will be super thick....which is okay, but you may have to eat it with a spoon 🙂
Nutrition
Calories:
249
kcal
|
Carbohydrates:
36
g
|
Protein:
7
g
|
Fat:
11
g
|
Saturated Fat:
3
g
|
Polyunsaturated Fat:
1
g
|
Monounsaturated Fat:
6
g
|
Trans Fat:
1
g
|
Cholesterol:
9
mg
|
Sodium:
78
mg
|
Potassium:
851
mg
|
Fiber:
8
g
|
Sugar:
23
g
|
Vitamin A:
4048
IU
|
Vitamin C:
76
mg
|
Calcium:
246
mg
|
Iron:
1
mg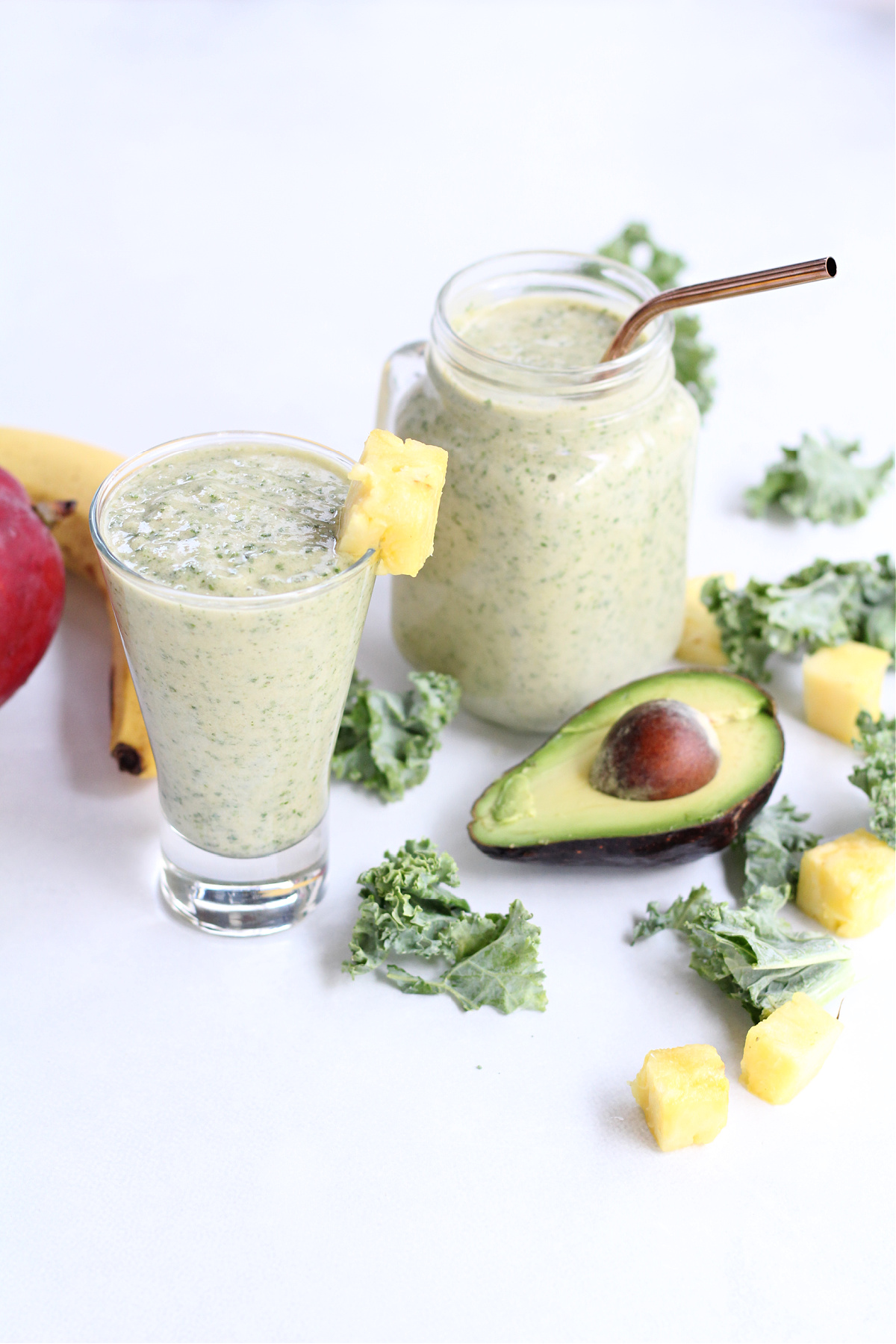 I hope you enjoy this Tropical Skin Glowing Beauty Smoothie as much as I do!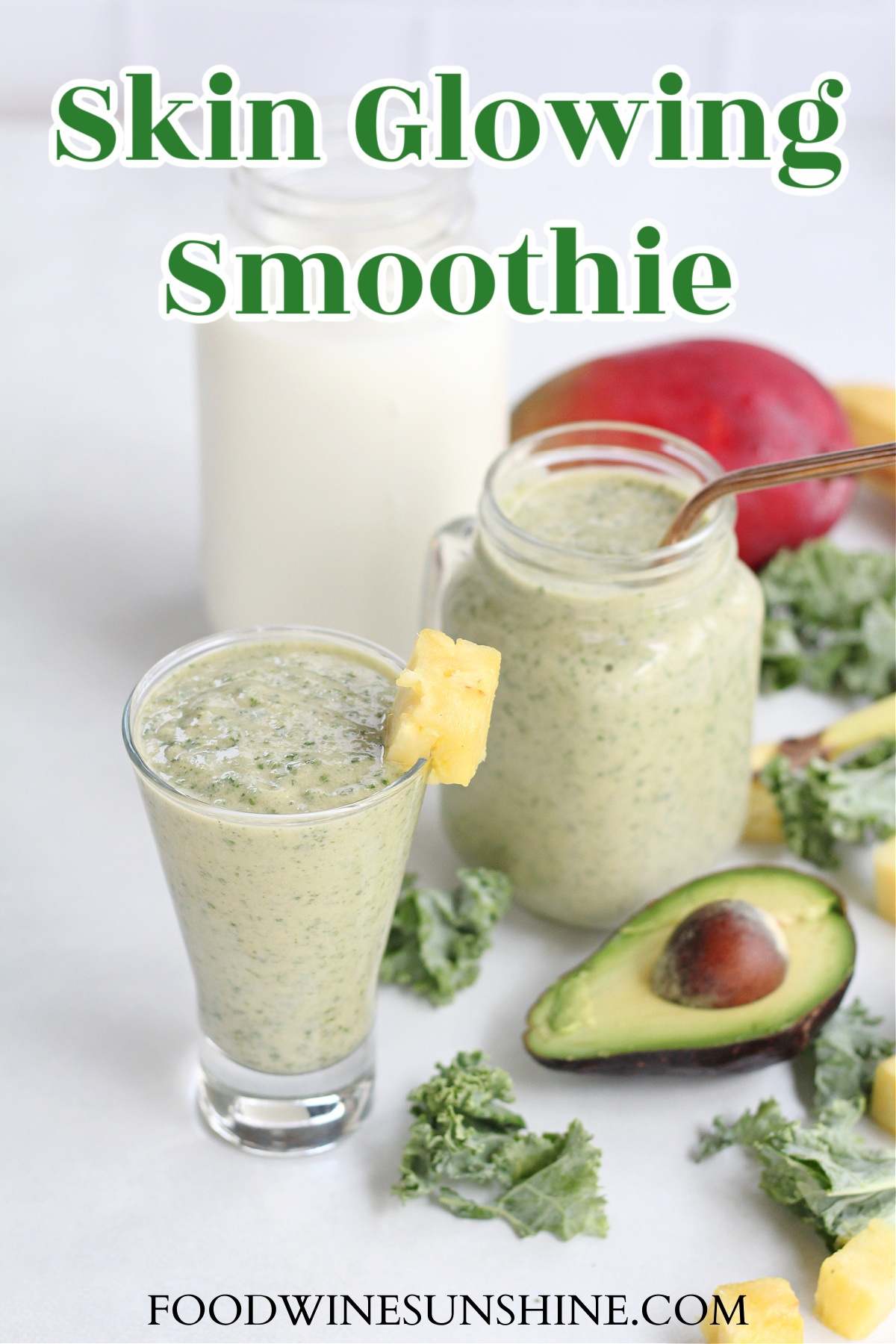 Be sure to check out Florida Milk for more dairy-licious recipes and follow on Instagram, Facebook and Pinterest.
And while you are at it, check out all the recipes on Food Wine Sunshine and follow on me Facebook, Twitter, Pinterest and Instagram for more FOOD WINE AND SUNSHINE.