(Last Updated On: April 12, 2021)
Cancun Mexico is home to some of the most beautiful beaches in the world. Use this guide to decide which beaches to visit on your Cancun vacation.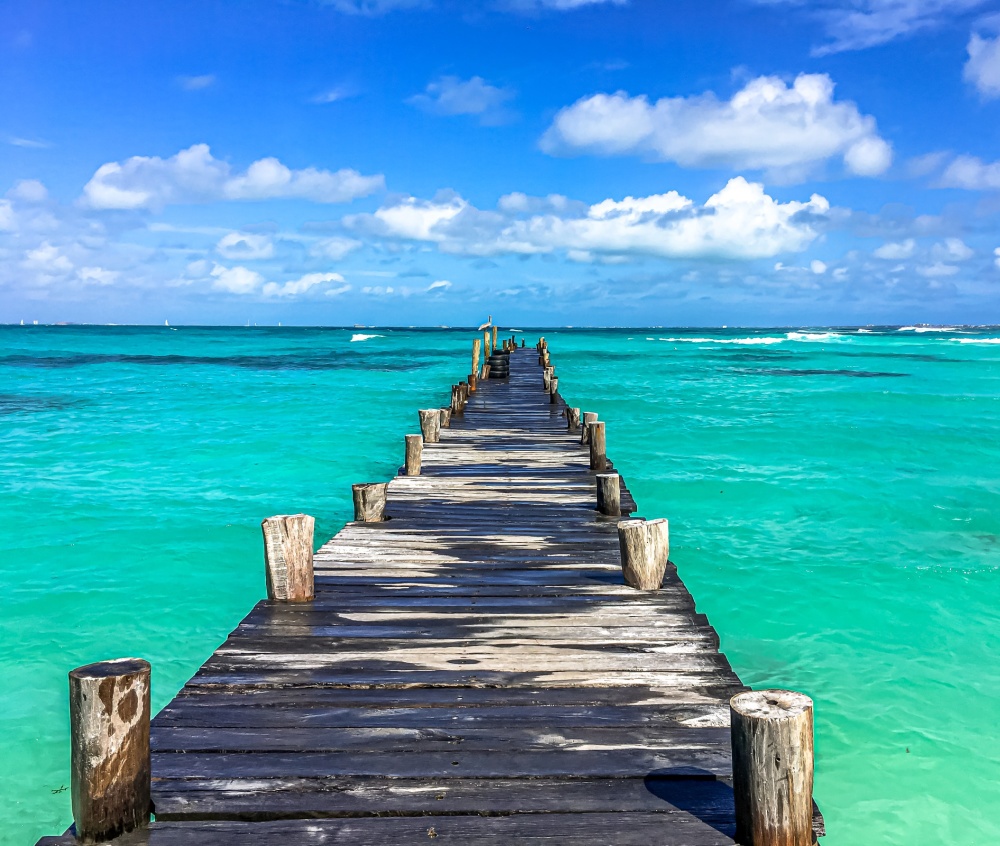 The Best Beaches In Cancun
Cancun is the Mexican Caribbean, it is filled with breathtaking beaches, amazing weather, and amazingly clear waters. Many travel to Cancun just for the beaches and some much needed relaxation. Cancun is a short 1.5 hour flight from Tampa, many airlines offer direct flights.
Whether you are want to be in the sun holding a drink with an umbrella or partying all night like you are on spring break, Cancun is a great place to spend time at the beach. The sand in Cancun is bright white and never gets too hot, no matter what the weather is like. Turquoise waters surround the beaches, calling to swimmers, surfers and those who just want to walk the pristine beaches for miles and miles.
The coastline in Cancun is beautiful, and the clubs are plentiful, so you can relax all day and enjoy all night. All of the beaches in Mexico are public property, so there are plenty of options for visitors. Most of the hotels in what is known as the "hotel zone" have their own beach access but if you want to go exploring, here are a few of the best beaches in Cancun to check out.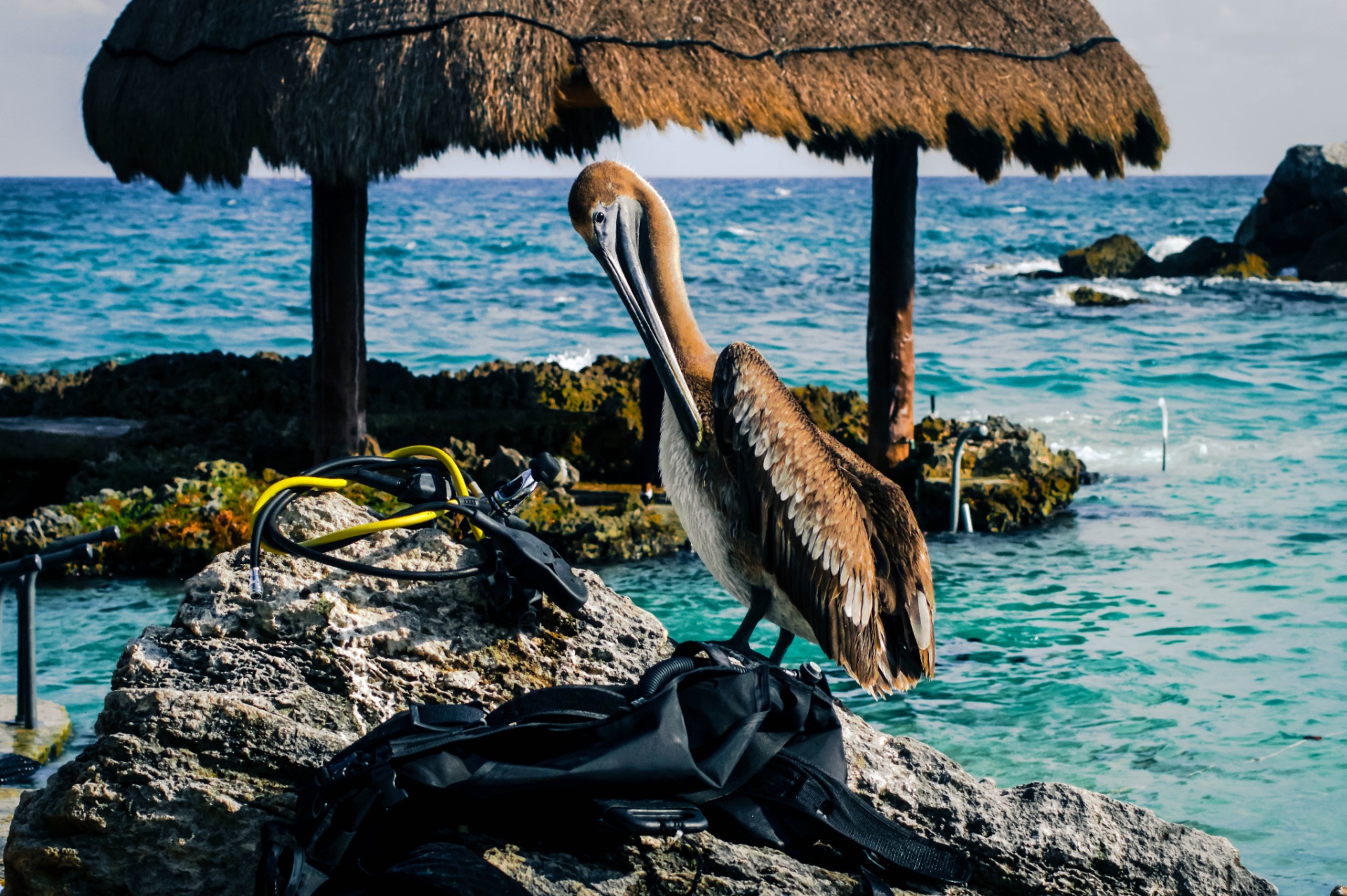 Top 10 Beaches In Cancun
Playa Linda
Convenient to downtown Cancun is Playa Linda. Many tours leave from this beach, so if you are interested in diving or a submarine tour, you may want to check it out. The waves aren't great for surfing, but it is a family-friendly beach with great swimming conditions. The waters that surround Cancun have an amazing color to them, and if you go swimming at Playa Linda, you will find them clear and calm. There are plenty of restaurants and changing rooms at Playa Linda.
Playa Chac Mool
Playa Chac Mool is a wonderful beach destination if you are looking for downtime and want to work on your tan and that book you have been promising yourself that you were going to finish.
This is a very quiet beach where you can relax and swim. While you are here, be sure to save some time to see the Chac Mool Ruins.
Playa Tortugas
If you are a novice at diving or snorkeling, there is no more beautiful place to learn than Cancun. The strikingly clear water at Playa Tortugas is one of the many places that you can learn to dive. I could stay there forever without running out of things to do since you can also try parasailing or rent kayaks. The currents can be strong, so other beaches may be best for swimming (especially if you have kids). If you want to keep your feet planted on land, the beach is lined with cafes and bars. You can go straight from the sun to the scene. Either way, you are bound to have a fantastic time. This beach is a popular favorite of the locals.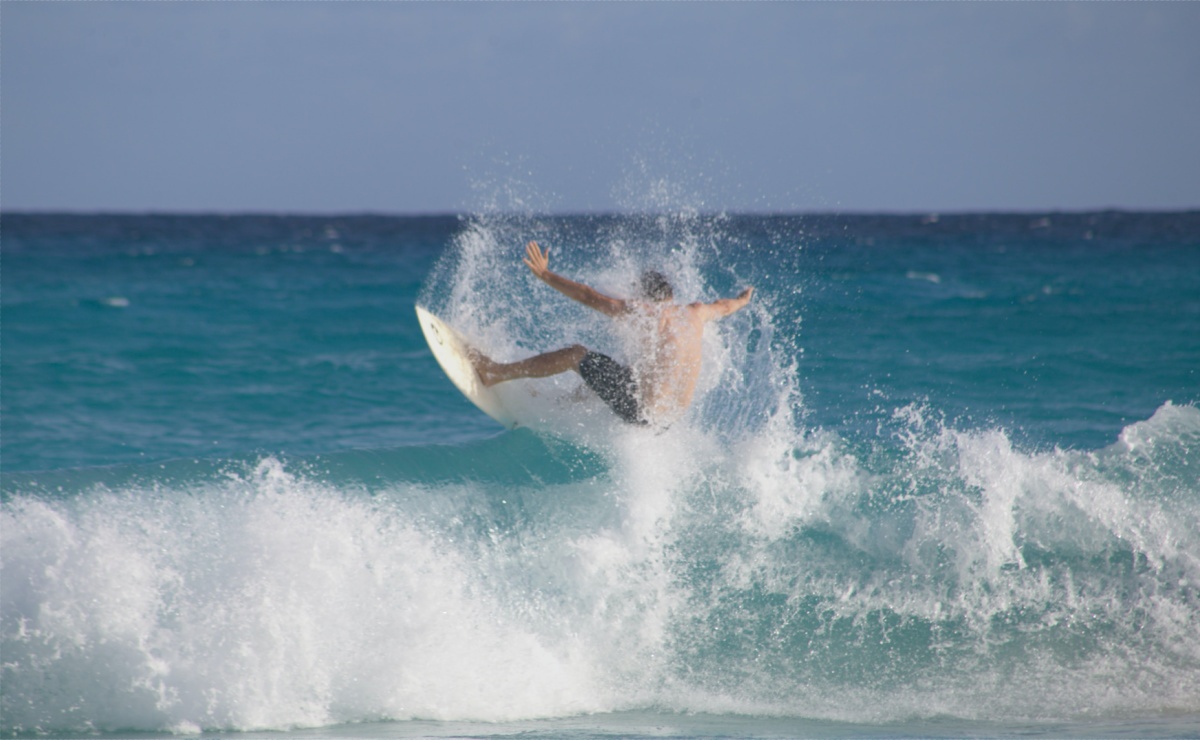 Akumal Beach
In Maya, Akumal roughly translates to "place of the turtles". So, if you visit this town that is south of Cancun, you may just see why it's named that 😉
Grab your snorkel, you will be able to observe sea turtles! Turtle nesting season is from April to October, this is the time that female turtles lay eggs on the beach. The sea turtle eggs hatch from June to November, then the adorable baby turtles find their way to the sea. So, if you are planning a visit to this area, you may want to plan it around this amazing time.
Playa Marlin
This beach Cancun beach is a bit more secluded and quiet than many of the other Cancun beaches. It's beautiful and a great place to relax.
Playa Delfines
If you want to see some dolphins, where else would you go than Dolphin Beach?! Playa Delfines does not have restaurants or hotels on the beach, so just be ready to walk the pristine sandy beach and do dolphin watching.
This beach is also called El Mirador or The Lookout. This is one of the best public beaches in Cancun's Hotel Zone.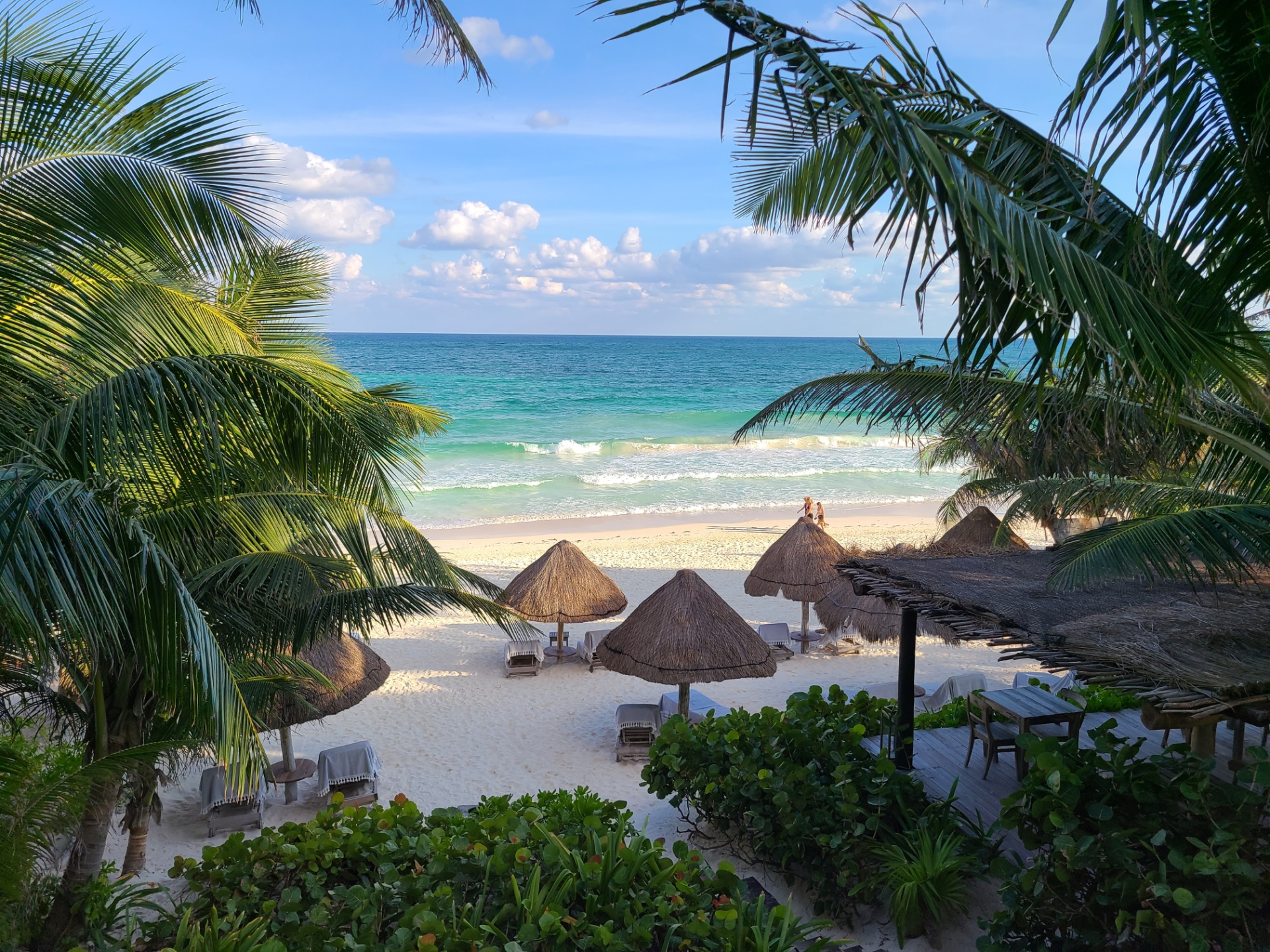 Tulum Beaches
I absolutely love Tulum. Tulum is located about an hour and 30 minutes from Cancun and is definitely worth the drive. Not only for the quiet beaches but also the Mayan Ruins near Tulum. Tulum is easily accessed by various modes of transport.
Playa Las Perlas
Playa Las Perlas, which sits on the northern side of the "7" that makes up the hotel zone, is one of the safest beaches for swimming. If you are taking your family to Cancun, you may want to consider beginning at this beach so your children will be safe from the strong tides. You can bring your own equipment to enjoy other water sports, but there aren't really any rentals available here unless you are staying at a nearby hotel.
No matter which beach you choose, keep an eye on the flags before heading into the water. If you see black flags on the shore, it is a warning that conditions are too dangerous, and you should not enter the waves. If the flags are red or yellow, use caution. When that green flag is out on the beach, the time is perfect for diving in. Use good judgment and pay attention to your own limitations if you want to swim.
Playa del Carmen
Playa del Carmen is a vibrant beach town near Cancun. This area has a whole array of beach clubs and boutique hotels where you can stay as well as spend the day.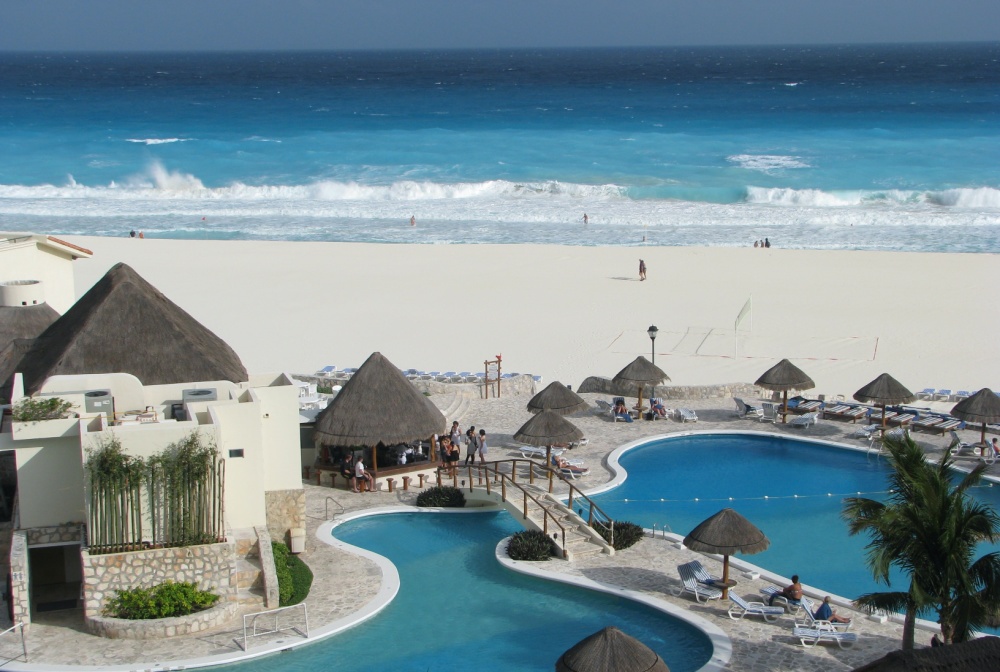 Playa Maroma
Playa Maroma is yet another stunning beach in the Riviera Maya and is a popular beach in the area of Cancun. The beach is known around the world because of its optimum size and the blue of the water.
Maroma Point or Punta Maroma is a great spot to snorkel from.
As you can see, there are plenty of resorts and clubs on any of the beaches in and around Cancun, any of which you can easily spend the day at. Cancun has some of the most amazing beaches in the world. If you can, take the time and explore them all!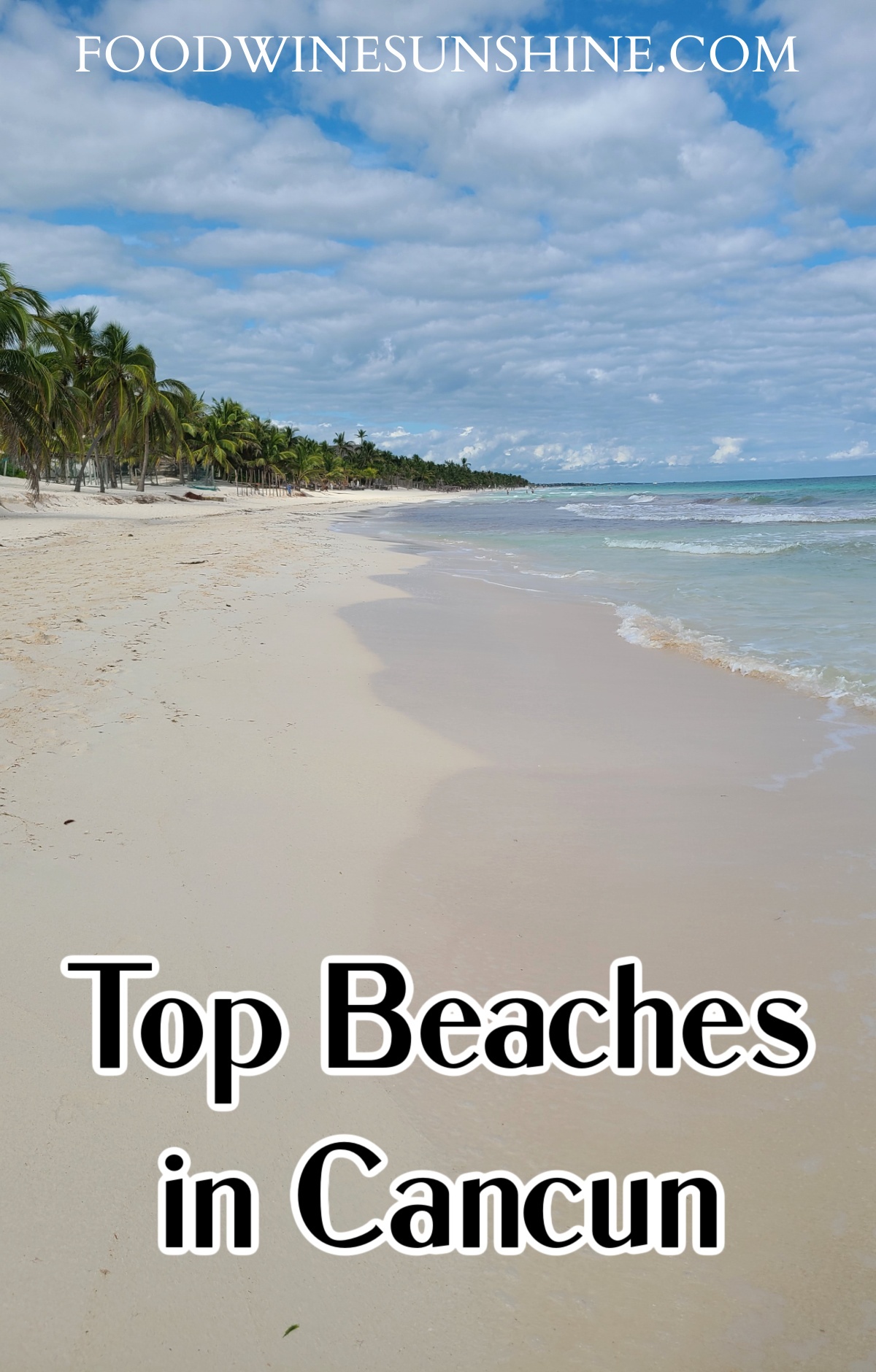 Have you been to Cancun? What would you say is one of the best beaches in Cancun?
Be sure to check out Food Wine Sunshine on Facebook, Twitter, Pinterest, and Instagram for travel destination ideas, healthy recipes, and more.