(Last Updated On: December 7, 2020)
Turn any sandwich into a work of art when you add this homemade avocado sriracha aioli on it. I recommend turkey, cranberry, and brie on a pressed panini!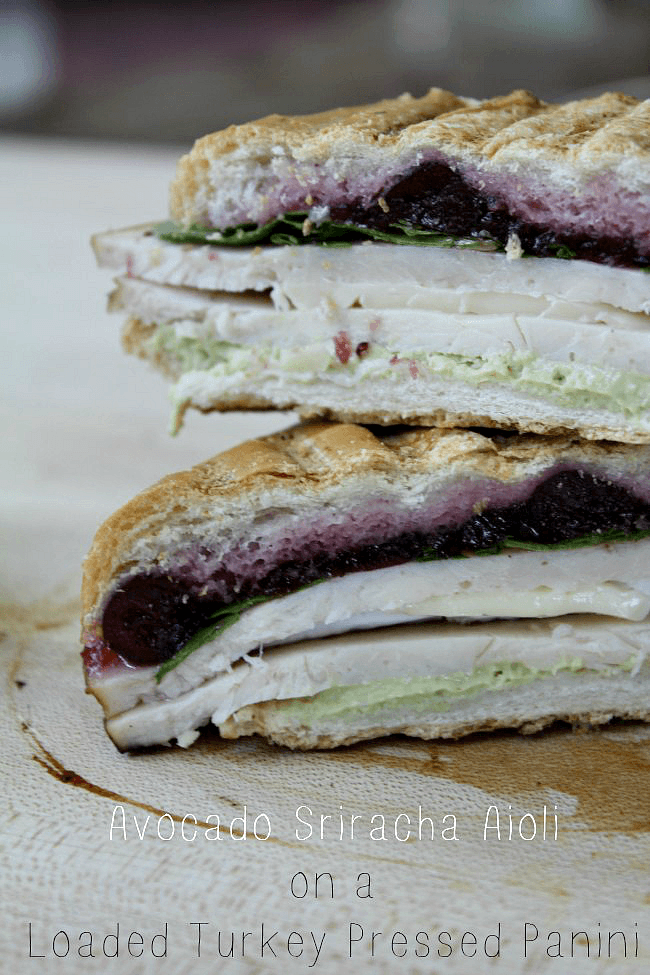 Loaded Turkey Panini with Avocado Sriracha Aioli

For me to eat a sandwich, it's gotta be one heck of a good sandwich. I need lots of flavors – savory, sweet, spicy, it can not be boring. I also need good bread, because if I am honest – I could live on good bread and cheese. So, if I am going to make a sandwich, it has to be on good bread. I want to take a bite and have it be so good that after I take a bite, I close my eyes and say "Mmmmmmmm."
And that's exactly what this Pressed Panini does. I loaded my panini with thick, and I am saying thick, slice of turkey (1/4 inch!), then added on brie, whole cranberry sauce, arugula, and my homemade Avocado Sriracha Aioli.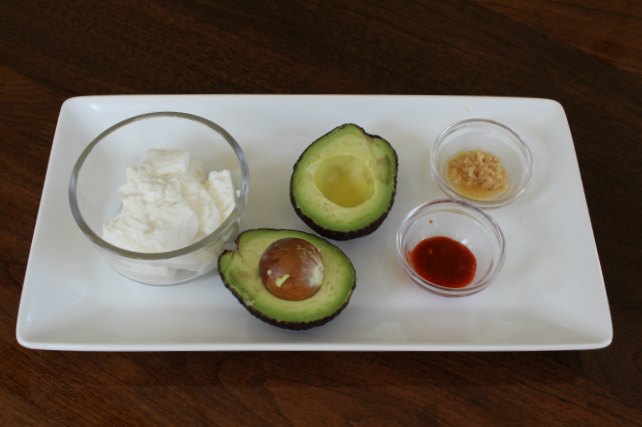 I love avocados on sandwiches, but since I was making a pressed panini and I already loaded on the toppings, I wanted to make an aioli. I already told you that I like spicy and sweet, so adding sriracha to the mix just seemed like a flavor match made in heaven.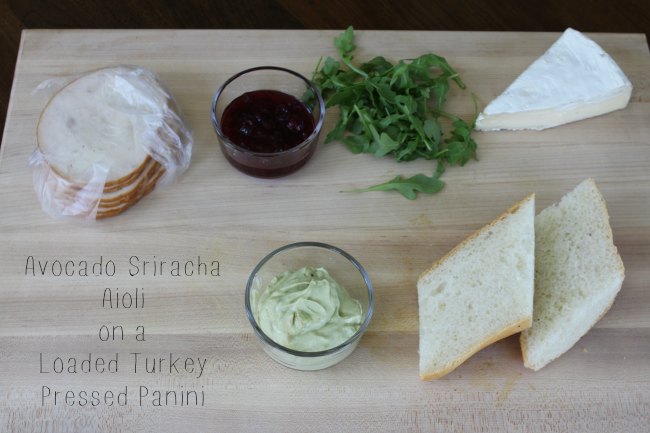 Have you ever made a pressed panini before? I have bought them from my favorite local sandwich shop, but have never made my own. My favorite sandwich shop may have lost a customer now 😉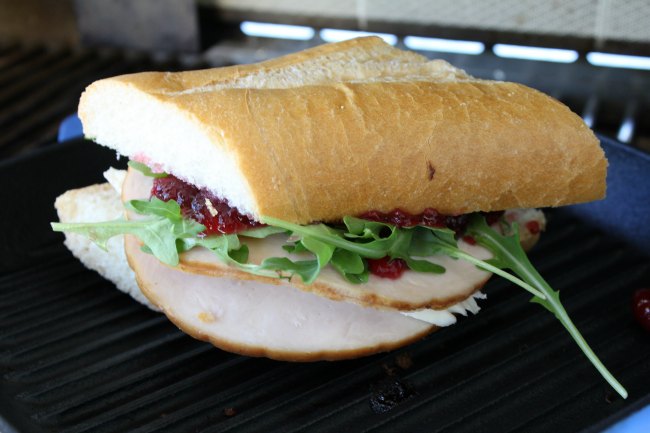 I used the Lodge Cast Iron 10 Inch Blue Square Grill Pan and the Blue Panini Press lid to make my pressed paninis.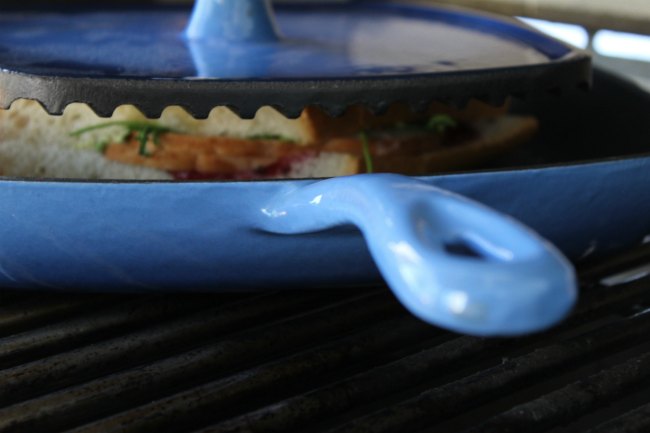 Not only is it easy to use, it's beautiful! I warmed the grill, placed the pan and the lid on the grill to warm it (you warm both sides, don't place the lid on the pan, but directly on the heat source), once both sides are warmed place your sandwich on the pan, top it with the press and get ready for your mouthwatering panini to be ready in just a few minutes.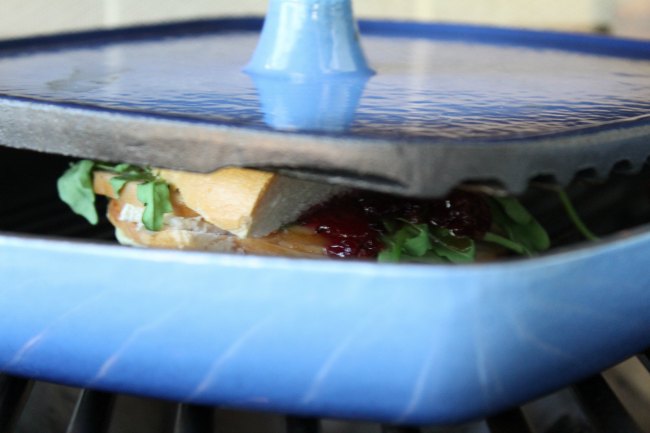 Now, here's my Avocado Sriracha Aioli Recipe. Be sure to Print It and Pin It so that you can make it again and again. As I mentioned, I slathered my Avocado Sriracha Aioli on a Loaded Turkey Panini. For the panini I used 2 slices of THICK smoked turkey breast (if you have leftover turkey from the holidays, that would be fantastic as well!), a generous helping of whole cranberry sauce (found in the same aisle as cranberry jelly), a delicious amount of brie (slice it kinda thin so it melts easily), and arugula. All those ingredients along with the Avocado Sriracha Aioli, pressed between cuban bread makes for one of the most delicious sandwiches you will ever have. I promise. I mean…YUM.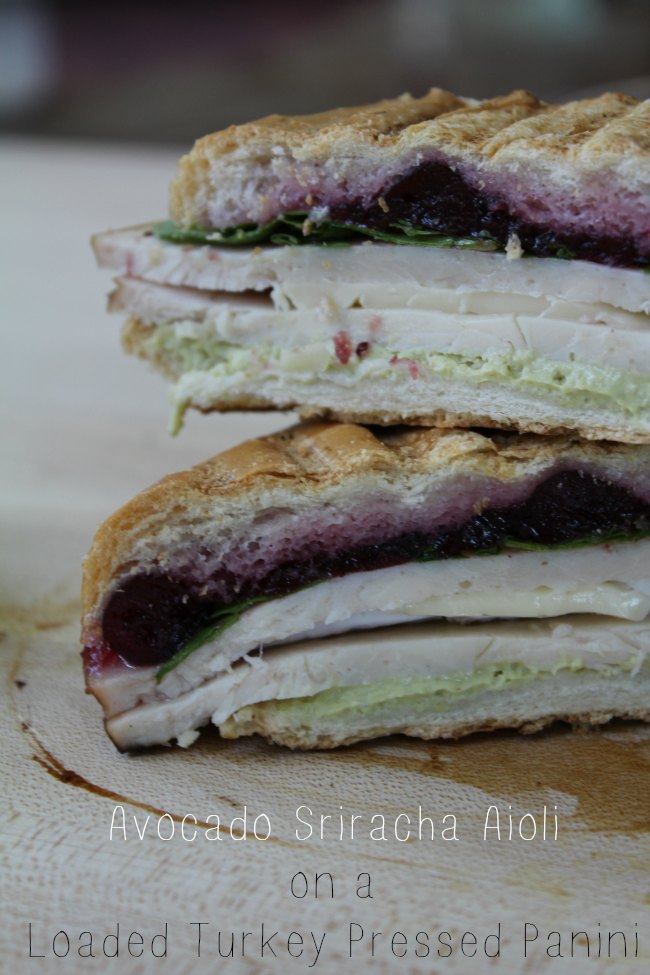 Avocado Sriracha Aioli on a Loaded Turkey Pressed Panini
Turn any sandwich into a work of art when you add this homemade avocado sriracha aioli on it. I recommend turkey, cranberry, and brie on a pressed panini!
Print
Pin
Rate
Ingredients
Ingredients for aioli
1

medium very ripe Avocado

1/3

cup

plain

fat-free Greek-style yogurt

2

teaspoons

Sriracha

splash of lime juice

1

teaspoon

minced garlic

1

teaspoon

salt

1/4

teaspoon

ground black pepper
Ingredients for sandwich
2

slices

of good bread - I used cuban

2

thick slices of smoked turkey - I had mine sliced 1/4 inch thick

leftover Thanksgiving or Christmas turkey work great too!

Brie

Whole cranberry sauce

Arugula
Instructions
Instructions for aioli
Place all ingredients in a food processor or a similar blending device.

Blend until smooth.
Instructions for pressed panini
Place the pan and lid onto the hot grill (or stove) to warm both pieces.

While it's warming, assemble your sandwich.

Put a generous helping of the aioli onto one slice of the bread, put on one slice of turkey, then layer on the thinly sliced brie, next another slice of turkey, next a big handful of arugula, and finally, the cranberry sauce.

Place your prepped sandwich on the pan, then using a hot mit or gloves that can withstand heat, pick up the lid and press your sandwich.

When it your sandwich looks nice and pressed and the bread looks to have some grill marks and is toasted, it is ready. Depending on how hot your grill is (mine was at about 400 degrees) will determine how long it takes, check it after a few minutes. Mine were ready in under 5 minutes.

Enjoy!
Notes
The pan and the lid will be HOT, be sure to use caution. Do NOT lift with your bare hands.

I hope you enjoy this Avocado Sriracha Aioli on a Loaded Turkey Pressed Panini as much as we do!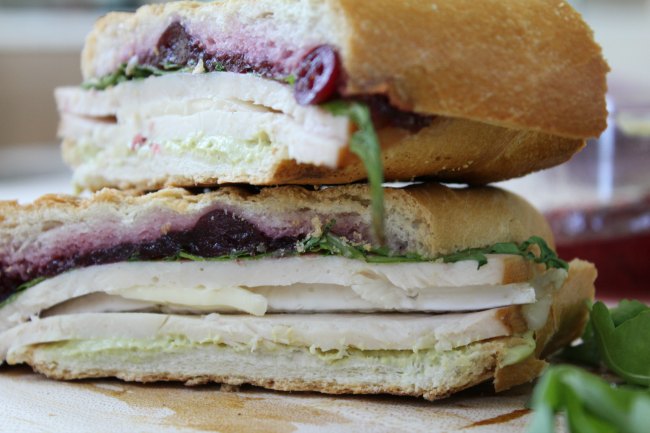 I have made these sandwiches loaded with Avocado Sriracha Aioli for my family several times now, we all love them. I have also used the pan and lid to make grilled chicken, it's very versatile and makes for easier clean-up. I hate scrubbing the grill 😉
While I did receive the product listed above for review, the recipe and opinions are my own.
As I mentioned, I used the Lodge Cast Iron Pan and Press, I love it!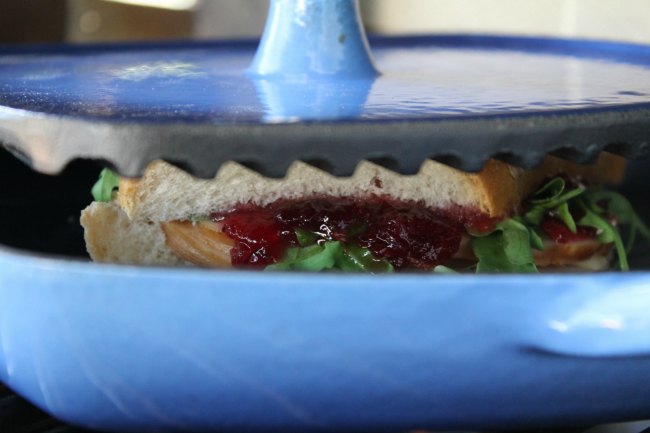 Follow Lodge Cast Iron on Instagram, Facebook, Twitter, and Pinterest to stay up to date with products and check out delicious recipes.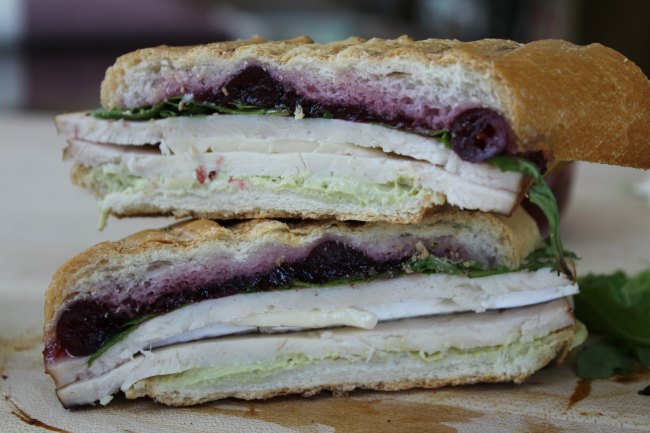 While you are at it, check out all the recipes on Food Wine Sunshine and follow me on Facebook, Twitter, Pinterest, Google + and Instagram.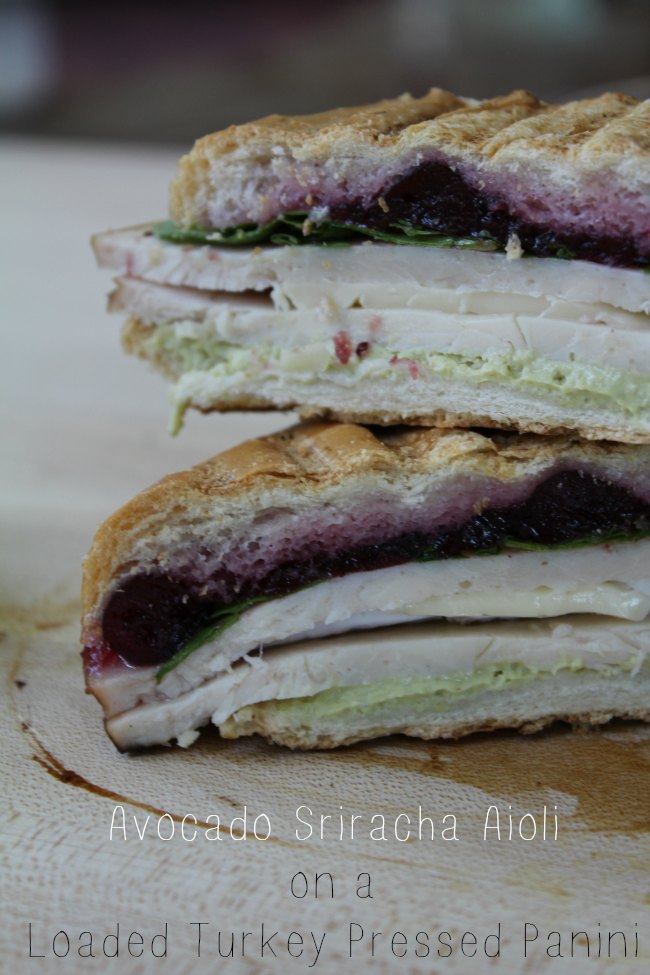 Have you made your own aioli before? I hope you try this Avocado Sriracha Aioli on your next sandwich…and be sure to tell me if you do!