(Last Updated On: May 24, 2021)
This Grilled Blackened Shrimp and Spicy Watermelon Salad is the perfect balance of sweet and spicy. Ready in about 15 minutes and healthy, you will love this easy recipe. I am a proud CK Mondavi and Family Ambassador, while this post is sponsored, all opinions and the recipe are my own.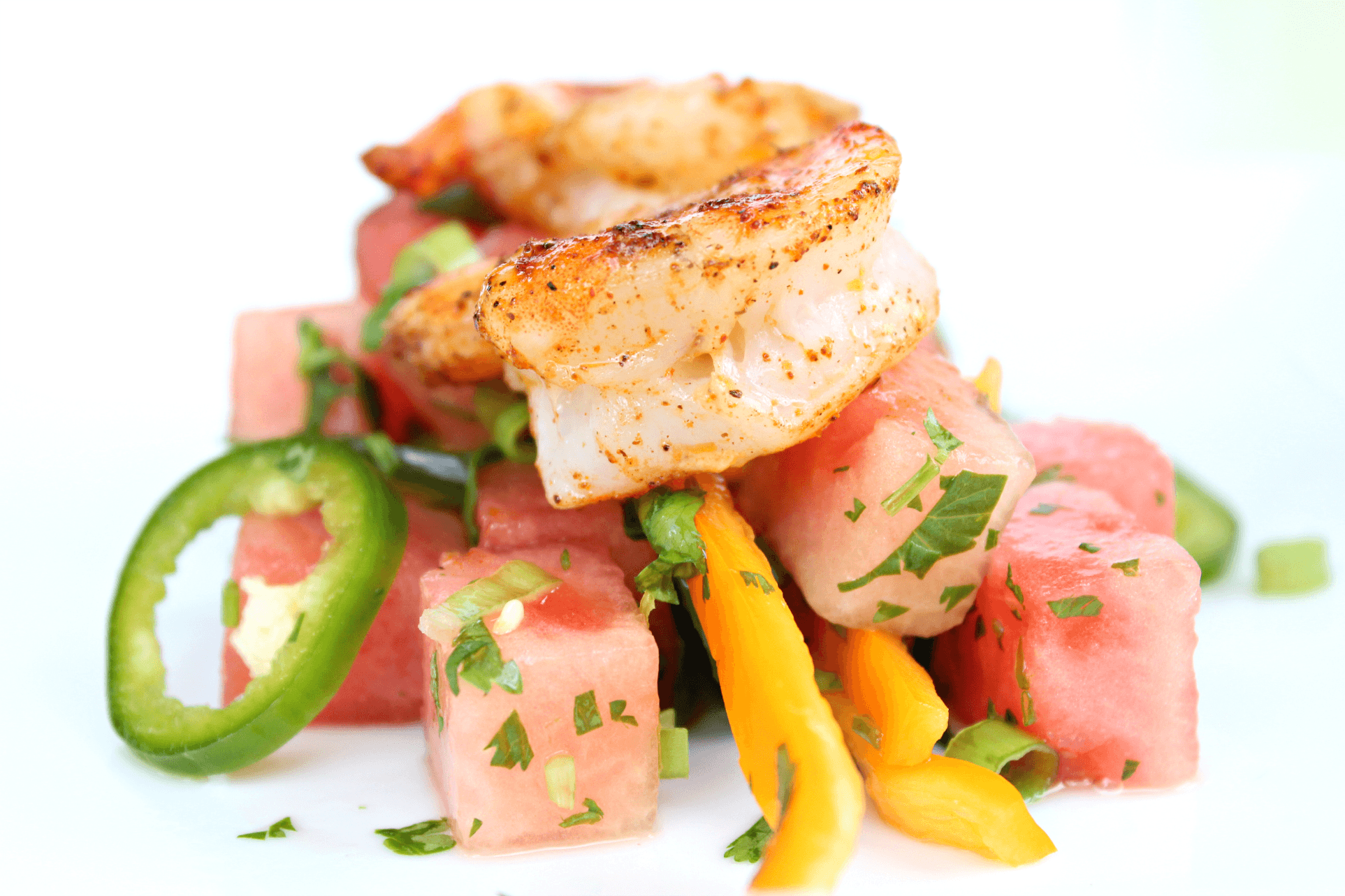 Grilled Blackened Shrimp with Spicy Watermelon Salad
HELLO FLAVOR TOWN! Seriously y'all, how amazing does that Grilled Blackened Shrimp and Watermelon Salad look? I love combining spicy and sweet, then make it an easy meal…that's a huge win in my book. And that is exactly what this recipe is! My son, who admittedly doesn't like watermelon (how weird is that?!) loved this meal, the addition of the jalapenos and blackening seasonings won him over.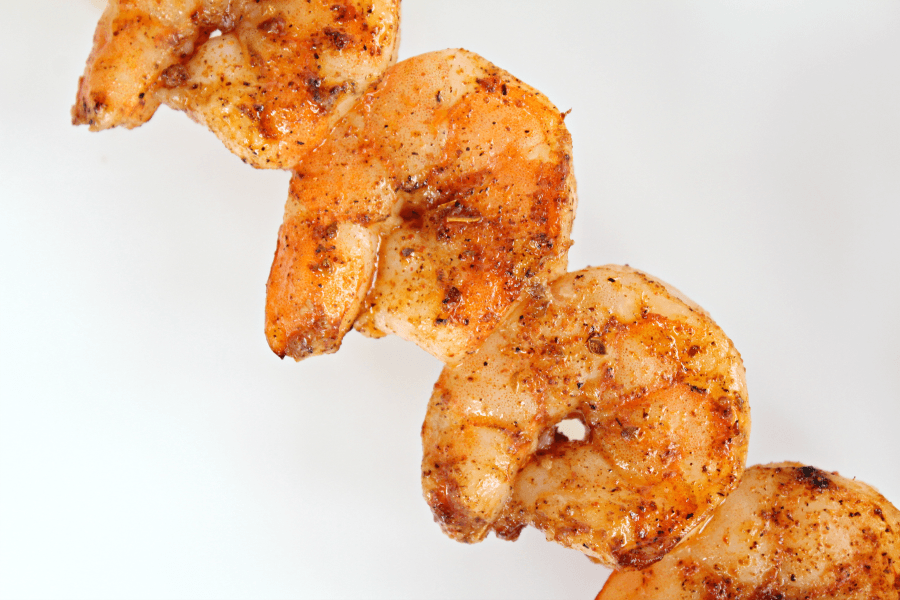 So, are you wondering how the heck I came up with the idea of combining shrimp and watermelon? I can see that. My daughter's first comments when I served this Grilled Blackened Shrimp and Spicy Watermelon Salad was "At first look you think it will be weird, then you wonder how the textures will work, then you take a bite with everything and realize it's really good." Simple, yet accurate coming from a 12 year old 🙂 Well, earlier this month my mom and I took my daughter and her friends out to the mall for some shopping and dinner for her birthday and my mom and I ordered a shrimp appetizer and it was delicious, we ate every single last bite. It was shrimp and watermelon. I decided at that moment I needed to create something similar but with a spicy flair. My crew loves spicy, and if I was going to convince everyone to try it, it needed some heat. Mission accomplished. And, if I wanted to toot my own horn, I would say that this shrimp dish was better than the one at the restaurant. Hmmmm…toot toot!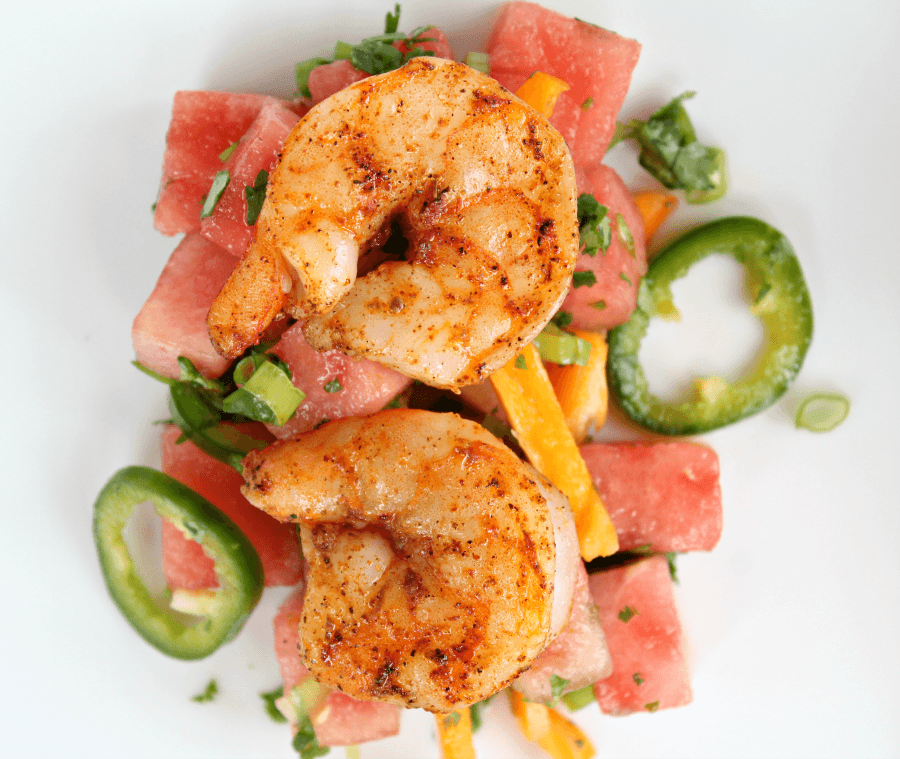 You will also be happy to know that this incredibly flavorful dish is also healthy. Fresh fruit, fresh veggies, grilled shrimp. And if you happen to follow Weight Watchers, this is a ZERO point meal. Well, you can add in a point for the olive oil that you lightly coat the shrimp in, but that would be it! My mom was down for a few weeks this summer and is doing great on Weight Watchers, so I got used to which foods were low in points so that she could stay on track while she was here. And now two of my best friends are doing Weight Watchers so we are constantly chatting about meals that can be full of flavor and not points. Mission accomplished. AND, this Grilled Blackened Shrimp and Spicy Watermelon Salad is gluten-free and dairy-free. Delicious. Healthy. Gluten Free. Dairy Free. That's a quadruple whammy my friends!
Be sure to grab a Florida watermelon if they are in season. I love creating dishes with in-season fruits and vegetables. Watermelon is in-season here in Florida April, May, June and July.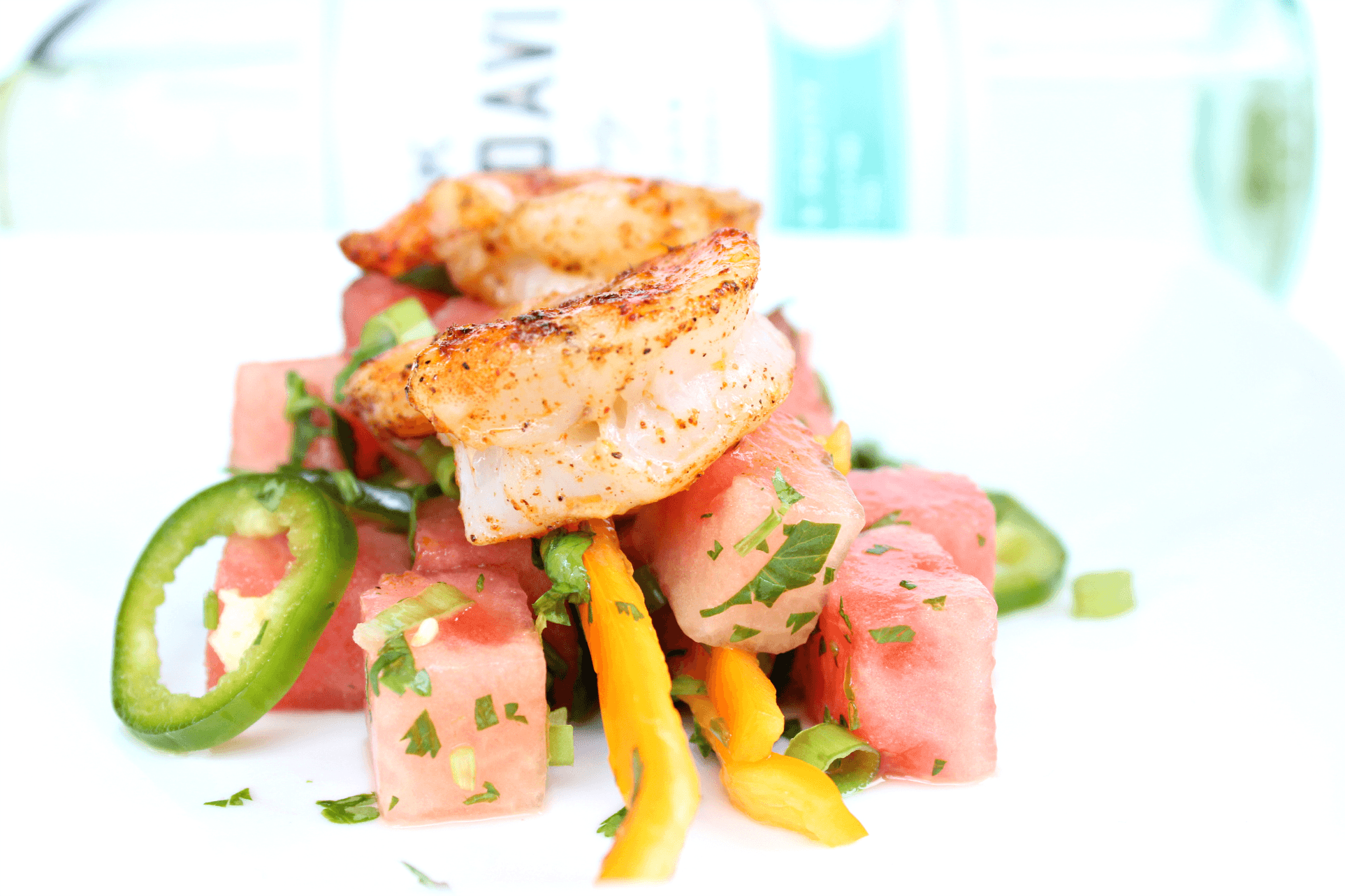 Here are the fresh ingredients you need to make the perfect Spicy Watermelon Salad to accompany your Grilled Blackened Shrimp:
Watermelon
Sweet Mini Peppers – you could use a regular bell pepper if you prefer
Jalapeno
Lime – for the juice
Cilantro
Green Onion
That's it!
And for the grilled blackened shrimp you will need:
Shrimp
Blackening seasoning
That's it!
I do recommend using skewers (bamboo or metal) when grilling your shrimp so you don't lose any through the grates of the grill, or if you have a grill plate, that's fine too. These blackened shrimp are too good to lose to the abyss of the bottom of the grill. If you use bamboo, be sure to soak them for 20 minutes before use in cold water, and if you use metal, remember that metal gets hot, so grab them with a hot pad when you do to remove it from the heat of the grill.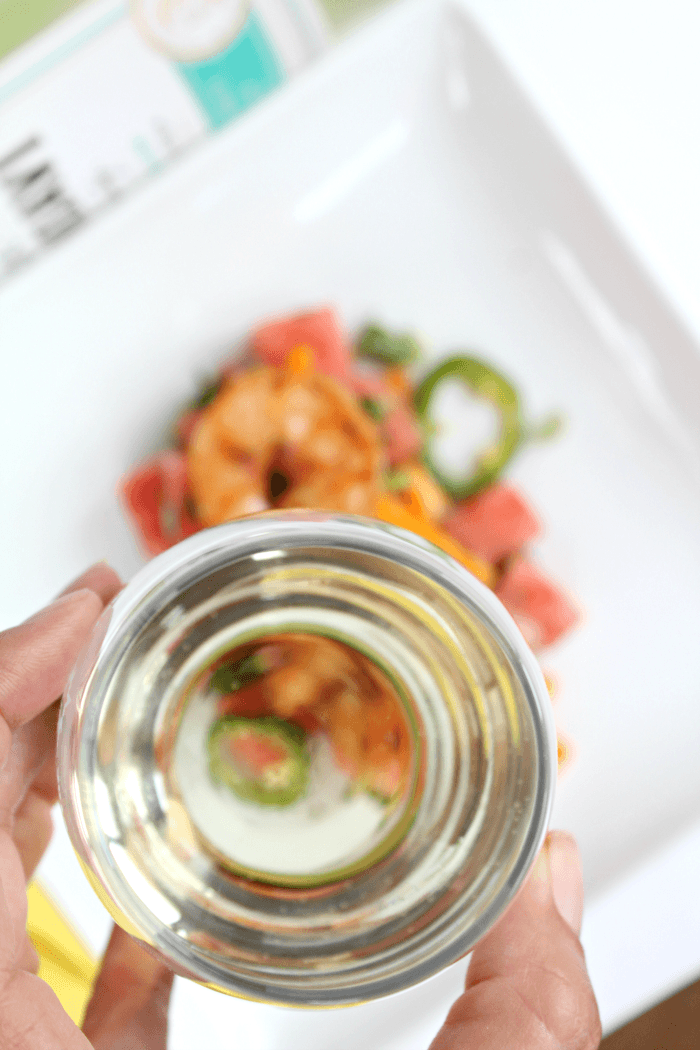 Now, it's no secret that I am a wine lover, so if you are wondering what wine to pair with this incredible meal from Flavor Town I got ya covered! The spice from the meal calls for a crisp, sweeter pairing and since I had a bottle of CK Mondavi and Family Moscato in the wine cooler, that is exactly what I grabbed. Moscato is floral and fruity, serve it chilled and enjoy. CK Mondavi and Family brought back Moscato for a limited time, so be sure to look for it the next time you are in the grocery store.
Sauvignon Blanc would also be delicious with this, the crisp citrus notes would balance the spice beautifully.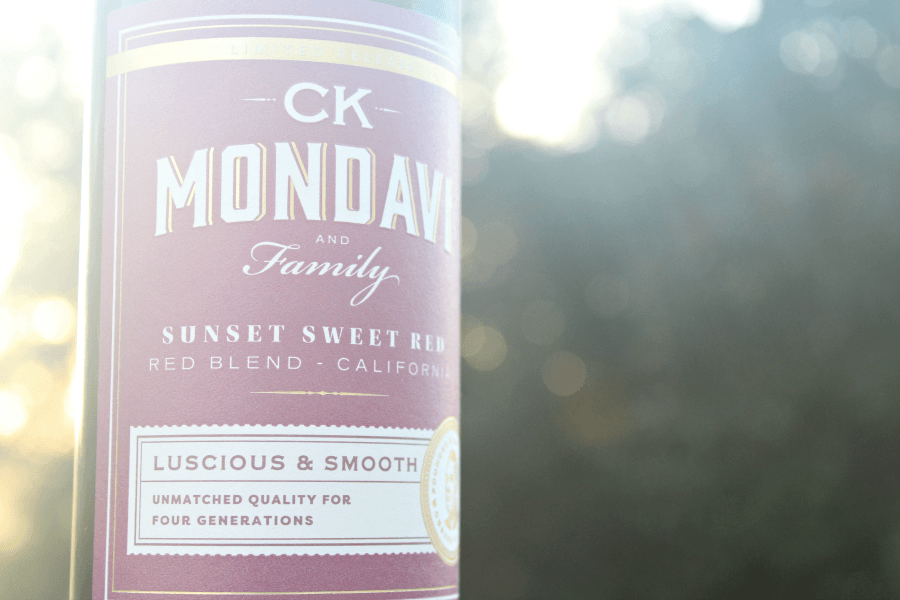 Another CK Mondavi and Family wine to keep a look out for is the new Sunset Sweet Red Blend. It's not like any other red wine you have ever had. It's the sunset in a glass! In fact, the sweet notes would also make for a perfect pairing with my Grilled Blackened Shrimp with Spicy Watermelon Salad. So grab the Moscato and the CK Mondavi and Family Sunset Sweet Red Blend when you are at the store and do a little tasting to see which pairing you prefer. But grab it soon, as it is only available for a limited time.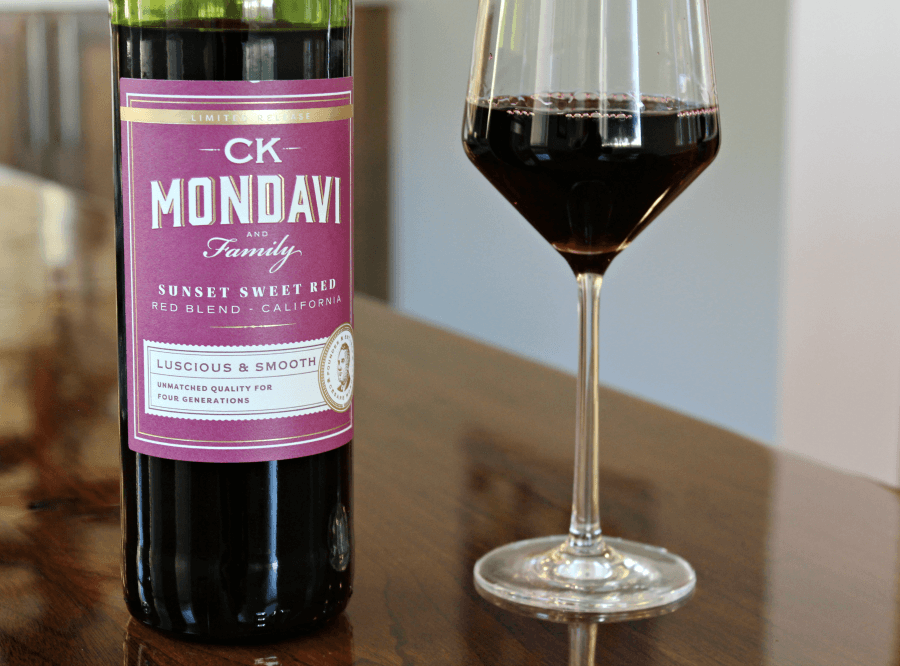 Alright, now that you are sufficiently hungry and thirsty, here is my Grilled Blackened Shrimp with Spicy Watermelon Salad recipe. Be sure to Print It and Pin It so that you can make it again and again.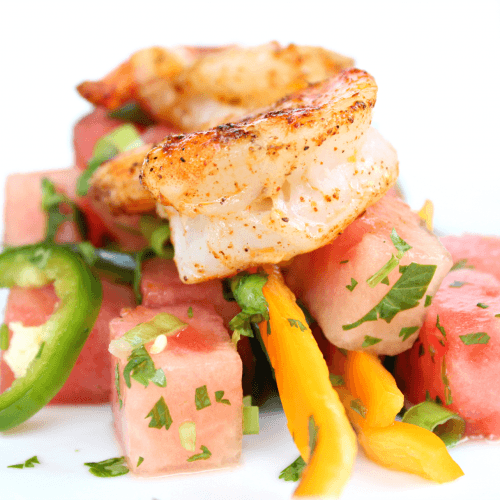 Grilled Blackened Shrimp with Spicy Watermelon Salad
Sweet and spicy perfection. Plus this Grilled Blackened Shrimp with Spicy Watermelon Salad is healthy! Ready in about 15 minutes this easy recipe is a must try.
Print
Pin
Rate
Ingredients
1

lb

raw shrimp, shells removed

1

tsp

blackening seasoning

1

tsp

olive oil

extra virgin

3

cups

watermelon, cut into small chunks

2

mini sweet peppers - sliced lengthwise

1

jalapeno pepper - cut into slices, seeds removed

⅓

cup

chopped cilantro

¼

cup

diced green onions

1

lime, for juice
Instructions
Make the spicy watermelon salad by adding the watermelon, sweet peppers, jalapeno, cilantro and green onion to a bowl. Squeeze on the lime juice, stir gently to mix, then toss into the refrigerator until ready to serve.

Place raw shrimp in a medium bowl and toss with olive oil and blackening seasonings until thoroughly coated

Soak bamboo skewers for 20 minutes in cold water before use or use metal skewers, place the shrimp on the skewers

Grill shrimp at medium high heat for approx 2 - 3 minutes per side or until cooked throughout

Plate your spicy watermelon salad and top with grilled blackened shrimp
Notes
I used a store bought blackening seasoning, feel free to make your own if you prefer!
Nutrition
Calories:
166
kcal
|
Carbohydrates:
11
g
|
Protein:
24
g
|
Fat:
3
g
|
Saturated Fat:
1
g
|
Cholesterol:
286
mg
|
Sodium:
1018
mg
|
Potassium:
290
mg
|
Fiber:
1
g
|
Sugar:
8
g
|
Vitamin A:
1281
IU
|
Vitamin C:
40
mg
|
Calcium:
180
mg
|
Iron:
3
mg

I hope you enjoy this Grilled Blackened Shrimp with Spicy Watermelon Salad as much as we do!
I know I mentioned that I paired this shrimp and watermelon salad with CK Mondavi and Family Wines, not sure where to find CK Mondavi and Family wines? Find out on the CK Mondavi and Family wine locator. And once you buy your favorite varietals, be sure to open up the ibotta app to earn savings on your wine purchase.
Looking for another delicious and flavorful salad recipe?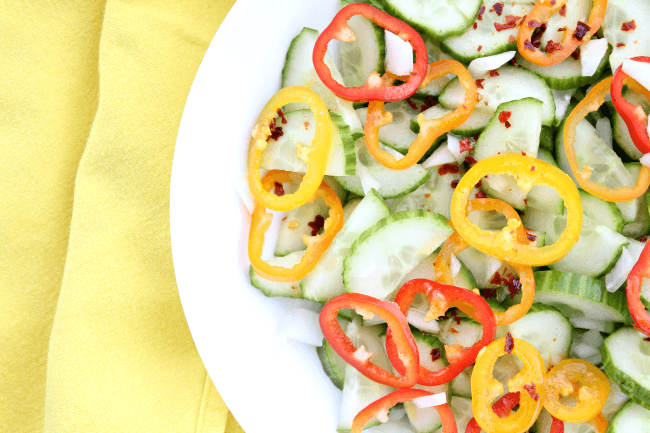 Summer Cucumber Salad with Spicy Vinaigrette Dressing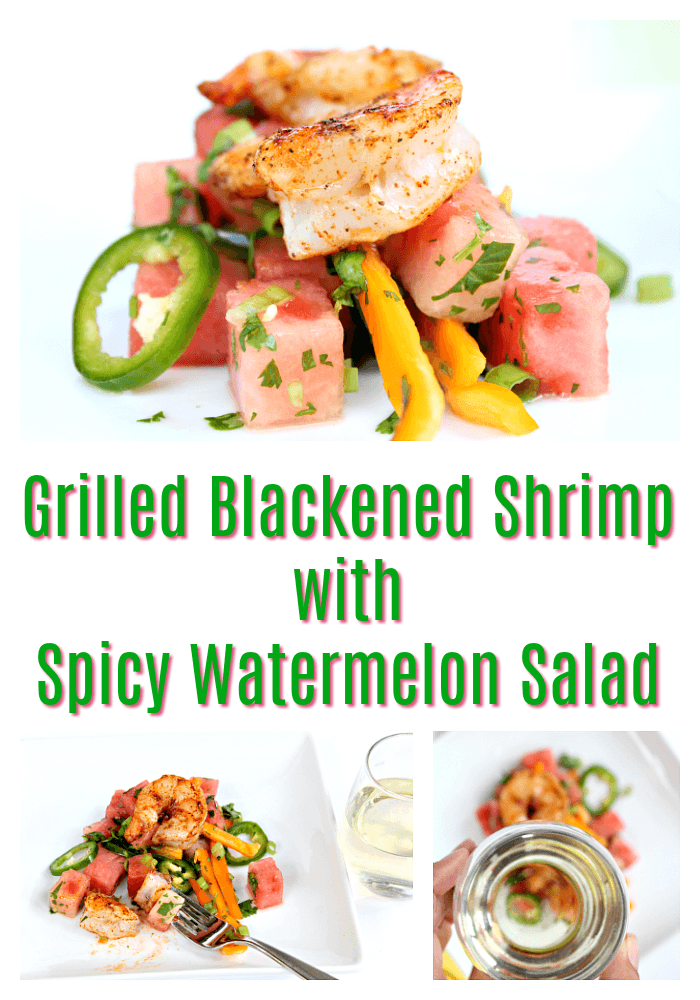 Learn more about CK Mondavi and Family by checking them out online, and following on Facebook, Twitter, Pinterest, Instagram, and YouTube.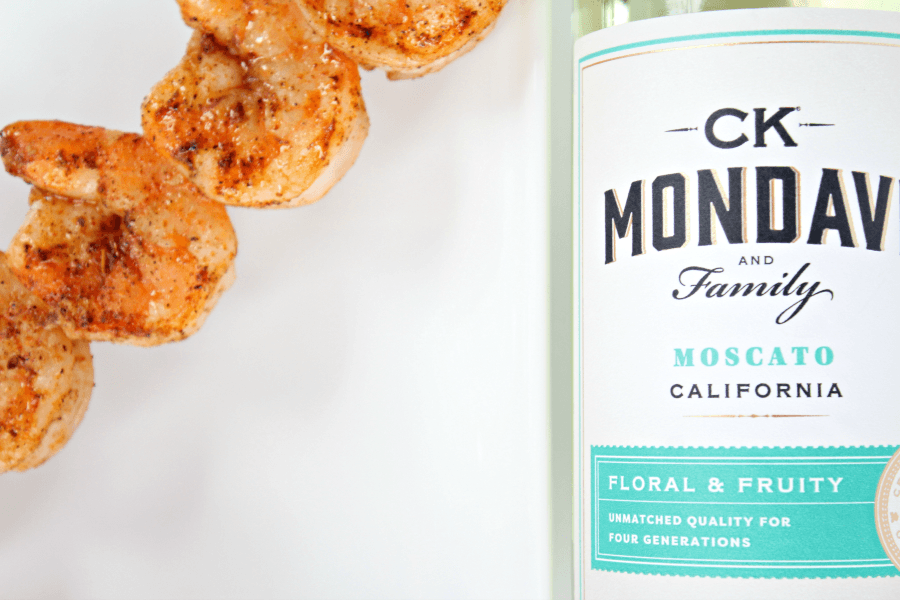 In fact, be sure to check out all my recipes and follow along on Facebook, Twitter, Pinterest and Instagram.