(Last Updated On: November 4, 2021)
If you are looking for an amazing stuffing recipe, then look no further than this recipe from Chef Curtis Stone! We love this Curtis Stone's Bacon and Green Onion Stuffing Recipe and I know you will as well.

Curtis Stone's Bacon and Green Onion Stuffing Recipe
The holidays are here and I'm sure you have been thinking about your holiday menus. Do you make the same things every year or do you like to switch it up? Do you like your menu traditional, or do you switch it up a bit every year? We also make turkey with stuffing or Thanksgiving, then again on New Years and then we will do a completely non-traditional day, like March 4th or something and have another "Thanksgiving" feast with all our neighbors. Turkeys are so inexpensive over the holidays, like for Thanksgiving, I got my turkey for only $6 at Winn-Dixie, so why not grab more than one?!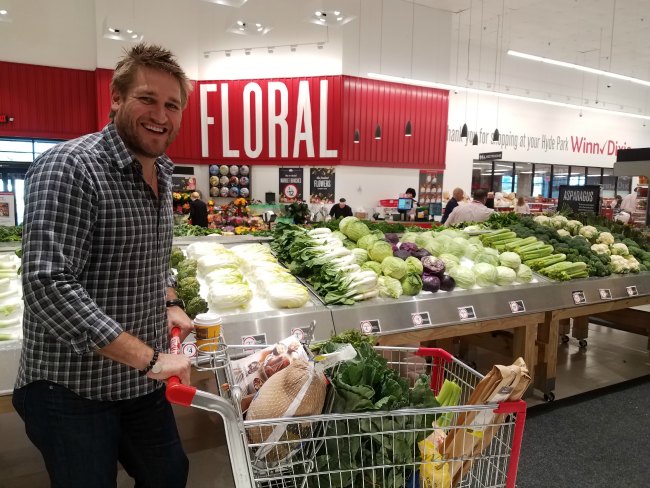 I had the unforgettable opportunity to do my Thanksgiving Feast shopping with Chef Curtis Stone at Winn-Dixie in Hyde Park! We got all the fixing for several of his Thanksgiving Feast recipes and my family an I were very excited to try something new with our Thanksgiving Day menu.
We made Roasted Turkey with Sage-Brown Gravy with Bacon and Green Onion Stuffing. My husband and I make a mean stuffing, we put everything in it from apples to jalapenos, so I was curious how this simplified version would be. But, let's be honest, it is Chef Curtis Stone's recipe, so it was bound to be amazing.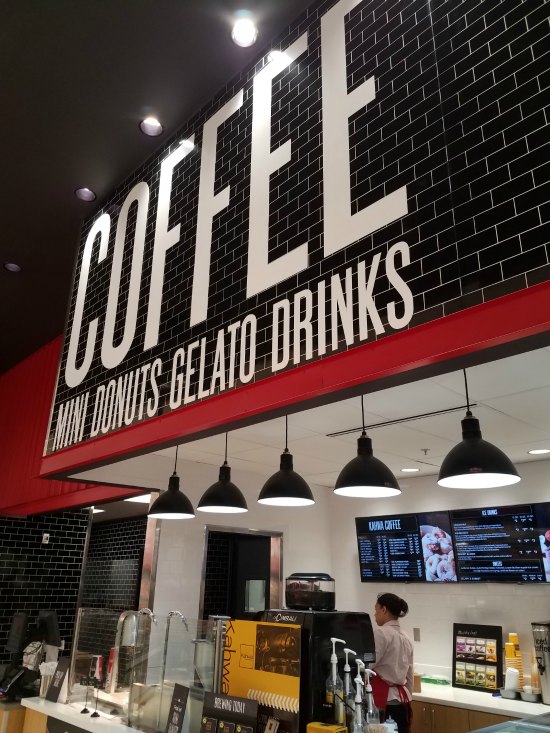 So, we grabbed our coffees and got to shopping!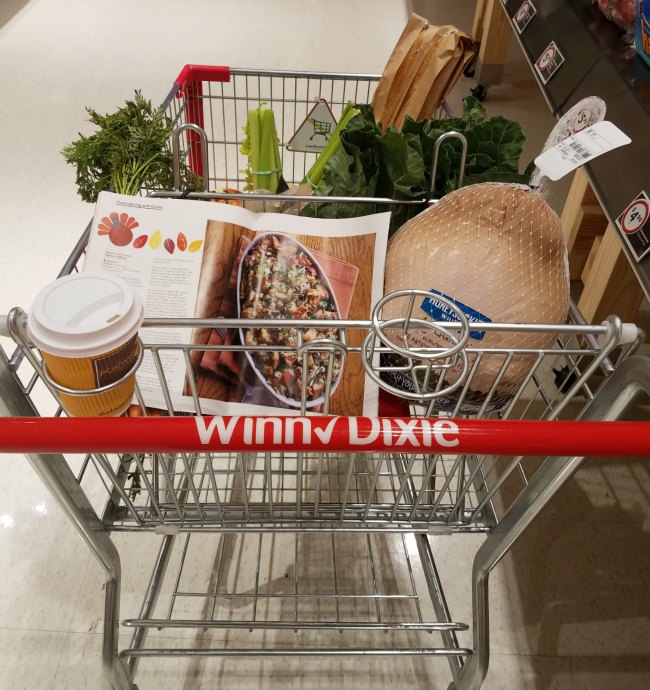 As Curtis and I walked around Winn-Dixie he mentioned that you can adjust the spices in the stuffing recipe to your liking as well, if you don't like rosemary – leave it out! If you want to add in a bit of sage, go ahead! Recipes are a great guide, but don't hesitate to put a bit of your personality into it too.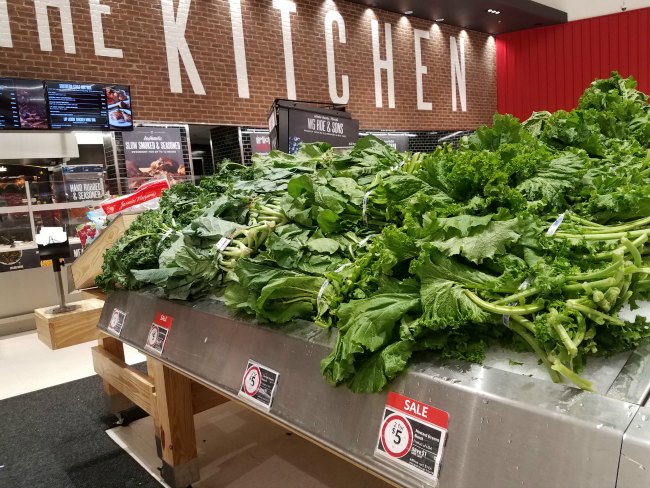 Now, here is Chef Curtis Stone's Bacon and Green Onion Stuffing Recipe, be sure to Print It and Pin It so that you can make it again and again.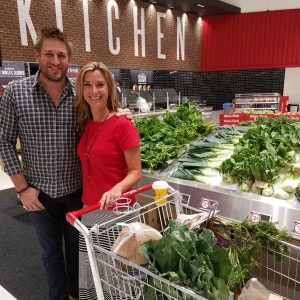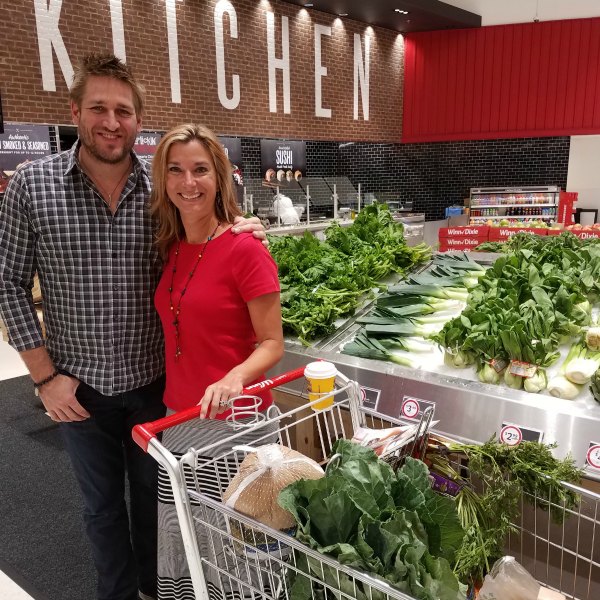 Ingredients
1 ½

lb.

French or Italian bread

cut into ¾-inch cubes

12

slices

bacon

coarsely chopped

2

yellow onions

finely chopped (about 3 cups)

5

celery stalks

cut into ¼-inch pieces (about 2 ¼ cups)

6

large sprigs of fresh thyme

2

large sprigs of fresh rosemary

6

garlic cloves

finely chopped

¾

cup

dry white wine

2 ½

cups

reduced-sodium chicken broth

1

cup

2 sticks unsalted butter, cut into ½-inch cubes, plus butter to coat baking dish

8

green onions

thinly sliced

⅓

cup

finely chopped fresh flat-leaf parsley

2

large eggs

lightly beaten
Instructions
Preheat oven to 350°F. Butter a 13x9-inch baking dish.

Spread bread on 2 large, rimmed baking sheets. Bake for about 15 minutes, or just until dried but not browned. Cool.

Meanwhile, heat a large deep skillet over medium-high heat. Add bacon and cook, stirring often, for about 7 minutes, or until crisp. Using a slotted spoon, transfer bacon to a plate. Pour off all but ⅓ cup bacon grease.

Add onions to same skillet and cook, stirring occasionally, for about 3 minutes, or until tender. Add celery, thyme and rosemary and cook, stirring occasionally, for about 4 minutes, or until onions are translucent. Stir in garlic and continue cooking, stirring often, for about 6 minutes, or until vegetables begin to brown. Add wine and cook for about 4 minutes, or until wine has evaporated but vegetables are still very moist.

Add broth and butter, bring to a simmer, and simmer for about 8 minutes, or until liquid is reduced by half. Transfer mixture to a large bowl and cool slightly; remove and discard thyme and rosemary stems.

Stir green onions and parsley into vegetable mixture. Add bread cubes, reserved bacon, 2 tsp. salt and ½ tsp. pepper, and mix well. Mix in eggs. Spread stuffing in prepared baking dish and cover with aluminum foil.

Bake for 50 minutes, or until stuffing is heated through and puffed. Remove foil and bake for about 20 minutes, or until golden brown. Serve hot.

Enjoy!
Notes
Make It Ahead!
Unbaked stuffing can be made up to 6 hours ahead and refrigerated; add 10 minutes to baking time. ***Here are a few modifications we made to the recipe***
1 loaf of French Bread
1 large yellow onion
8 slices of bacon
1 1/2 cans of chicken broth - if yours looks dry, add more!
We didn't use rosemary
I hope you enjoy this Bacon and Green Onion Stuffing Recipe as much as my family and I did! I will tell you, that we definitely will be making it again. It was simply delicious.
The picture of the stuffing above is courtesy of Winn-Dixie, but I DO have a picture of ours and I have to say, it turned out pretty darn good 😉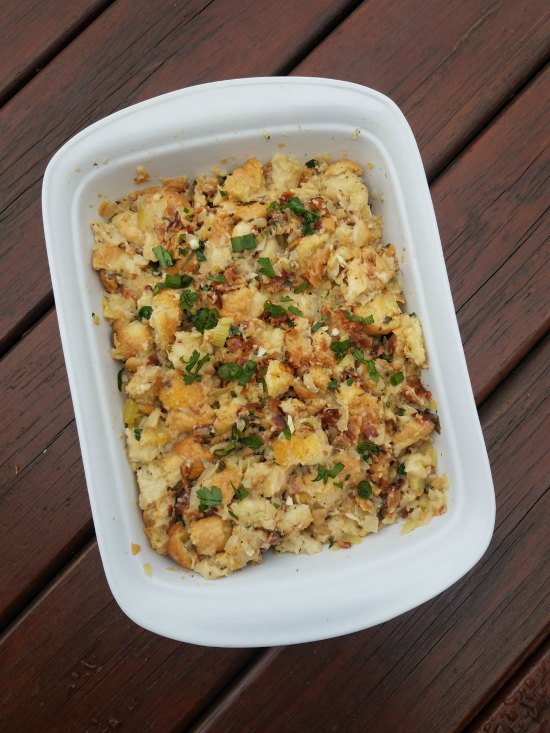 If you don't have the opportunity to make everything from scratch, Winn-Dixie has an amazing bakery department too, I won't tell if you pick up a fresh pie 😉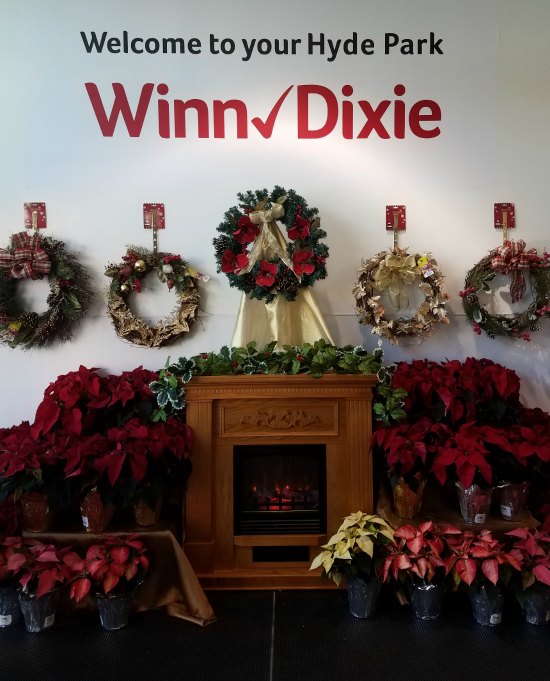 Follow Winn-Dixie on Facebook, Twitter, Pinterest, and Instagram for more recipes, savings, and more.
In fact, be sure to check out all the recipes on Food Wine Sunshine and follow me on Facebook, Twitter, Pinterest, Google + and Instagram.