(Last Updated On: January 12, 2022)
Juicing provides many nutritional benefits, but it's also a great way to add an extra dose or two of fruits and vegetables to your day. Grab this easy Carrot Orange Pineapple Juice recipe!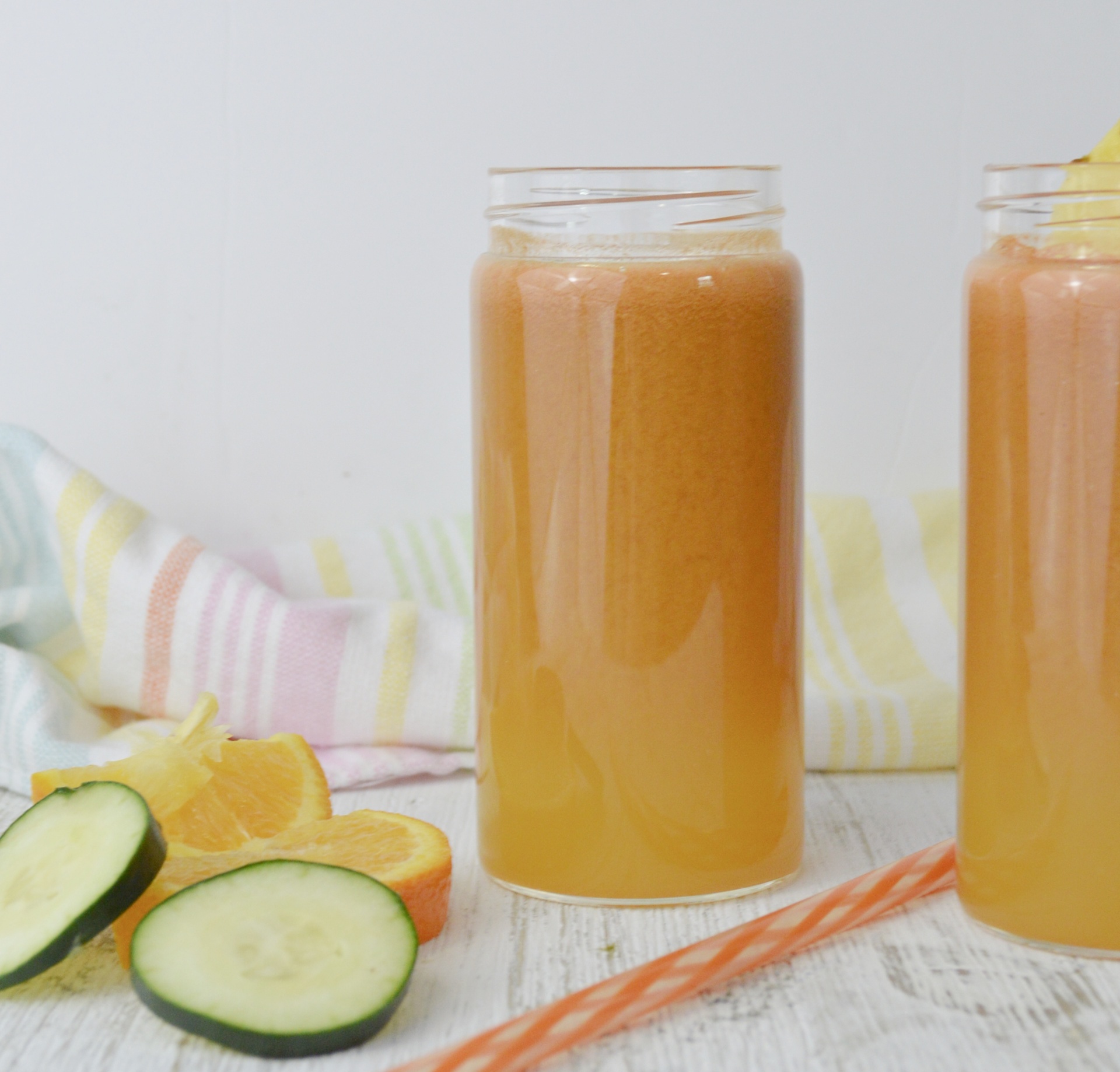 How To Make Carrot Orange Pineapple Juice
You all know that I love a good smoothie. Making a smoothie for breakfast is one of the easiest ways to start your day! I have only make one juicing recipe here on Food Wine Sunshine, and that was YEARS ago. Honestly, I think that was my attempt on a smoothie before I start using frozen fruit or adding in any protein to thicken things up. But, when I was visiting my brother and sister-in-law, I watched my sister-in-law make my niece a juicing recipe. Stef (my sister-in-law) explained to me that my niece loves homemade juices and she likes that it's an easy way for her to ensure that she is getting in some extra fruits and vegetables. #MomWin
Because you can sneak vegetables into homemade juices just like you can a smoothie!
So, I had to try juicing again.
Juicing vegetables and fruits is the gateway to your good health.Juicing recipes make it easy to consume vital nutrients that can build the immune system, help prevent disease, improve your memory, clear up your complexion, have a beneficial effect on both your skin and hair, as well as energize, cleanse and help restore the body's organs, nerves and overall systems.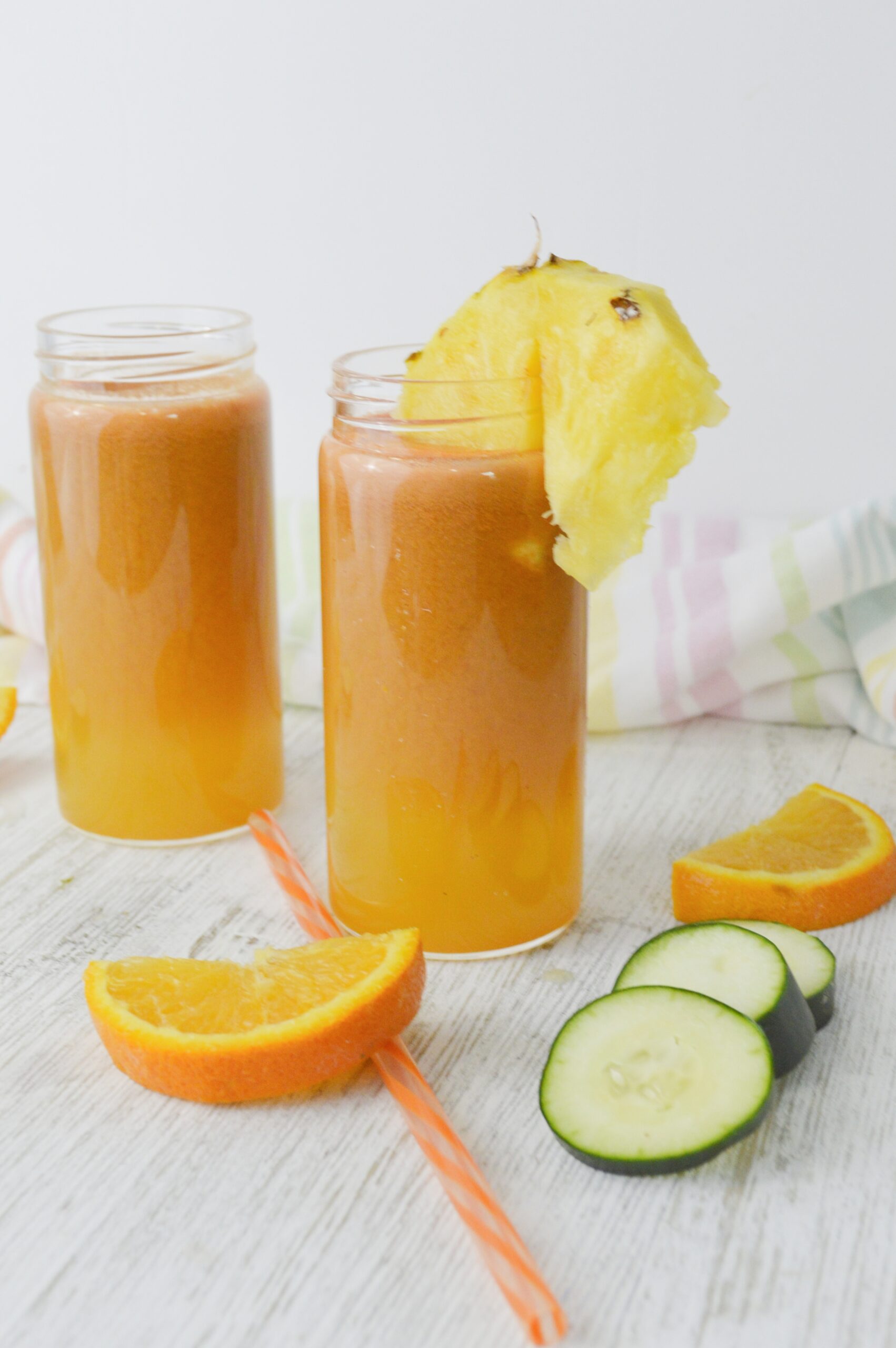 Florida Oranges are in season October thru June, and since I love using in season produce, now seemed like the perfect to use some Florida oranges.
And pineapple. I love pineapple, plus pineapple also has nutritional benefits. Pineapple is a good source of Vitamin C or ascorbic acid. Vitamin C helps wounds and burns to heal and it also builds strong bones and teeth. Vitamin C helps to strengthen the walls of blood vessels and increases the absorption of iron and helps in the metabolism of folate, protein and fats. It also helps to prevent atherosclerosis or hardening of the arteries. When there is a deficiency of Vitamin C in the diet, the apparent symptoms are fatigue, joint pains, easy bruising, sore and bleeding gums, the bones are weakened and fracture easily and wounds take long to heal. So, this Carrot Orange Pineapple Juice is THE juice to make! We all know that oranges are also loaded with Vitamin C!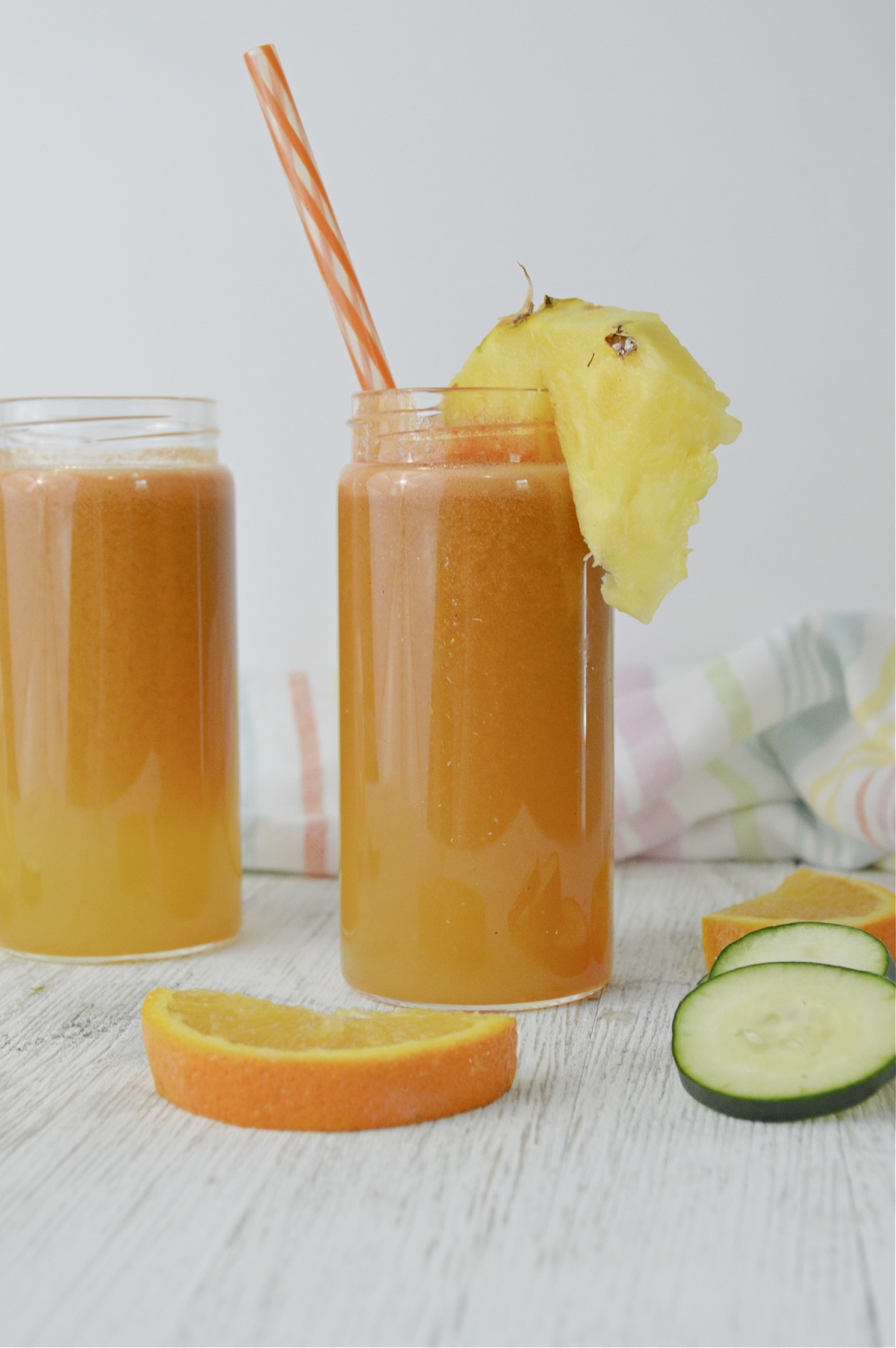 Another nutritional benefit of the pineapple is Vitamin B6. This vitamin promotes the proper working of protein and carbohydrates in the body. It releases energy. It encourages the proper functioning of the nervous system and synthesize the red blood cells. Deficiency of the vitamin may cause depression and confusion, itchy scaling skin, smooth red tongue and weight loss.
Besides being extremely tasty, pineapple juice is loaded with the protein digesting enzyme mixture known as, bromelain.
Although Tuberculosis is not as common as it used to be, the juice was instrumental in dissolving mucus and helping the recovery from the disease. It should not be used, though, by people with Hemophilia or people with kidney or liver disease, because it reduces the time taken to coagulate the blood, which is why it can be used for heart patients.
Pineapple juice is also good for women with a painful menstrual cycle. That's never fun, so what better way to remedy that then with a natural juice, as opposed to popping a pill? Sore throats and bronchitis are relieved by sipping pineapple juice, not to mention, juice is better than soda any day, especially when you are sick. To make sure you are getting a pineapple with the most nutrients, be sure you are picking a ripe pineapple. Here are some picking a pineapple.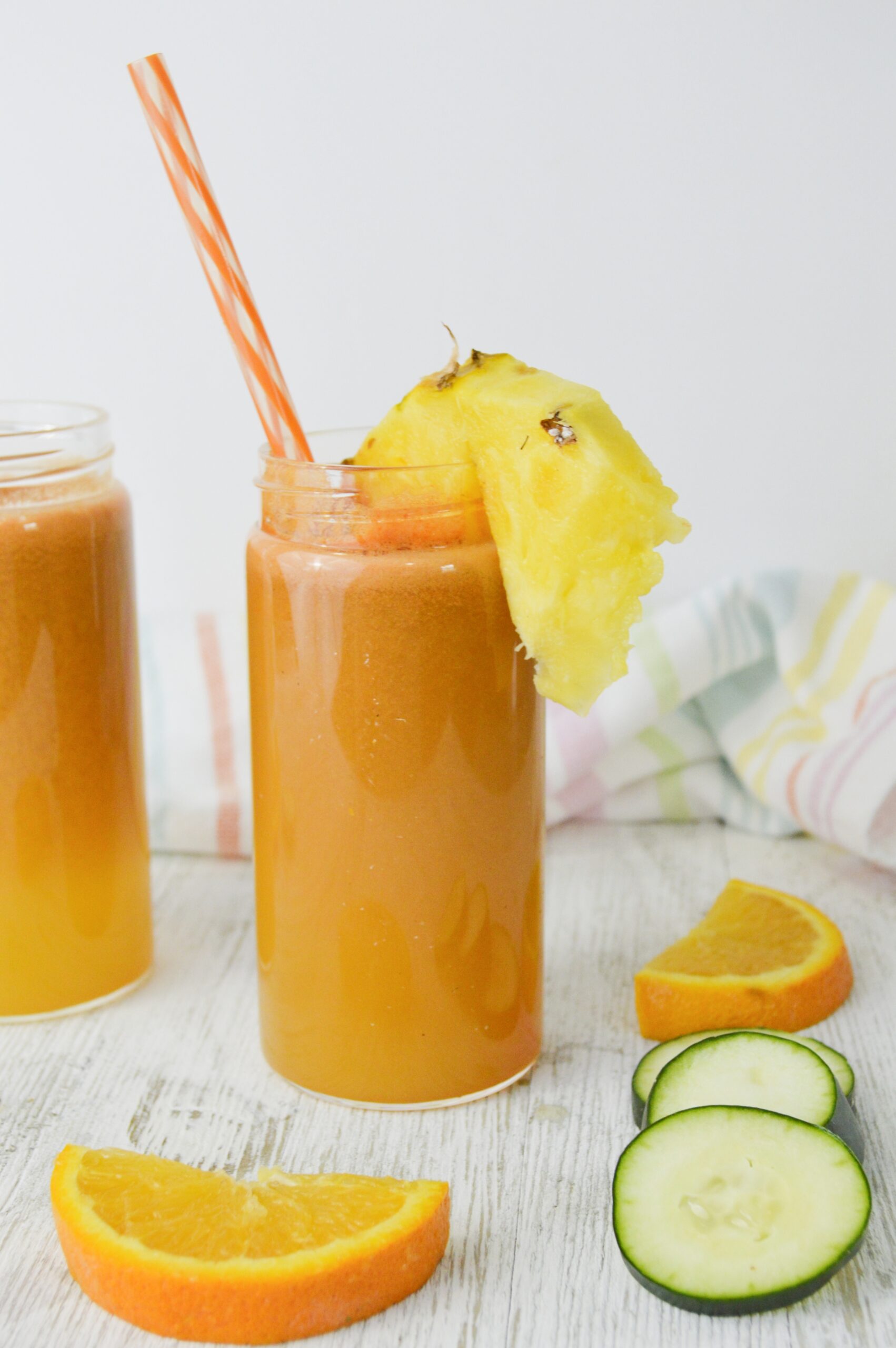 You can also use pineapples and oranges to make delicious smoothies (or smoothie bowls) and cocktails!
I warned you that I added some veggies into my juice, I would say that from the title of the recipe, you guess there were carrots. Carrots are loaded with vitamin A and beta-carotene, and have calcium and vitamin K.
I also added in cucumber, I feel like cucumber is one of those produce items that you can add to just about anything. They are great for hydration and are rich in electrolytes. Adding cucumbers to juices and smoothies barely changes the taste, so I add them in a lot. I'll take the extra nutrients while I can!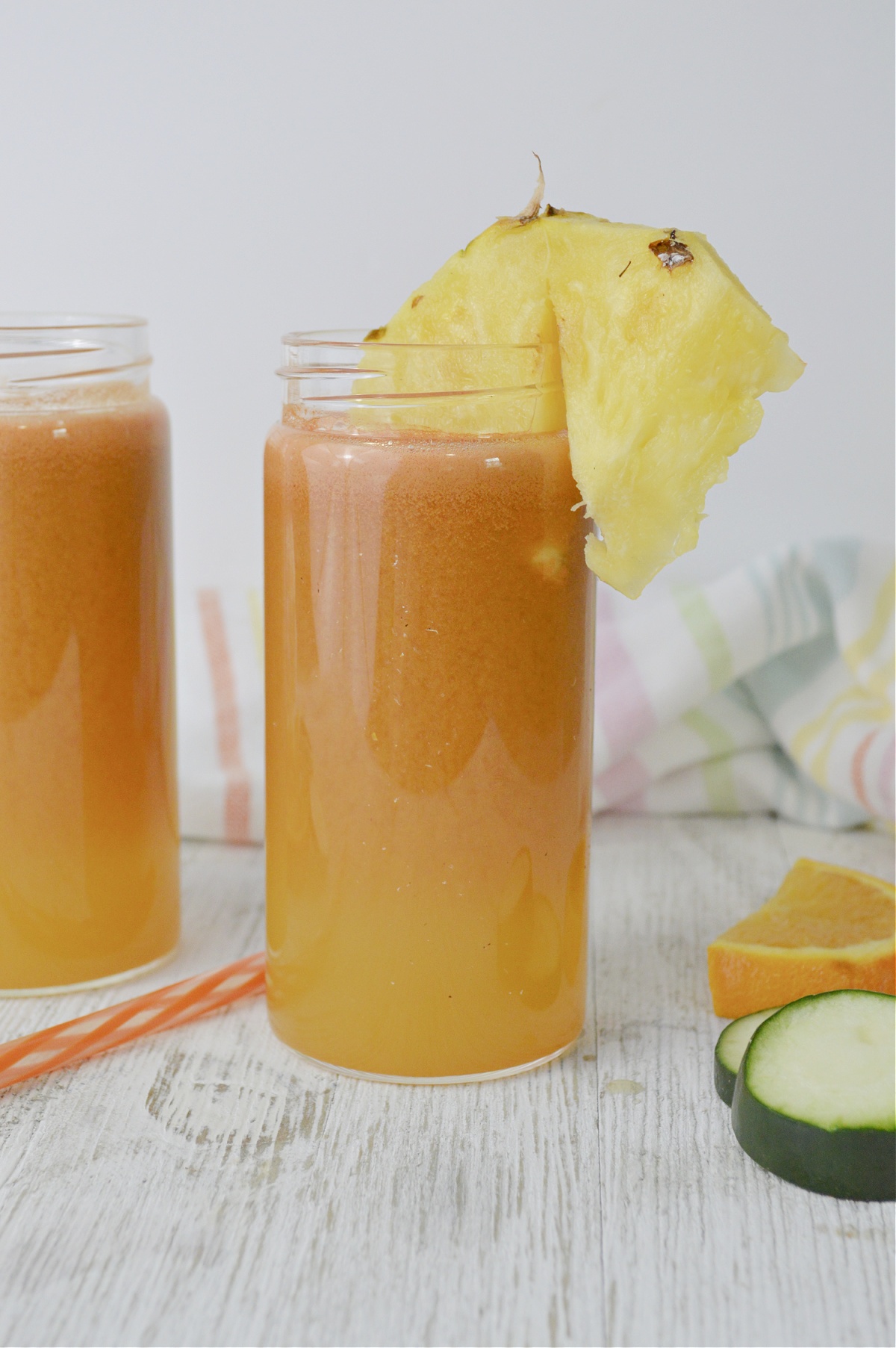 Ok, now onto my Carrot Orange Pineapple Juice recipe. Be sure to Print It and Pin It so that you can make it again and again.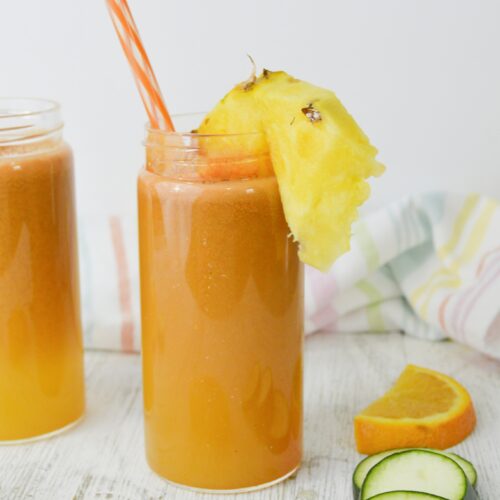 Carrot Orange Pineapple Juice
Juicing provides many nutritional benefits, but it's also a great way to add an extra dose or two of fruits and vegetables to your day.
Print
Pin
Rate
Ingredients
1

pineapple

3

naval oranges peeled

1

large cucumber

2

large carrots
Instructions
Wash and prepare the fruits and vegetables.

Cut the top and rind off of the pineapple. Then cut the pineapple down and around the core.

Place all ingredients in small batches into the juicer chute.

Turn the juicer on and start the juicing process.

Drink right away or refrigerate for up to 3 days.
Notes
This juicing recipe makes about 30-32 oz of juice.
Nutrition
Calories:
181
kcal
|
Carbohydrates:
46
g
|
Protein:
3
g
|
Fat:
1
g
|
Saturated Fat:
1
g
|
Polyunsaturated Fat:
1
g
|
Monounsaturated Fat:
1
g
|
Sodium:
25
mg
|
Potassium:
624
mg
|
Fiber:
7
g
|
Sugar:
34
g
|
Vitamin A:
5502
IU
|
Vitamin C:
165
mg
|
Calcium:
89
mg
|
Iron:
1
mg
I hope you enjoy this Carrot Orange Pineapple Juice as much as I do!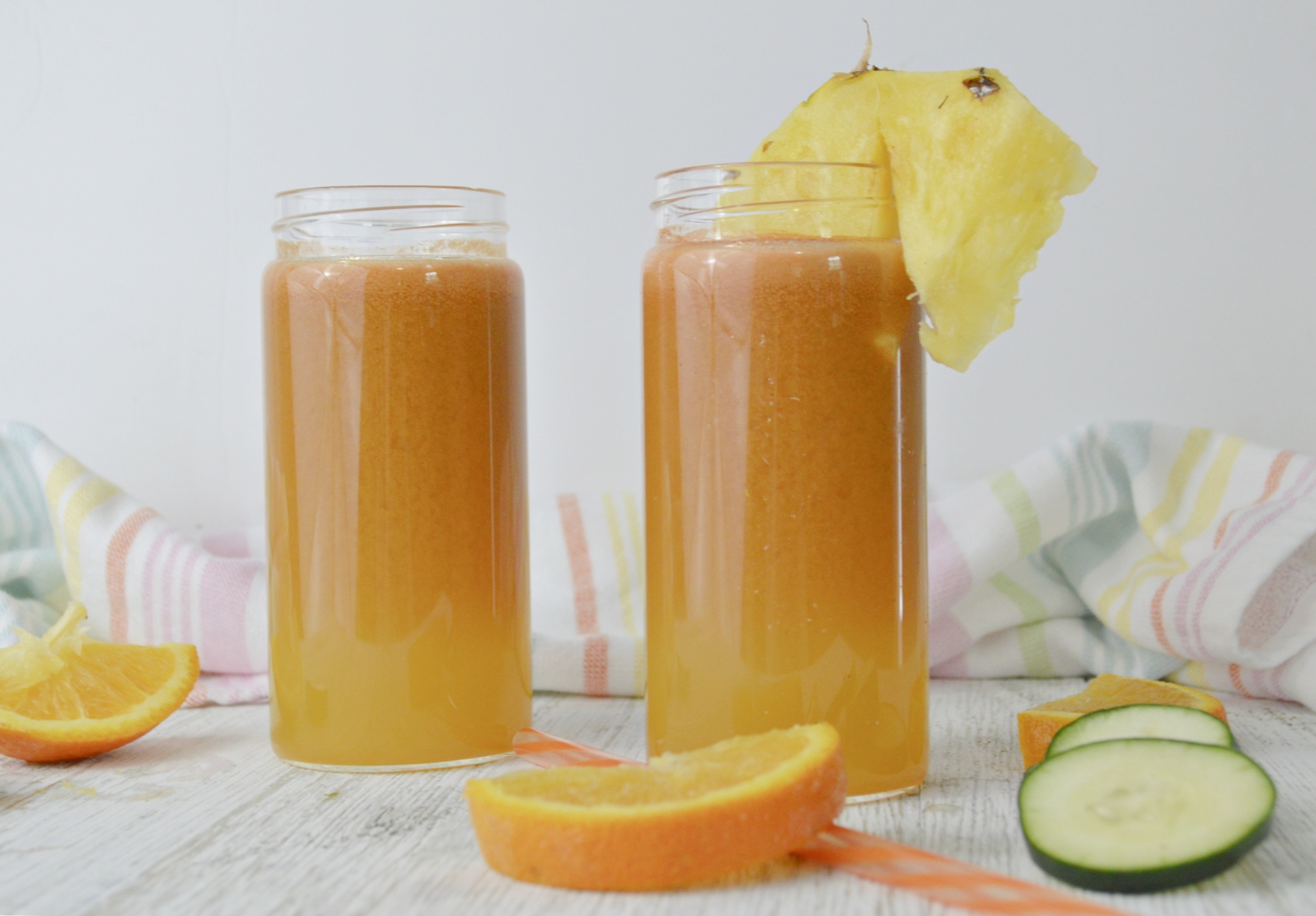 Do you like juicing? What is one of your favorite homemade juices?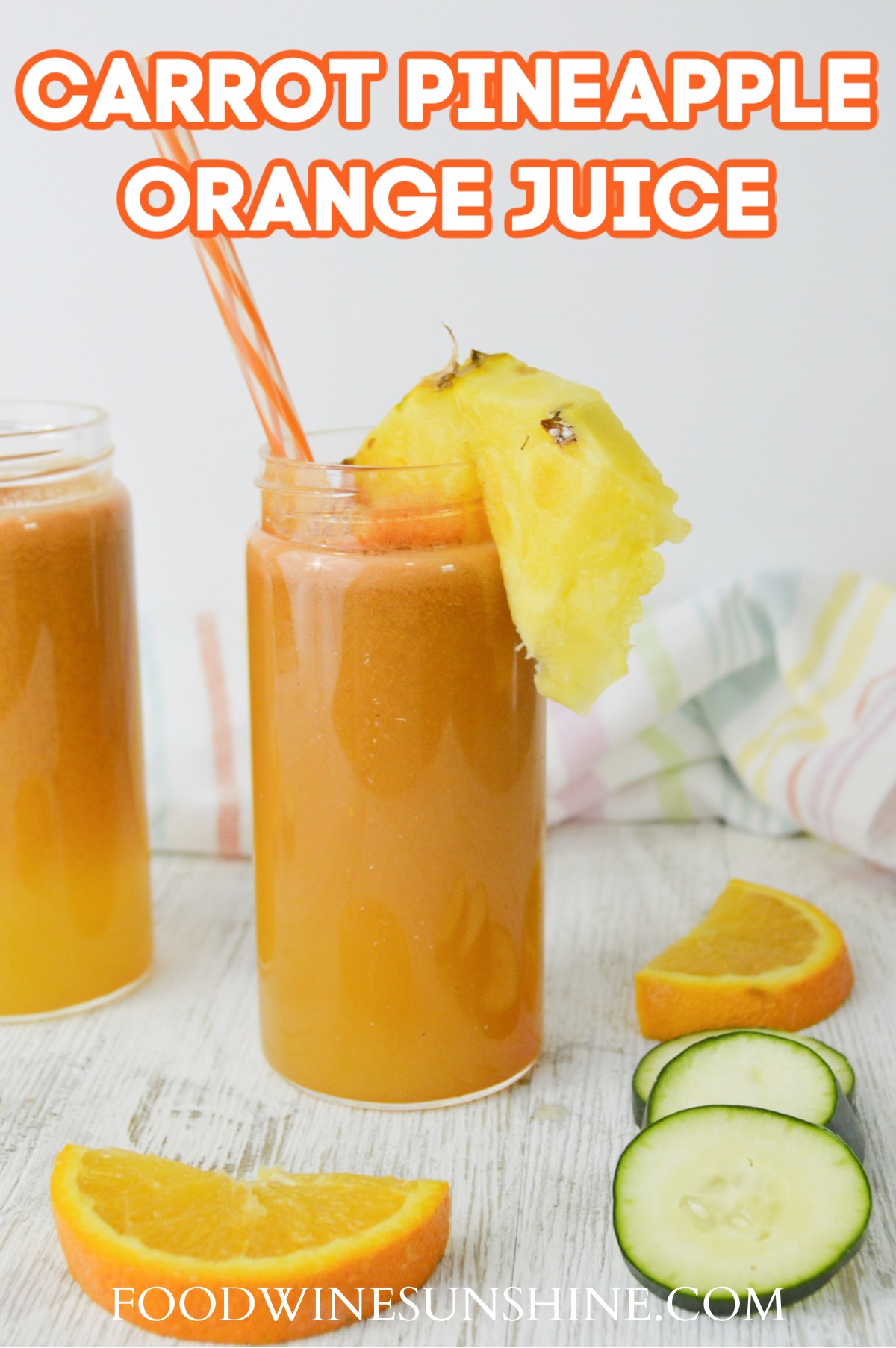 Be sure to check out all the recipes on Food Wine Sunshine and follow on me Facebook, Twitter, Pinterest and Instagram for more FOOD WINE AND SUNSHINE.