(Last Updated On: September 5, 2019)

Benefits of Sand Play For Kids
Early childhood should be filled with exploration of a child's environment. Children learn best when they are presented with a problem and they work through and find a solution on their own. Jen is one of the writer's here on Food Wine Sunshine and not only is she an elementary school teacher, she has two girls of her own that keep her busy! Today's post comes from Jen.
Take it away Jen:
Sand play is the perfect medium for young children to explore. Sand does not stain clothing, it is relatively easy to clean up and provides as many do overs as they need. Sand provides children the opportunity to be creative as well as use scientific and mathematical problems solving skills.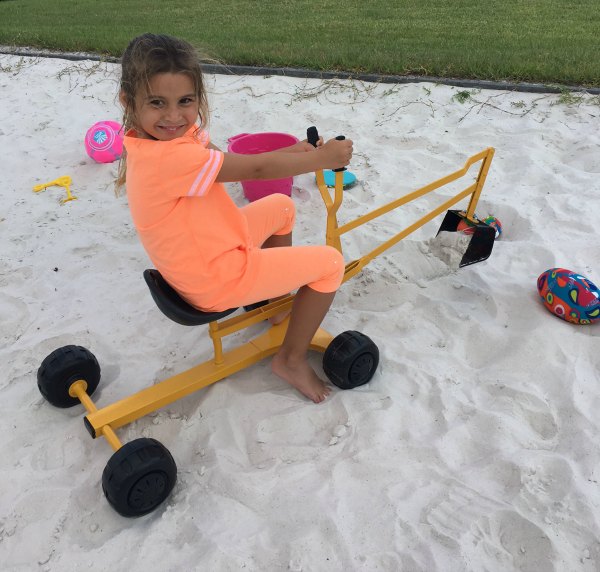 I am always looking for new ways to expand and allow my 4 year old new ways to work in play areas we already have set up. Our sand box is a perfect example, in fact we just recently added the Sand Digger Scoop 'n Swivel Backhoe Sand Toy that we got for review from One Step Ahead to the play area. The Sand Digger immediately grabbed her attention as well as the attention of her 10 year old sister. She spent a few minutes getting acquainted with the mechanics of the digger and then got to work. She was even using it to up pick items in the house before we got the chance to get it outside!
Top 6 reasons to add a digger to your sand play area:
It will revitalize the space
Works on essential motor skills that children need to succeed in school
Work of directional terms, up/down, right/left and forward/ backward
Increases playtime in the sand box.
It is super fun!
It's easy to set up, we only need one tool and it was ready to play with in under 15 minutes.

Here are a couple of games we created while playing with the Sand Digger Scoop 'n Swivel Backhoe Sand Toy:
Take a large beach bucket and work on filling it. For the ultra competitive family, use a timer and see who can fill it the fastest, or work on decreasing their time.
We took small ball and placed them all around the area and worked on making baskets. It required my daughter to pick up the ball then move it into a large beach bucket! She loved scoring points.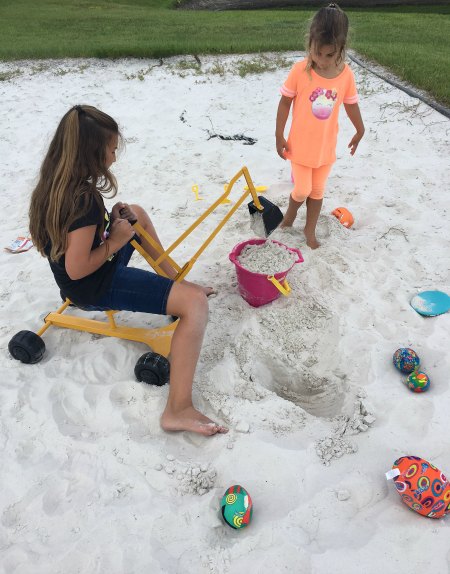 You know you have found a great product when a 4 year old and 10 year old are arguing over who's turn it is!
While we did receive this product for review, all opinions and tips are 100% our own.
What are some of the Benefits of Sand Play for Kids that you see?
Be sure to follow Food Wine Sunshine on Facebook, Twitter, Pinterest, Google + and Instagram for more tips, fabulous recipes and more!
Check out OneStepAhead on Facebook, Twitter, Instagram and Pinterest to stay up to date with everything your child needs to have fun and stay healthy!