(Last Updated On: September 5, 2019)
If you have a little one, you know how important quality toys are that keep them entertained and having fun. Check out these 6 top toys for toddlers. While Food Wine Sunshine did receive a product for review, all opinions are our own.

6 Top Toys For Toddlers | Indoor Toys for Toddlers
Who doesn't LOVE fun, cute, and good toys for your ever growing TODDLER? As most of you know I am a mommy of a toddler and a baby on the way in less then two weeks! I am also a nurse by trade, I am always looking for good quality toys for my daughter, that I feel good about her playing with. So, I have made a list of my favorite toys for her and that she is going crazy about now, some very simple but she loves them, so they are on my list too!
Here are a few of my (and my daughters) Top Toys For Toddlers:
PLAY KITCHEN
BOOKS BOOKS BOOKS
BLOOMS AND BUTTONS TEE PEE
RIDE ON CAR TOY
CRAYONS/ MARKERS/ COLORING BOOKS
BRIGHT BEATS DANCE AND MOVE ROBOT
Here's why we love these Indoor Toddler Toys:
PLAY KITCHEN
Boys and girls love a play kitchen. My daughter LOVES LOVES hers and is a daily toy that gets played with!!! She loves and enjoys pretending to cook, and mimic what I'm doing in the kitchen. WHICH I LOVE!!! When I was little girl I was always in the kitchen with my mom, and at a very young age learning all about cooking. I want that for my daughter and I. As a person who LOVES to be in the kitchen, having my daughter having her own little pretend kitchen at her age now in our kitchen playing getting used to all the pretend food, and pots and pans, she getting exposed to it and seeing how she enjoys playing pretend with it! It's not going to be long till she is up on a stool along side me helping me cook or bake 🙂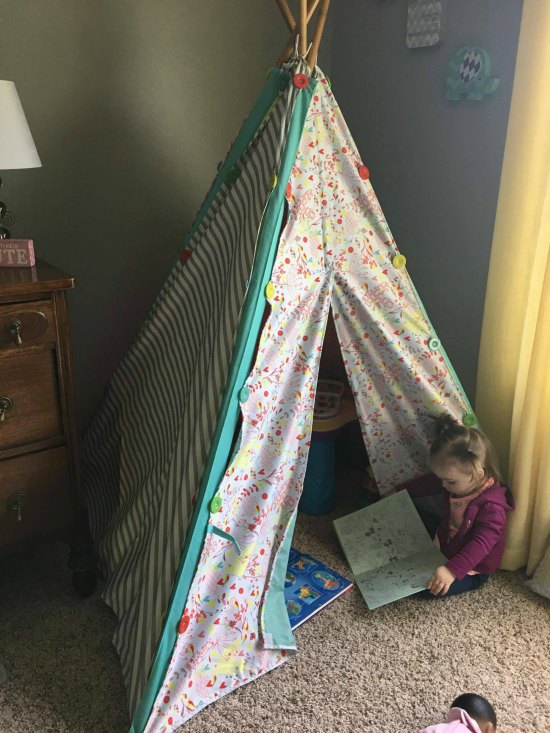 BOOKS BOOKS BOOKS
What parent doesn't want to expose their little ones as soon as possible to BOOKS?! I have been doing a bedtime routine with a book a night, reading a story before bed every night a MUST in our house. Now my daughter gets a huge kick out of it and finds so much joy being able to go and pick out her book for that night for us to read together! Not only is it a great routine but awesome quite time/ calm time play activity. There isn't a day that goes by that she's not "reading" at a book all by herself! I just love it!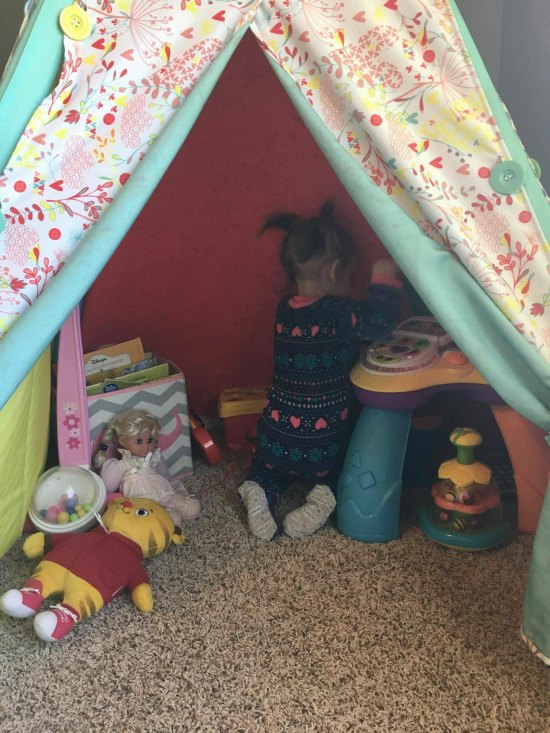 BLOOMS AND BUTTONS INTERCHANGEABLE TEE PEE
The new FAVORITE in our house right now is the play tent. The tent we have is by PACIFIC PLAY TENTS, and we have the BLOOMS AND BUTTONS INTERCHANGEABLE TEE PEE. Lets just say my daughter just LOVES IT! It is a place for her to go and hide and play by herself! She loves that she has her own little space with all her favorite toys in and just able to do what she wants. I love that it is SO well made! It is made of four interchangeable panels, that you can use either side of, they have solid colors and fun cute prints. The panels get attached by adorable cute colorful buttons that go along all four sides. and the poles are made of bamboo (super sturdy). It currently is in my daughters room and it LOOKS ADORABLE!!! With it's fun cute colors and prints it spruces up any room and is unique. It also is super easy to put together and or store away when need be! It's actually something I enjoy looking at 😉 It adds a cute touch to my daughters room. PACIFIC PLAY TENTS also have other play tents/tee-pee and indoor/outdoor styles as well!!!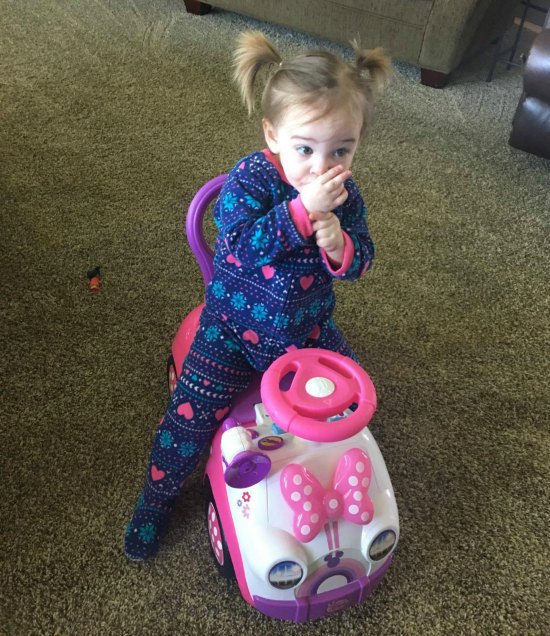 RIDE ON CAR TOY
So this could be either a indoor or a outdoor toy 🙂 But for now with only having a gravel driveway it is a indoor toy at our house. It took my daughter a little bit to understand the concept of pushing herself around on it but now she is a little speedster. I believe the best feature of it is that it has a bunch of buttons that make all different noises and music, and when saying my daughter loves music is an understatement! Also, besides the music it has under the seat storage, which she LOVES to store all her toys or try and fit into herself.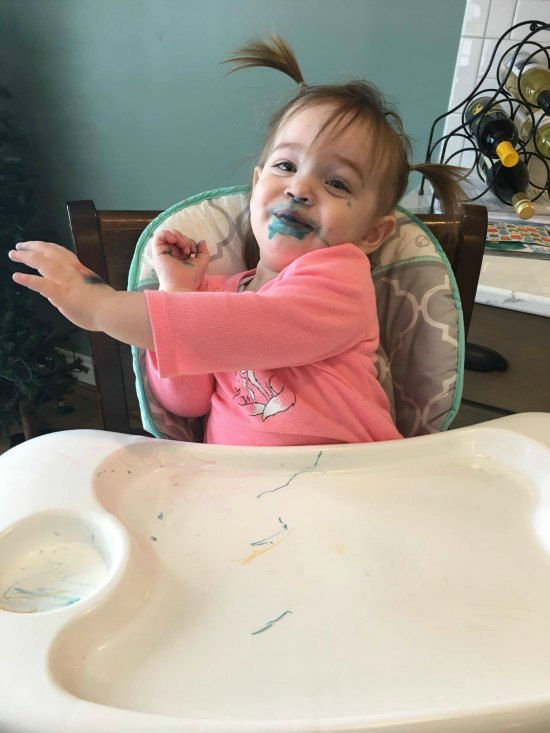 CRAYONS/ MARKERS/ COLORING BOOKS
This one is more of a supervised play activity 😉 As for myself I have quite the experience with that, my daughter thinks she is the coloring book or that all the markers need to be licked a few times!!!! 🙂 So I do make sure to by the non-toxic WASHABLE kind! Other wise we would have even more of a nightmare on our hands!!!! This is also a high chair activity 😉 I would not enjoy cleaning the new painted walls of all her artwork. But, there are positives to this I promise, it is great for them to learn holding and using their fine motor skills, but also a new fun and exciting way to express themselves, and what kid does not LOVE COLORING!!! And seeing all their artwork displayed!
BEATS DANCE AND MOVE ROBOT
This is a newer toy and what an adorable toy it is! My daughter LOVES it. Can you guess why?? Maybe the music, maybe all the lights, all the sounds, or the robot dancing, just to name a few!! This thing is so adorable, it talks, teaches and sings to your child and also can record your own voice!! It's a super cute little robot!!! And it comes in two different colors, and we also just found the mini robot at the store that my daughter just had to have, so now we have the mommy and baby one 😉
These are just a few of my favorite things for toddler age play, there are plenty of great toys and products and constantly finding great new things for my not so little girl anymore…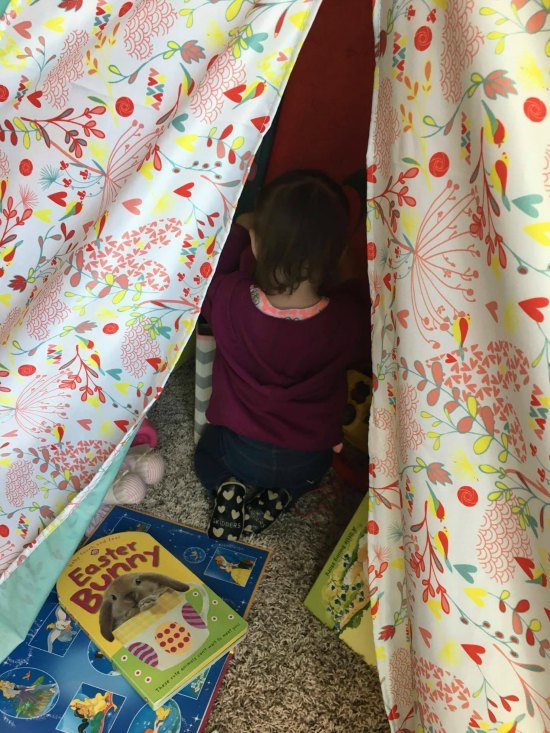 All you mommies and daddies out their need to check out PACIFIC PLAY TENTS, you will not be disappointed, and your little kiddos will be happy that you did, whether you are looking for a indoor or outdoor play tent you need to check them out, they are durable, great quality, great price, and easy setup/take down and easy to store away. And to top it off … SUPER ADORABLE!!!!!
Find out more about Pacific Play Tents by following on Facebook, Twitter, and Instagram.
Be sure to find Food Wine Sunshine on Facebook, Twitter, Pinterest, and Google +.