(Last Updated On: February 6, 2023)
Asheville North Carolina is nestled Blue Ridge Mountains of Western North Carolina and is home to the Biltmore Estate, many breweries and much more. Take time to explore!

Top 11 Things to Do in Asheville North Carolina
Asheville is a college city in North Carolina with an interesting history. The University of North Carolina at Asheville sits on former Civil War battlegrounds, and several popular movies were filmed within city limits. Despite being relatively small, Asheville has seven sister cities in four continents.
You might find yourself in Asheville for a college open house, minor sporting event, to visit the famous Biltmore Estate, to enjoy the mountain views or maybe a film festival. Several major roads run through the city, so you may even wind up here on a road trip. Since this city isn't a highly frequented tourist destination, travelers might struggle to find fun things to do here. Thankfully, there's something for everyone to do in the "Land of the Sky!"
We actually make the drive up from Tampa every fall to experience some cooler weather and appreciate the breathtaking mountain views.
Here are the Top 11 Things To Do in Asheville
Asheville is known for its environmentally sustainable restaurants, and has even been recognized as a Green Dining Destination by the Green Restaurant Association. Plant is one of those restaurants, with an all-vegan menu and delicious craft beers. They have delicious menu items, like CBD ravioli and smoked portobello. For dessert, try their cardamom crème brulee!
If you'd like a drink with your dinner, consider one of Plant's vegan cocktails. They're made with alcohol, herbs, spices, and essential oils.
Take a two-hour walking tour of Asheville through 30 trail stations. Along the way, you'll stand where Native Americans once stood, discover public artworks, and celebrate historical figures. Don't forget to bring your camera with you – many of these sites are photo-worthy!
You can also watch a 14-minute-long video about the Urban Trail's inception here.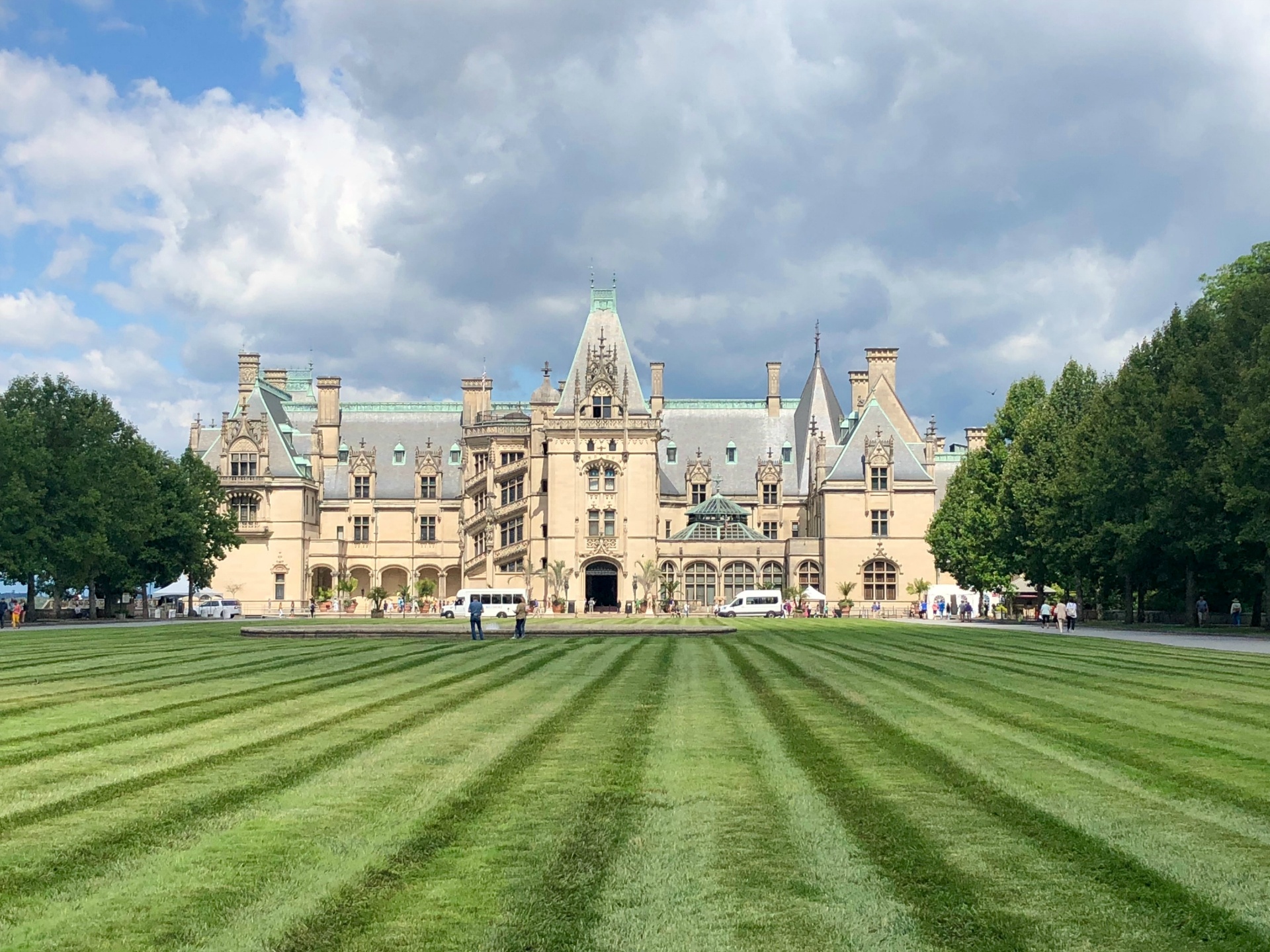 This estate has a museum, gardens, and a winery. First, take a self-guided tour of the Vanderbilt family's former home to see vintage clothing, art, and furniture. Afterwards, make your way outside to marvel at incredible landscapes designed by Frederick Law Olmsted. Daytime admission to the Biltmore Estate includes a complimentary wine-tasting with over 20 selections available! We have been here several times over the holidays, the estate is breathtaking over the holidays! You will find numerous Christmas trees and plenty of photo opportunities.
Ticket prices for the Biltmore Estate vary based on the date. Adult tickets cost between $59 and $99, and youth tickets are 50% off. They have a special evening Candlelight tour November – January and those ticket prices range from $74 – $99.
Pisgah National Forest is considered the birthplace of American forestry. Hike along the designated trails to reach the highest mountain peaks east of the Mississippi River, along with gorgeous waterfalls and old-growth forests. There's even an app to help you find the best hiking trails based on difficulty and distance from downtown!
Pisgah National Forest also has some mountain bike areas for adventurous visitors. Whether you hike or bike through the forest, you could plan an afternoon around forest activities.
This natural attraction within Pisgah National Forest is worthy of its own blurb! Throughout the summer, locals and visitors slide down a 60-foot-tall waterfall into a pool that's 8 feet deep. Between Memorial Day and Labor Day, there are lifeguards on duty.
The Sliding Rock Natural Waterslide recreation area includes a bathroom and changing room, and it costs $3 in cash to enter. Since the water only reaches 50-60 degrees during North Carolina's warmest months, there are two observation desks for those who'd rather not get wet.
The Appalachian Trail is a 2,200-mile-long hiking route between Maine and Georgia. The massive trail cuts through Asheville, and hikers have identified a few short routes that can be accessed from the city. Try hiking up the Great Smoky Mountains or the Max Patch for hours of natural sightseeing.
If you hike south for 7.5 miles, you'll reach the top of Clingman's Dome, the highest peak on the Appalachian Trail!
Take a drive along Blue Ridge Parkway, Asheville's most scenic route. This parkway that runs from Virginia through North Carolina is filled with natural wonders, like the highest waterfall east of the Rockies. Use the parkway to reach nearby destinations like Mount Pisgah, the Folk Art Center, or the Blue Ridge Parkway Visitor's Center. Have your camera ready, since Blue Ridge Parkway is an attraction worth photographing!
Before beginning your drive, fill up on gas. There are no gas stations along this 469-mile-long parkway. There are, however, plenty of places to stop and take photos.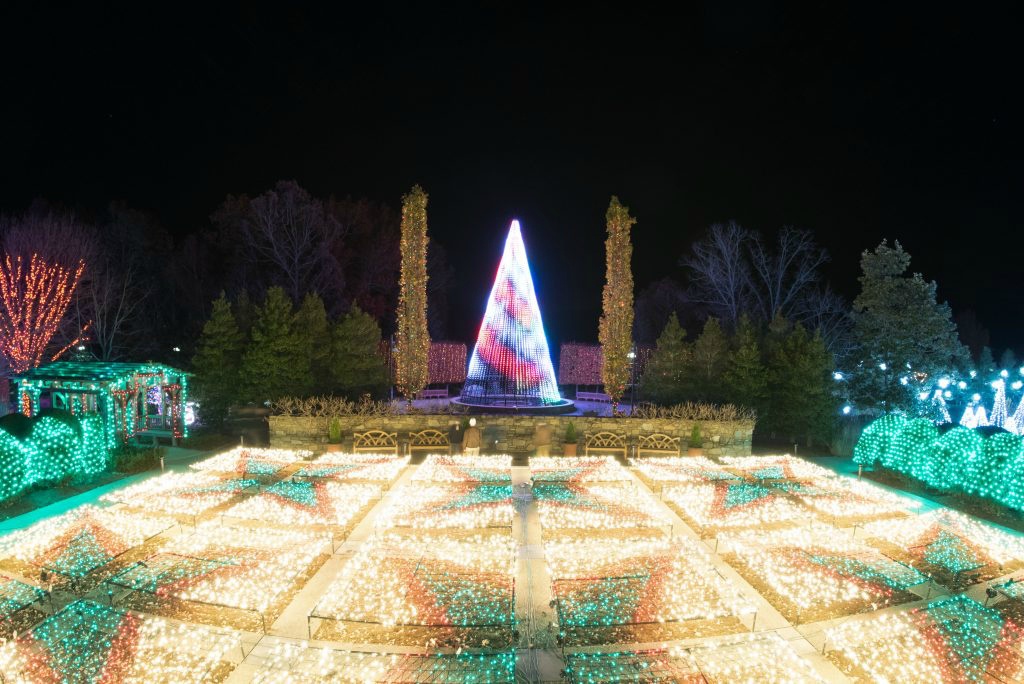 Within Bent Creek Experimental Forest, you'll find the North Carolina Arboretum situated on 434 acres of land. The arboretum features a 10 miles of hiking trails, rotating exhibits, a gift shop, and a café. Visit with kids to show them the EcoLab, a family-friendly attraction with live reptiles! We have been here over the holidays to see the Winter Lights and they decorate with THOUSANDS of lights, it's absolutely beautiful! It's perfect for kids young and old as there are walking trails, Santa, s'mores and so much more.
Parking fees for the North Carolina Arboretum are $14 for personal vehicles, $50 for motorhomes or RV's, and $100 for buses. Aside from parking, there is no admission fee. If you are coming for Winter Lights, kids 4 and under are FREE and adult tickets go up to $18, if you are unsure of your travel dates, you can get a Flex Ticket for $25 and go when you would like!
Breweries
According to NPR, Asheville is the 'Napa Valley of beer.' The city has dozens of breweries and pubs to explore, many of which offer tours and events. Highland Brewing boasts craft beers, outdoor entertainment, and free guided production tours. Visit their taproom to sample some IPA's and small batch beers. When you tour the New Belgium Liquid Center, you'll be invited to sample some beer and learn about the brewery's history. Both of these breweries have food carts, too!
If you're looking for a unique way to experience Asheville's pub scene, take a Pubcycle tour. These BYOB tours let you pedal a motor-assisted bike with 10 other people as you visit local breweries and pubs.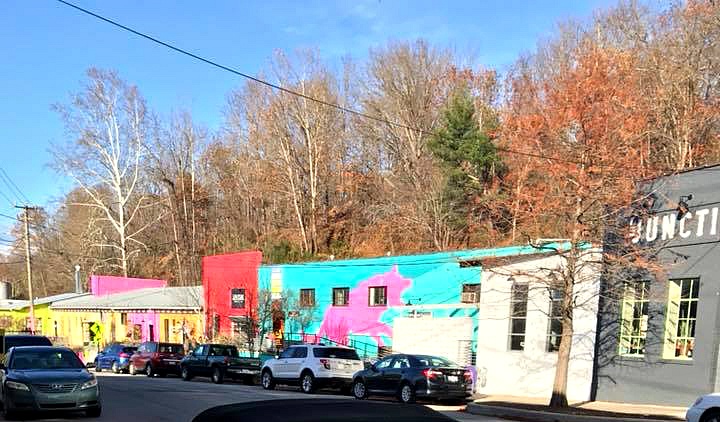 Asheville's River Arts District houses studios and galleries featuring hundreds of artists. The studios often host art workshops, and the district hosts "studio strolls," where many of them are open. Even if you don't visit during one of these events, there will always be a few open doors to stop into.
Many artists in the River Arts District are willing to wrap up your purchases and ship them to your home. Even if you're from out of town, you can still support these small businesses!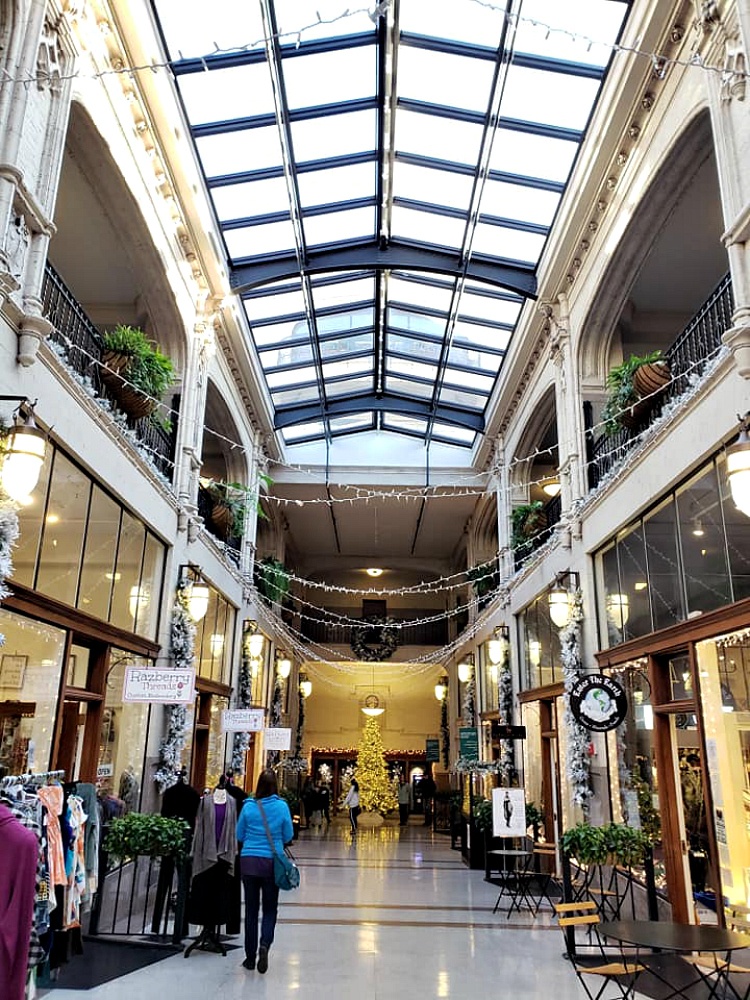 Not far from the River Arts District is the Grove Arcade, contrary to what the name may be, there are no arcade games. Grove Arcade is a historic architectural landmark located in the center of downtown Asheville. Completed in 1929, this beautiful building is now a markteplace with shops, artisans, restaurants and more. One of our favorite stops is the Battery Park Book Exchange and Champagne Bar, we usually get a charcuterie board and a bottle of wine, browse books and listen to local live music.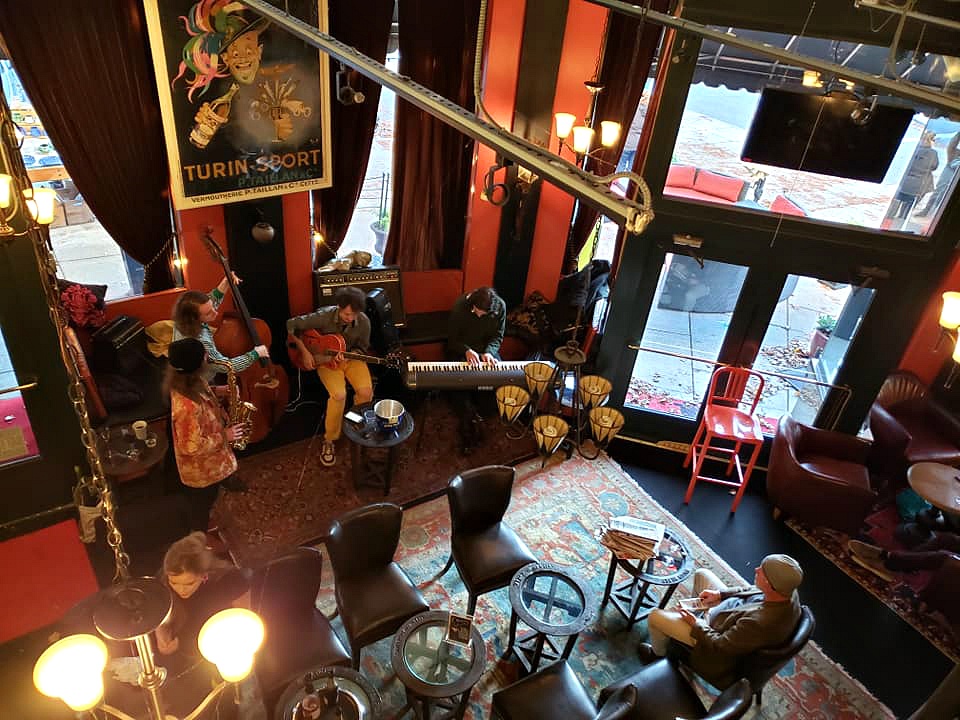 Take a virtual tour of the stunning architecture here.
If you've never had a chance to pass through Asheville, you're missing out on everything this city has to offer. Visit North Carolina during your next three-day weekend to experience Asheville's natural beauty and cultural attractions. Don't worry about fitting all of these things to do on your trip itinerary – once you visit Asheville once, you'll want to make a tradition out of it!
About an hour outside of Asheville is the small town of Bryson City, here you can jump on the Great Smoky Mountain Railroad and get an up close and personal view of the mountains that many come to Asheville just to see.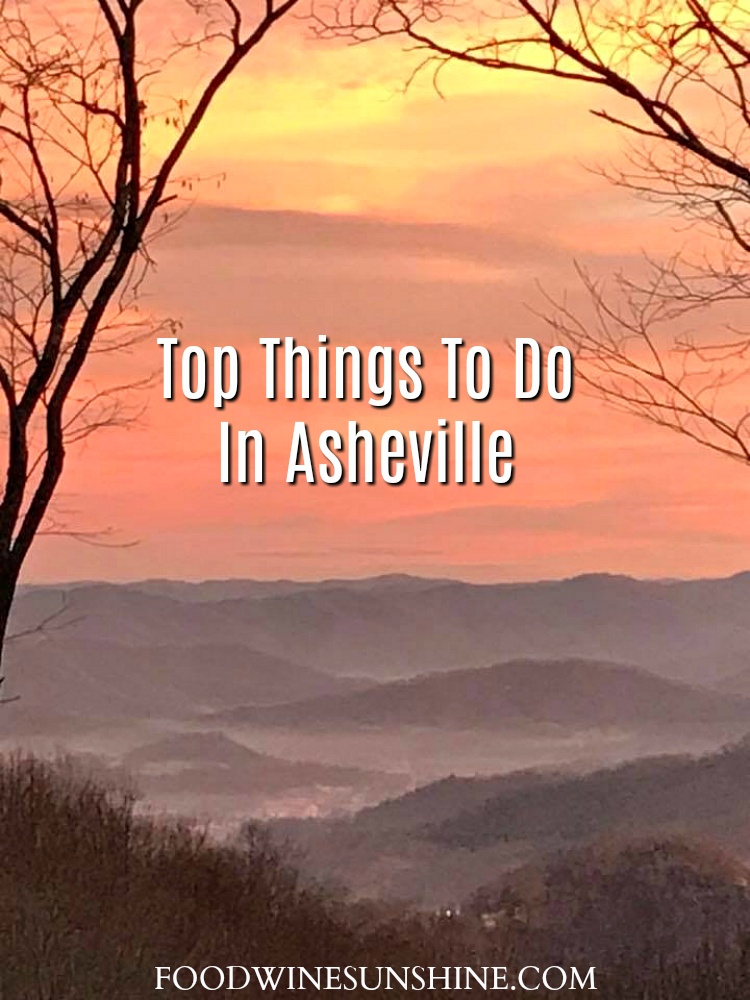 Have you been to Asheville North Carolina? What is one of your favorite things to do in Asheville?
Be sure to check out Food Wine Sunshine on Facebook, Twitter, Pinterest, and Instagram for things to do, healthy recipes, and more.