(Last Updated On: August 9, 2019)
Thank you to Frito-Lay for sponsoring this blog post. All opinions expressed are 100% my own.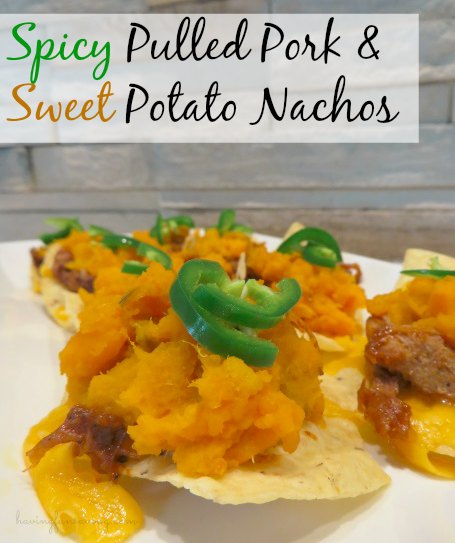 Frito-Lay's Nacho Throwdown Recipe
Spicy Pulled Pork & Sweet Potato Nachos
Are you ready for some FOOTBALL? It's that time of year again and that also means it's time for good food and good times. Game-day snacks and recipes are as traditional as team chants and lucky jerseys! I don't know about you, but when I think game time, I think nachos.
That's why I am thrilled (ok, beyond thrilled – ecstatic!) that I had the opportunity to partner with Frito-Lay to participate in Frito-Lay's Nacho Throwdown! Oh yes…NACHO THROWDOWN! Fans (yes, that's YOU!) will be able to vote for your favorite blogger-submitted recipe in head-to-head recipe matchups every week until one blogger recipe is crowned champion at the end of Week Four.
This past weekend I spent some time in the kitchen making some of our favorite foods and loading them onto the ultimate nachos! See that picture above…don't those nachos look delicious?!
This Spicy Pulled Pork & Sweet Potato Nacho Recipe is sure to be a game-day pleaser. Sweet, Spicy, and Pulled Pork, and Tostitos…what more could you ask for?!
Spicy Pulled Pork & Sweet Potato Nachos
Author:
Prep time:
Cook time:
Total time:
Ingredients
2 Large Sweet Potatoes – peeled and cubed
2 tablespoons brown sugar
2 tablespoons of butter
Shredded Cheddar Cheese
1 diced Jalapeno
1/4 cup water
Salt and pepper to taste
1-2 lb Pork tenderloin – You will be shredding this, I have found that tenderloins are the most tender
1 cup of your favorite BBQ sauce
Tostitos Original Chips
Instructions
Gently rub salt and pepper on the pork and place in slow cooker with 1/4 cup water
Cook pork on low for 6 hours
When pork is done, cube and peel the sweet potatoes
Bring a pot of water to a boil
Add in Sweet Potatoes
Boil for 15-20 min or until tender
While sweet potatoes are boiling, remove the pork from the slow cooker and use two forks to shred the meat
Top the shredded pork with BBQ sauce – add more of less to your taste. Just sure to mix in the sauce well
When the sweet potatoes are tender, drain the water and add them back into the pot
Add in brown sugar and butter
Mash the sweet potatoes
Spray a cookie sheet with non-stick cooking spray and line it with Tostitos Chips
Sprinkle shredded cheese over all chips
Top each chip with equal amounts of pulled pork, then top with the sweet potatoes
Place cookie sheet in oven at 350 degrees for about 5 minutes (until cheese is melted)
Top each chip with a slice of the Jalapeno – this are spicy – especially if you leave the seeds in!
Enjoy!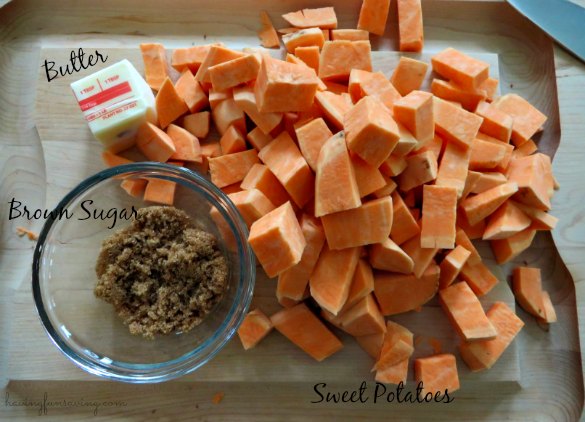 Load up those TOSTITOS® Original Restaurant Style Tortilla Chips with the Pulled Pork and Sweet Potatoes!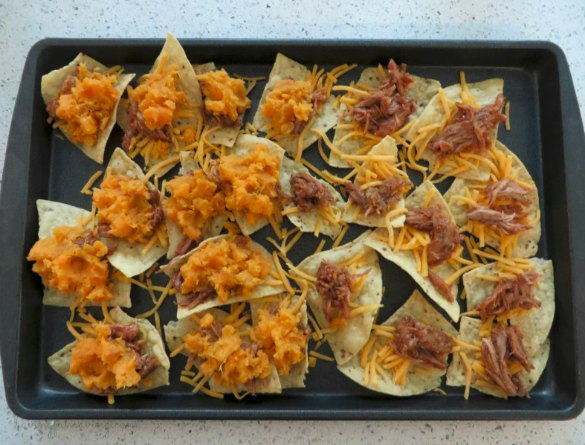 The Jalapeno adds the perfect amount of kick to compliment the sweetness of the BBQ sauce and sweet potatoes. These nachos are hearty and full of flavor, and sure to be at your next game-day get together!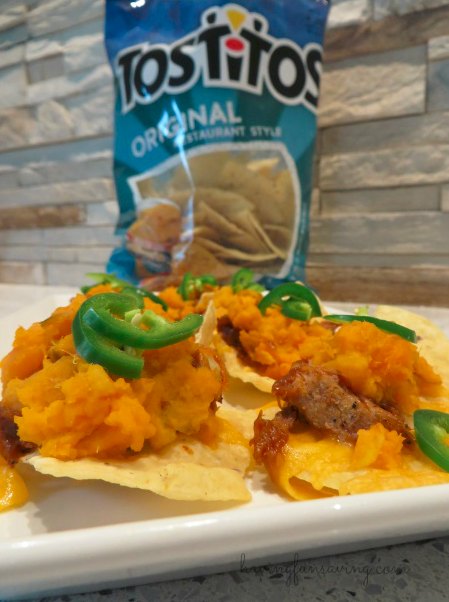 The next time your favorite NFL team is on, make sure to surprise your fans with these Spicy Pulled Pork & Sweet Potato Nachos!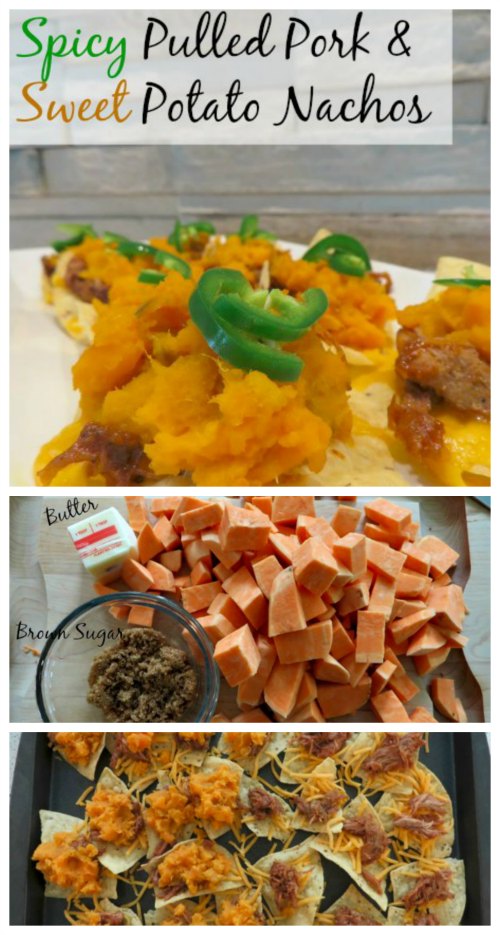 Check out all the delicious recipes on Food Wine Sunshine and follow me on Facebook, Twitter, Pinterest, Google + and Instagram.