(Last Updated On: February 5, 2021)
Las Vegas is filled with things to do and see, but if you want a break from it all, consider one of these day trips from Las Vegas to relax, unwind and enjoy some natural wonders.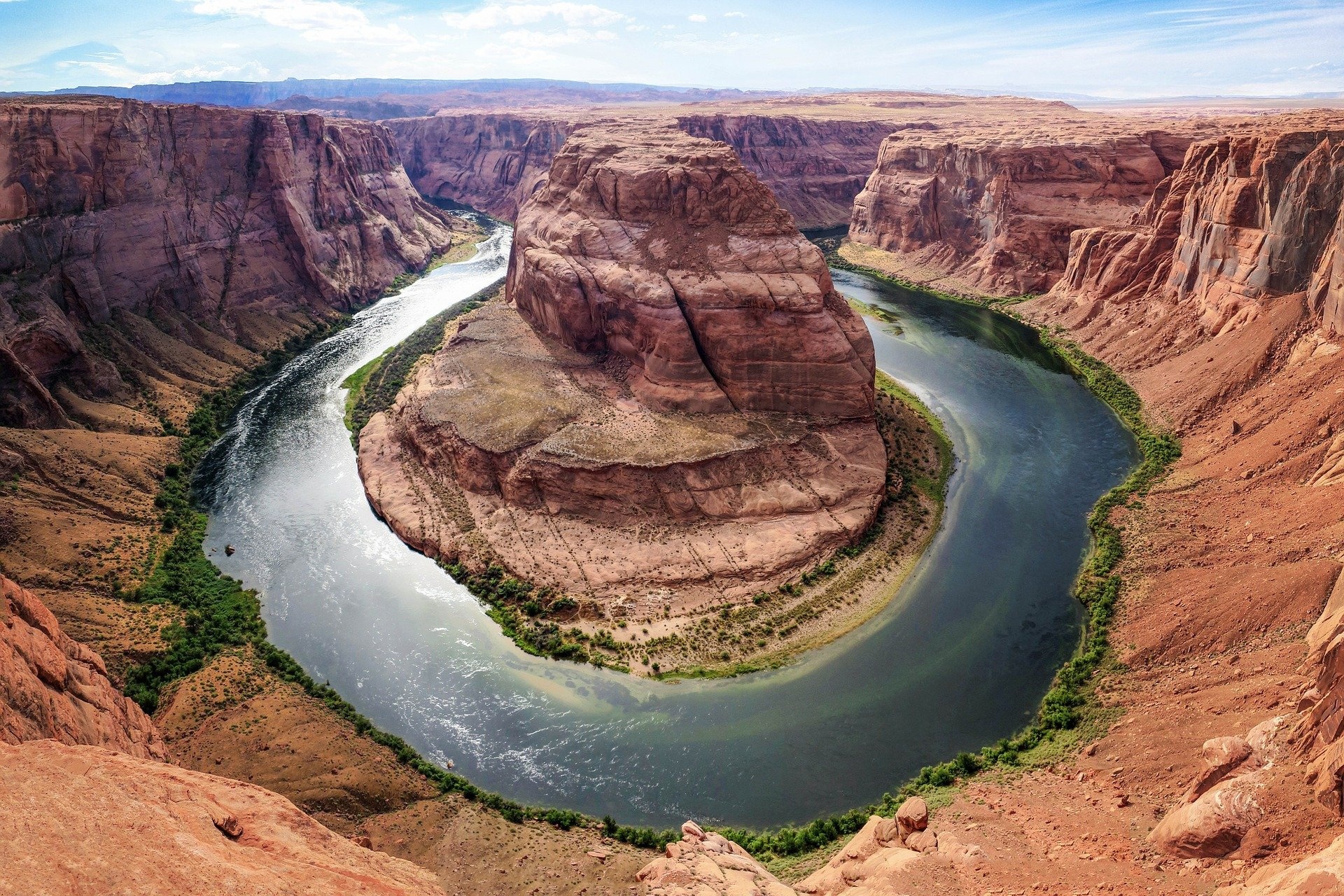 7 Of The Best Day Trips From Las Vegas
Although there is a multitude of things to see and do in Las Vegas, some people enjoy taking a break from the glitz and glamour of Vegas. Taking a day trip from Las Vegas to some of the surrounding areas is a great idea to give you that break and explore. In just a short drive from Las Vegas, travelers can cruise down a river, see some spectacular natural scenery, visit an old western town and so much more. If you are looking to stay a bit closer to Las Vegas, here are some ideas to do right off the Vegas Strip.
Here are 7 Fun Day Trips From Las Vegas
Day Trip to Valley of Fire from Las Vegas
The Valley of Fire State Park is one of Nevada's most iconic natural wonders. Here you will find 2000 year old native Indian petroglyphs carved into massive red sandstone formations in the Mohave Desert. These perfectly preserved rock carvings tell stories of our ancestors.
Stop at the Valley of Fire State Park Visitor's Center so you can learn more about these relics before heading out to see them.
Temperatures in the Valley Of Fire can reach up to 120 degrees, so be sure to stay hydrated and out of the sun as much as you can.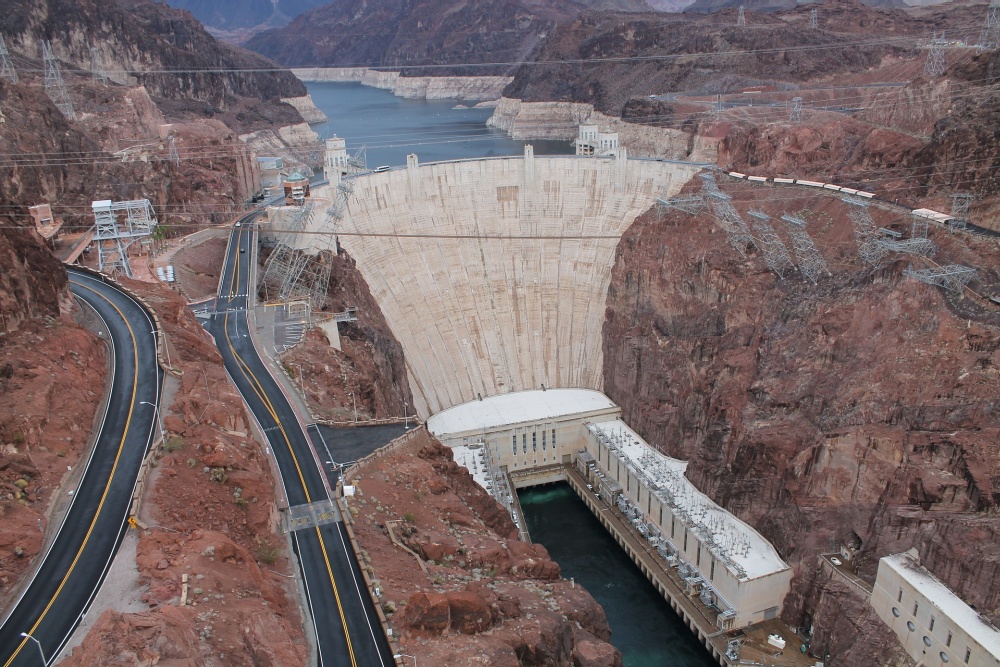 Visiting Hoover Dam From Las Vegas
Known as one of America's Seven Modern Civil Engineering Wonders, Hoover Dam is located about 30 miles southeast of Vegas on Highway 93. A self-guided 45-minute tour of the Visitor Center is available for $10.00 per person with children 3 and under for free. If you would like the guided tour, that is $30 per person.
The Power Plant Tour takes guests 530 feet underground for a 30 minute guided tour with a panoramic view where visitors can see eight of the dam's 17 generators. The Power Plant Tour is $15 for ages 17-61, $9 for seniors and kids 4-16. Children 3 and under are free.
The Dam Tour offers a guided tour of lesser-known areas of the dam, including tunnels, generators, and inspection points. The tour is $30.00 per person, and guests must be over 8 years of age. The Visitor Center is included in both the Power Plant and the Dam Tour.
Visiting Death Valley from Las Vegas
The drive to Death Valley from the Las Vegas Strip is about 130 miles, so in about 2 hours you could be at one of the the driest and hottest places on Earth. And why exactly would you want to do that? Well, Death Valley National Park is definitely a site to see! While you are here, be sure to visit Furnace Creek, Badwater and Zabriskie Point. You can also visit the eerie ghost town of Rhyolite, which was left vacant in after the Gold Rush.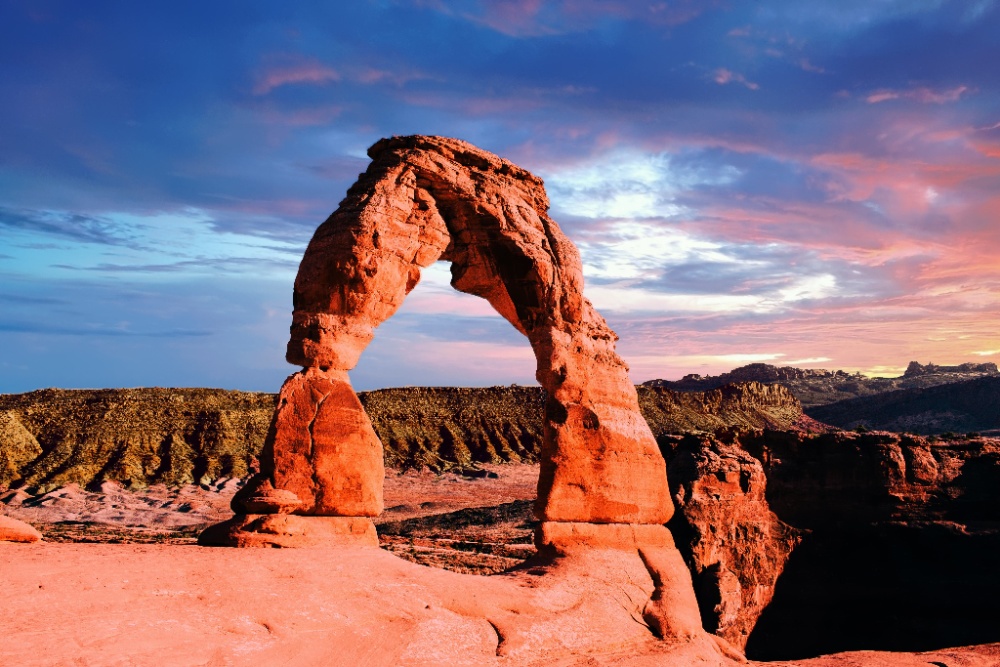 Grand Canyon Tours From Las Vegas
To visit one of the most awe-inspiring attractions in the West, consider taking a day trip to the Grand Canyon. Several tour companies in Las Vegas offer one-day tours. Bus tours usually start at $79 per person and include hotel pickup, a tour of the canyon, and complimentary lunch.
Airplane and helicopter tours are also available. In addition, there are combination tours such as an air and ATV tour, an air and cowboy ranch adventure, and an air and riverboat cruise. As some tours fill up quickly, it's best to make reservations in advance.
Drive to Laughlin, Nevada from Las Vegas
About 95 miles outside of Las Vegas is the peaceful town of Laughlin, Nevada. Located on the Colorado River, Laughlin is home to several casinos. Visitors can enjoy gambling, buffets, and entertainment, all at a relaxing, slower pace.
In addition, there are plenty of water activities to choose from, including jet-skiing, water skiing, and boating. Travelers can also take a scenic cruise along the Colorado River. Don't forget to take advantage of the free train ride offered by the Tropicana Express Hotel Sat.-Wed., from 10:00 a.m. – 5:00 p.m.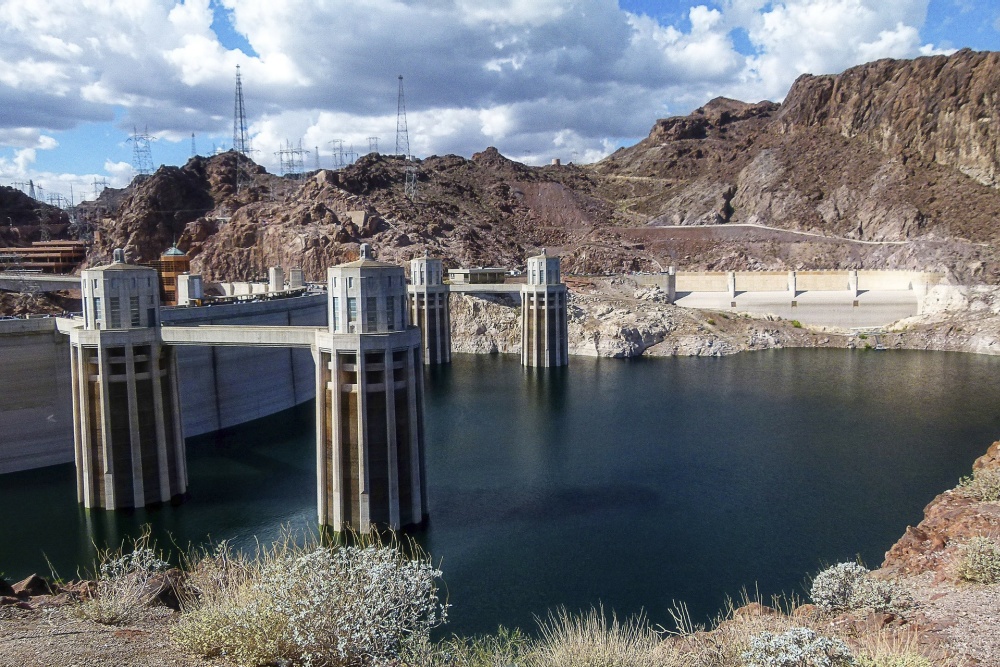 Day Trip To Lake Mead from Las Vegas
Located by Hoover Dam is the beautiful Lake Mead. Here, visitors can go fishing, kayaking, boating, and water skiing. In addition, there are great trails for hiking and bike riding. The National Park Service even offers guided hikes during the fall and winter.
For some real relaxation, consider taking a cruise around the lake. Lake Mead Cruises offers year-round sightseeing cruises for $24.00 per adult and $12 per child. Brunch and dinner cruises are available from April 1 to October 31. Entrance to Lake Mead is $5 per vehicle.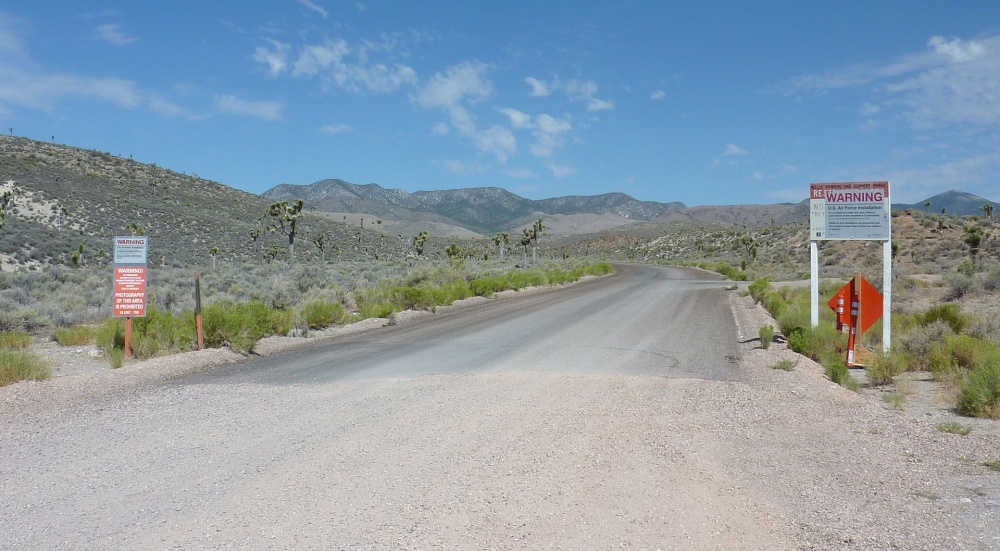 Visiting Area 51 From Las Vegas
About 82 miles outside of Las Vegas is the world's most secretive military facility. Area 51 is one of the most mysterious places in the world. It's a must-see for all of the conspiracy theorists and military enthusiasts out there. My dad had to make the stop here for pictures when he drove through!
Las Vegas offers exciting and entertaining things to do throughout the year. Whether staying in Vegas or enjoying one of the many day trips from Las Vegas available, there's always something to keep everyone happy when traveling to the Las Vegas area.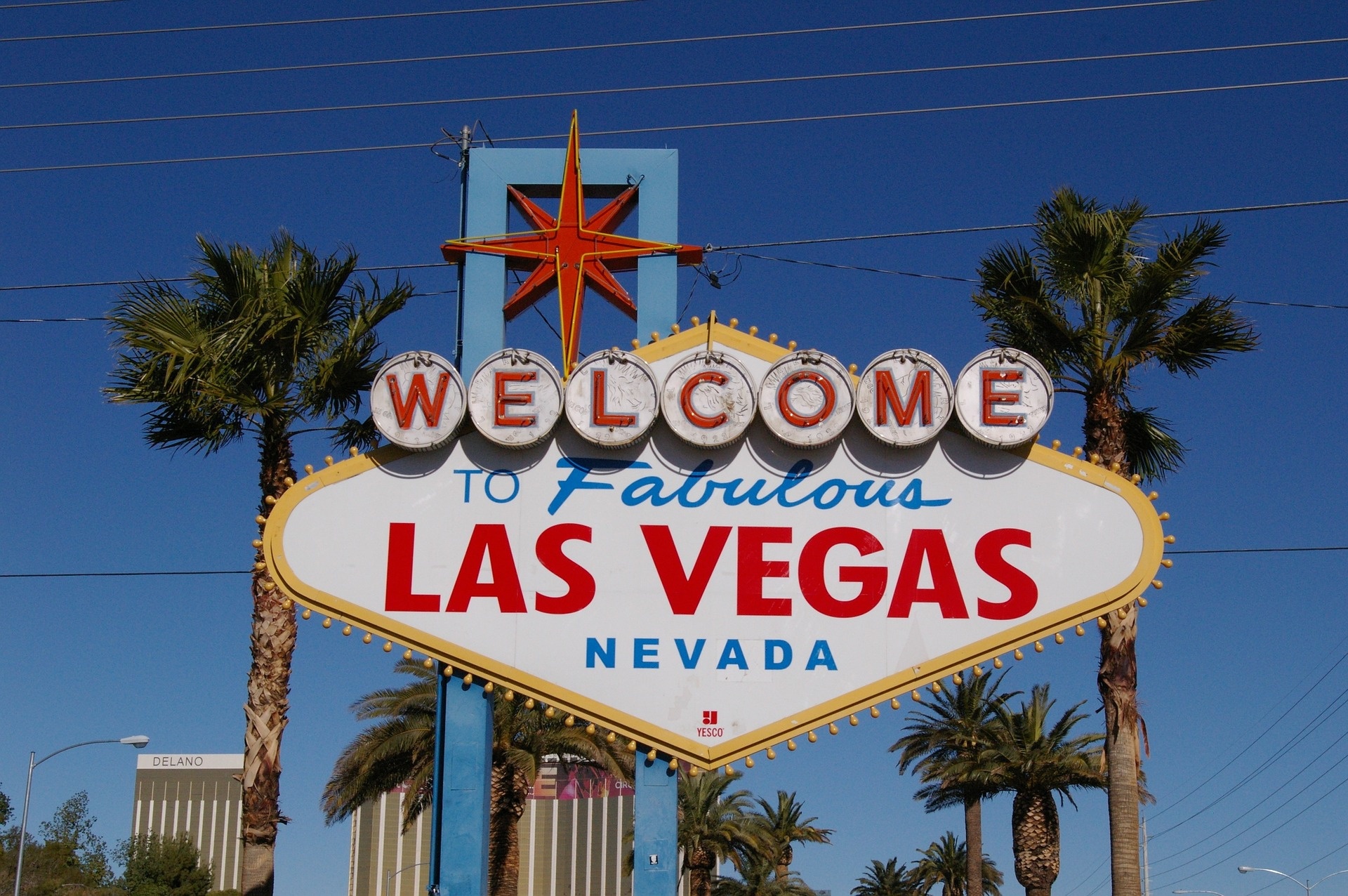 My husband and I like to visit Las Vegas once every few years and to be honest, there is only so many shows and gambling I can handle before I need a day trip to something a bit less WOW. If you a bit more time on your vacation, my favorite stop after visiting Vegas is Napa. The flight from Las Vegas to the Napa area is only about 1.5 hours and you will feel like you are in a whole new world! Leave the gambling behind you and relax with a glass (or two or ten) or wine and enjoy the vineyards.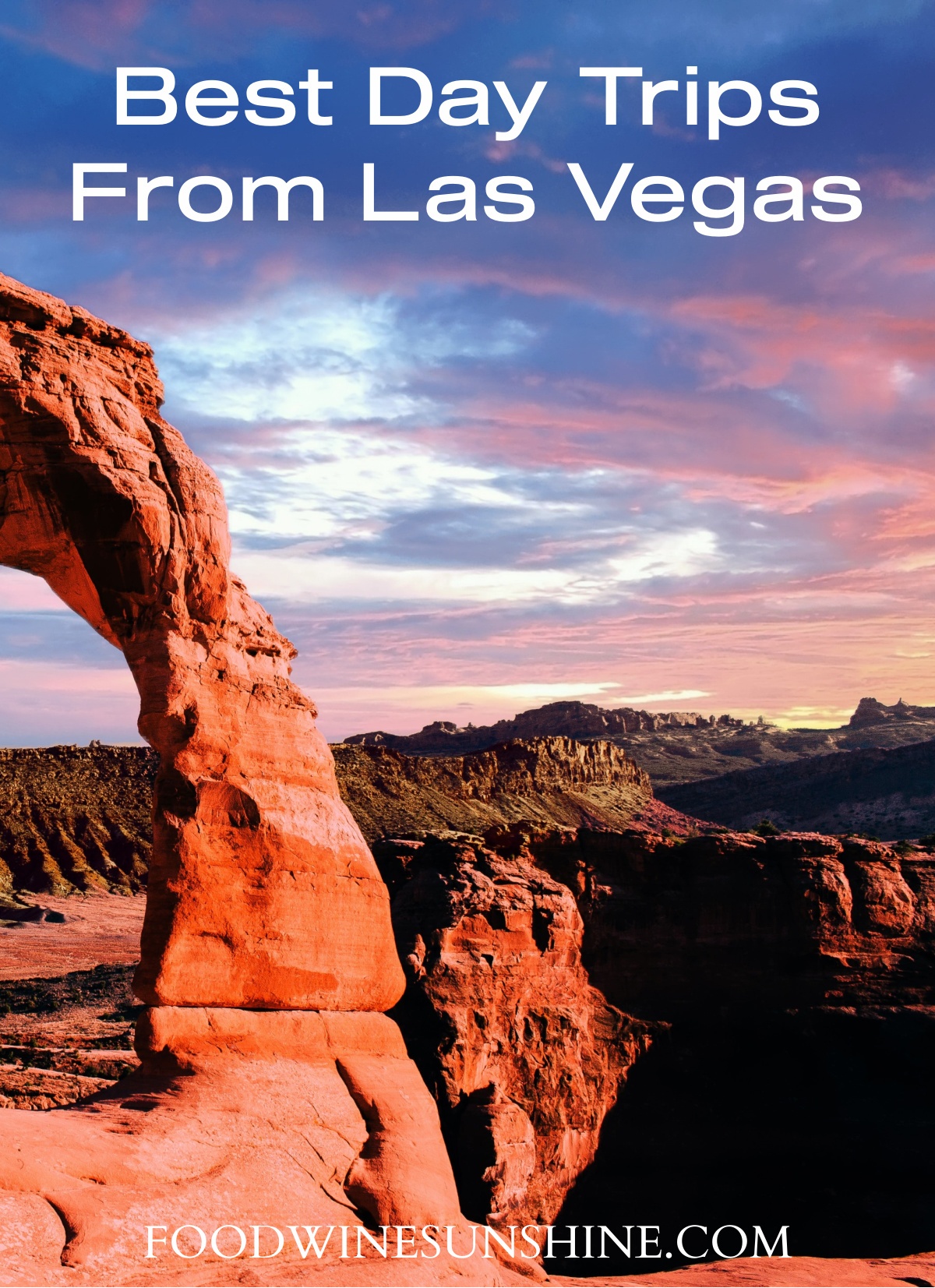 What is one of your favorite day trips from Las Vegas? Or do you prefer to stay in town the whole time when you vacation in Vegas?
Be sure to check out Food Wine Sunshine on Facebook, Twitter, Pinterest, and Instagram for travel tips, things to do, healthy recipes, and more.