(Last Updated On: March 20, 2022)
These Easy DIY American Flag Mason Jars are perfect for your summer – and everyday decor! Fill these spray-painted American Flag Mason Jars with flowers or even fake sparklers for an extra pop of fun.

American Flag Mason Jars
Mason Jars make for such fun crafts. There are so many things you can do with them, even if you aren't that crafty. Like me! However, I can grab some spray paint and get my hands a bit dirty and create adorable Mason Jars 🙂 And if I can, you can.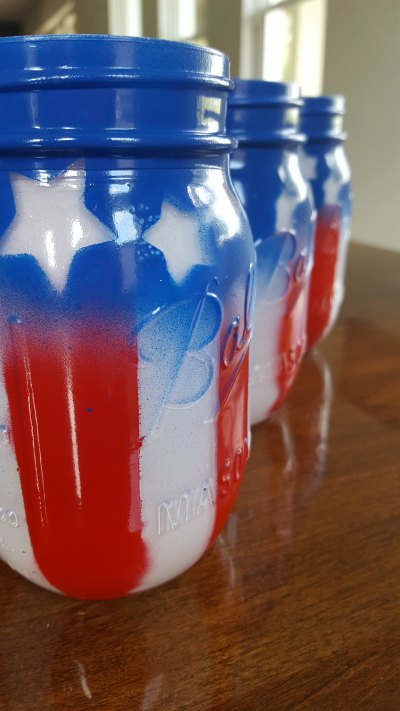 Memorial Day is quickly approaching and then we have 4th of July, then Labor Day! So, our next couple holidays proudly honor the amazing country of which we live in, the USA. So, how fitting that my next Mason Jar creation be the American Flag! I will admit, I was a bit nervous about the stars and stripes, using 3 colors and making it all work…and easily. Because I always want my creations and crafts to be something that anyone can do. And, I think they turned out great! The beautiful thing about mason jars, is that they almost always look awesome. And they definitely don't have to be "perfect".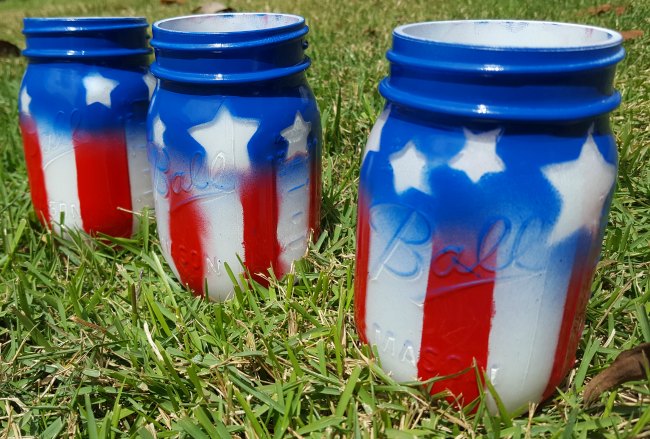 Here's your Step-by-Step Tutorial on how to make your own American Flag.
What You Need For Your Patriotic Decor Mason Jars: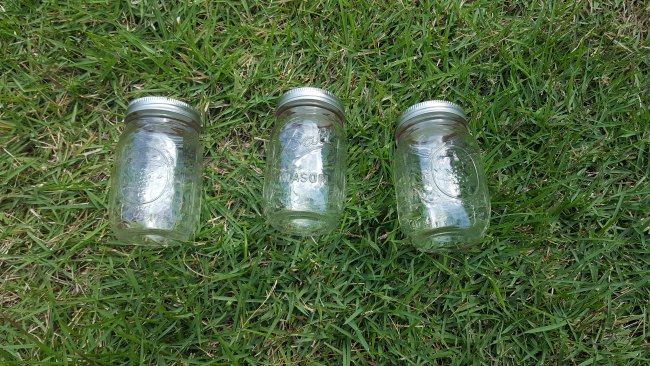 Mason Jars – You can buy them on Amazon or at most retailers
Spray Paint – Red, white and blue! You can buy them on Amazon or at most retailers. I used Rust-Oleum spray paint. I have used both semi-gloss and gloss.
Foam Star Stickers – Various Sizes are fine. I grabbed mine for just under $2 at Walmart.
What You Do to make your American Flag Mason Jars:
1. Take the lids off the jars
2. Place the jar on something you don't mind getting paint on…I placed mine on cardboard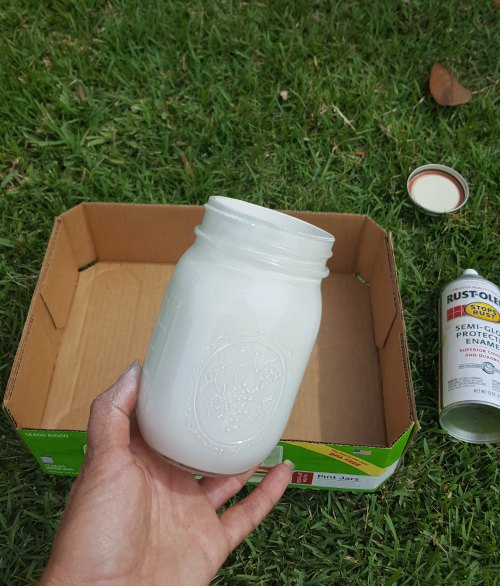 3. Spray the inside of jar(s) white. Spraying the inside of the jar gives the Stars a bit of a 3D effect – love it!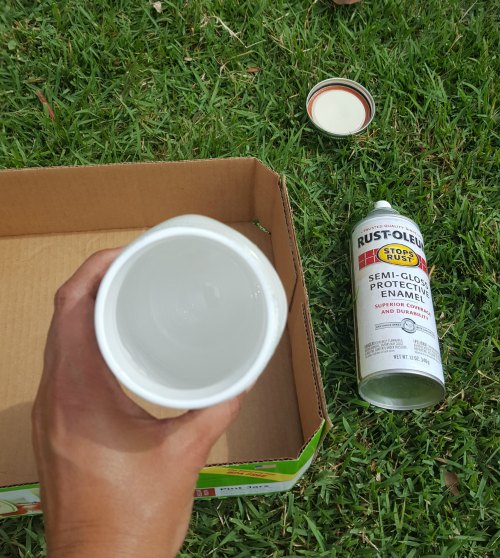 4. Allow the jar(s) to dry for at least an hour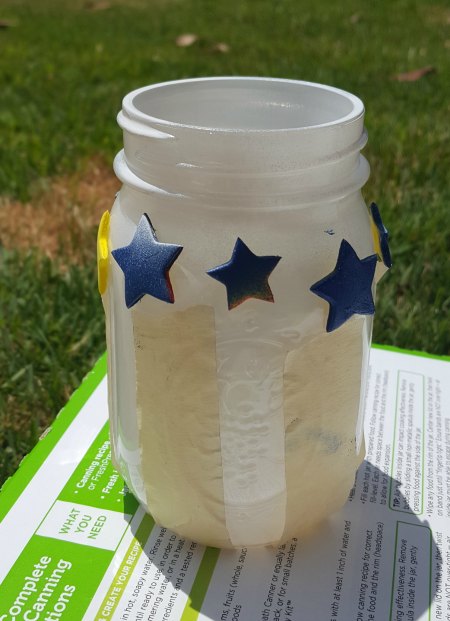 5. Use painters tape or masking tape to make stripes on your jars
6. Place star foam stickers near the top of the jar – use as many or as little as you would like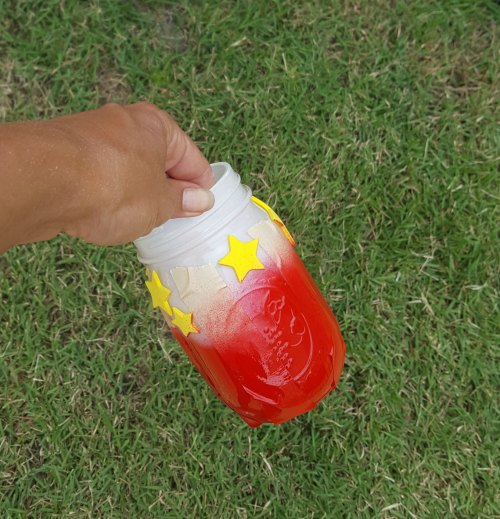 7. Using the red spray paint, spray the bottom 3/4 of the jar. It's okay if you go a bit over, as the blue you will use next will cover it.
8. Peel off the tape – I peeled mine off about 5 – 10 minutes after painting the red on
9. Allow the jar to dry for at least an hour so that you can hold the red part in order to paint the blue, or place your hand in the jar so that you can rotate it while painting it blue. *You can easily clean your hands with Mineral Spirits or Epsom Salt with Coconut Oil if you end up not wearing gloves
9. Spray the top 1/4 of the jar with the blue
10. Allow the jars to dry for at least 5 – 10 mins before peeling off the foam star stickers
11. Allow jars to dry completely before displaying them in your home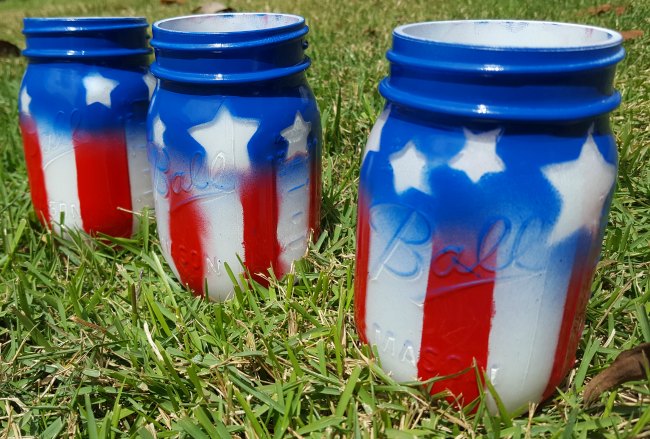 12. Fill with flowers, pretend sparklers or nothing at all!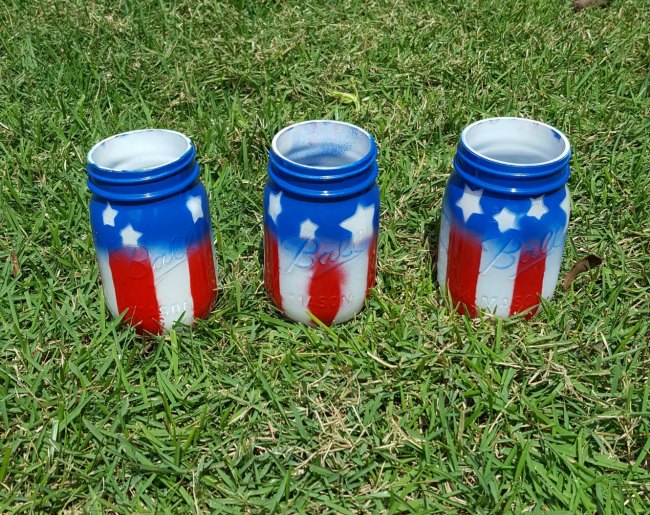 13. Enjoy your American Flag Mason Jars!
**You can also put the tape and stars on before spraying your jars white, I did that for the 2nd one and I did reuse my star stickers – the results were the same**
Need some supplies for your mason jar crafts?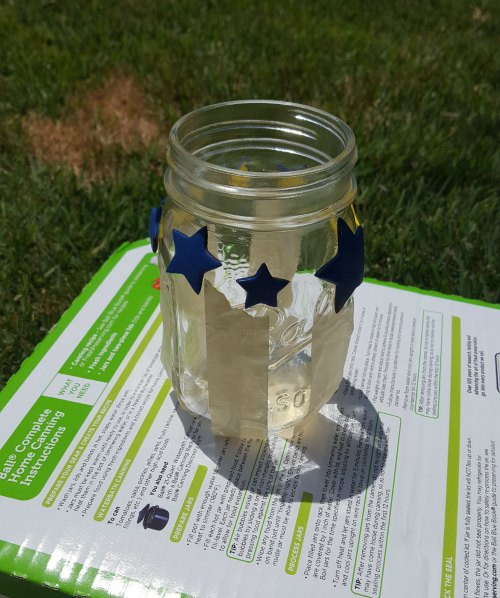 If you like Mason Jars, you may also like: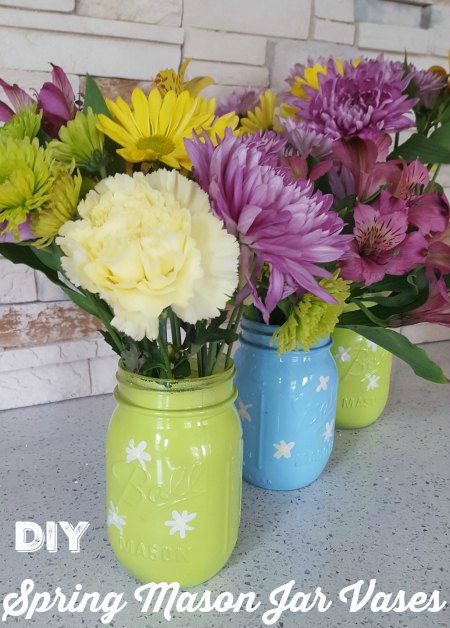 Be sure to check out Food Wine Sunshine on Facebook, Twitter, Pinterest, and Instagram for more DIY, healthy recipes, and more.