(Last Updated On: August 28, 2019)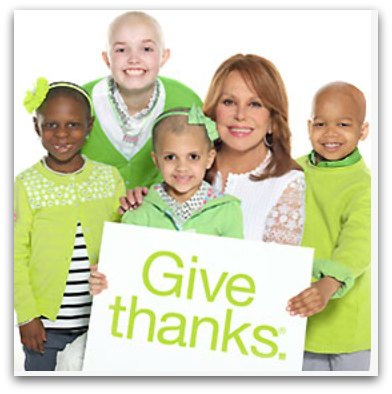 St. Jude Thanks and Giving Season – Help More Kids Live
It's officially November. I know many of you take this month to reflect on things that you are thankful for. I am bet that on all the top of all of your lists is FAMILY. I know I am thankful for mine.
Every night before I go to bed I thank God for the happiness and health of my family….of my kids.
I'm sure you do too.
I wanted to take just a moment to remind you that there are families and children out there that are in need of your support. The families and children at St. Jude Children's Research Hospital.
Did you know that it costs $2 million a day for St. Jude to provide the lifesaving care needed for children battling cancer and other life-threatening diseases?
$2 million a day
But, thanks to donations from people like us, families never receive a bill from St. Jude for anything — not for treatment, travel, housing or food — because they believe all a family should worry about is helping their child live.
Treatments invented at St. Jude have helped push the overall childhood cancer survival rate from 20% to 80% since it opened more than 50 years ago. And thry're working to drive the overall survival rate for childhood cancer to 90% by the next decade. They won't stop until no child dies from cancer.
All a family should worry about is helping their child live
I hope this holiday season you will open your hearts, and look for the St. Jude logo everywhere when you shop. I know I do! When that cashier asks you "Would you like to donate to St. Jude this holiday season?" when you are checking out…I hope you consider the answer "Yes."
Read more about the St. Jude Thanks and Giving Season
What are you thankful for this holiday season?