(Last Updated On: June 25, 2019)
While you are enjoying all the gatherings and parties this holiday season be sure to bring the perfect hostess gift! Read on to make sure you have the right gift for the host and hostess. While this post is sponsored, all opinions are 100% my own.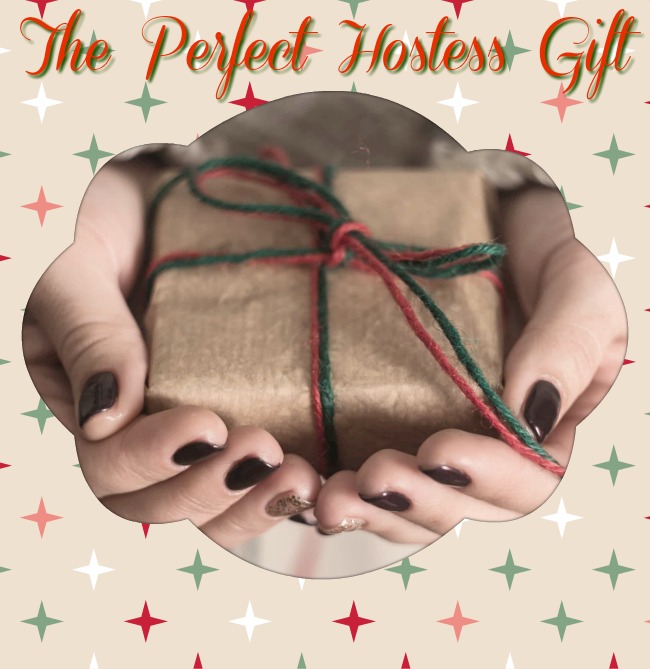 The Perfect Hostess Gift
The holidays are filled with having parties and gatherings with family and friends. It's the perfect time of the year to be social, have fun, relax and spend time with those that maybe you haven't seen in awhile. And while visiting others is always a great time for you, it's a lot of work for the host and hostess.
The host and hostess of a party will spend the day, if not days…preparing for the festive fun! There is cleaning the house, decorating, planning the menu, getting out invitations, selecting music, deciding if there will be games, planning something fun for the kids to do, and so much more! And don't forget about the clean-up after the party! Even if they get help with the dishes, there is still a house that has to get put back to normal. I love being the hostess, I love having people at the house, I love the holidays, but I will openly admit that it is a lot of work! So, this holiday season as you go from house to house enjoying all the festive fun don't forget the hostess gift!
But what to give the hostess with the mostess? My go to is usually wine, well, because I like wine 😉 But that doesn't mean I know what the hostess likes, what if they don't like red wine? What if they don't like wine at all? Chocolates are usually an easy option as well, but think about it…does anyone really need any more sweets during the holidays? So, what is a gift that you know the host and hostess will use and want? A break. A night out. A gift card. Ah yes…so simple yet so appreciated. A gift card to a restaurant gives them a night away from the kitchen, a gas gift card gives them the freedom to go where ever they want whenever they want!
Not only will the hostess appreciate the gift card, you will too! When you shop at Winn-Dixie this Thanksgiving and Black Friday (November 22nd and November 23rd) you will earn major BONUS POINTS on qualifying gift cards! Those bonus points equate to huge savings for YOU! So, it's a win-win situation, you give the gift that the host and hostess really want and you get the bonus points. For example, when I earned 1,000 points on my gift card purchase I can use that for $10 off my next grocery purchase!
Here's the Winn-Dixie Bonus Points this Thanksgiving and Black Friday:
16x points on all qualifying gift cards
30x points on Shell gift cards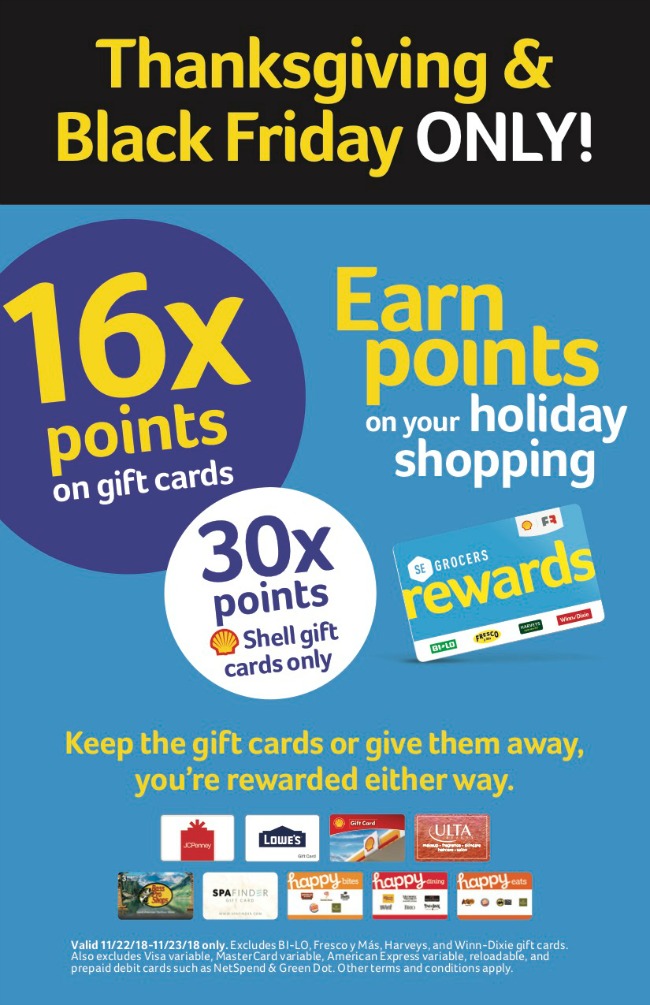 As a SE Grocers rewards member you have access to deals across the store, and earn points every time you shop! You must be registered to earn the points from the Holiday Gift Card promotion. When you register with SE Grocers rewards, you will be able to redeem your earned points. You also get "Instant Gold Status" at Shell which saves 5¢/gal off every fill at participating Shell stations, NO points required! (limit 20 gallons). So, be sure to grab some gas cards for you too – it's like a double savings! You earn the 30x points on Shell gift cards AND you get 5¢/gal off every fill at participating Shell stations!
To get all your bonus points at Winn-Dixie, you must be a registered SE Grocers. It's super easy to sign up, in fact, you can be done in just a few minutes. Sign up in store or online using the following link: www.segrewards.com to earn points. To be able to redeem points, you must finish registration, which can be done online OR by calling customer service at 1-844-745-0463.
Happy Holidays! Don't forget to grab the perfect host hostess gift at Winn-Dixie!
Follow Winn-Dixie on Facebook, Twitter, Pinterest, and Instagram for more recipes, savings, and more.
on Food Wine Sunshine and follow me on Facebook, Twitter, Pinterest, Google + and Instagram.