(Last Updated On: February 7, 2023)
These No Bake Peanut Butter Oatmeal Protein Bars are prepped in under 10 minutes, low sugar and delicious! These no bake protein bars are an excellent on-the-go breakfast idea and protein-packed after school snack. While this post is sponsored by Florida Dairy Farmers, all opinions and the recipe are my own.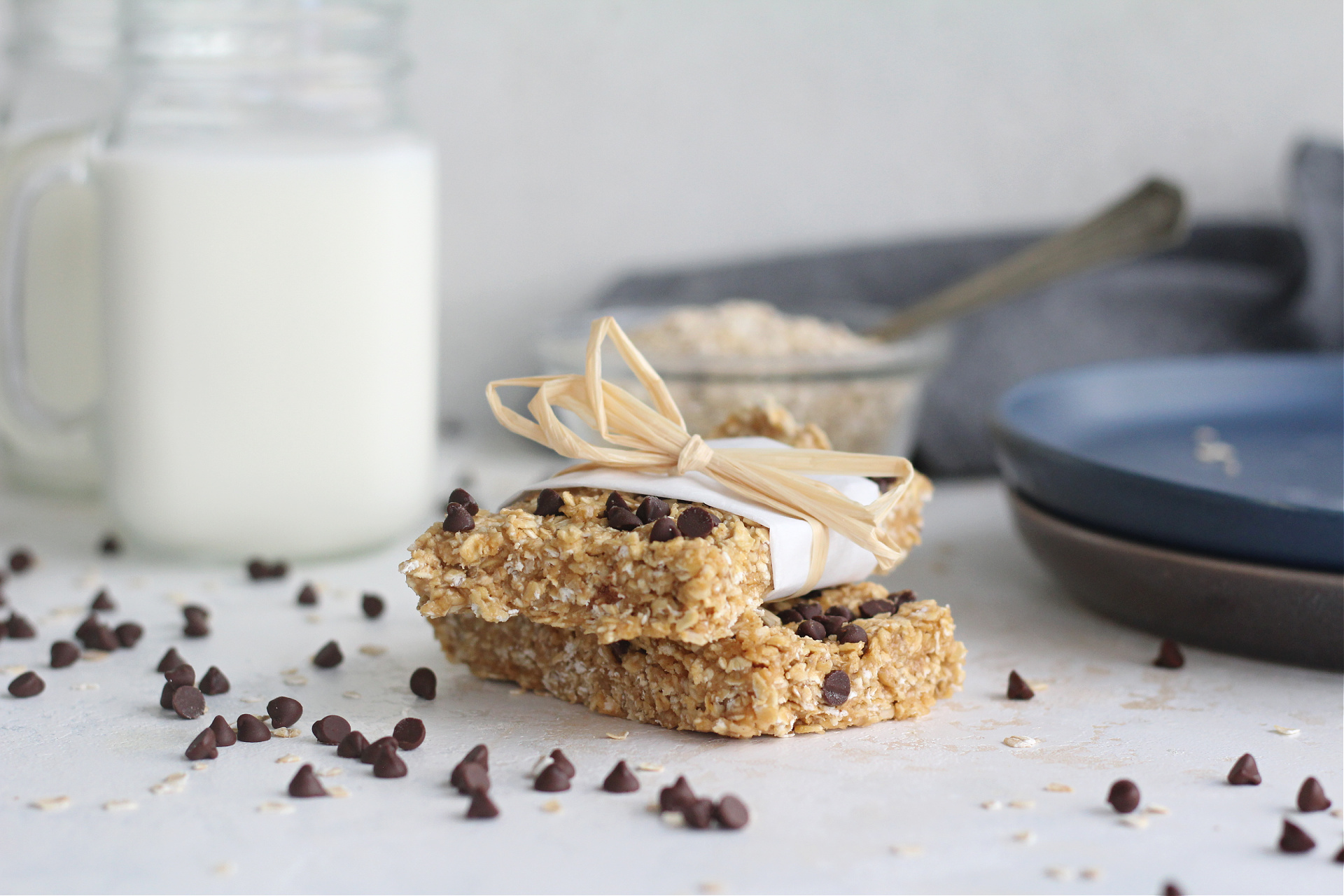 No Bake Peanut Butter Chocolate Chip Oatmeal Protein Bars
So, the kids went back to school this week. They started on Wednesday. My alarm went off at 5:41 AM and I went into my daughter's room and gave her a kiss on the forehead to wake her up. I went downstairs, started the coffee and chatted with my dad (my parents are in town visiting for a week), then we watched TV with my son for a few minutes and quietly sipped our coffee until about 7:00 AM. I then got dressed and went for a walk with one of my best friend's, we stretched, did push-ups even, came home and got on with my day. It was a great day!
Then Thursday happened. When my alarm went off I wanted to throw my phone.
Then Friday happened. I am not even sure how I am typing right now…I am so tired I really can't even feel my fingers. Holy smokes.
This back to school stuff is HARD. Now, don't get me wrong, I love the schedule of it all, but getting back into this routine is ROUGH.
Dinner plans??? What? I haven't made a planned out dinner in over a month!
Breakfast?? Oh no, definitely haven't done that in awhile.
Snacks? Are you kidding me?? Nope.
If I'm tired, I know the kids are too.
And when they get home from school, they are starving. Especially my daughter, who after school runs 4-7 miles…yes, I said MILES….with her cross country team.
Oh, actually my son is now home BEFORE lunch now, so when he walks in the house, he is looking for something to eat too.
THE PRESSURE!
Yes, I know they are perfectly capable for finding something to eat on their own. Yes, I know they are perfectly capable of making something on their own. Yes, I know if they are hungry enough they will figure it out.
But, I'm their mom. My son is a senior this year, and in less than a year he will be off at college (I can't talk about that right now though, it makes me cry) so I have a limited amount of days left to make that after-school snack for him. Plan that dinner. Grab him breakfast.
So, I will.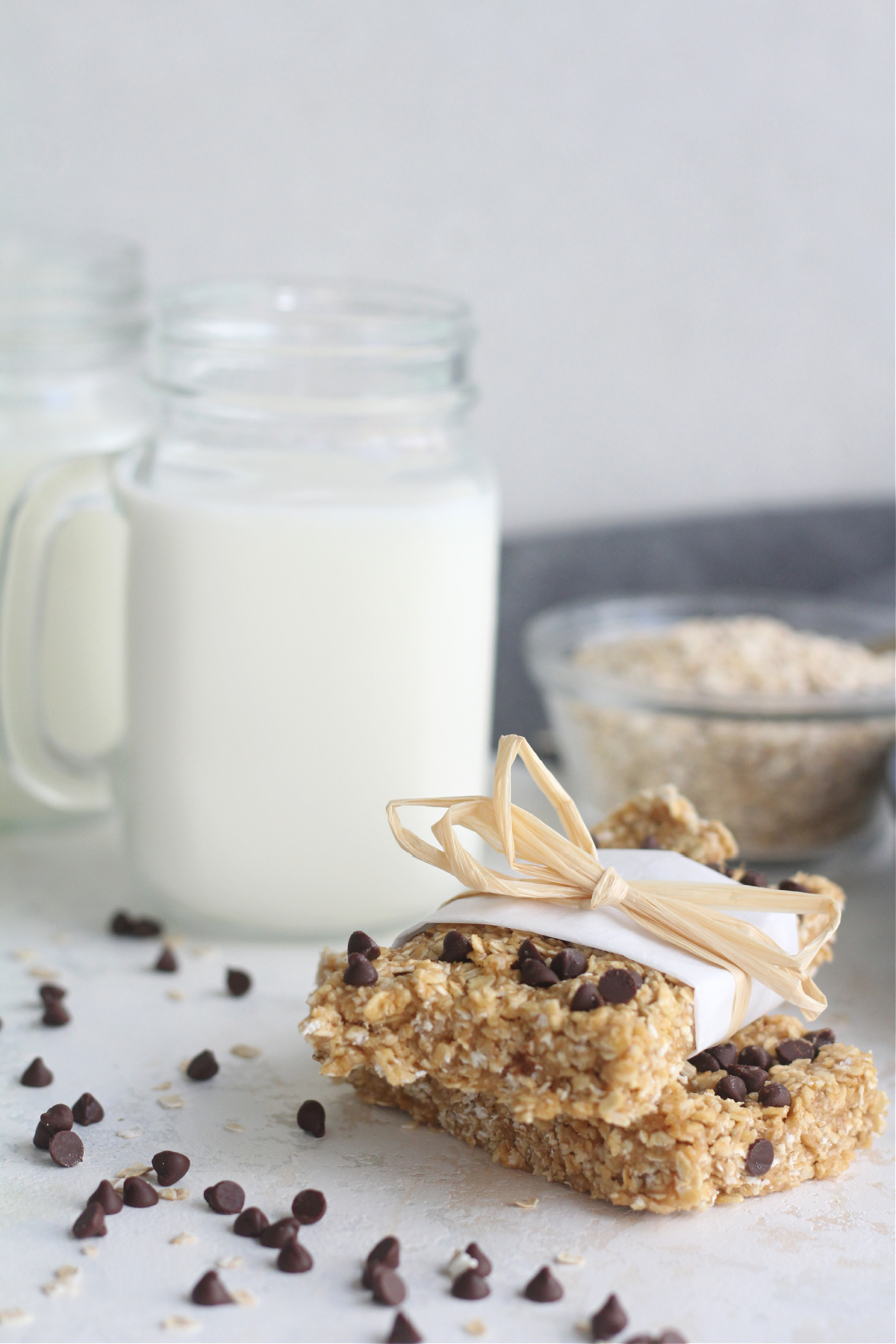 However, it's still gotta be easy 😉 You all know me well enough to know that I'm not getting crazy….So, easy, healthy and yummy. Yep, that's exactly what I made this week for them. An easy, protein-filled snack that they both love (and me) that I feel good about then grabbing to eat before I figure out what the heck we're having for dinner.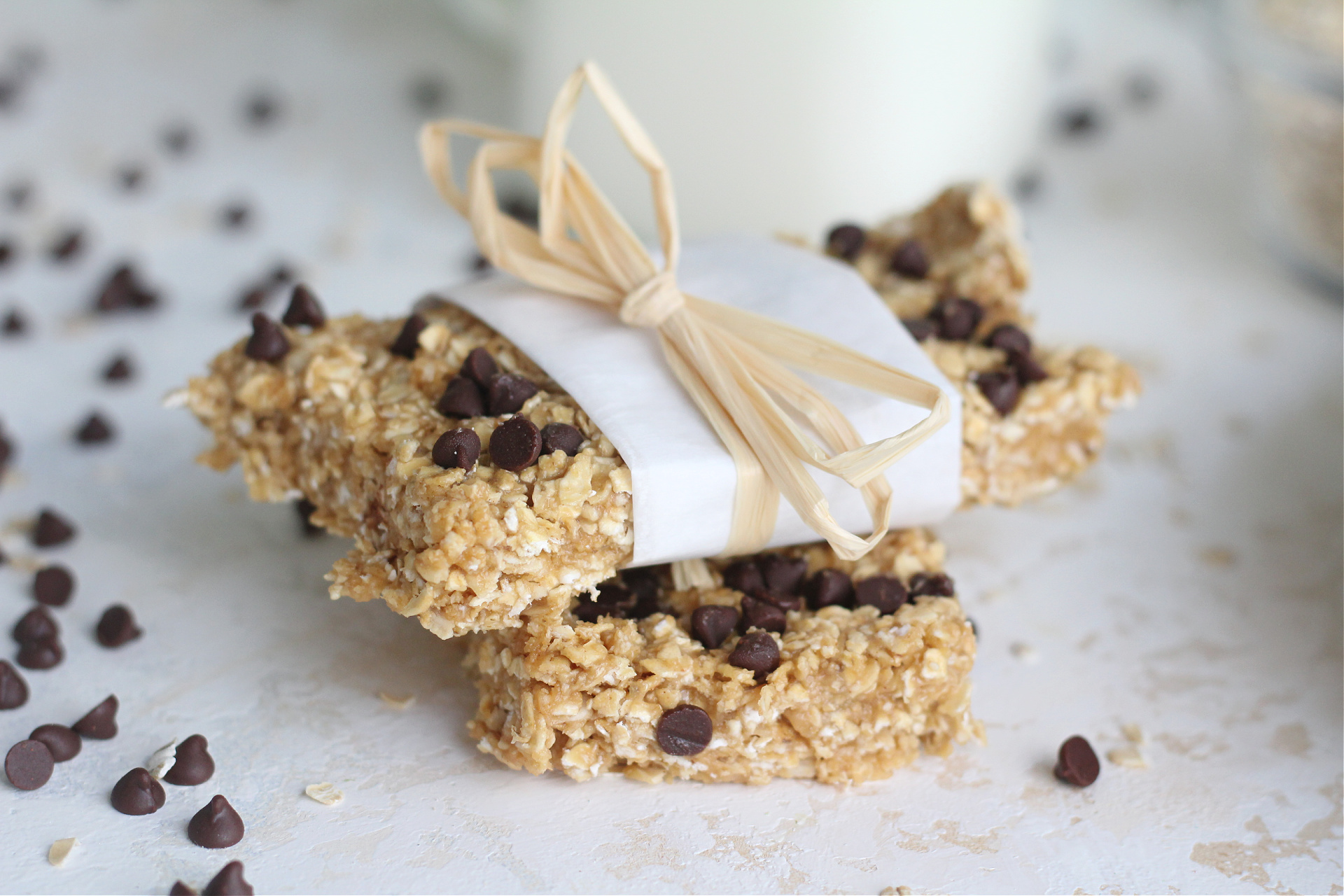 No Bake Peanut Butter Chocolate Chip Oatmeal Protein Bars.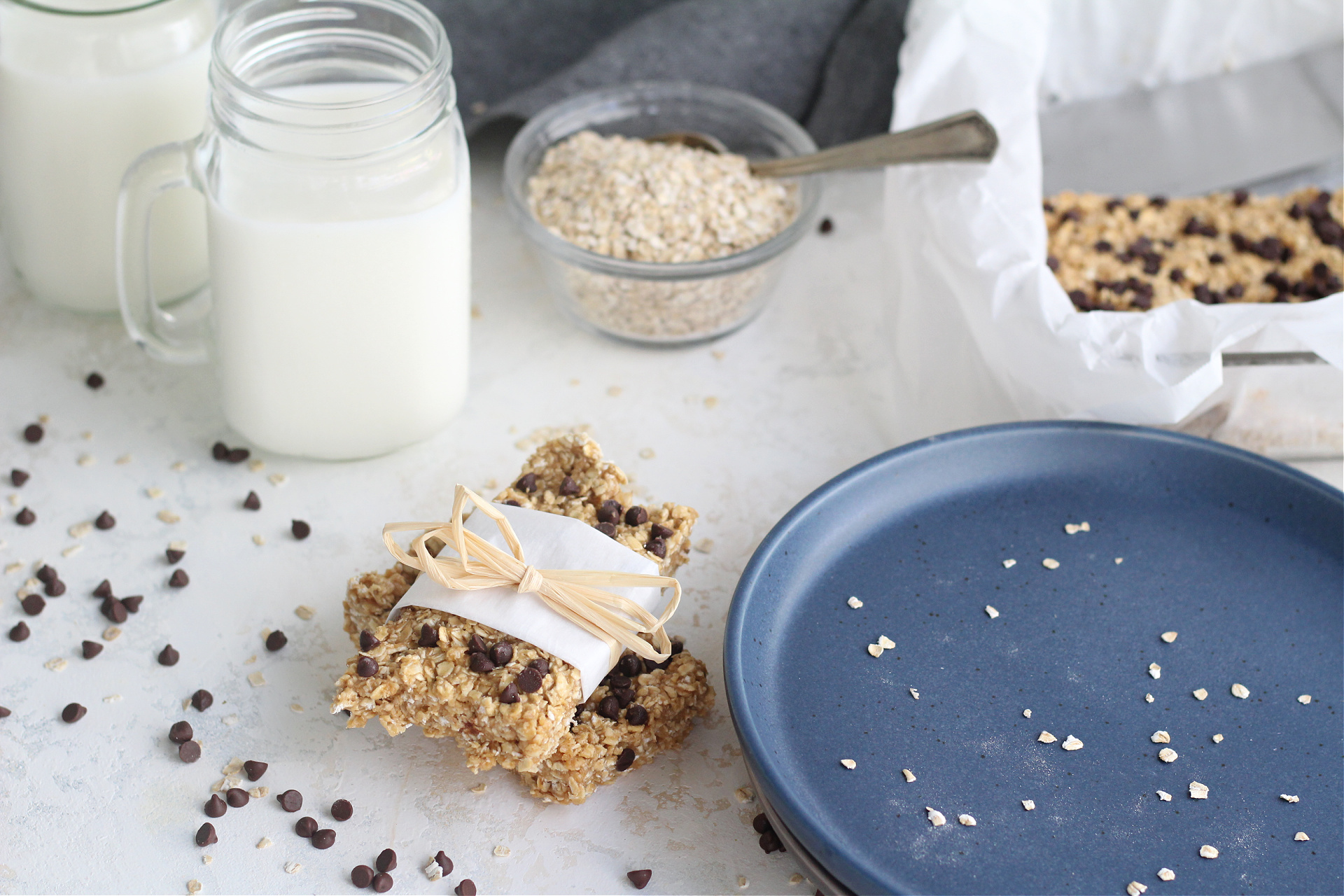 They have only 6 ingredients, are NO BAKE, and are prepped in just minutes.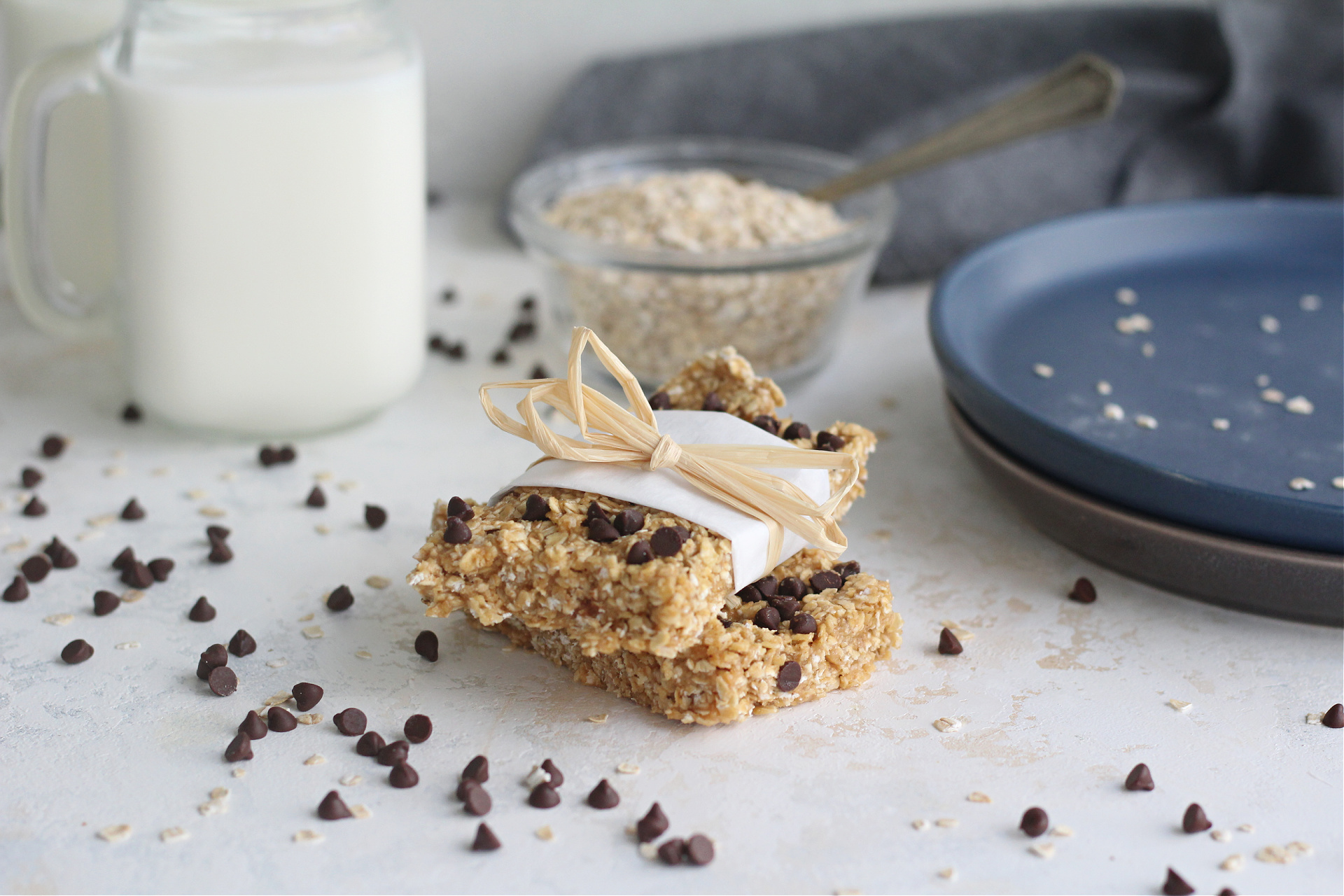 Peanut Butter Protein Bars Key Ingredients
Oats
Protein Powder
Peanut Butter
Florida Milk
Honey
Chocolate Chips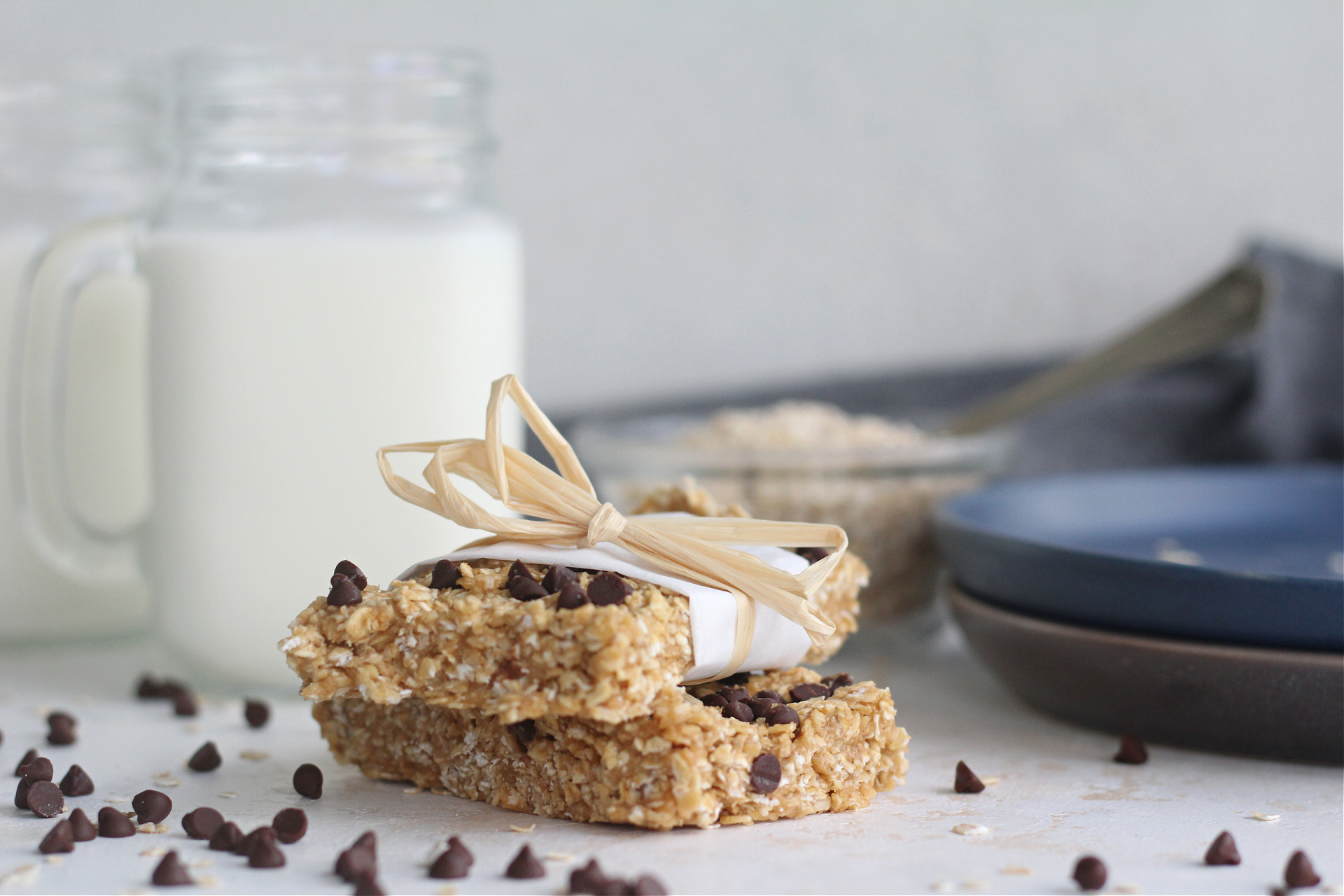 Easy Peanut Butter Protein Bars Substitutions
Gluten Free Oats
Sunbutter
Leave out the chocolate chips if you want! They are a delicious addition, but not required.
Dried fruit
Maple syrup or agave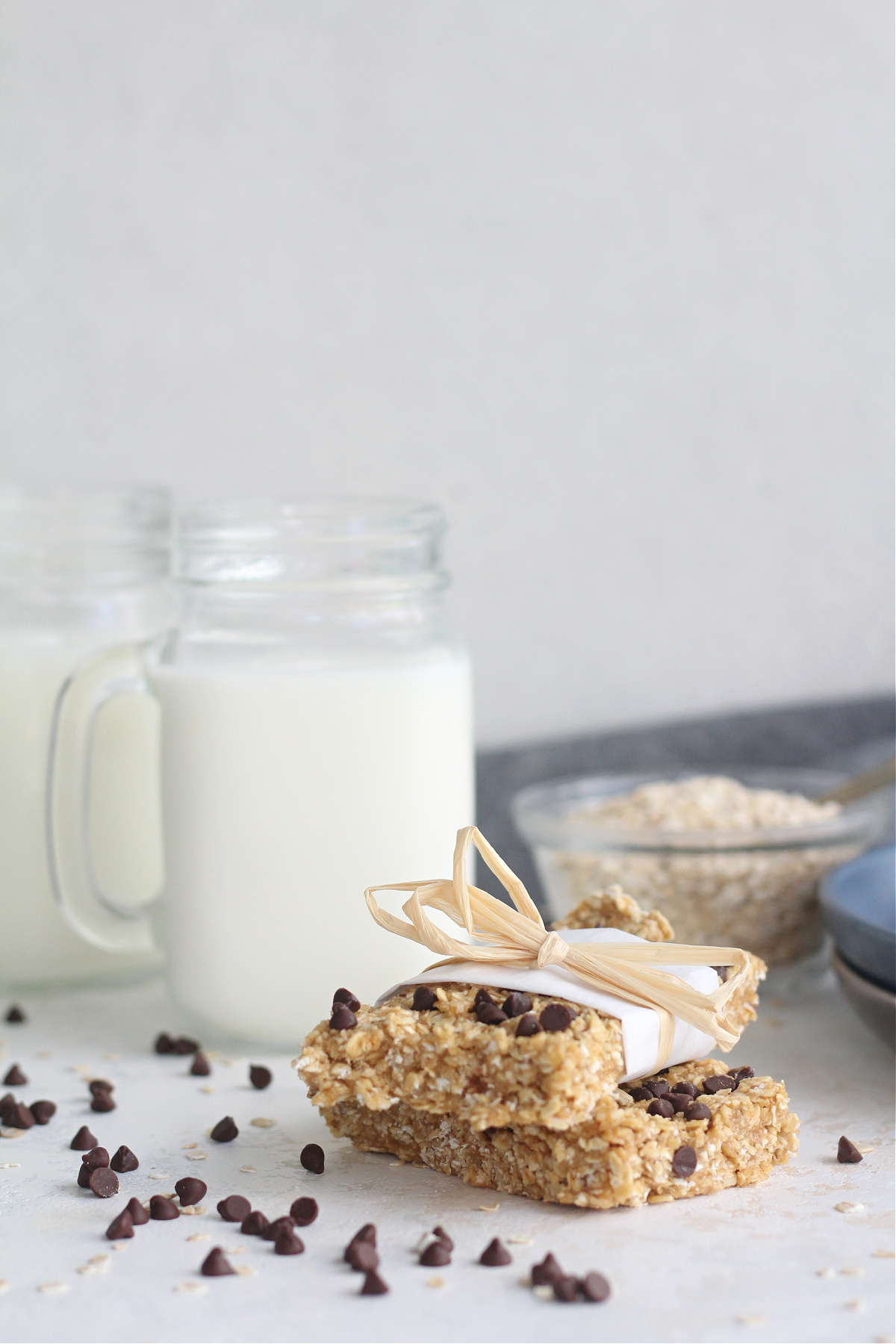 How long are these yummy Peanut Butter Oatmeal Protein Bars good for?
They will be good in the refrigerator for about a week and in the freezer for up to 3 months.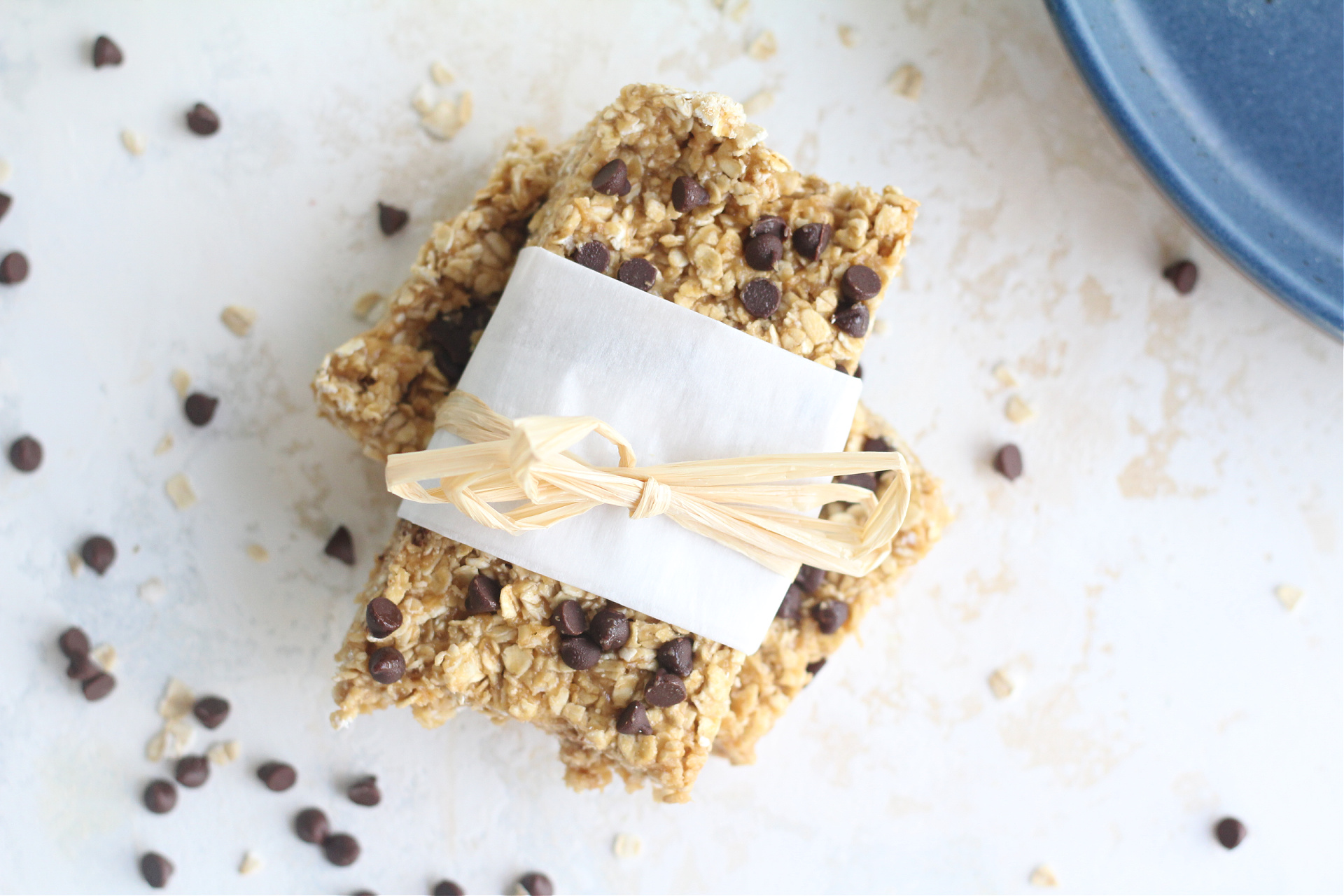 These protein packed bars are low sugar, soft, chewy, and the kids and I love them. I make a batch, cut em up, and then have the individual servings ready to go in a small snack size ziploc bag or wrapped in saran wrap…whatever is easier at that moment. That way they are easy to find when the kids open the fridge and are STARVING. They grab a protein bar and the gallon of Florida Milk and I know they are having a healthy snack that refuels them after their day…or fuels them to help them get ready for what's next. Milk is the perfect beverage to serve with these, I mean…milk has nutrients too (lots of em!), plus what goes better with chocolate and peanut butter than milk?? Maybe red wine…maybe…but they aren't 21 yet 😉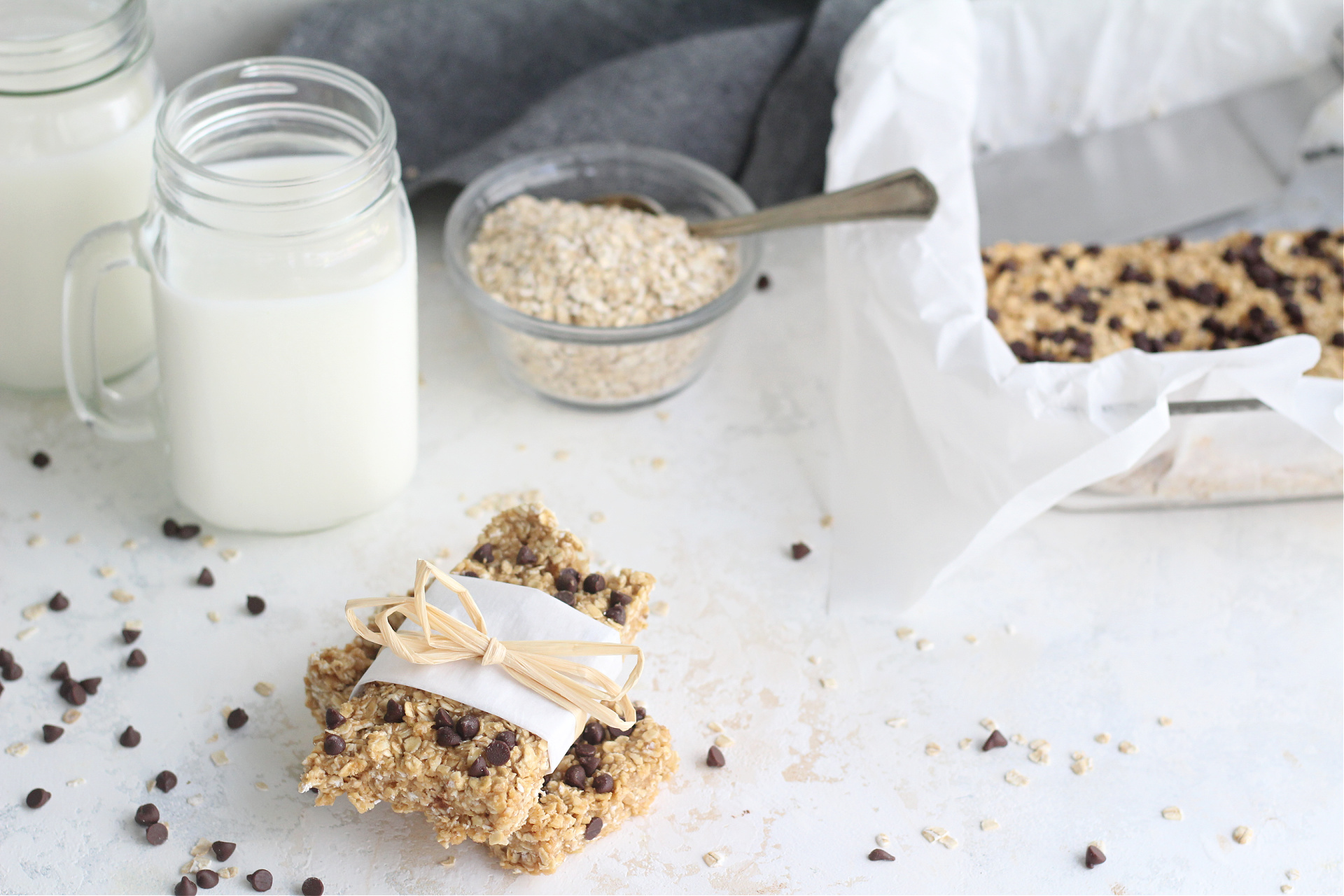 Alright, let's make some Peanut Butter Oatmeal Protein Bars shall we? No baking required!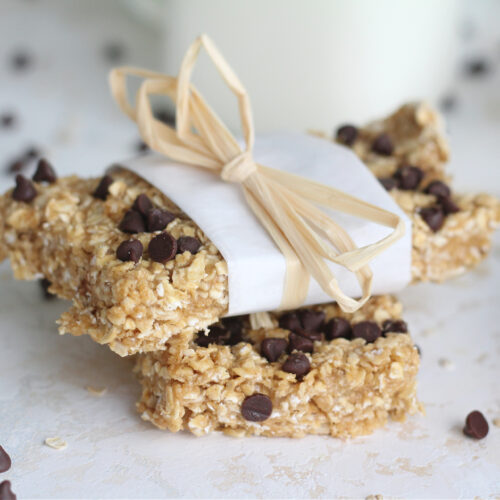 No Bake Peanut Butter Oatmeal Bars
Easy to make, low sugar and loaded with protein, these no bake protein bars are the perfect breakfast or after school snack.
Print
Pin
Rate
Ingredients
2

cups

quick oats

2

scoops

vanilla protein powder

½

cup

peanut butter

½

cup

Florida Milk – I used 2%

1

tbsp

honey

2

tbsp

mini chocolate chips if desired
Instructions
In a medium bowl, mix together the oats and protein powder.

Add the peanut butter, Florida milk, and honey.

Stir until well combined.

Line a 9-inch square baking pan with parchment paper and press the oatmeal mixture into the pan with a spatula or spoon until equally.

Sprinkle with mini chocolate chips, if desired, and use the spoon to gently press them into the oatmeal mixture.

Place the pan of oatmeal bars in the freezer for 30 minutes.

Remove from the freezer and cut into bars.

Place each bar in a little Ziploc bag or saran wrap and store in the fridge or freezer.

Serve with a glass of Florida Milk.
Notes
These no bake protein bars are good in the freezer for 3 months, so feel free to double or triple the recipe!
Nutrition
Calories:
233
kcal
|
Carbohydrates:
24
g
|
Protein:
12
g
|
Fat:
11
g
|
Saturated Fat:
3
g
|
Polyunsaturated Fat:
2
g
|
Monounsaturated Fat:
5
g
|
Trans Fat:
0.02
g
|
Cholesterol:
17
mg
|
Sodium:
99
mg
|
Potassium:
215
mg
|
Fiber:
3
g
|
Sugar:
8
g
|
Vitamin A:
23
IU
|
Vitamin C:
0.1
mg
|
Calcium:
78
mg
|
Iron:
1
mg
I hope you and your family like these No Bake Peanut Butter Oatmeal Protein Bars as much as we do!
Cheers to another school year my friends…we got this! We may be tired, we may get cranky, but we are in this together!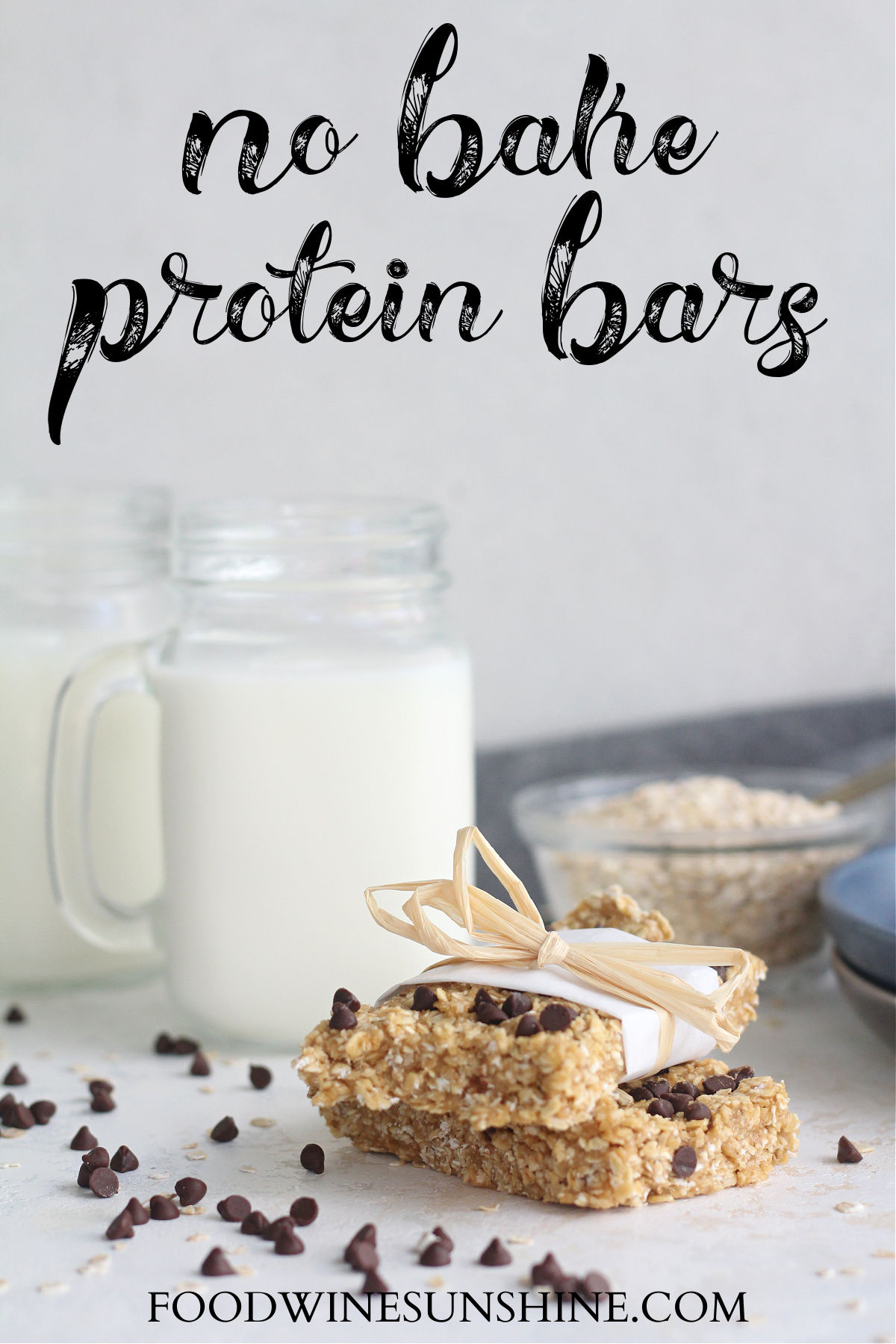 Be sure to check out Florida Milk for more dairy-licious recipes and follow on Instagram, Facebook and Pinterest.
And while you are at it, check out all the recipes on Food Wine Sunshine and follow on me Facebook, Twitter, Pinterest and Instagram for more FOOD WINE AND SUNSHINE.