(Last Updated On: July 11, 2019)
This shop has been compensated by Collective Bias, Inc. and its advertiser. All opinions are mine alone. #GameDayGlory #CollectiveBias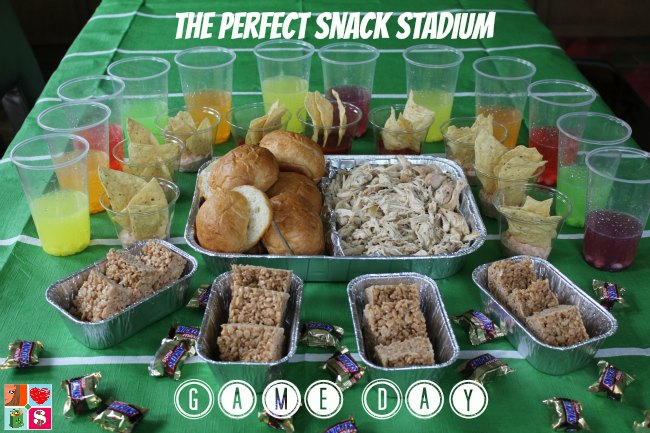 Make A Snack Stadium For Game Day
We are well into football season, in fact, there is a BIG GAME coming I hear! Will you be watching? I do enjoy watching some sports, but to be honest, I love the snacks, the time with friends, and the commercials the most! A good play is always better when it's celebrated with friends and food 🙂
We love having friends over and we are definitely planning some fun for the big game. If you are too, I thought I would share a great way to share your snacks and finger foods with everyone at your party. Have you heard of a Snack Stadium? I will honest, it was a term that I was not totally familiar with, so I googled the term. And I strongly suggest you doing the same! I was completely amazed by some of the creations that some folks did! We are talking HUGE "stadiums" made completely from snacks and foods for your party. WOW.
Now, I am all for being a bit creative in the kitchen and surprising your guests with delicious foods, and of course, themes are always fun. But, I am also one of those folks that likes to create things that YOU can then create at home too! So, as I was planning my Snack Stadium to share with you all, I wanted it to be fun, but also easy for you guys to recreate at home.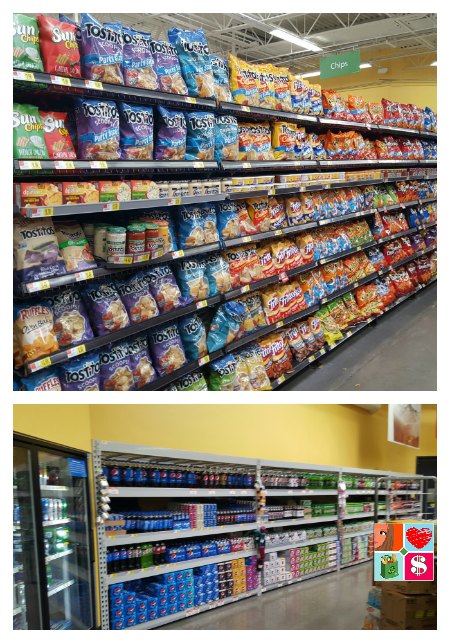 The most important part to a Snack Stadium is the…SNACKS. I went to Walmart (you can also check them out online) and got all my favorite snack foods and treats and I was on my way back home. A good party has an appetizer, a "meal" option, dessert, and drink.
For the appetizer, I mixed cream cheese and TOSTITOS® Medium Chunky Salsa for an easy dip.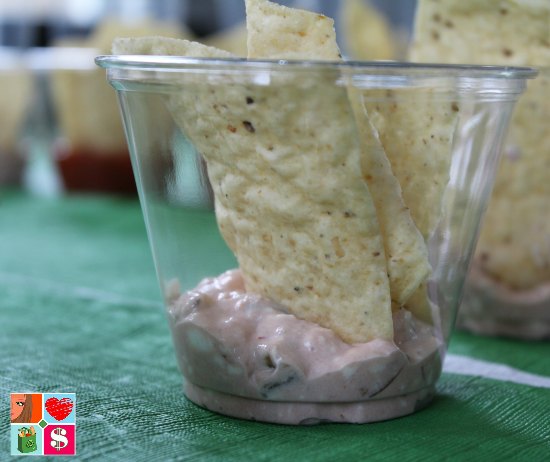 I put them in individual cups and stuck the TOSTITOS® CHIPS right in there so that folks could grab a cup and go…no need to worry about double dipping. The main meal was my favorite…and probably the easiest!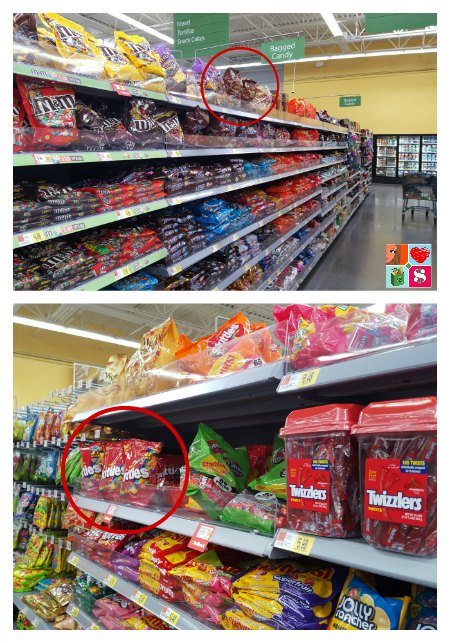 I grabbed a big bag SNICKERS® Minis 40oz. and decided to make SNICKERS® Rice Cereal treats for the dessert.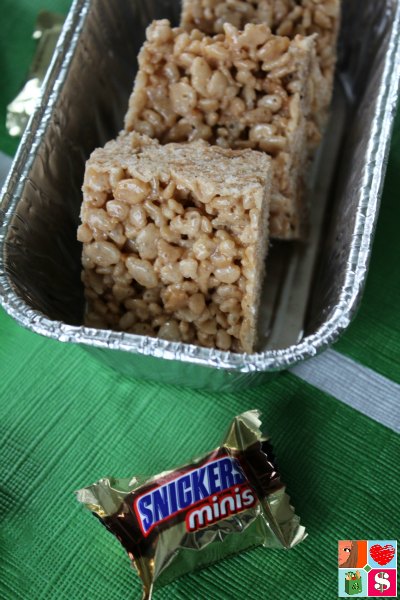 I grabbed the Skittles® XL 41 oz. and decided to make am easy and colorful punch for the drink.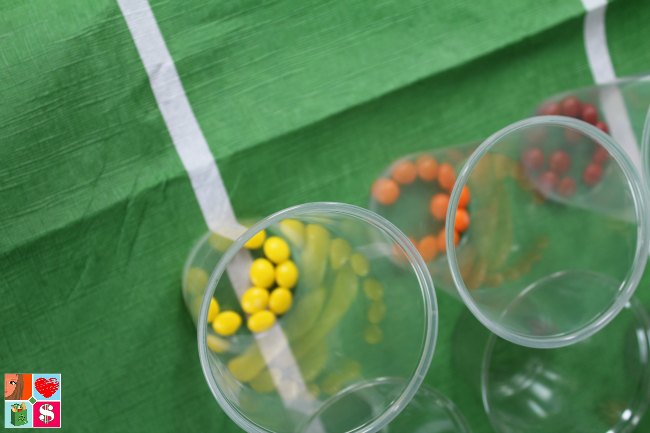 Plus, that left me lots of extras to put out for snacks as the party went on.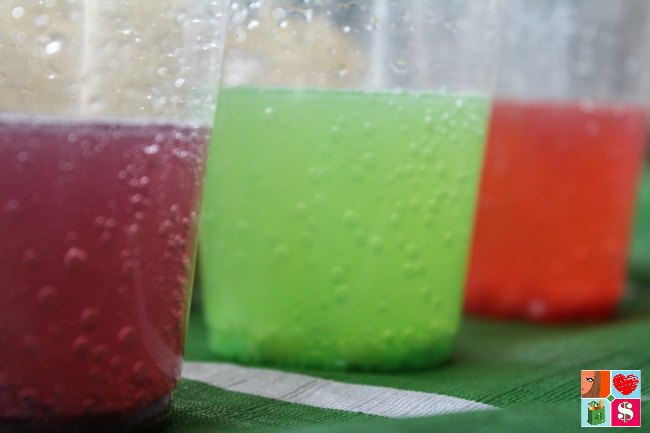 For the "main meal" I took chicken, 2 cans of Pepsi™ and a half of onion and tossed it in the crockpot. Right before the party, you shred the chicken and toss it back in the "juices" in the slow cooker so that it's nice and moist and you have Pepsi™ Shredded Chicken Sliders! So easy and so delicious! I'll be sure to share the recipe below, so be sure to grab it!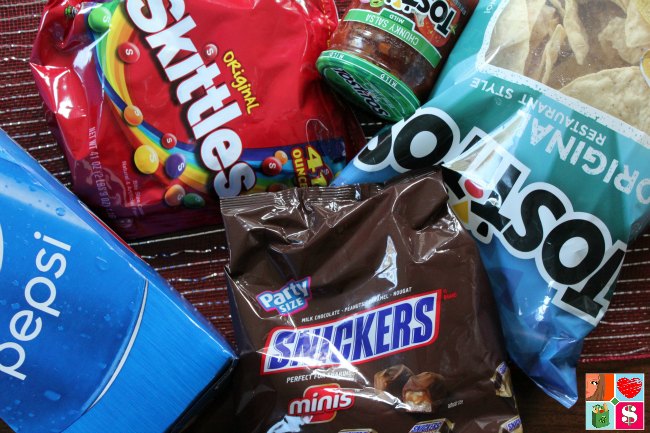 Now that all my components for food are in order, the organization of the Snack Stadium was next.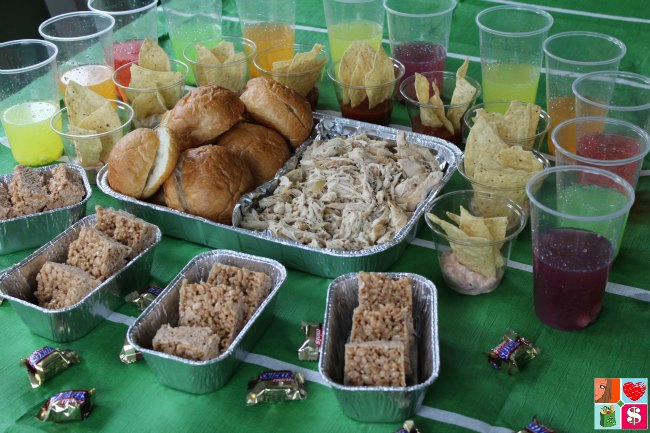 I placed the Pepsi™ Chicken and Rolls right there in the center, as they were the main focus.
Next came the TOSTITOS® and Cream Cheese Salsa dip, I used smaller clear cups for those.
Then the Skittles® Punch (lemon lime soda with Skittles® in it! I recommend separating out the colors like you see above) was in the bigger cup.
Up front is the SNICKERS® Treats. Dessert should be last 😉 To make the SNICKERS® Treats you just add about 20 SNICKERS® Minis to the marshmallow melting part of the process, they melt in and taste AMAZING. Plus, your treats end up a light brown color…kinda like a football 😉
The different heights give you that stadium feel, and it also makes it easy for grabbing your favorite foods.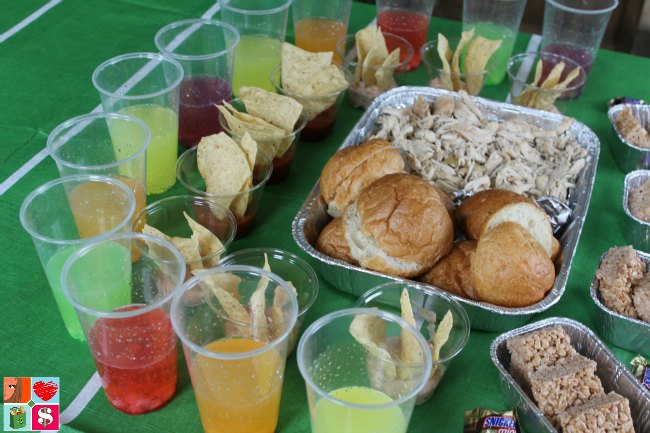 I did grab a tablecloth while I was at Walmart (for under $2!) All in all, our Snack Stadium was a hit!
As I mentioned above, I did use the extra SNICKERS® Minis to place around my stadium…I viewed them as the tailgaters 🙂
Here's my Pepsi™ Chicken Sliders Recipe, be sure to Print It and Pin It so that you can make it again and again.
Pepsi™ Chicken Sliders
Recipe Type
:
Lunch/Dinner
Author:
Prep time:
Cook time:
Total time:
Ingredients
3 lbs of chicken
2 cans of Pepsi™
½ onion, diced
Instructions
Place all the ingredients into the crockpot and let it cook on low for 4-6 hours.
When chicken is cooked throughout and is easily "shredded" with a fork, take it out of the crock pot and use 2 forks to pull it apart.
Once the chicken is fully shredded, place it back in the crockpot for about 30 minutes .
Serve on rolls and with BBQ sauce if desired
Enjoy!
I hope you enjoy this Pepsi™ Chicken Sliders Recipe as much as we do!
Have you ever built a Snack Stadium before? What snacks were your favorite? Find more recipes and Snack Stadiums ideas HERE!