(Last Updated On: April 22, 2021)

10 Easy Ways To Help Others
A few weeks ago I was in Michigan visiting my parents and when we were on our way out to dinner, a car had broken down on one of the side streets. My dad pulled over and asked if the man needed help pushing his car to a nearby parking lot, and the man responded with an ever-so-thankful YES. Then the next car that was driving by stopped and helped as well. The simple act made my heart smile. And as these 3 men chatted for a few, once the car was safely in the near by parking lot, about cars and mechanics, I couldn't help but think about how our world has changed over the years.
People don't stop to help random strangers to push cars as much as they used to. We are either too busy to stop, we don't even notice that a fellow human being needs help because we are driving distracted, we think "I'm sure they already called someone to help," or we are too scared to stop. What?? Yes, we think that we may be injured if we stop by a fellow drive-by-er who isn't paying attention, or maybe this person's car really didn't brake down and it's all a scam to rob someone. Oh, how society has changed.
But, I would really like to think and somewhere deep down, everyone does want to help others. Everyone does have that desire to make someone's day, to have a positive impact on the community, to pass on kindness so that it may multiply. Because, if you are honest with yourself, doesn't helping someone else, in anyway, make you feel better about yourself too? I know it does for me.
So, in hopes in sharing a bit of kindness in this crazy world in which we live, I wanted to share 10 EASY ways help others. Give one…or two…or all ten…a try today!
*Note, this is a VERY small list, as there are hundreds of thousands of ways to be kind to others and help others, feel free to share your ways and thoughts in the comments!
Smile – Haven't you heard the saying that it takes more muscles to frown than smile. Smile folks! It does the body good 🙂
Donate – Canned goods at a local food bank (you don't have to wait to Thanksgiving to do this, they accept donations all year long!), old clothes, clothes and toys that the kids have grown out of, the list goes on and on
Volunteer – Need some ideas on how to get started? Check out this list.
Help someone in need – Pull over and help that car that is stalled in the road, help the woman at the grocery store out to her car, offer to cut the neighbor's grass when they are out of town…heck, just do it!
Listen – stop for a moment and lend an ear to someone who needs you.
Share your strengths – Like to cook but have a friend that hates it? Help them get started! Love to exercise and have a friend that doesn't know where to start? Help 'em!
Give a compliment – Tell someone you like their shoes, hair, the way they did a great job on a presentation at work, etc.
Make a care package or just send a letter – Know someone that is way at school, maybe someone that is sick, or someone that is just in need of a pick-me-up? Send a smile via snail-mail 🙂 Admit it, it's still fun to get something in the mail that isn't a bill.
Love – Show your love and appreciation to those around you. They say happiness is contagious, let's give it a try!
Shop online – Uh? Yes, this may be one of the easiest ways to help others. Simply by doing what you normally do, shop online, when you shop through Giving Assistant, they actually make small donation to Feeding America to give one meal every time cash back is earned. You are given the option to automatically donate any % of your earned cash back to any charity of your choice.
So, can you do it? Can you take one simple step to help someone else today? I hope you can. I hope we all can!
While this post is sponsored, all opinions and my desire to spread a bit of love and kindness around the world are mine!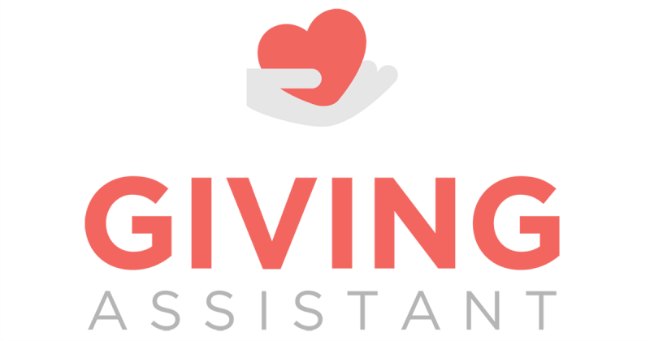 If you haven't heard about Giving Assistant, here is some additional information:
Giving Assistant let's you shop online at over 1,600 large retailers (Amazon included!) and get money back on your purchases. Amazon is definitely one of my favorite places to shop online, I'm sure like many of you, so I love that I can also earn cashback and can help others all at the same time. AND, they even work with Amazon Smile, so your savings of .5% will be added to our cashback donation too. Making a total of 2% cash back donation. That's like giving back on top of giving back!
Another store I like shopping online at is Best Buy, which is also one of the many stores that I can save with on Giving Assistant. By shopping at Best Buy, I can get up to 2% CASH BACK. Which is fantastic 🙂
My husband likes to do his dress clothes shopping at macys.com, and I actually did a bulk of my holiday shopping on macys.com. And, you guessed it, macys.com is one of the other stores that you can earn cash back on Giving Assistant. Macys.com is actually at 5% right now!
How Giving Assistant Works
The Giving Assistant mission is to save you more money, so you can better care for your loved ones and support charity. You can earn an average of 5% cash reward after each online purchase.
Within 3 days of your purchase you will get an email notice with my cash back! You can donate part of the cash back to charity, all of it, or none of it, but in the spirit of this post, may I suggest donating part of it….please 🙂
Giving Assistant's Cash Back Promise
Double Cash Back, Always. 
They give you 100% of the commission.
They pay in days direct to your secure debit card. Not months
 waiting for a check in the mail like other cash back sites. Minimum payout is just $5.01, not $25.
Hassle Free Guarantee. 
Missing cashback? Giving Assistant has the best customer service in the industry to make sure you get your full cash back amount.
What are some of your favorite ways to help others?
Be sure to follow me on Facebook, Twitter, Pinterest, Google + and Instagram for more helpful tips and family fun!