(Last Updated On: June 25, 2019)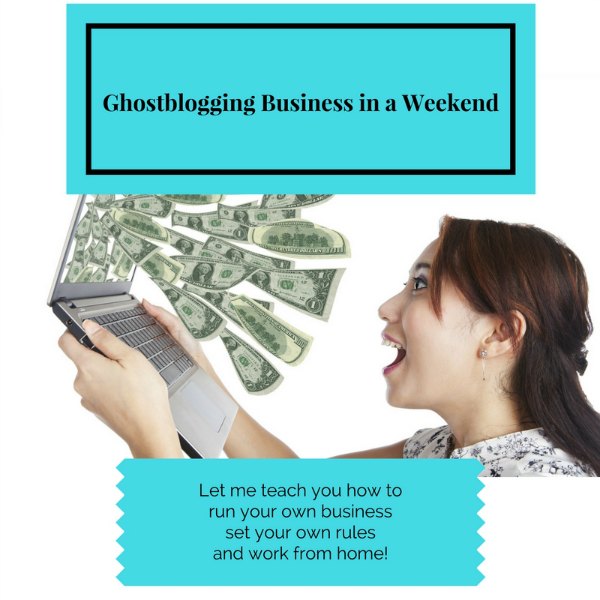 How To Become a Ghost Writer and Own Your Own Business
Do you like to write? Do you love ready blogs and articles? But maybe you don't want the commitment and cost of running your own online magazine or blog? Or are you a writer and maybe you would like more work at a better pay? Well, then I have something for you to check out…Ghost Writing.
Have you heard of it?
Ghost Writing gives you the opportunity to work whenever and wherever you would like! You write articles and blog posts for others, but you don't have to worry about the promotion and cost of own the publication!
If you are a writer and want to know how to break into a ghost blogging business, I wanted to tell you about a course from blogger Ashley Grant. She going to give you all the tools and ideas you need to start your ghost blogging business in a weekend. Yep, 48 hours is all you need if you have the hustle and drive it takes to launch your work from anywhere with WiFi ghostblogging business!

And, since you're here before the launch, you are getting in at more than 50% off the price the course will be once it's live. To buy now and get registered at this deep discount, just click the BUY NOW button below. Then, as soon as the course is live, you will receive all the details you need to make your ghost blogging business dream a reality.
Grab the Ghost Writing Business in a Weekend Course at the EARLY BIRD price before it goes live!!! The price will go up to $97 when it's released, but you can grab it now for $47!

Be sure to follow me, Food Wine Sunshine, on Facebook, Twitter, Pinterest, Google + and Instagram for helpful tips and more.