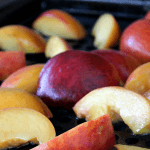 Print Recipe
How To Grill Peaches & Why You Should Try It
Ever wonder how to grill peaches and why so many people do it? Soon, you will be grilling peaches and loving it too!
Turn on the grill to medium heat.

Cut your peaches in half and remove the pits. You can cut them into smaller slices if you want, just use a grill topper so your peaches don't fall through the cracks.

Place your peach slices/halves into a bowl and drizzle in olive oil, gently stir so that the peaches get covered. You can brush the peaches too (be sure to brush both sides), I just found it easier to put them all in a bowl.

Place the cut side down on the grill and cook until the fruit has grill marks and starts to soften, approx 4 to 5 minutes depending on the size of your peaches.

If needed, turn them once and continue cooking for another 4 to 5 minutes. Do your best to resist moving them any more than necessary so you can get those pretty grill marks.

Enjoy on a salad, with ice cream, with dinner...or just straight off the grill!