(Last Updated On: September 17, 2019)
Southeastern Grocers has upgraded their loyalty program so we can now earn even more rewards. Winn-Dixie is now partnered with Plenti! While this post is sponsored, all opinions are 100% my own.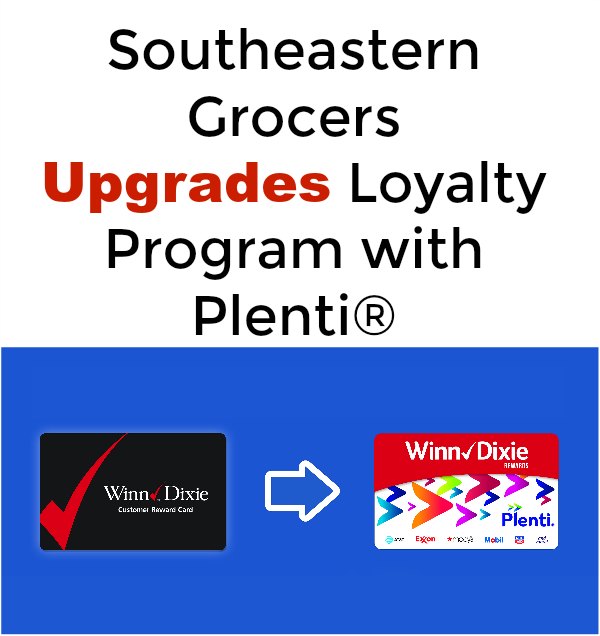 Winn-Dixie Upgrades Loyalty Program to Plenti
Did you hear that Winn-Dixie has upgraded their rewards program? They are switching from Fuel Perks to Plenti®. I will be the first to admit, that I was a bit nervous about the switch at first, I mean I love Fuel Perks, but with Plenti® we can now earn all sorts of rewards and not just at Winn-Dixie!
That means we will now save more on gas AND GROCERIES when shopping at our favorite Winn-Dixie store with the upgraded rewards program. The Winn-Dixie Rewards with Plenti® card will allow us shoppers to earn and use points not only towards groceries and gas with ExxonMobil™, but also across multiple Plenti partners, including AT&T, Macy's, Chili's, Rite Aid, Expedia, Enterprise Rent-A-Car, Hulu and more. Plenti, a program operated by American Express, offers members numerous ways to earn points and save on the things they already shop for every day, regardless of the payment method used.
We can begin enrolling in the new program today and can begin earning and redeeming points on April 5.
How It Works:
Starting April 5, Plenti members can earn one Plenti point for every $2 spent at Southeastern Grocers stores, and will earn even more when they buy products with bonus point tags across the store. One thousand points translates to at least $10 in savings, and Plenti members can earn points faster by activating special promotional offers on Plenti.com and by shopping via the Plenti Online Marketplace.
Using Plenti with Southeastern Grocers:
• Plenti Members: Existing Plenti members can earn and use points by swiping their Plenti card or entering the associated phone numbers at any BI-LO, Fresco y Más, Winn-Dixie or Harveys Supermarket store.
• Southeastern Grocers Customers: Southeastern Grocers customers can conveniently register for Plenti and link their current BI-LO Bonus card and Winn-Dixie Rewards card with a new BI-LO Rewards with Plenti® or a Winn-Dixie Rewards with Plenti® card at their local store or online.
For more information on Plenti, check them out online.

Check out all the Deals at Winn-Dixie
Follow Winn-Dixie on Facebook, Twitter, Pinterest, and Instagram for more recipes, savings, and more.
In fact, be sure to check out all the recipes on Food Wine Sunshine and follow me on Facebook, Twitter, Pinterest, Google + and Instagram.
Southeastern Grocers, LLC, parent company and home of BI-LO, Fresco y Más, Harveys and Winn-Dixie grocery stores, is the fifth largest conventional supermarket in the U.S.