Disclosure: This post is sponsored by the fabulous folks at Winn-Dixie. All excited money-saving & sweepstakes lovin' opinions are 100% my own.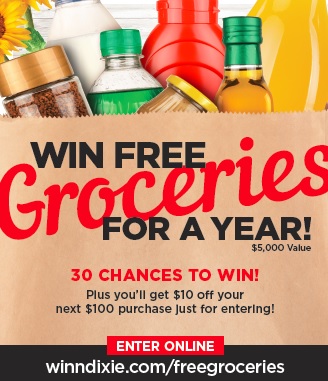 Winn-Dixie Sweepstakes – Win Groceries For A YEAR! #WDfreegroceries
I know we all like saving money, but how amazing would it be if you didn't have to buy for groceries for a WHOLE YEAR?! Well, thanks to Winn-Dixie you now have that opportunity! Winn-Dixie is giving away $150,000 worth of free groceries to customers in your area!
Thirty (30) Winn-Dixie customers in Alabama, Florida, Georgia and Louisiana will win free groceries for a year, valued at $5,000 each, by entering the Great Grocery Giveaway. Plus, when you enter the giveaway you will automatically receive a $10 off $100 purchase coupon. Everybody wins!
Enter the FREE Groceries for a Year Winn-Dixie Sweepstakes – enter now thru June 16, 2015

To enter, you just need your Reward Card, Name, Email address and phone number. Easy peasy 🙂 It took me less than a minute to enter! After you enter, you will get an email to validate your entry (I got this almost immediately!). The $10 off $100 purchase coupon will automatically be loaded to your reward card within three business days of email address validation. You will be notified via email of the $10 off $100 purchase coupon being loaded.
NO need to print it and clip it! Which I love since I am out of ink 🙂 In fact, there is no need to ever physically clip a coupon again thanks to the My Winn-Dixie App! Have you downloaded it yet? I LOVE IT!
Check out the My Winn-Dixie App
Good luck on the Winn-Dixie Sweepstakes! I hope you WIN FREE GROCERIES FOR A YEAR!
Be sure to follow Food Wine Sunshine on Facebook, Twitter, Pinterest, Google + and Instagram for more deals, family fun and giveaways!