(Last Updated On: August 28, 2019)
While this post is sponsored, my support of healthy lifestyles, youth sports, and my opinions are my own!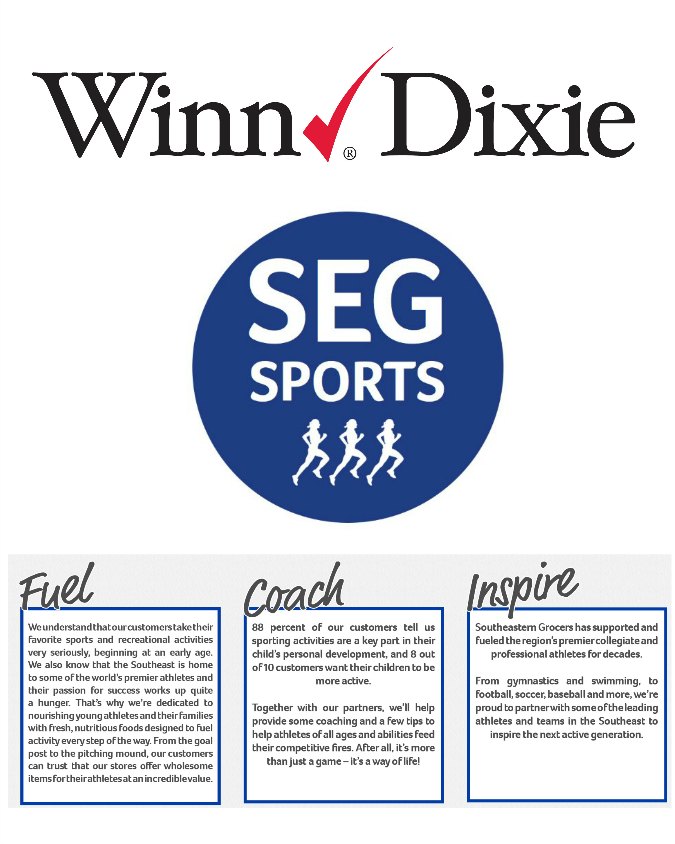 Winn-Dixie Supports Youth Sports with New SEG Sports Initiative
Winn-Dixie just announced a new initiative that is near and dear to my heart. Healthy Lifestyles and Youth Sports. I have done my best years to eat healthy and exercise, I know that being healthy is a lifestyle, and I do my best to teach my kids that as well. I believe that showing them through my actions is the best way to teach them. And that is exactly what SEG Sports is all about.
What is the SEG Sports Initiative?
Southeastern Grocers launched a long-term commitment to celebrate healthy lifestyles and athletes of all ages and abilities and inspire active families across the Southeast. According to the National Association for Sport and Physical Education, one in three children are active every day, and in research recently conducted by Southeastern Grocers, 8 out of 10 customers said they would like their children to be more active.
Yes, you read that right…only ONE out of THREE children are active EVERYDAY! What is Winn-Dixie and SEG Sports is doing to encourage healthy lifestyles?
To help athletes of all ages and abilities aspire for greatness, Southeastern Grocers has developed SEG Sports with a pledge to:
Fuel young athletes and their families with fresh, nutritious foods designed to fuel activity every step of the way, because 95 percent of customers believe eating the right food is an important part of children staying active!
Coach the 8 out of 10 customers who want their children to be more active with tips to help feed their competitive fires.
Inspire the next active generation through partnerships with some of the leading athletes and teams in the Southeast.
We all can find tools to fuel for greatness at our local BI-LO, Harveys and Winn-Dixie stores, including the freshest local produce that nearly 70 percent of customers prefer as their favorite pre- and post-game snacks, along with coaching tips straight from top athletes, coaches and trainers to encourage customers and their families to get in the game.
Through SEG Sports, Southeastern Grocers will support youth camps and clinics in the communities its stores serve through its professional, semi-professional and college sports partnerships with the Clemson University Tigers, Florida State University Seminoles, Greenville Drive, Jacksonville Armada, Jacksonville Suns, New Orleans Saints, Pensacola Blue Wahoos, University of Alabama Crimson Tide, University of Florida Gators and University of South Carolina Gamecocks. The grocer plans to send young aspiring athletes throughout the Southeast to upcoming games to cheer on their sports heroes from the stands. How wonderful is that? I l-o-v-e it!
Learn more about SEG Sports
Be sure to stay up to date with Winn-Dixie on Twitter and Facebook for fabulous savings, recipe ideas and more!
While you are at it, be sure to follow Food Wine Sunshine on Facebook, Twitter, Pinterest, Google + and Instagram for more family fun!