(Last Updated On: September 1, 2020)
Dessert doesn't have to be saved for special occasions or even after dinner! Indulge your sweet tooth with Blue Bunny cool treats. While this post is sponsored, all opinions are my own.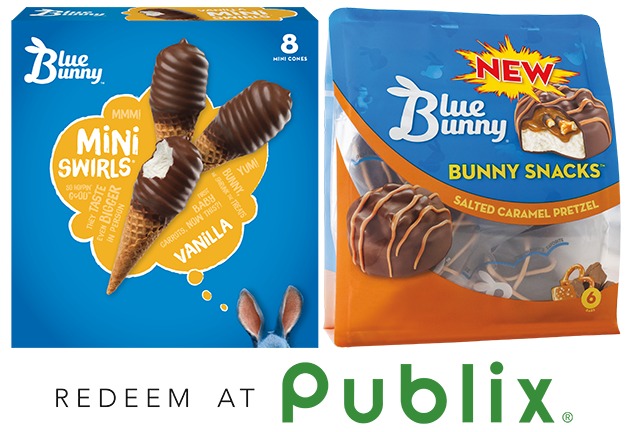 When Is The Best Time To Have Dessert?
If you ask me, I would say that dessert is perfect for any time of the day. However, I know that many of us wait until after our dinners have settled, then we have the mental debate if having a sweet treat before bed is a good idea or not.
Well, Blue Bunny has made it easier to have your sweet treats anytime. Have you seen the Bunny Snacks and Mini Swirls in stores? I have two boxes of the Mini Swirls in my freezer right now, the caramel and the chocolate 🙂 They are both smaller than your average ice cream treats, so you don't have to feel guilty eating them or giving them to the kids. I will admit, these are the perfect size to satisfy my sweet tooth!
Are you ready to try these cool treats from Blue Bunny too? Well, good thing I have a Publix coupon to share with you! Get your print, then be sure to check your Valpak envelopes to get an additional Blue Bunny coupon (available in select areas around Publix locations in the southeast).
What Blue Bunny treats will you try first? The Mini Swirls? The Bunny Snacks? Both? Before you head to Publix, be sure to print the coupon and enjoy a little of extra savings.
Make sure to find Food Wine Sunshine on Facebook, Twitter, Pinterest, and for more.