(Last Updated On: March 7, 2022)
There are so many things to do and see at the Valspar Championship! Even for the non-golfer! Families will have a great time at the Valspar Championship events. Read on to see everything there is to do and the Valspar Schedule of Events. While we will be able to attend a day of the Championship for free, all opinions are my own.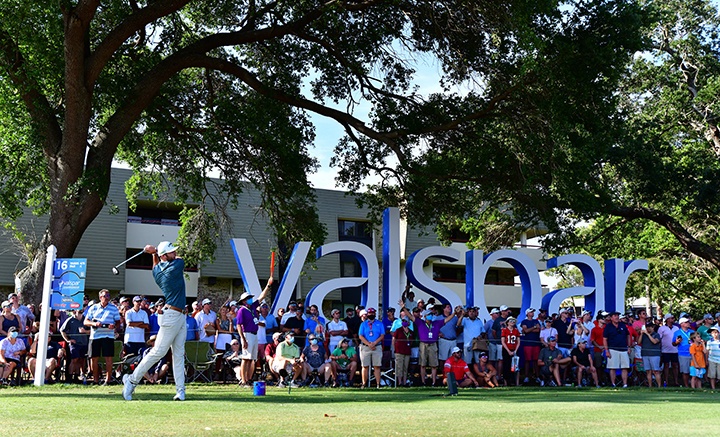 Valspar Championship – Fun Family Event!
The Valspar Championship returns to Tampa Bay March 14 through March 20, 2022, BIGGER and BETTER than ever with the world's top-ranked golfers and exciting new ways for fans to participate in and experience the action. The Valspar Championship is at Innisbrook Resort. Innisbrook Resort is located at 36750 US Highway 19 North, Palm Harbor, FL 34684.
The PGA TOUR® event will be back at its full capacity in 2022 and takes place on the Copperhead Course at Innisbrook, a Salamander Golf and Spa Resort, with four championship rounds of golf. Attendees of all ages can experience many of the exciting activities on-site.
See some of the world's best professional golfers. Early commitments include Dustin Johnson, Xander Schauffele, Brooks Koepka, Collin Morikawa, Tommy Fleetwood and Sam Burns, who will defend his title as the tournament's 2021 champion. Many additional top players still to come!
Yes, it's a world-class golf tournament, but even the NON-golfer (like me!) can enjoy its multitude of activities, games, music, and food & beverage offerings.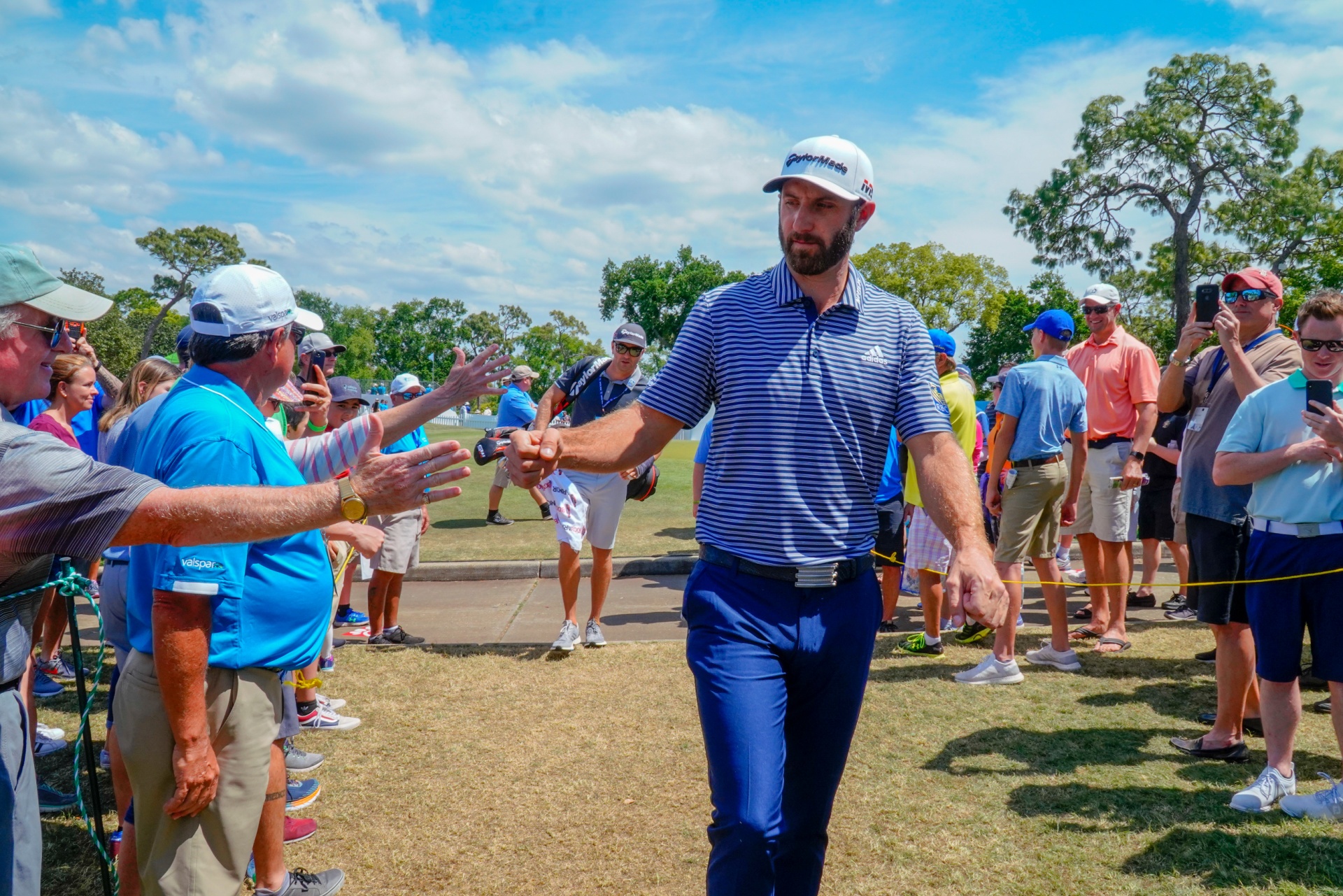 Things To Do at the Valspar Championship
Watch Chris Young, multi-platinum country music star, as he headlines the tournament's concert, Valspar® LIVE presented by Chick-fil-A, joined by special guests Big & Rich, after play at approximately 6:30 p.m. on Saturday, March 19. Concert access is included with a Saturday ticket or weekly pass.
Thursday, March 17, is St. Patrick's Day, and guests are encouraged to wear green for a chance to win festive prizes and 10 lucky fans will be invited to compete in a festive outfit contest on the 18th green after play to win a a $500 Delta Air Line credit. The first 10,000 fans onsite will receive a free koozie.
Join in the fun in the family-friendly Entertainment Zone, featuring games and activities, like Jenga and corn hole, for kids and adults of all ages.
Swing by the Valspar® BLOCK PARTY: Tiny Home, BIG Inspiration — You will be inspired by the Valspar neighborhood featuring Valspar's 2022 Colors of the Year! A Valspar tiny home and a Color Cabana all showcase our color trends and bring them to life. The home and Cabana, inside and out, are made to encourage you to play with trending colors in your own home with Valspar's plethora of products. You will also have a chance to participate in painting a fan mural inspired by Valspar's Be Bright community mural initiative, designed to inspire and bring optimism to the communities we serve. Enjoy free popsicles, play fun games and relax in the shade at the Valspar® BLOCK PARTY! Keep an eye out for Valspar COLOR SCOUTS roaming the course looking for the most colorful fans and awarding fun prizes.
The Publix® Chillounge is returning, which will feature an expansive lounge area complete with a variety of food and drink options.
Check out amazing top-shelf spirit and brew experiential areas, which now have even more to offer, including the 13th Green Margarita Deck, 10th Green Horse Soldier Whiskey Lounge, 9th Green Michelob ULTRA CLUB, 9th Green Josh Cellars Wine Deck, 10th Tee Celebrity Cruises Fan Deck and the 14th Fairway Captain Morgan Bar.
Get social at your favorite hospitality areas, which are back and larger than ever, like the Hooters Owl's Nest and more!
See a huge sand sculpture and sit with your toes in the sand while watching golf as Chameleon Cove makes its return.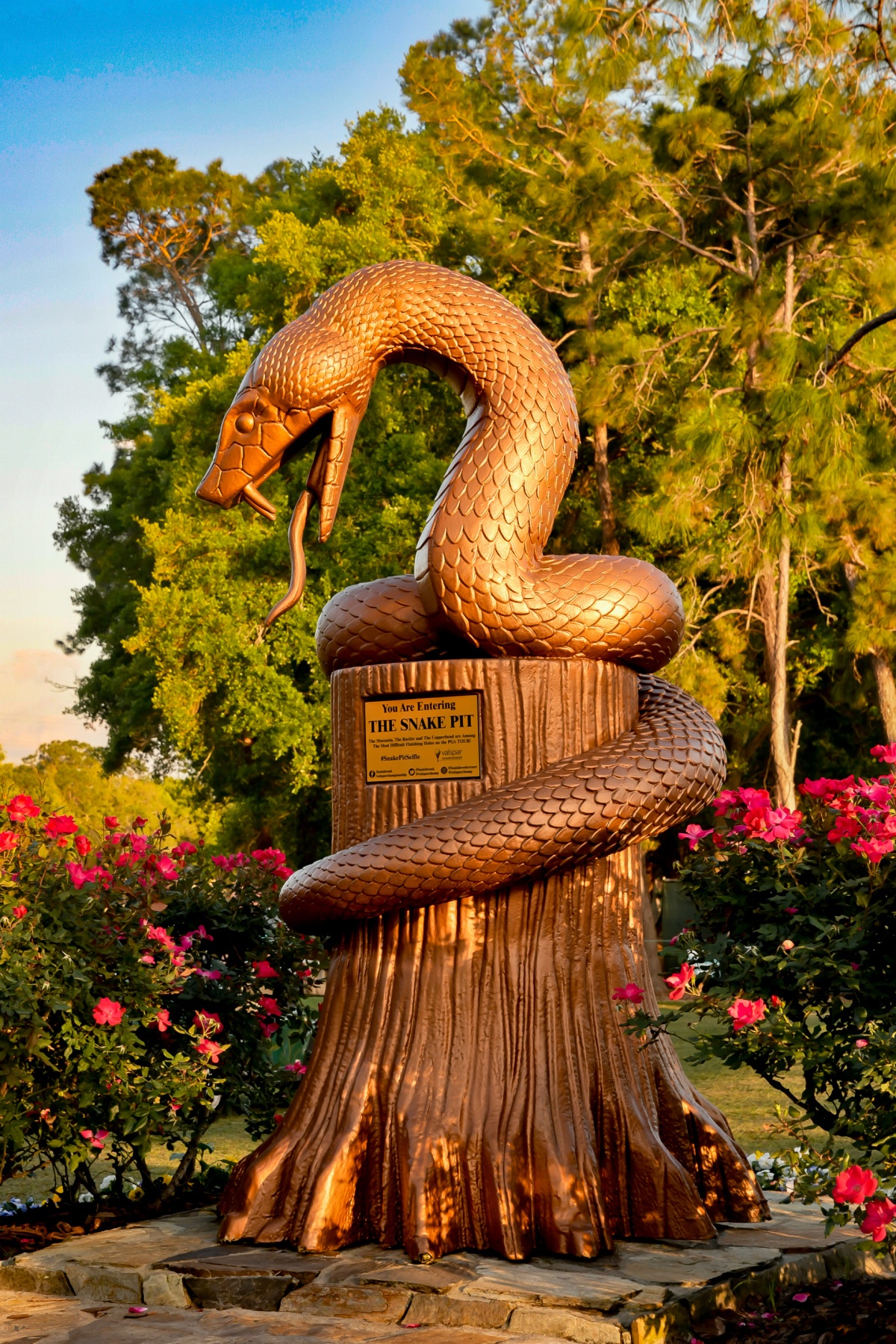 Valspar Championship History
The tournament is operated by a not-for-profit organization, Copperhead Charities, Inc., a volunteer group of Tampa Bay area community leaders known as the Copperheads. The members have the dual ambition of raising money for charity and providing golf fans with the best in PGA TOUR competition. The organization's history of success is shown by nearly $47 million raised for charities since 1977. The event generates an estimated $50 million economic impact annually.
The Copperheads have a 46-year history of aiding Tampa Bay area charities through professional golf. The Copperheads' first professional competition was a mixed-team event of PGA TOUR and LPGA pros in 1977. Since 2000, they have run a full field PGA TOUR event. Once held in the fall, the tournament joined the Florida Swing in the spring of 2007.
Past Champions: Sam Burns ('21), Paul Casey ('18 & 19'), Jordan Spieth (2015), K.J. Choi ('02 & '06), Retief Goosen ('03 & '09), Vijay Singh (2004), Jim Furyk (2010) and Luke Donald (2012). Singh and Furyk went on to win PGA TOUR Player of the Year honors in their victorious year, while Donald's win elevated him to #1 in the Official World Golf Ranking.
There are approximately 150 Copperheads and 60 CopperMugs, led by a 20-member Board of Directors. Leadership is Ronde Barber General Chairman, John Astrab Vice General Chairman, Jim Eisch Immediate Past General Chairman and Tracy West Tournament Director. An experienced tournament staff, more than 2,500 volunteers and the Tampa Bay community all contribute to the tournament's success. Title sponsor is Valspar (paint/coatings), which is a brand owned by Sherwin-Williams.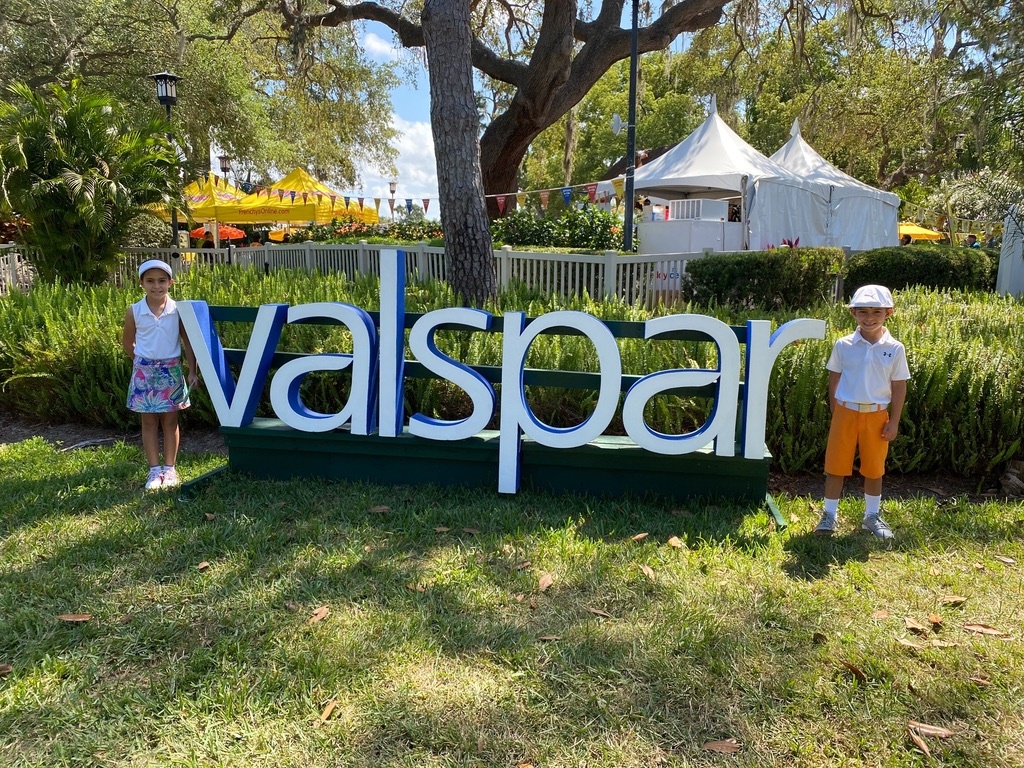 Valspar Championship TICKETS:
Ticket information may be found on the tournament website at www.ValsparChampionship.com.
• Ages 15 and younger get in free with paid adult
• Military and first responder discounts available
• Parking: For ease when accessing the course, patrons should pre-purchase parking passes in addition to their tickets for Thursday, Friday, Saturday and Sunday.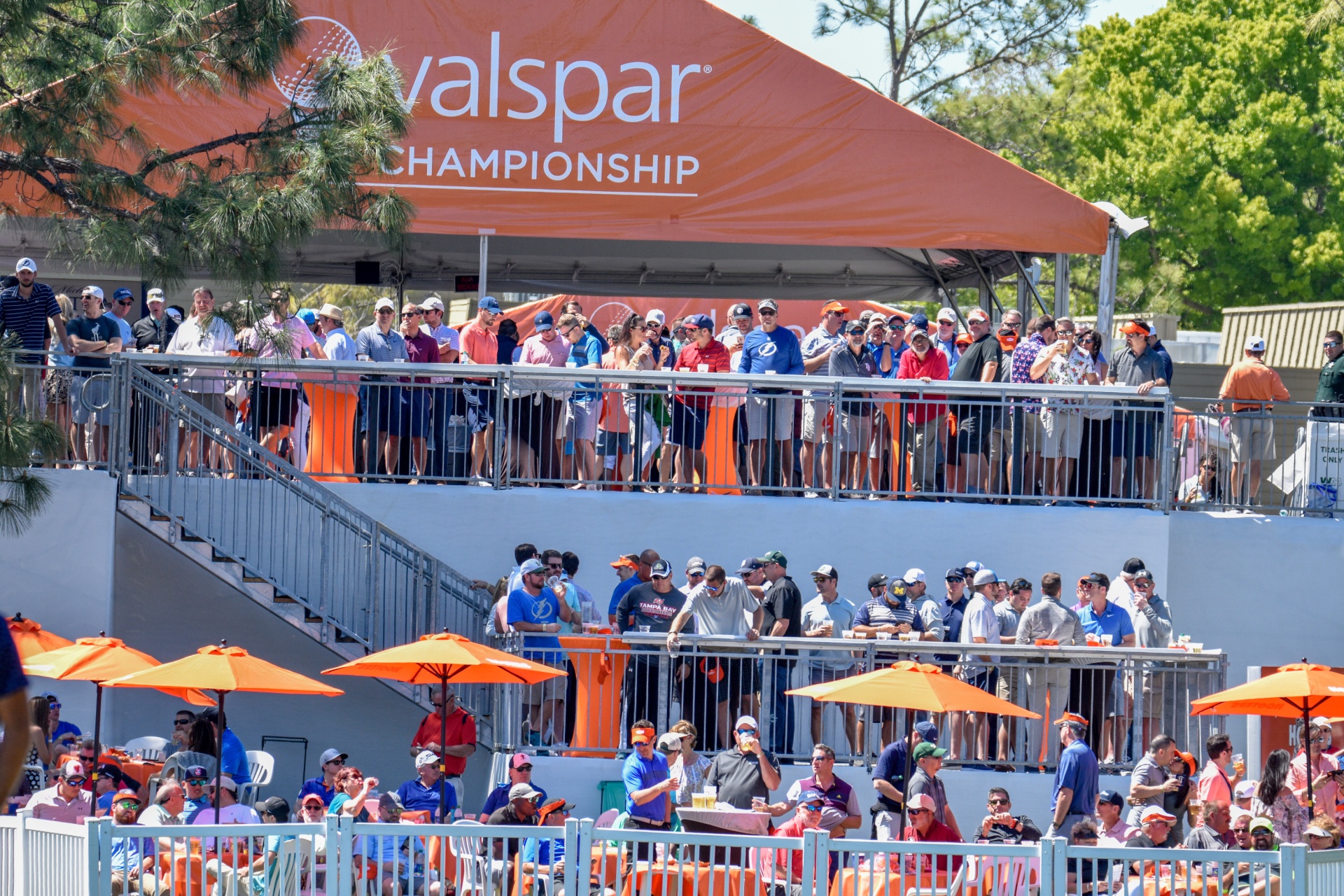 Valspar Championship SCHEDULE OF EVENTS
The schedule of events kicks off with the Professional Practice Rounds on Tuesday, March 15, and the official tournament begins on Thursday, March 17, continuing through Sunday, March 20. Sam Burns is the 2021 champion and is returning to defend his title.
Sunday, March 13th
Clegg Insurance and LoanFlight Lending Old Memorial Pro-Celebrity-Am – Old Memorial
Monday, March 14th
Salute to Our Veterans Pro-Celebrity-Am (admission gates closed)
Tuesday, March 15th
Professional Practice Rounds
Morgan Stanley Executive Women's Day presented by Great Bay Distributors
Valspar and Lowe's 4Pros Pro-Am – Island Course
Wednesday, March 16th
Championship Pro-Am – Copperhead Course
Thursday, March 17th
Valspar Championship – 1st Round (St. Patrick's Day Celebration)
Friday, March 18th
Valspar Championship – 2nd Round
Saturday, March 19th
Valspar Championship – 3rd Round (Chick-fil-A Moooving Day)
Valspar Partner Pro-Am – Island Course – 9am
Valspar LIVE Concert with Chris Young and Big & Rich
Sunday, March 20th
Valspar Championship – Final Round (Champa Bay Day)
Monday, March 21st
Monday After Challenge – 7:45am & 1:00pm shotguns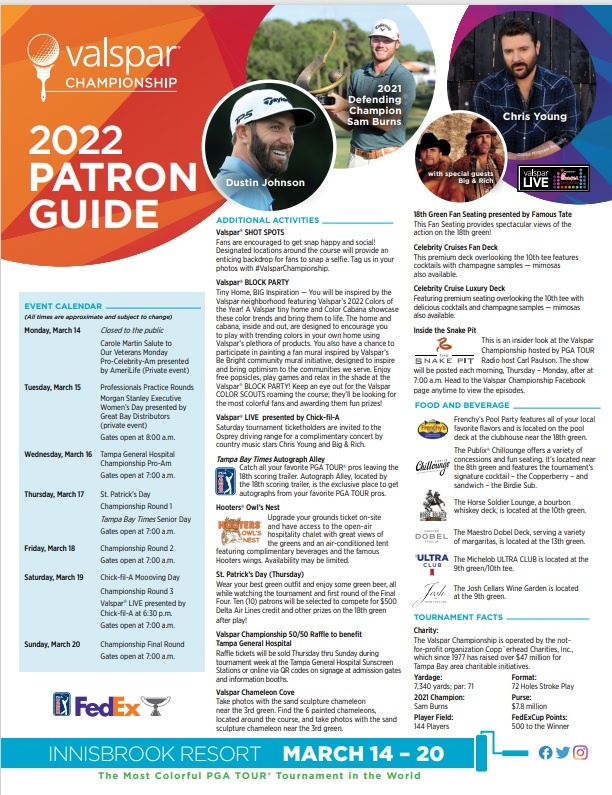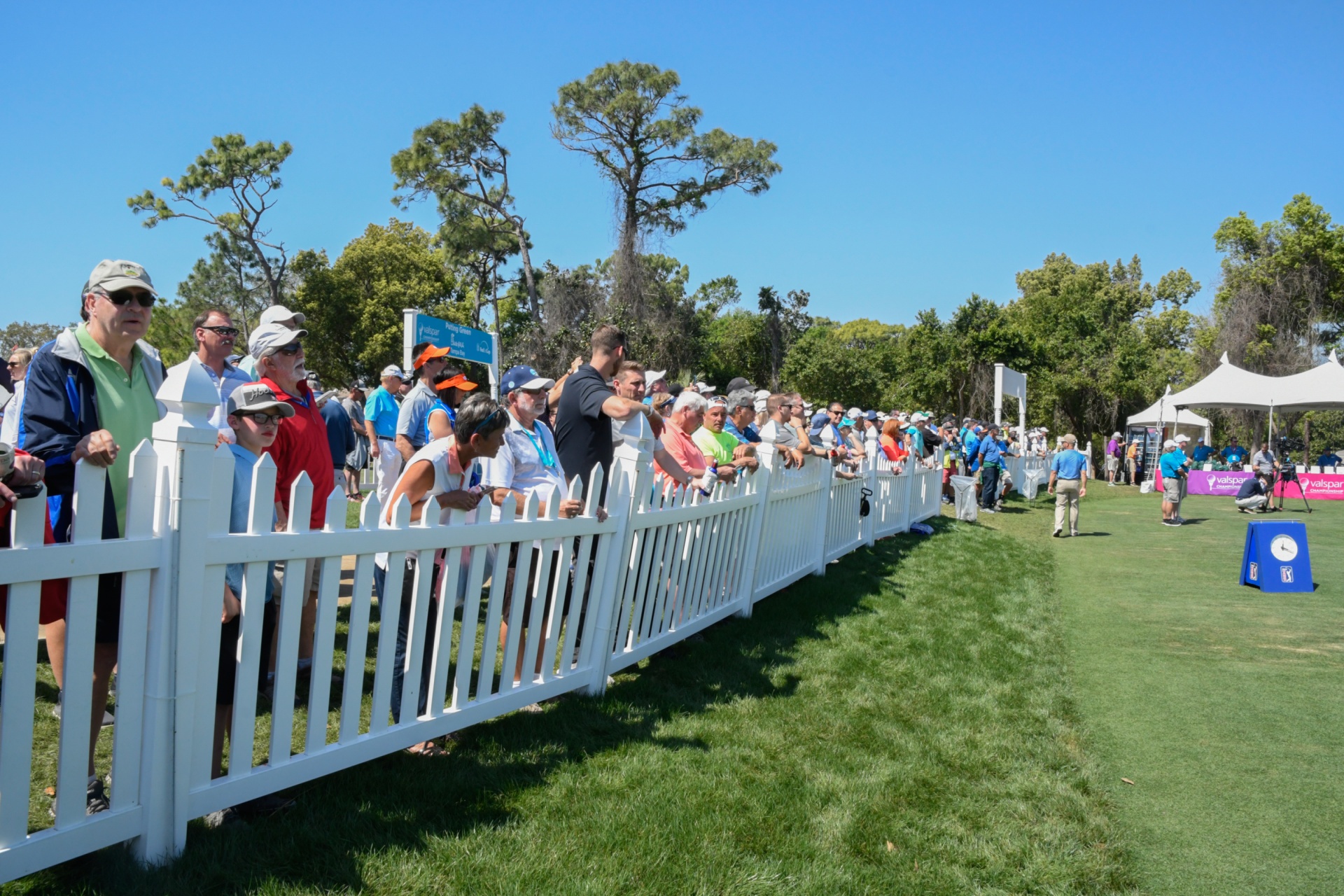 While you are there, don't forget to check out all the fabulous food. There are several restaurants located at Innisbrook and they ARE open to the public.
As a reminder, kids 15 and under FREE each day if accompanied by a ticketed adult.
Be sure to follow Valspar Championship on Twitter to stay up to date with all the Fun and Golf! And check out Innisbrook Resort on Instagram for all sorts of beautiful pictures!
Make sure to visit Food Wine Sunshine for more Florida Family Fun and stay up to date with me Facebook, Twitter, Pinterest, and Instagram.