(Last Updated On: November 13, 2019)
This Valentine's Day Dipped Pretzels are simple and sweet. This Valentine's Day recipe is easy to make and will definitely show the love this holiday.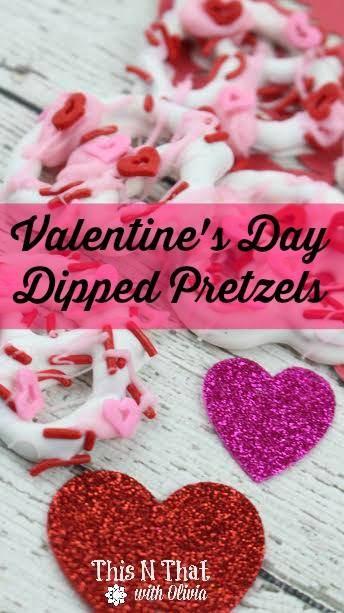 Valentine's Day Dipped Pretzels
Can you believe that Valentine's Day is just around the corner? I feel like we were just celebrating the 4th of July! Well, my blogger friends and I have joined together to help make your Valentine's Day extra special by featuring 12 Days Of Valentine's Recipes and Crafts.
Today's feature comes from Olivia over at This N That with Olivia. She's sharing some delicious and easy to make Valentine's Day Dipped Pretzels. The awesome thing about this recipe is that it can be customized with any sprinkles or flavors that you'd like. These pretzels would look beautiful in a treat bag or canister for easy gift giving.
Before you go, be sure to check out all the other amazing Valentine's Day fun on the linky below!