(Last Updated On: August 29, 2019)

Valentine's Day Date Night In Gift Basket
Valentine's Day is quickly approaching and after being with my wonderful husband for over 18 years, we don't always stop to appreciate this love-filled holiday. It's hard to find a sitter for the kids, and spending a lot of money on a fancy night out doesn't always fit within the budget. So, this year I decided that I would make my husband a Date Night In Basket filled with sweets for my sweetie, some amazing snacks, a blanket or two for cuddling close on the coach, and some time to relax! You can check out Walmart and Target for the weekly ads of Valentine's Day.
Time to relax? What? When can you possibility get that when you have two kids in sports and everything else in the world to do? You have to make some time! I plan on sending my hubby an invite via email for one night after the kids are in bed. It will be on his schedule and we will make sure that we plan on that time. There will be no dressing up in a dress and heels or spending $200 on dinner, but we will get what is most important. Time for US.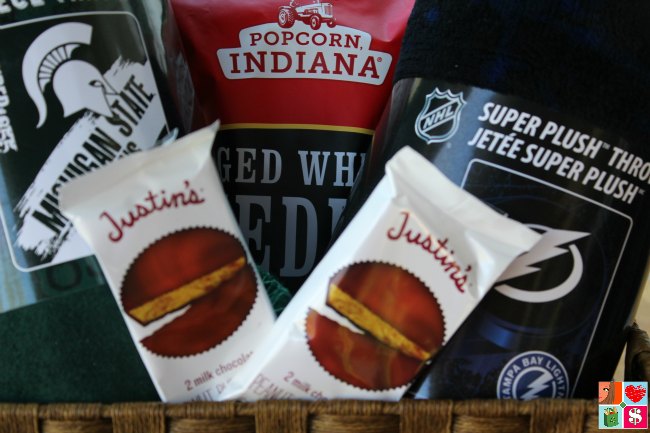 What is in my Valentine's Day Date Night In Gift Basket?
Justin's Peanut Butter Cups
Nothing says "I care" like sharing an amazing peanut butter cup from Justin's!
Popcorn Indiana
You can't have a movie night without popcorn, and if you're getting popcorn for a date night, I strongly suggest getting the best!
Michigan State and Tampa Bay Lightning Fleece Throws – For cuddling!
A movie
Rent one or buy one, or borrow one!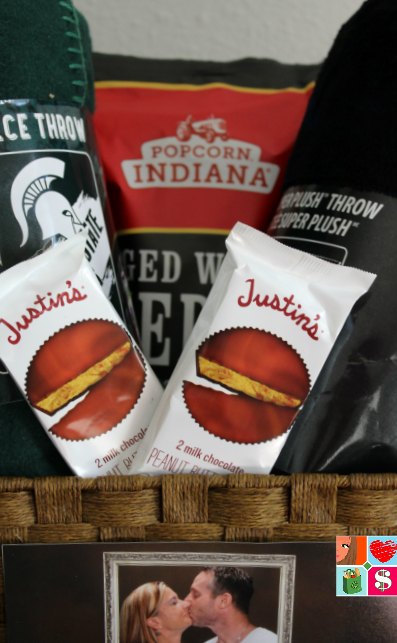 Valentine's Day is about showing loved ones you care, it's not about spending a ton of money, and this is exactly how I will be showing my honey I care this year.
What will you be doing this

Valentine's Day

?
While Having Fun saving did receive products listed above for review, all opinions are 100% my own.
Where to buy:
Be sure to follow me on Facebook, Twitter, Pinterest, Google + and Instagram for more helpful tips and family fun!