(Last Updated On: July 3, 2019)
Universal Orlando Halloween Horror Nights tickets are on sale NOW. Grab all the scary Halloween Horror Nights information and get your tickets!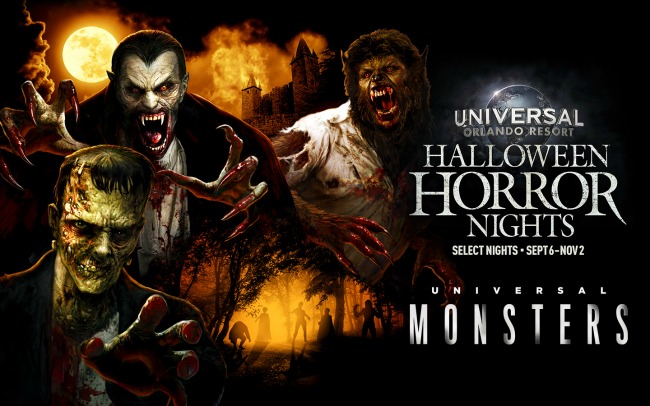 Universal Halloween Horror Nights Tickets & Information

One of the scariest events EVER is coming. And you can buy your tickets NOW. "Halloween Horror Nights" begins Friday, September 6 in Orlando and on Friday, September 13 in Hollywood.
"Universal Monsters" will come to life in all-new terrifying Halloween Horror Nights mazes at Universal Orlando Resort and Universal Studios Hollywood, inspired by Universal's original cinematic monsters and the movie studio that invented the horror films. The terrifying experiences on both coasts will wake some of the most frightening and legendary monsters in horror history and bring them face-to-face with guests at the nation's premier Halloween events.
At Universal Orlando Resort, guests will be hunted by every single grisly monster from the anthology, including Dracula, The Wolf Man and Frankenstein, in the all-new experience, "Universal Monsters." Each sinister environment will bleed from one to the next as guests press through the darkened realms of horrifying creatures. Guests will face bloody terrors in Dracula's castle and flee from what is behind the cryptic howls of the grim forest. They'll run from the horrifying manmade monster within Dr. Frankenstein's laboratory, and fall prey to an ancient Egyptian curse as they are pursued by the evil Mummy. Guests will try to escape the mysterious Creature lurking in the Black Lagoon, or become victims of other horrors waiting in the shadows.
On the heels of last year's successful "Universal Monsters" experience, Universal Studios Hollywood will introduce an all-new horrifying maze, "Frankenstein Meets The Wolf Man," that delves deeper into the Universal Monsters' lore. Loosely based on Universal's 1943 horror movie of the same name, this reimagined tale for the 21st century takes guests on a terrifying journey that bears witness to a deadly confrontation between these two horror icons and the epic battle that rages between them.
Universal Studios' "Halloween Horror Nights" is the ultimate Halloween event. For more than 25 years, guests from around the world have visited "Halloween Horror Nights" to become victims inside their own horror film. Multiple movie-quality mazes based on iconic horror television shows, films and original stories come to life season after season. And, the streets of each park's event are transformed into highly-themed scare zones where menacing scare-actors lunge from every darkened corner.
"Halloween Horror Nights" begins Friday, September 6 in Orlando and on Friday, September 13 in Hollywood.
Additional details about Universal Studios' "Halloween Horror Nights" will be revealed soon. For more information and to buy Halloween Horror Nights at either Universal Studios Hollywood or Universal Orlando Resort, visit www.HalloweenHorrorNights.com.
Make sure to follow Universal Orlando Resort on Facebook, Twitter, and Instagram.
While you are at it – stay up to date with me on Facebook, Twitter, Pinterest, and Google + for more fun things to do in Florida.
Have you been to Universal Halloween Horror Nights before?
Looking for more fun things to do in Florida?