(Last Updated On: July 1, 2019)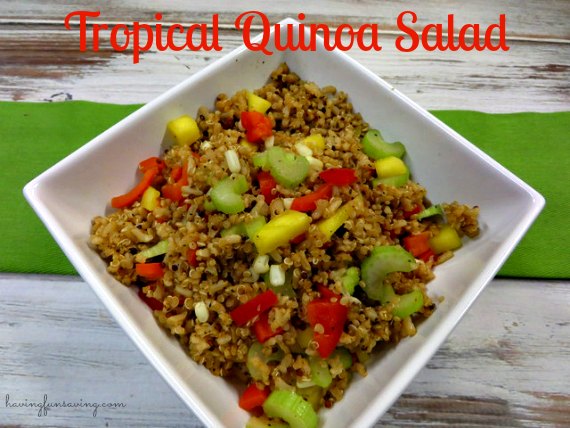 Tropical Quinoa Salad Recipe
Quinoa. Do you eat it? I am a newbie I will confess. My mom has been telling me for months to try it…in fact when she was here in April she actually bought some for me so I would try it. I left it sit in the pantry until earlier this week. Now, I will say I am a fan! For some reason I am liking it cold – I have yet to try it hot! I have been experimenting with delicious fruits and vegetables to add to it for a salad.
This is my Tropical version and I will say I really like it! I love having something sweet in there – and I love the crunchiness from the fresh veggies.
So, without any further adieu, here is my recipe for a Tropical Quinoa Salad:
Tropical Quinoa Salad Recipe
Recipe Type
:
Lunch or Side Dish
Author:
Prep time:
Cook time:
Total time:
Ingredients
1 – Box of your favorite Quinoa – I used the Roasted Pepper Quinoa Brown Rice Blend by Near East
2 – Mini Sweet Peppers – I used Bella Fina and two colors to add some fun to the dish – diced
2 – stalks of celery – diced
1/4 cup of cooked corn (canned or steamed)
1/2 cup diced mango
Instructions
Cook Quinoa according to package instructions – I used coconut oil instead of olive oil
Place in refrigerator to chill some
When cooled down add in all your fruits and vegetables
Enjoy!
Notes
I make this at night and have for lunch for the next 2-3 days. You can also serve it as a side dish.
Do you like quinoa? What is your favorite way to make it? Make sure to let me know if you try this Tropical Quinoa Salad Recipe – I would love to hear your thoughts! I hope you enjoy it as much as I do 🙂