(Last Updated On: June 25, 2019)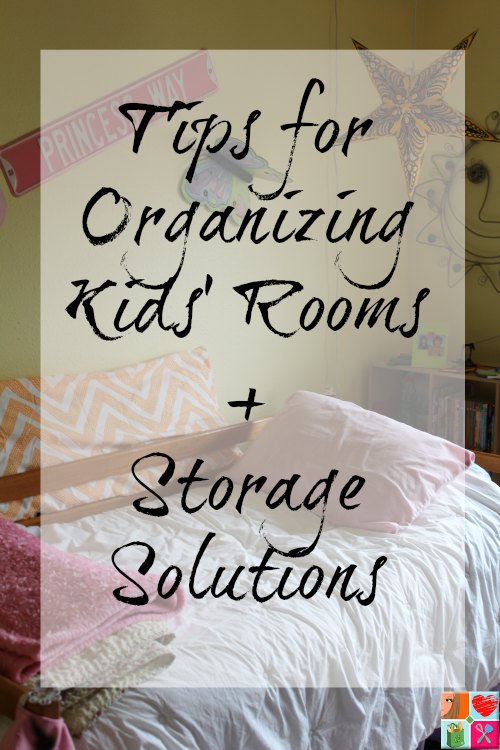 Tips for Organizing Kids' Rooms + Storage Solutions
Is your child's room in help of a little bit of extra organizing or straightening up? We just spent the last 3 weekends working in my daughter's room. And I will admit that we aren't totally done yet, as she wants to move her bed to a new location, but I needed a break.
Can someone please explain to me how an 8 year old can have so much STUFF? I was seriously AMAZED by the amount of things we got of her room to donate. I mean, if you think about it, she wasn't accumulating stuff for the 1st few years of her life, right? I just couldn't believe it.
My daughter's dresser was basically just covered in whatever she could get her hands on.
We are blessed that she gets a lot of hand-me-down clothes from friends, but those were all thrown under her bed. How in the world are we ever supposed to know what's under there?
She had things UNDER her dresser, under her night stand and what felt like MILLIONS of stuffed animals everywhere. So, when we decided it was time to make a transformation, we went to OneStepAhead and found the solutions we needed to make her room livable again.
Here are some easy organization tips and strategies help find your kids' rooms:
Look at their room from their level
Look their space, storage, furniture and stuff from their vantage point. To organize a child's room, solutions must fit the child. Do you need to lower the rods in the closet so they can reach their clothes? Do they need some help organizing their drawers so they can find things?
Get your child involved
My daughter is the one who told me what to donate, what to keep and what to put where in her room. The idea that she was helping in her room, made her take an interest in what was going on. That means I wasn't in there for 8 hours by myself, it means she was picking out her favorite clothes and looking at he sizes of the others to see what could be donated and what SHE wanted to keep.
Store and simplify..and sort it out!
Is there enough storage in your child's room? Are their toys and stuffed animals everywhere? Are you storing things in there too? We can't expect the kids to stay organized when the closet is over-stuffed, the drawers are over-flowing, and toys are everywhere.
Store YOUR stuff elsewhere. The clothes that you are holding onto for the next baby, your winter clothes, etc. Put it somewhere else.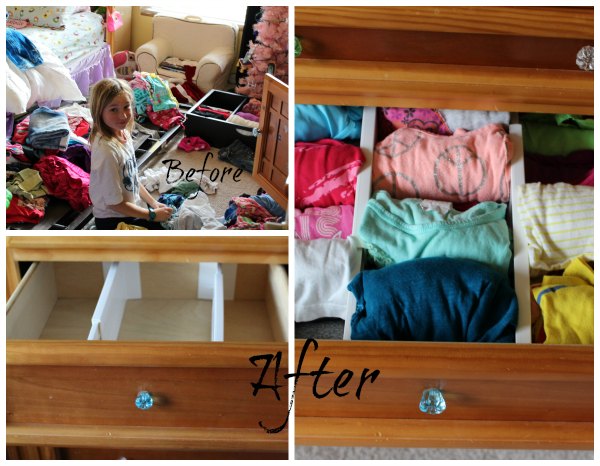 Simplify. Get rid of the clothes they don't wear. Donate them to someone that will! Get drawers organizers so that your child can SEE what's in their drawers and then they will actually start wearing more of them. My kids can't be the only ones out there that wear the same 3 shirts that are always on top of their drawers….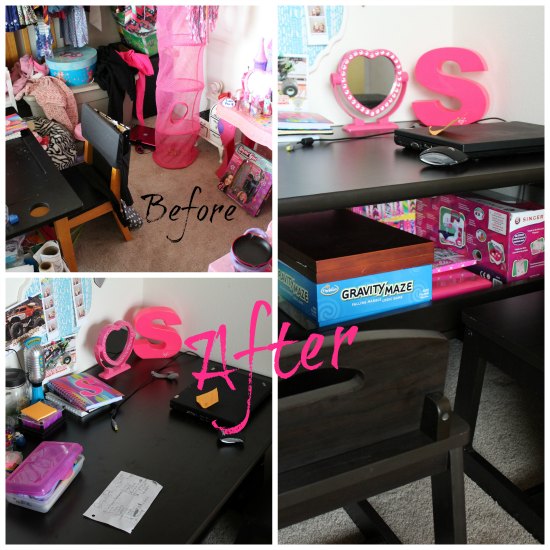 Make the use of Storage Space
We had an art table in my daughter's room. That means it was always COVERED with STUFF. It offered no storage to put anything, so she threw everything on top of it and under it. Making it basically useless. We switched it for a table that offered storage! It is absolutely perfect for her space, and she can put the things she uses UNDER it on a shelf and not just all over the floor.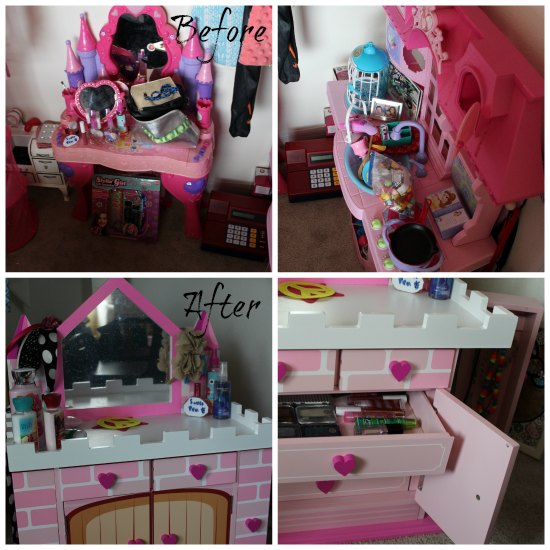 I mentioned above that her dresser was covered as well, she had her nail polish, play make-up, and jewelry galore just about everywhere. Our solution, an armoire. Her jewelry all has a spot, her play make-up goes in drawers, and the tops is open for her lotions. That means we can SEE her dresser again and her room doesn't look so cluttered.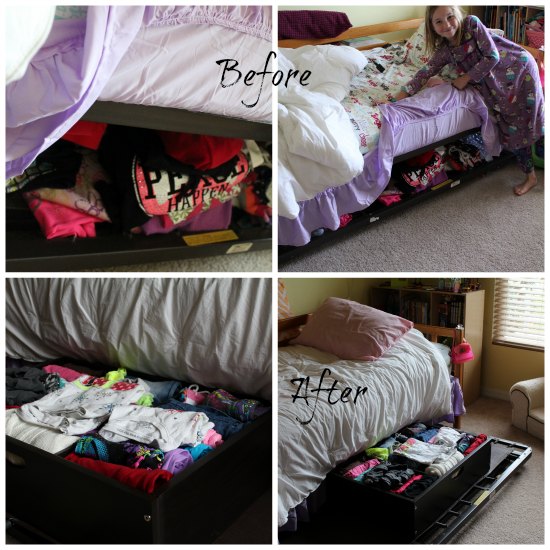 We also used a trundle organizer for all the clothes that we get handed down from friends. It can also be used to tuck away toys.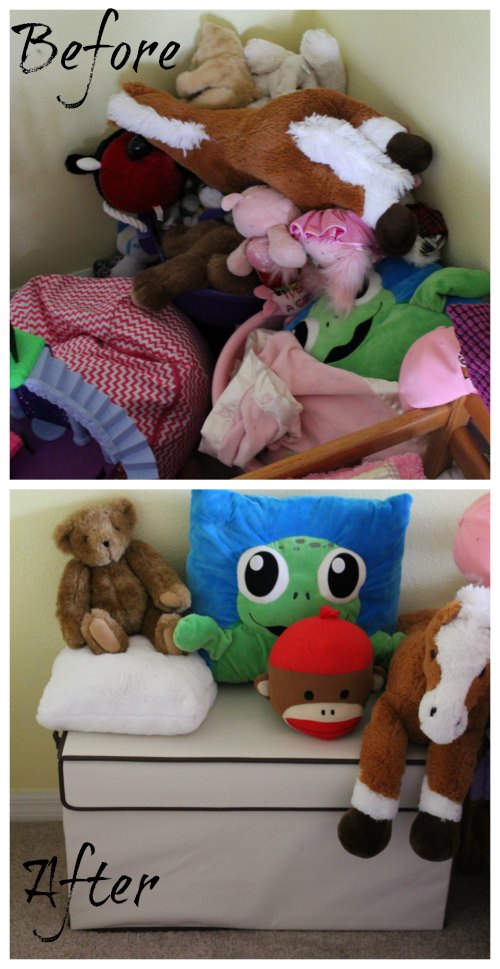 Contain the toys!
We had my daughter's stuffed animals in two HUGE bins. Which she never went into because she would just see what's on top. So, I challenged her to weed some out to donate and I got her a storage bin with a LID. She loved that it closed up and gave her room a "cleaned up" look. But smaller toys and pieces in smaller bins, so they aren't all over the floor. Plus, that shows your child that the toys have a place, so they can out them BACK after they take them out 🙂
If you don't want to get rid of the ones that you know they will still like in a few months, consider storing some away elsewhere and bringing them back into the rotation at a later date. Having TOO many toys in their room's means they won't ever get the chance to play with them all.
Organize from bottom to top
Kids are shorter than we are, and sit on the floor usually to play, so put the toys and things that they use the most closer to the floor. The things that they don't need as much, well, those can go on the top of the closet.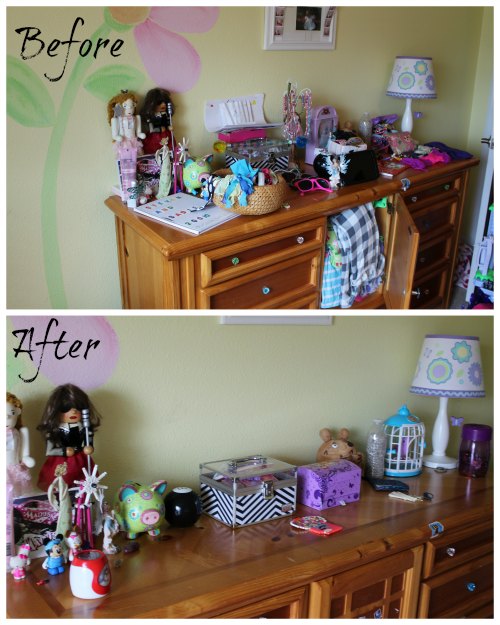 Make a "clean-up" routine
Just because their room is clean and organized today, doesn't mean it will be tomorrow. Things can get out of hand quick! Plan for a "Morning Pick Up" and a "Night Time Pick Up."
In the morning, make sure their clothes from the day before make it to the laundry room and their beds are in order. At night, just make sure the days' toys and such make it back to where they go. Make sure you can still see the top of their dresser 😉
Have little ones? Consider labeling
We don't use labels much anymore, but when the kids were younger, labels help the kids identify where everything went. If they don't read yet, use pictures. We put pictures of cars on the bin that we wanted my son to store all his toy cars in.
What Tips For Organizing Kids' Rooms do you have?
Several of the above mentioned products are available for purchase on OneStepAhead, while Food Wine Sunshine did receive the products for review, all opinions are 100% our own.
Where to buy:
Drawer Organizers
Collapsible Toy Box – WITH lid – and kids can even sit on it!
Trundle Organizer
Height Adjustable Table and Chairs
Castle Vanity and Jewelry Armoire – currently 50% off
Check out OneStepAhead on Facebook, Twitter, Instagram and Pinterest to stay up to date with everything your child needs to have fun, get organized and stay healthy!
And be sure to follow me on Facebook, Twitter, Pinterest, Google + and Instagram for more family fun!