(Last Updated On: June 25, 2019)

5 Things to Consider When Buying Playground Equipment
I love it when the kids play outside. The fresh air, use of imagination, exercise and extra smiles are great for them! But, they do get bored sometimes and need something to help them play more outside. This is when most parents consider buying playsets for playground equipment for the backyard. Adding some excitement to your backyard will help motivate your little ones to get outside. But, before you take decide what to invest in, here are 5 tips that will help you narrow your search and find the perfect piece of play equipment for your child(ren).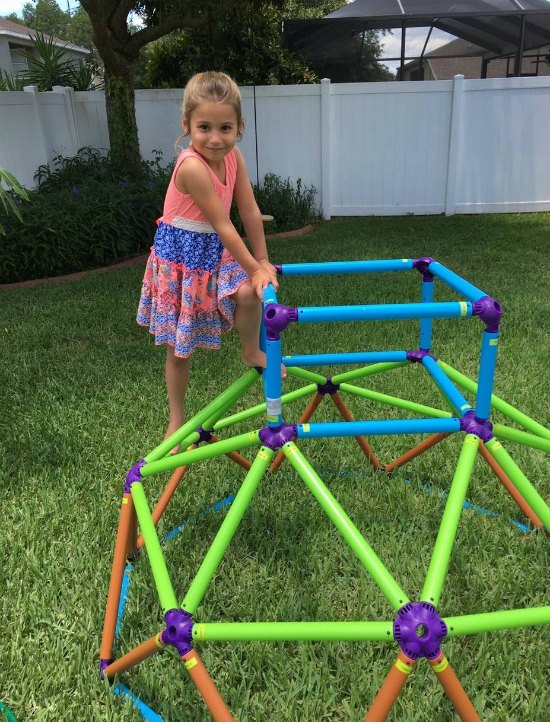 1. Safety
Make sure you and equipment that is designed for your child's age range. Injuries related to playground safety are in the top 5 reasons for visits to the ER.
2. Developmental Stage
Look at what your child is able to do confidently and then look at what was the next step to help their physical development. Physical development is extremely important part of neurological development. Alternating hand then foot, or crossing over the midline of their body is not something we normally think about, however it is an important developmental skill. Trying something new at home with your support also builds confidence.
After these two steps are considered you can start shopping.
3. Durability
You have many options as far as the materials used for play equipment. Companies use metal, wood, and plastic. Use caution with metal in the summer. Metal and plastic can get rather warm in the summer heat. Wood splinters when weathered over time and easily get lodge in legs and hands as children play.
4. Ease of Assembly
This is a big consideration that we learned the hard way! Some of the playsets you will need to call in some favors and grab some Advil to get it assembled, or hire someone to assemble for you. I like equipment that can be assembled easily and with clear directions. I strongly encourage you before you purchase to read reviews about assembly. This is when your emotions kick in because you have almost made the purchase, but the end result can be a great big headache, when you pull out the 20 page manual, three bags of nuts and bolts and the 4 boxes with pieces in it.
5. Fun and Excitement
Is your child excited about the new equipment? Is it colorful and attractive? Can you see your child reinventing the equipment and using it in different and unique way?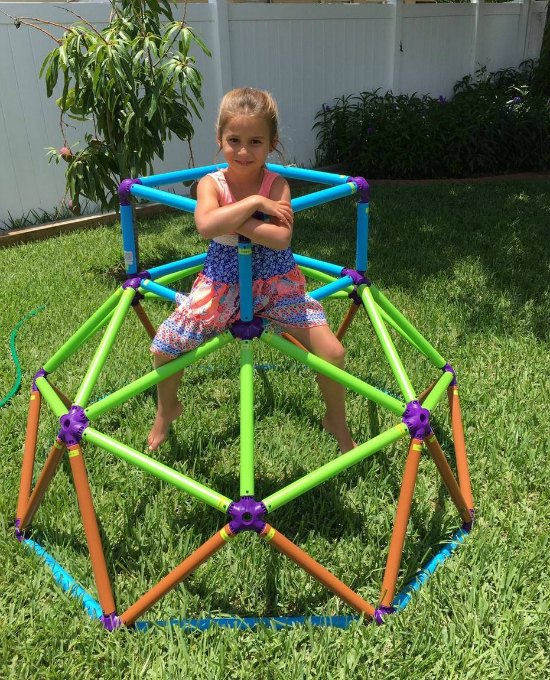 After careful consideration of the above 5 things to consider when buying playground equipment, we were excited to add the Jungle Gym Monkey Bars from One Step Ahead to our backyard.
I was looking for something that would challenge my 4 year old in a new way and add some new dimensions to her play that she had not experienced. The colors are bright and inviting as well as gender neutral. My daughter could not wait to get started conquering the Jungle Gym. It took a few minutes to become confident with the angle of the bars that her feet were on, but after that she really started having fun.
She climbed around it, to the top and of course inside of it. She hangs upside down from the top and
thinks she is really something 🙂 The Jungle Gym is just the right height for young climbers, so I really do not have to worry while she explores. Now that she has mastered the motor skills of the Jungle Gym, her creativity is exploding. Some days she is a bird in a cage playing underneath it. The next day she throws a blanket over it and is having a tea party or picnic.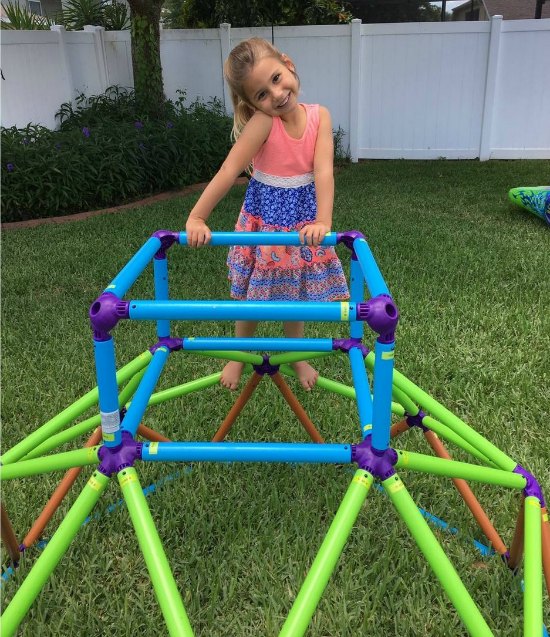 Assembly was simple with clear directions, so much so that my 10 year old was able to help put it
together. The size of the set is light weight and easy to manage.
While Food Wine Sunshine did receive the product listed above for review, all opinions are our own.
Where To Buy:
What things do you consider before buying playground equipment?
Be sure to follow Food Wine Sunshine on Facebook, Twitter, Pinterest, Google + and Instagram for more tips, fabulous recipes and more!
Check out OneStepAhead on Facebook, Twitter, Instagram and Pinterest to stay up to date with everything your child needs to have fun and stay healthy!