(Last Updated On: September 4, 2019)

The Easy Way To Plan Your Black Friday Shopping
Black Friday is COMING! Are you excited? Do you have your shopping plan nailed down yet? There are SO many deals to be had and SO many stores to go to. And then online. Honestly, the idea can be overwhelming. There are so many people I talk to that say that will just skip Black Friday because there is just too much time to invest to where the best deals are.
Well, what if I told you that you could actually check out all the store ads that you actually wanted to shop at in just ONE app. Yep, right on your phone. You can search the deals you want, the stores you want, all from a user-friendly app. AND, that app is FREE.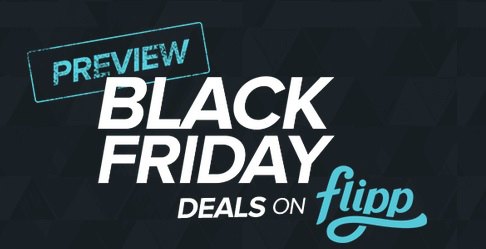 What is this magical app?
Flipp!
I know I just told you guys how you can save on your Thanksgiving Dinner Meal Planning with Flipp, but did you realize it can also help you with your Black Friday Planning?
When you subscribe to Flipp updates, you will get notified of when an ad is released in your area. No need to search online or wait for the local newspaper to show up. Everything you need for maximum savings on Black Friday will be right at your fingertips. Flipp will give YOU the latest updates on breaking Black Friday deals from 800+ retailers.
Will you be headed to Walmart?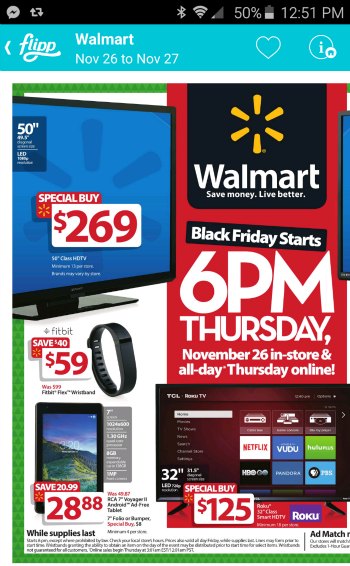 Do you have a techie at home? Then be sure to check out the Best Buy Black Friday Ad.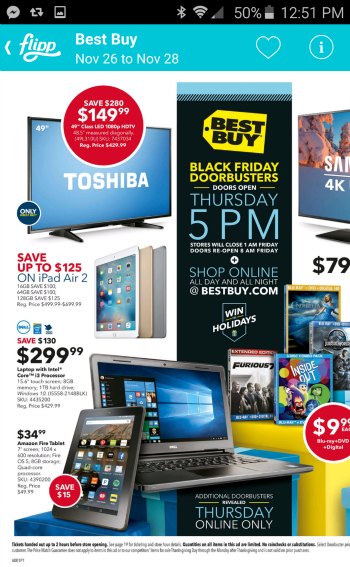 Sports nut? Fitness fan? Sports Authority has some amazing deals!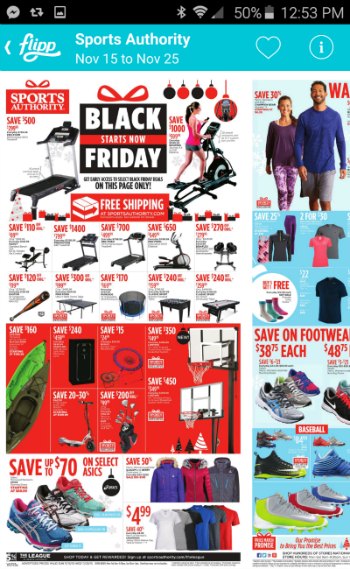 Big Lots close to home? They have some awesome savings as well!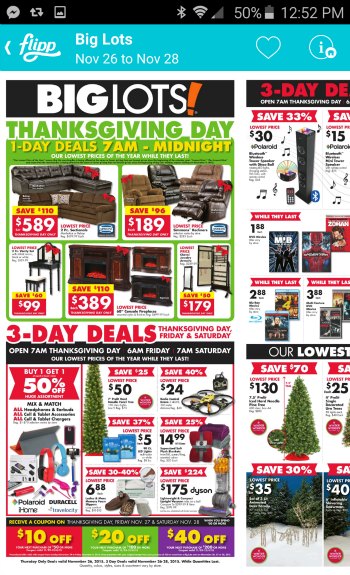 No matter where you are shopping and what strategy you are planning this Black Friday, Flipp can make it easier for you!
While this post is sponsored by Flipp, all tips, opinions, and my love for saving time and money are my own!
Sign up to get Flipp Black Friday Ad Updates
What stores will you be shopping at this

Black Friday?
Don't have the Flipp app on your phone or tablet yet?
What?! Don't worry, it's an easy thing to fix 🙂 Just download Flipp from the GooglePlay Store or from the AppStore for FREE
Be sure to check out Flipp on Facebook and Twitter to stay up to date with all the FUN ways to help you save time and money.
While you are at it, check out Food Wine Sunshine on Facebook, Twitter, Pinterest, Google + and Instagram for more tips, healthy recipes, family fun and more.