(Last Updated On: August 28, 2019)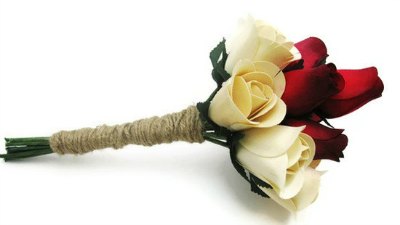 The Botanical Box – Rustic Wedding Decor – Handmade Roses Review
The new year is here and Bridal shows abound as Brides are looking for their every need for a 2013 wedding! My brother was married recently and my new Sister-in-law chose an outdoor-woodsy theme for their wedding. It was BEAUTIFUL. They were married outside and the details were amazing. Her choice for her bouquet was to use artificial flowers but she still wanted an elegant look. An elegant look that still was woodsy. You would think they would be a challenging task, but we found the Botanical Box on Etsy.
Below was the one of the bouquets from the wedding. As you can see these roses are GORGEOUS! Can you believe that they are WOOD? Yes…handmade, amazingly, breathtakingly beautiful WOOD roses. I can honestly tell you have that I never seen anything like them.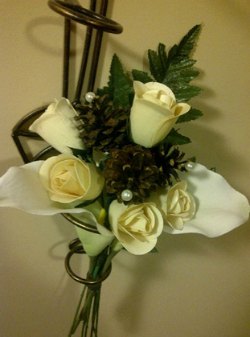 They were delicate and beautifully formed. Honestly people were amazed that they were not real! Working with Shannon of the Botanical Box was wonderful, she was eager to help in anyway to make the bouquet perfect! We can't say enough positive things about her and her Etsy shop. The roses were shipped promptly, even packaged beautifully.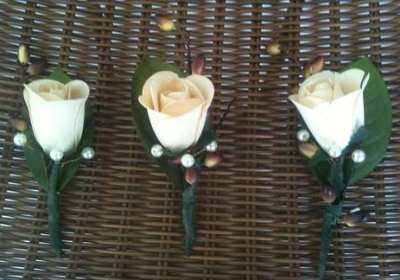 We were so happy with the roses we ordered more which were used for the bridesmaids and also the boutonnieres!! You know how by the end of the night most of the groomsmen have wilting flowers, well these looked amazing even at the last dance of the evening (which was well past midnight 🙂 )! So no matter what your theme is for your wedding, these roses would be a beautiful addition. Check them out at The Botanical Box. If you don't see what you are looking for – make sure you contact Shannon – orders are handmade for YOU.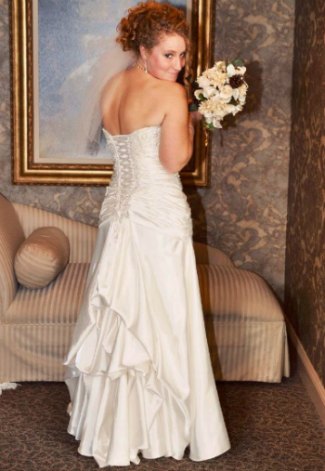 I had to share a picture of the bride! That's Stefanie, my sister-in-law – isn't she beautiful? 🙂
The flowers and bouquet takes 2 days to create, and they are fully customizable. Use these roses/bouquets as inspiration to create your own bouquet for your big day. They can make these bouquets bigger or smaller, with different colors, using different ribbon, there are endless possibilities.
All bouquets are shipped using USPS 2 day priority shipping, they even ship worldwide!
The Botanical Box offers affordable, artificial and dried rustic wedding bouquets and wedding décor. Make sure you check them out!
I received the product listed above for review to make my brother's wedding day even more amazing. No other compensation was received, all opinions are 100% my own.