(Last Updated On: August 9, 2019)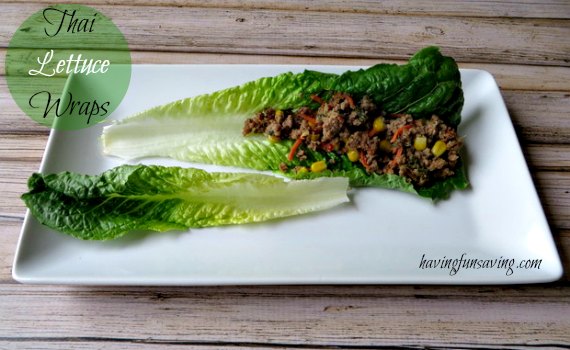 Thai Lettuce Wraps Recipe
I have a yummy Thai Lettuce Wraps recipe to share with you guys this morning. We had them for dinner, but they would also make for an excellent appetizer since the meat and lettuce is kept separate until you assemble it yourself. It also very easy to make and doesn't take much time!
Thai Lettuce Wraps Recipe
Recipe Type
:
Dinner or Appetizer
Author:
Prep time:
Cook time:
Total time:
Ingredients
1 1/2 teaspoons of Adobo Seasoning
1/2 teaspoon of Red Pepper Flakes
1 tablespoon of minced Garlic
2 tablespoons of minced Ginger
1 cup sliced Green Onion
1 1/2 cups of julienne Carrots
1 cup canned/thawed corn
2 tablespoons of Lemon Juice
2 tablespoons of Worcestershire Sauce
1/2 cup Hoisin Sauce
1 tablespoon of peanut butter
1 lb of Ground Turkey
Lettuce Leaves
Instructions
Combine all ingredients expect the ground turkey in a mixing bowl – mix well
Add ground turkey and ingredients from mixing bowl into a large skillet
Cook thoroughly
Serve on Lettuce leaves
Enjoy
Make sure to let me know if you try this Thai Lettuce Wraps Recipe – I hope you enjoy it as much as we do!